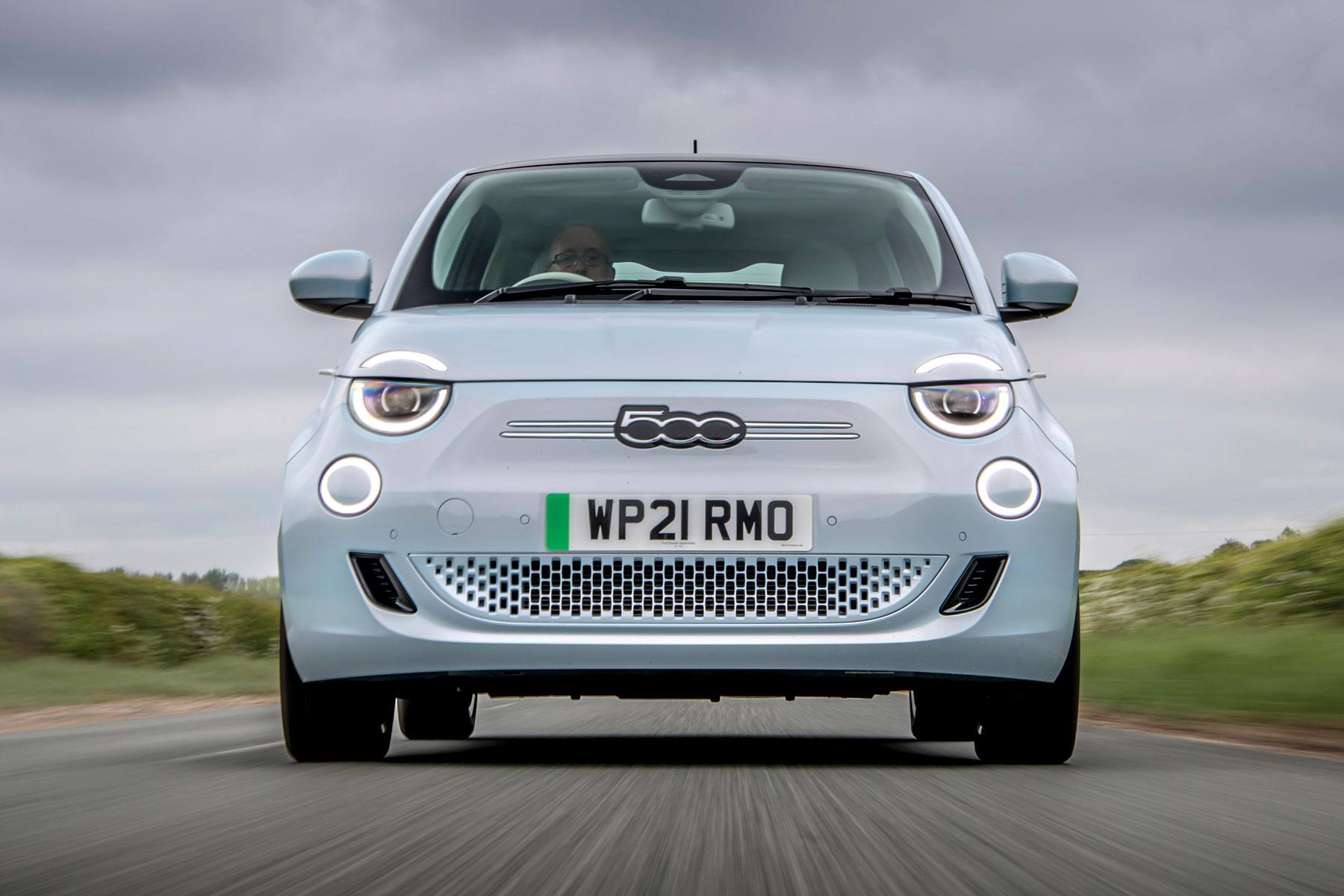 The move to our all-electric future is gathering pace, with more EVs being launched all the time. And as car makers have long promised us, higher volumes are starting to lead to lower prices.
There are new electric cars now on sale for little more than £20,000 – and they're proper cars too, rather than quirky quadricycles with no doors and questionable safety standards.
Spend a few thousand pounds more and you can get an electric version of the nation's best-selling car, with all its practicality, ease of use and stylish familiarity intact. And if you need a larger, family-sized car, the choice is growing all the time as well.
The cheapest electric cars will also save you a fortune in running costs, particularly now petrol and diesel prices have rocketed to worrying new highs. Add in the convenience of charging at home and it's hard not to see how appealing the new breed of electric cars can be.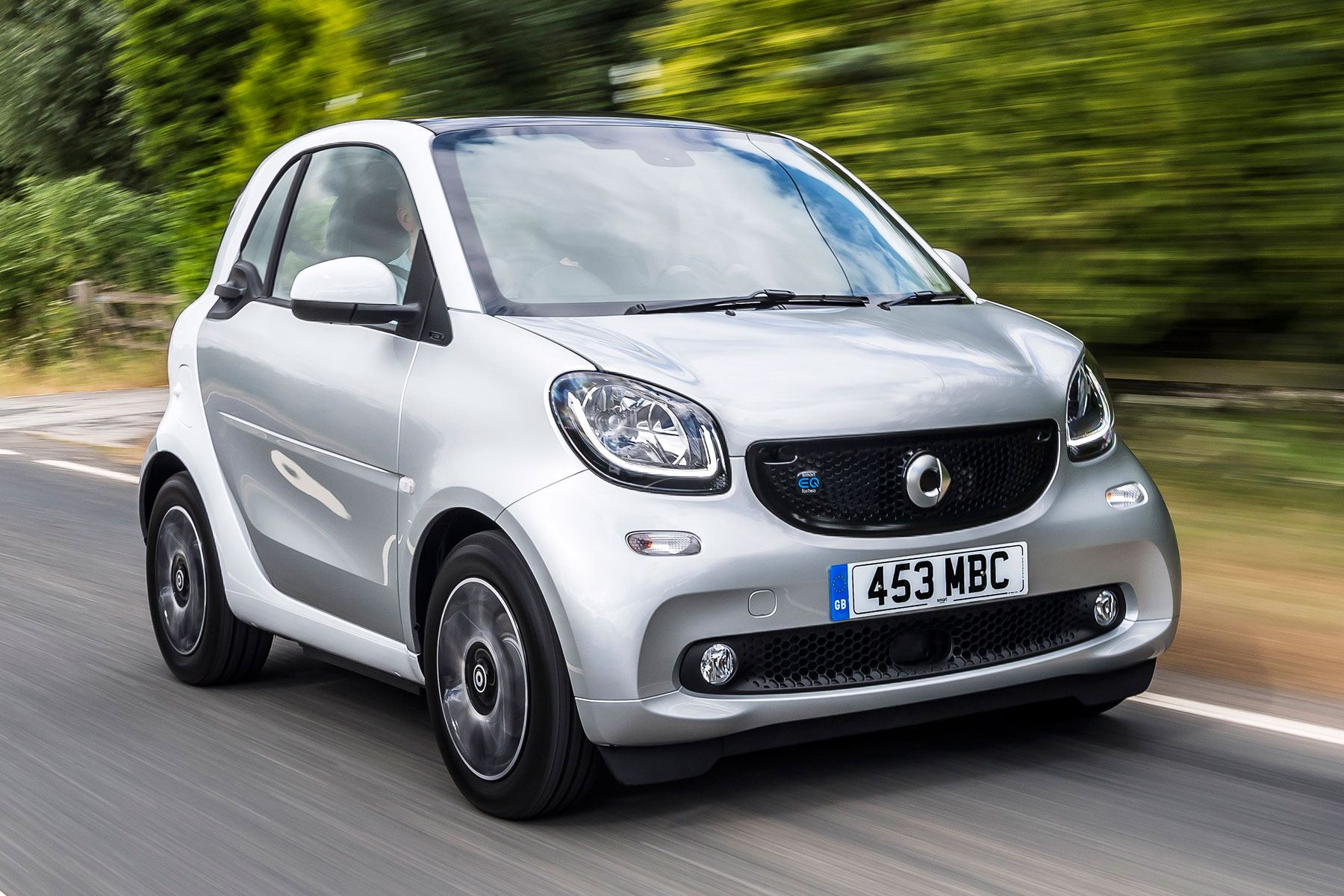 Smart EQ Fortwo
The EQ Fortwo is an electric version of the famous Smart two-seater. The range is now only offered in pure EV guise, arguably making it the car it always should have been. The electric motor and battery are neatly integrated beneath the floor, meaning executive-level space for two inside, along with a raised seating position. Smart bills it strictly as a city EV, because the electric range is barely 80 miles between charges. However, because the battery is so small, it can be charged in just 40 minutes. A compact 17.6kWh battery capacity also helps keep the price down to less than £21,000.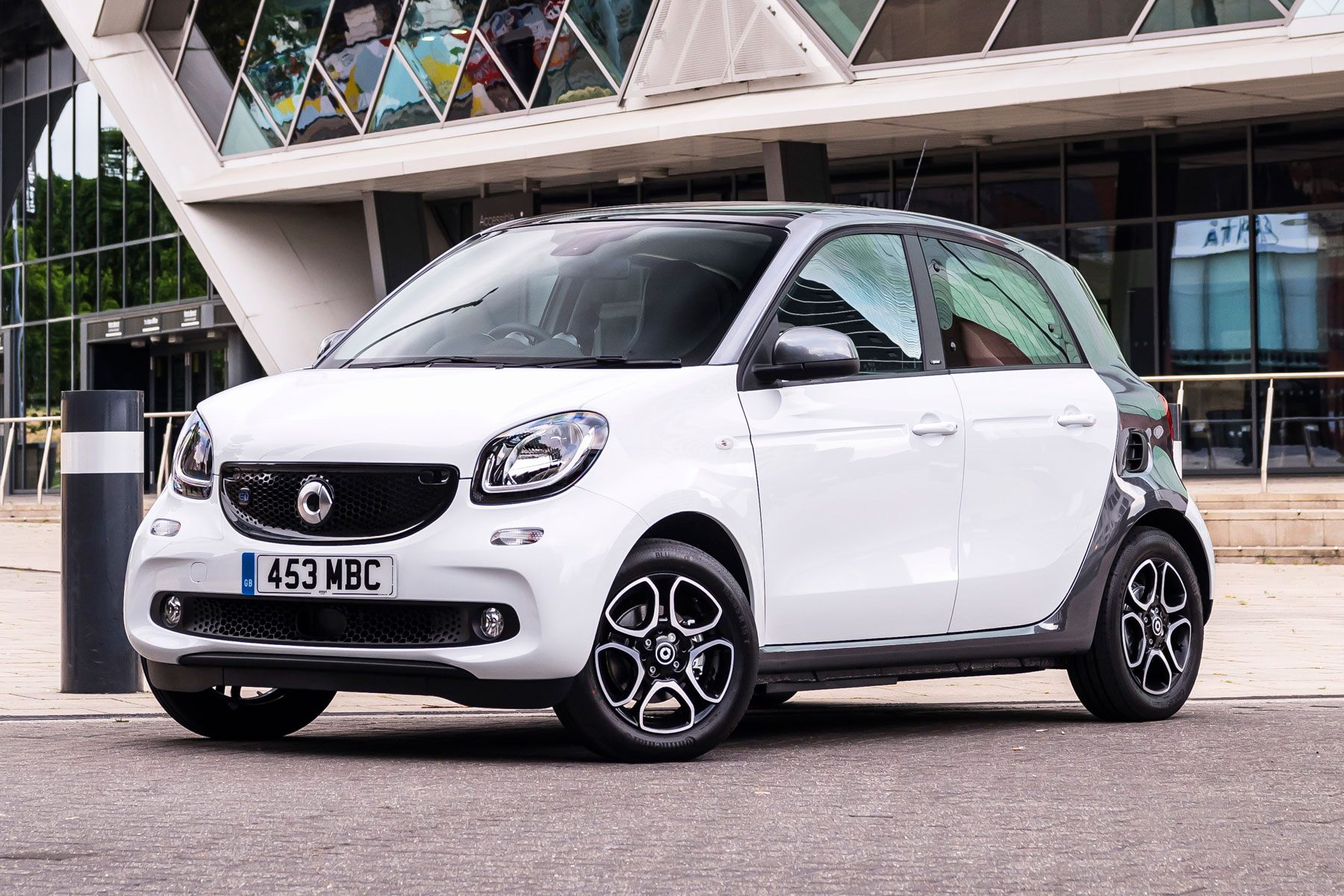 Smart EQ Forfour
If you can't do without four doors and four seats, Smart has you covered with the larger EQ Forfour. It has the same electric drivetrain as the EQ Fortwo, and range does dip ever so slightly due to the ForFour's greater weight. But this should still be sufficient for an average day's driving, and the sheer manoeuvrability of the compact EQ Forfour makes it a car you'll love piloting on busy city streets. Mercedes-Benz build quality adds a feeling of integrity and Smart offers a good amount of customisation options to choose a car in the perfect colour, with the ideal interior, for you.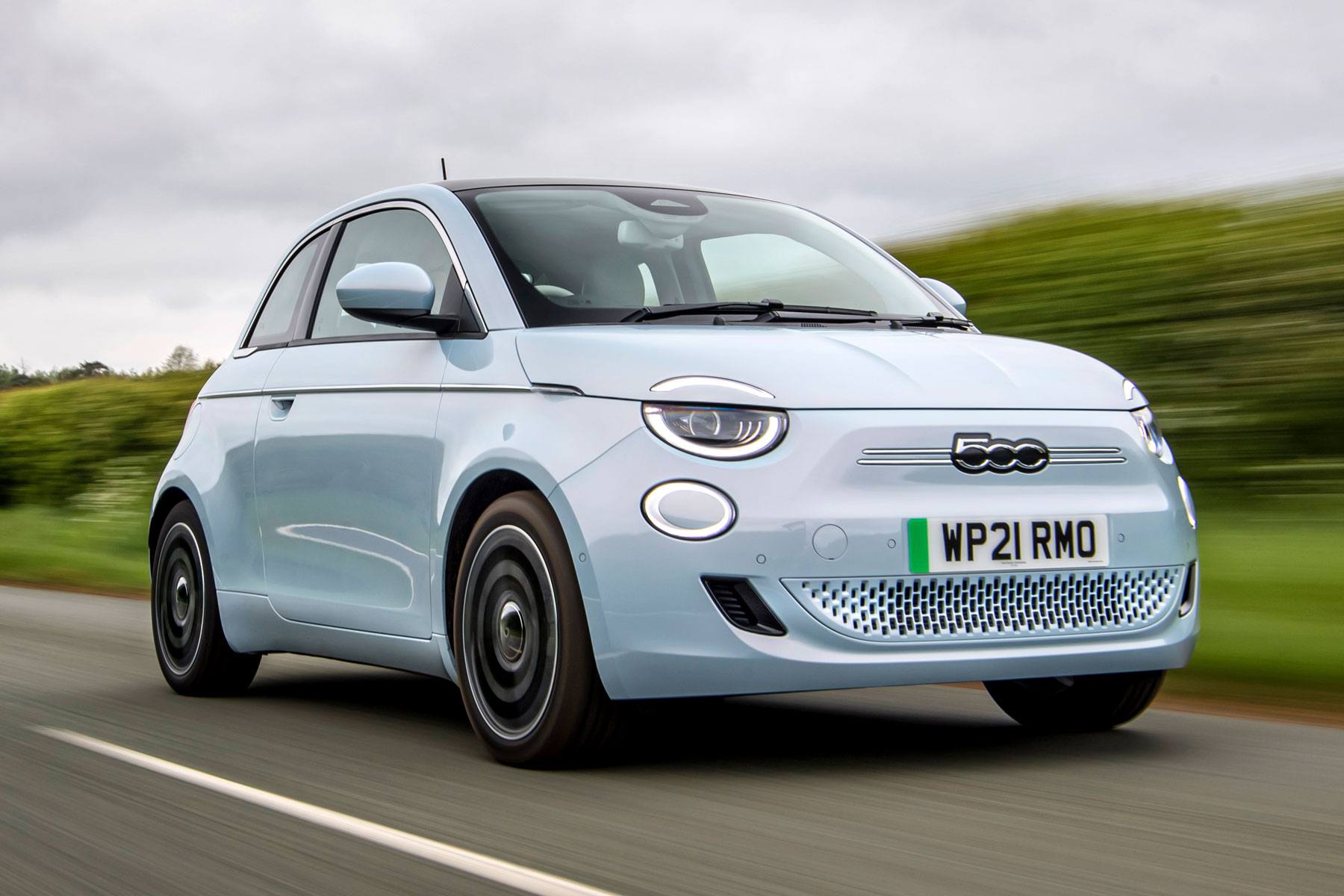 Fiat 500 Electric
For the latest version of its long-running small car, Fiat has turned the baby 500 fully electric. The 500 Electric is offered with two battery choices: an entry-level 24kWh unit with prices from less than £24,000, and a pricier 42kWh battery for those who cover higher mileages. Even the cheapest battery can do 115 miles between charges, with 30 miles of charge able to be added in just five minutes, while the 42kWh model has a range of almost 200 miles. The loveable 500 Electric is more stylish than ever thanks to its EV makeover, the clean lines and plush interior delivering plenty of showroom appeal. No 500 has ever been this refined either.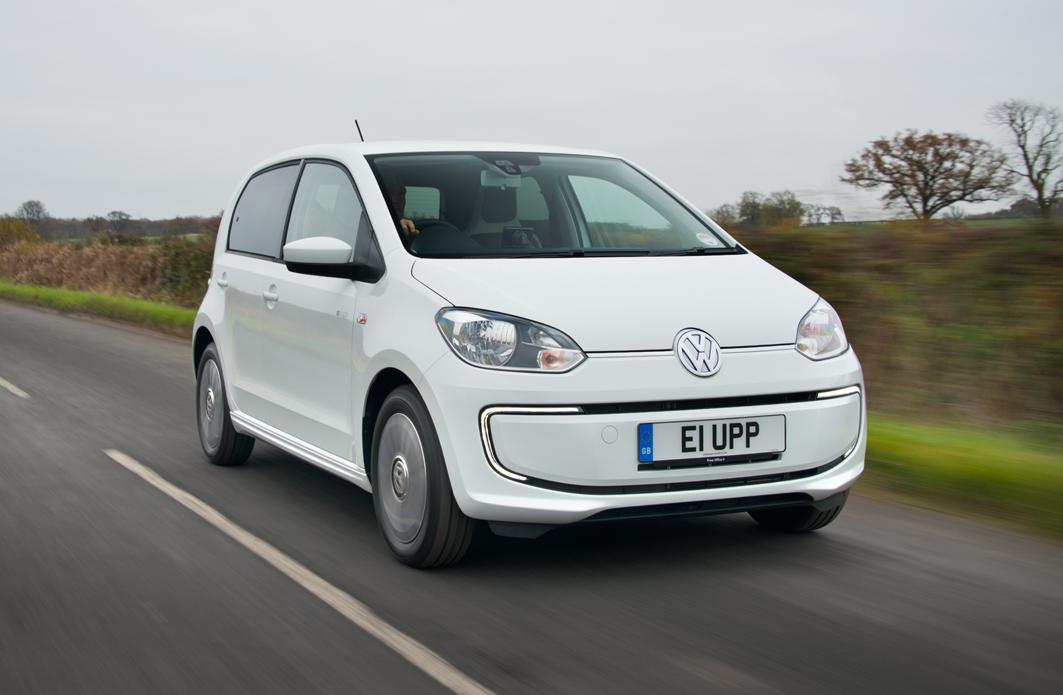 Volkswagen e-Up
The Volkswagen e-Up is the perfect five-door city car. Designed to offer as much space as possible within the smallest footprint, the e-Up has enough room for four adults and a decent 251-litre boot. That's despite it also coming with a generous 36.8kWh battery offering a range of almost 160 miles, according to the official test. If you mainly drive at slower speeds in town, it will be higher still. The e-Up feels like a genuine Volkswagen, with solid build quality and an easy-to-use appeal. We also like the clever smartphone holder on top of the dashboard, for easily using your device on the move.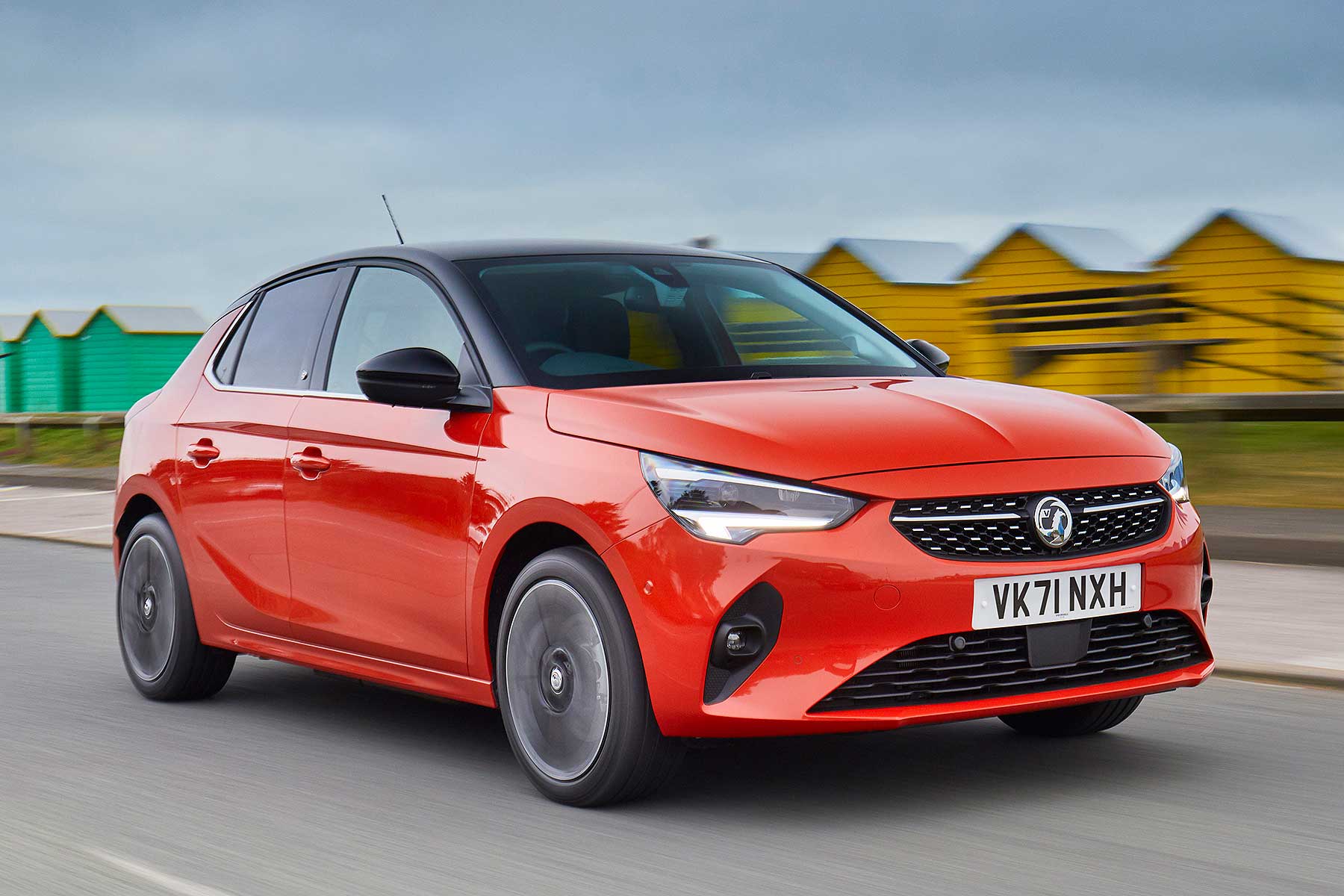 Vauxhall Corsa-e
The Vauxhall Corsa-e is the pure electric version of the nation's best-selling car: the five-door Corsa supermini. It's one of the few electric rivals to the (petrol-only) Ford Fiesta, and has helped open up the EV market to growing numbers of people. With a range of almost 220 miles, range anxiety shouldn't be an issue for the majority of owners, and the 50kWh battery is able to use DC rapid chargers with a maximum recharge rate of 100kW. Competitive prices from less than £26,000 don't mean a shortage of standard equipment either, making the Corsa-e a great choice for those seeking value for money.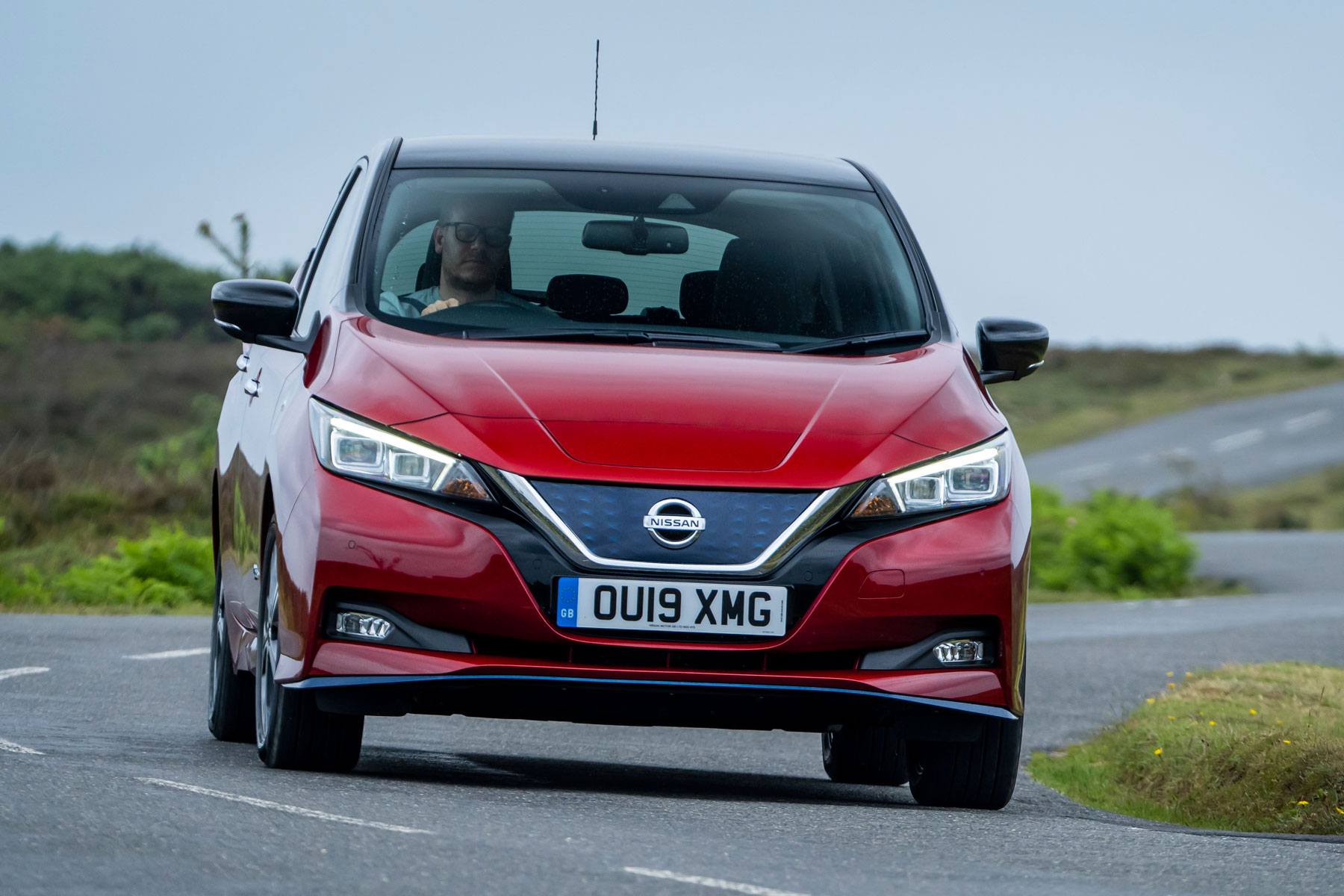 Nissan Leaf
The Nissan Leaf was the world's first mainstream electric car, with sales in the hundreds of thousands, rather than merely hundreds. It's now into its second generation, with the latest car having a sharper, more angular style in contrast to the egg-shaped original. It has a range of up to 239 miles and even the entry-grade Acenta comes with a 50kW CCS rapid charge port. Other standard goodies include alloy wheels and an 8.0-inch touchscreen infotainment system with a rear-view parking camera. Nissan also includes its novel e-Pedal, which uses regenerative braking to minimise use of the actual brake pedal in everyday driving. It's a switchable feature for those who don't like it, but owners report it's a well-liked gadget once they get accustomed to it.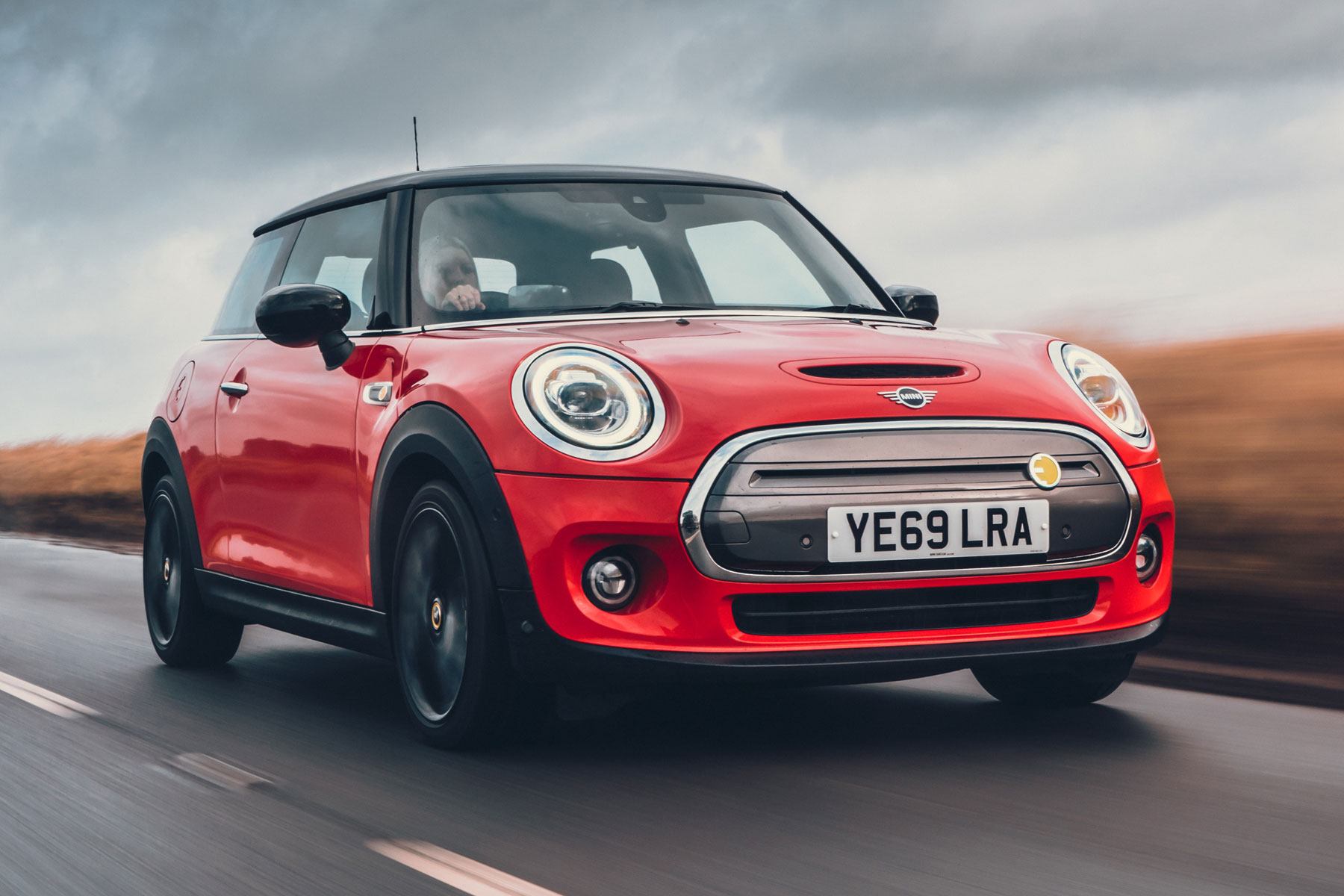 MINI Electric
The MINI three-door hatch is a British icon that has switched to electric. The MINI Electric is a bit of an eye-opener, too; instead of being a low-powered city car, it packs a zesty 184hp – more than the 2.0-litre petrol-powered MINI Cooper S. It has a range of up to 145 miles, which should be enough for those who stay within the town centre environment it was born to dominate. And while you'll struggle to squeeze in four people, it's fantastic fun for just two, with delightful handling and a super-nimble feel. BMW-grade interior fixtures and fittings add a sense of integrity, and all for prices starting from around £27,000.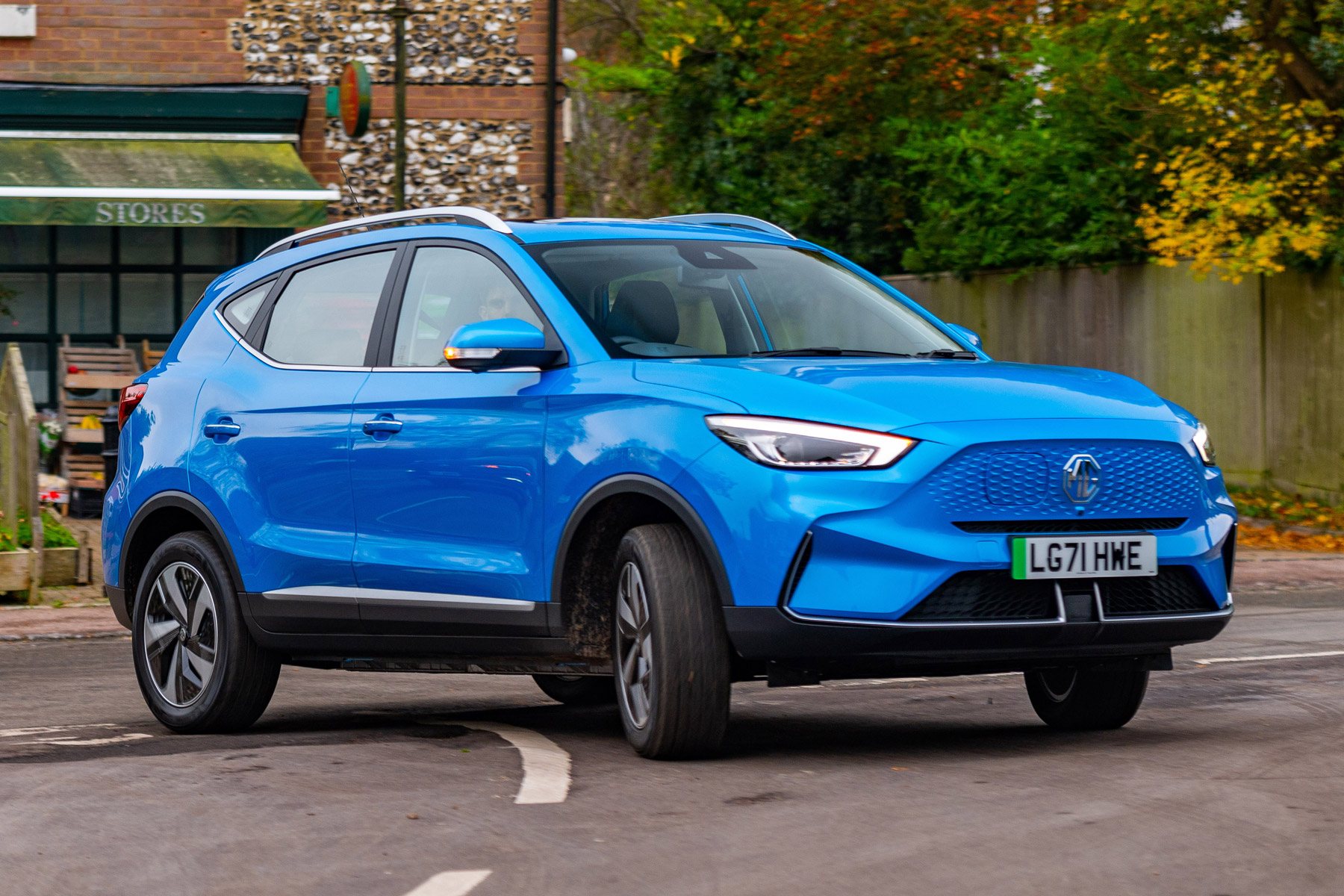 MG ZS EV
The MG ZS EV is another car that has helped to democratise the EV. Already popular in pre-facelift guise, it's recently been revised, gaining a smooth and modern-looking front end, plus distinctive new rear lamps. There's also an enlarged touchscreen inside, measuring more than 10 inches across, and it comes as standard with Android Auto and Apple CarPlay. Even the standard model has a range of almost 200 miles and MG has also introduced a 'Long Range' variant with a driving range of 273 miles between charges. A seven-year, 80,000-mile warranty is a major draw, too.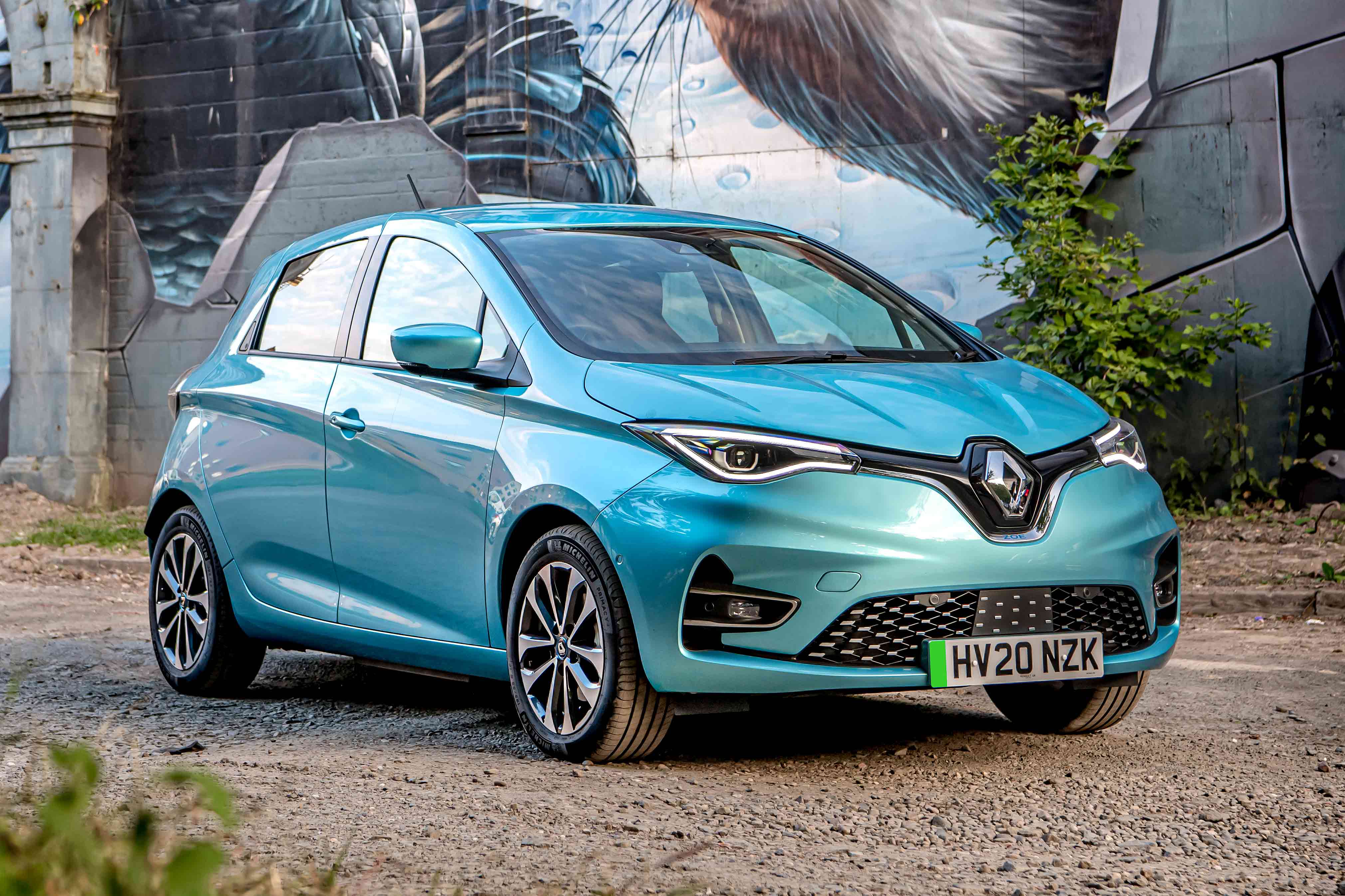 Renault Zoe
The Renault Zoe is the pure electric alternative to the well-loved Clio supermini. Like that car, it has five doors and five seats, and actually boasts a boot even larger than the Clio's commodious load bay. The Zoe has a 52kWh battery that can use public rapid chargers, and comes in two power outputs: R110 or R135. It has a total driving range of almost 240 miles between charges, with the charge socket neatly hidden in the nose behind the Renault badge. A smart and classy-looking car, the space-efficient Zoe also has a nice feel to its interior, with an open and airy design.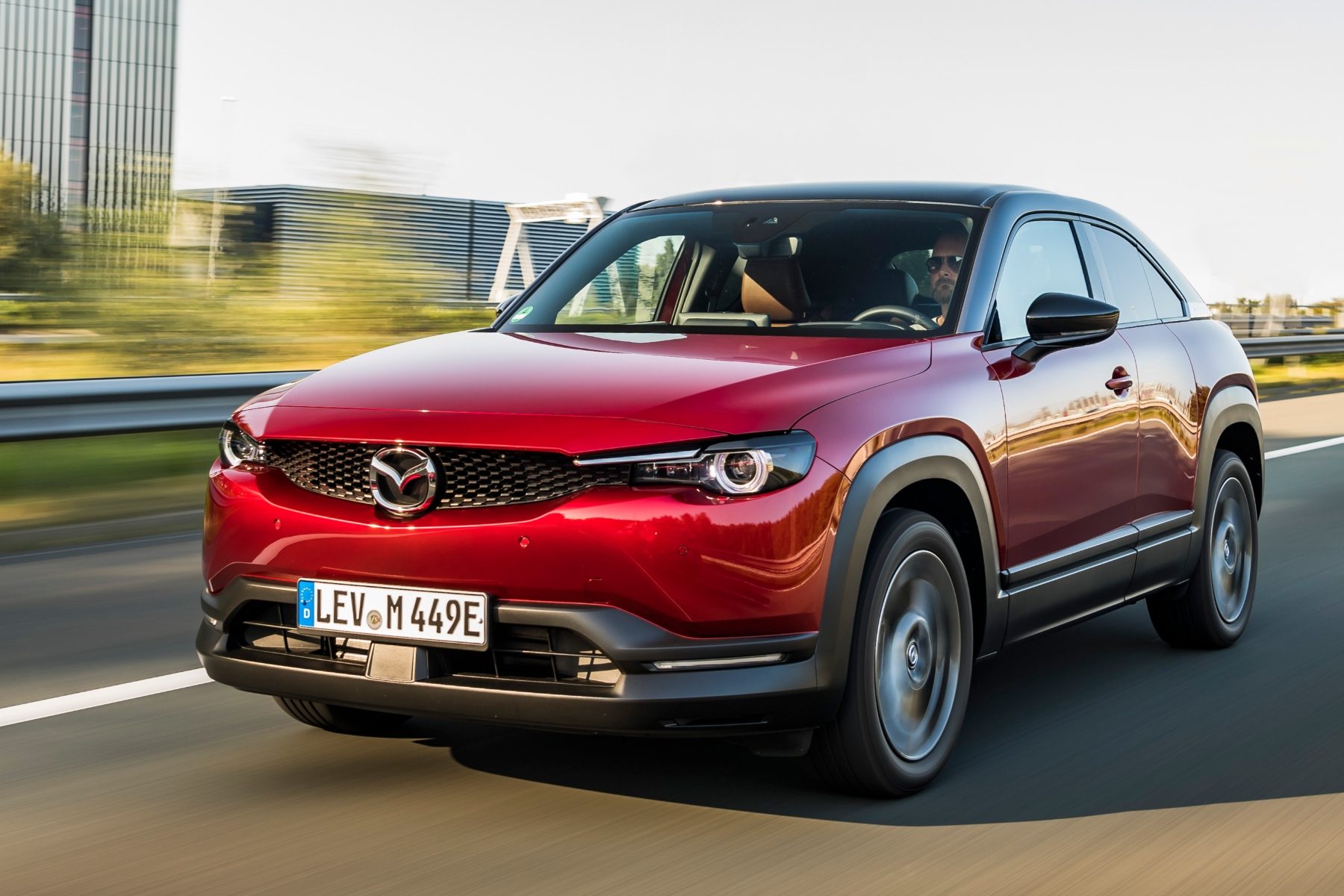 Mazda MX-30
The Mazda MX-30 is a novel and intriguing little electric car. It's a cross between an SUV and a coupe, and despite its compact size, still manages to squeeze in two rear-hinged back doors, for open-plan access to the child-friendly rear cabin. Up front, it has a premium feel and appearance, with the wonderfully different use of cork trim in certain areas. Downsized batteries help to keep the price down (and minimise the impact on the environment, says Mazda), and they offer a 124-mile range between charges – fine if you keep the MX-30 to the city environment it was designed for.
Which is the cheapest electric car with a 200-mile range?
The cheapest electric cars in our guide can't do 100 miles on a full charge, never mind 200 miles. If you want to stretch your range to a fully-workable 200 miles or more, you need to budget around £26,000 to buy the Vauxhall Corsa-e. This has a really impressive range of almost 220 miles, making it a great first electric car for those on a budget who don't want to compromise on everyday usability.
Which is the cheapest electric car for families?
The Vauxhall Corsa-e is a good affordable first electric car for families as well. It comes as standard with five doors and a roomy 309-litre boot. Rear-seat space perhaps isn't the best for adults, but for children and teenagers, it's ample – making this a great affordable electric car for families. If you can spend a bit more, the Nissan Leaf is another good choice, as is the larger, SUV-shaped MG ZS EV.
How safe are the cheapest electric cars?
In the past, cheap electric cars didn't have the best safety image – think of the infamous G-Wiz. Cheap quadricycles such as the Renault Twizy are also not obliged to meet automotive levels of crash safety. However, all the cars on this list do – and models such as the Smart EQ Fortwo and Forfour offer levels of safety comparable to a Mercedes-Benz executive car. The Nissan Leaf was awarded five stars by safety organisation Euro NCAP in 2018, and the new Fiat 500 Electric scored four stars in 2021.