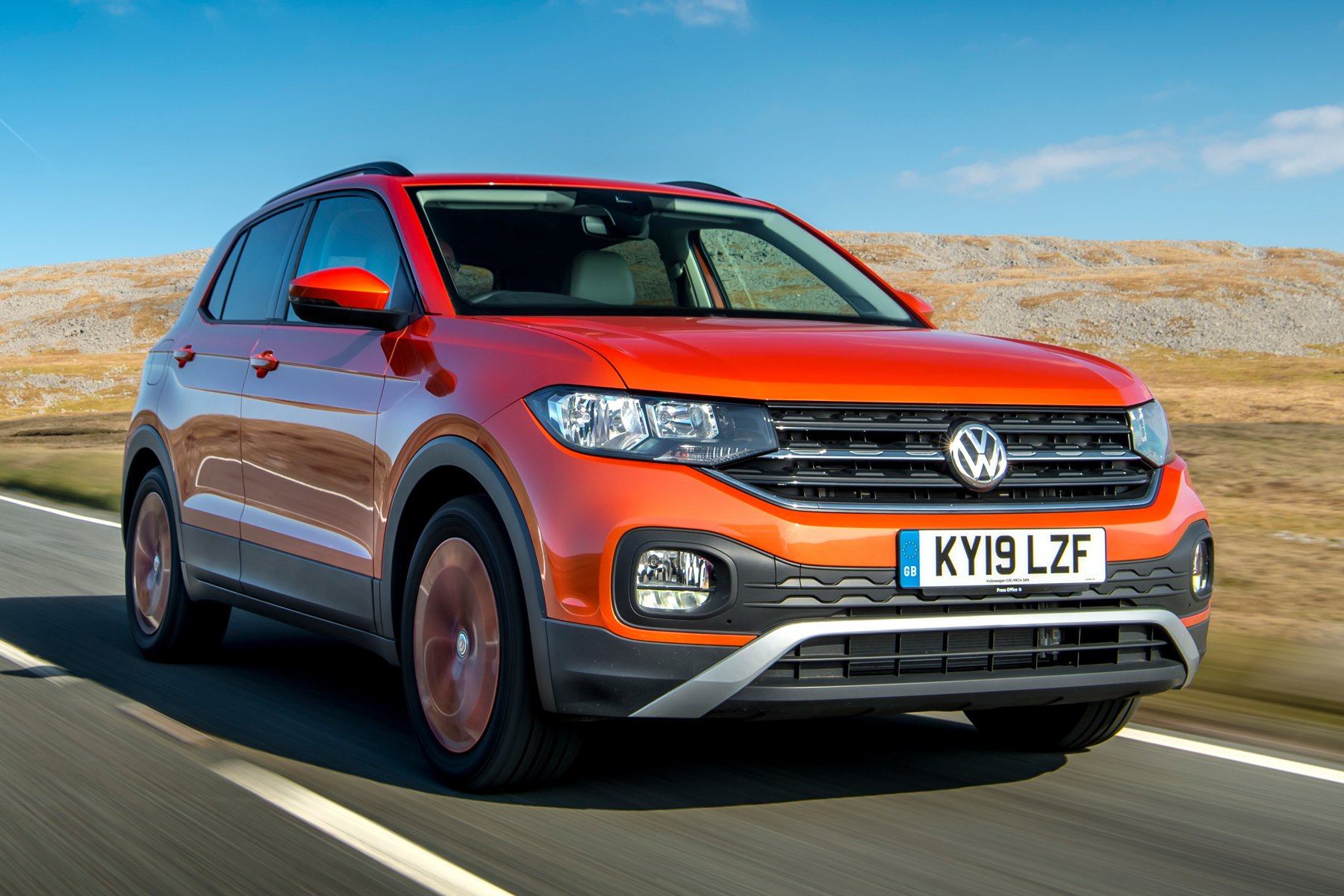 British new car buyers love SUVs, and we also love small cars. Combine the two and you have a thriving sector that customers can't get enough of – and one for which manufacturers are creating an ever-growing number of vehicles.
Competition in the small SUV sector has never been tougher, and the best ones combine the most appealing aspects of both types of car to create genuinely desirable and city-friendly SUVs.
Generally, small SUVs are larger than the superminis they're based upon. There's more room in the rear seats for passengers, and they have bigger and more practical boots. A higher seating position makes them feel like bigger cars, too.
Yet they're still easy to drive, easy to park and, thanks to their low weight, small and ultra-efficient engines still deliver zippy performance. They handle nimbly too, while extra suspension travel means a better ride.
In short, there's little not to like, particularly with 10 of the best small SUVs featured here in our guide.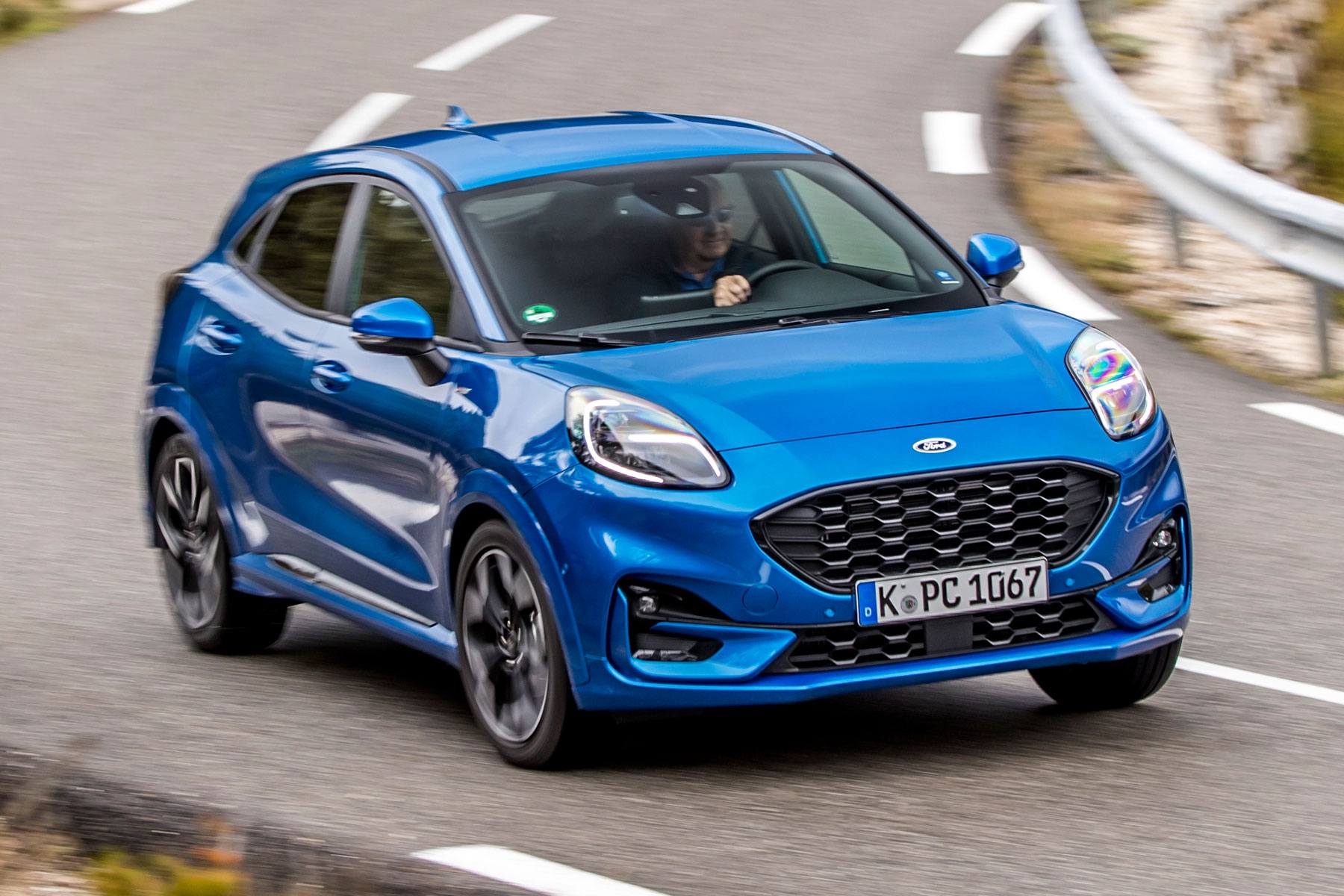 Ford Puma
The Ford Puma is a stylish new smash-hit from one of Britain's biggest car brands. The compact crossover appeals from the off, courtesy of curvaceous lines that blend the spirit of the 1990s Puma coupe with the latest SUV stance. A Fiesta-based interior is solid and easy to use, but the Puma offers a lot more space in the rear and a roomier boot. There's even a hidden Ford 'MegaBox' beneath the boot floor, a vast space that allows you to stow tall loads easily. All Pumas handle really nicely, with the familiar Ford dynamism evident from behind the wheel, and the 1.0-litre Ecoboost petrol engine feels punchy. There's even a high-performance Puma ST, with 200hp and an aggressive bodykit to match.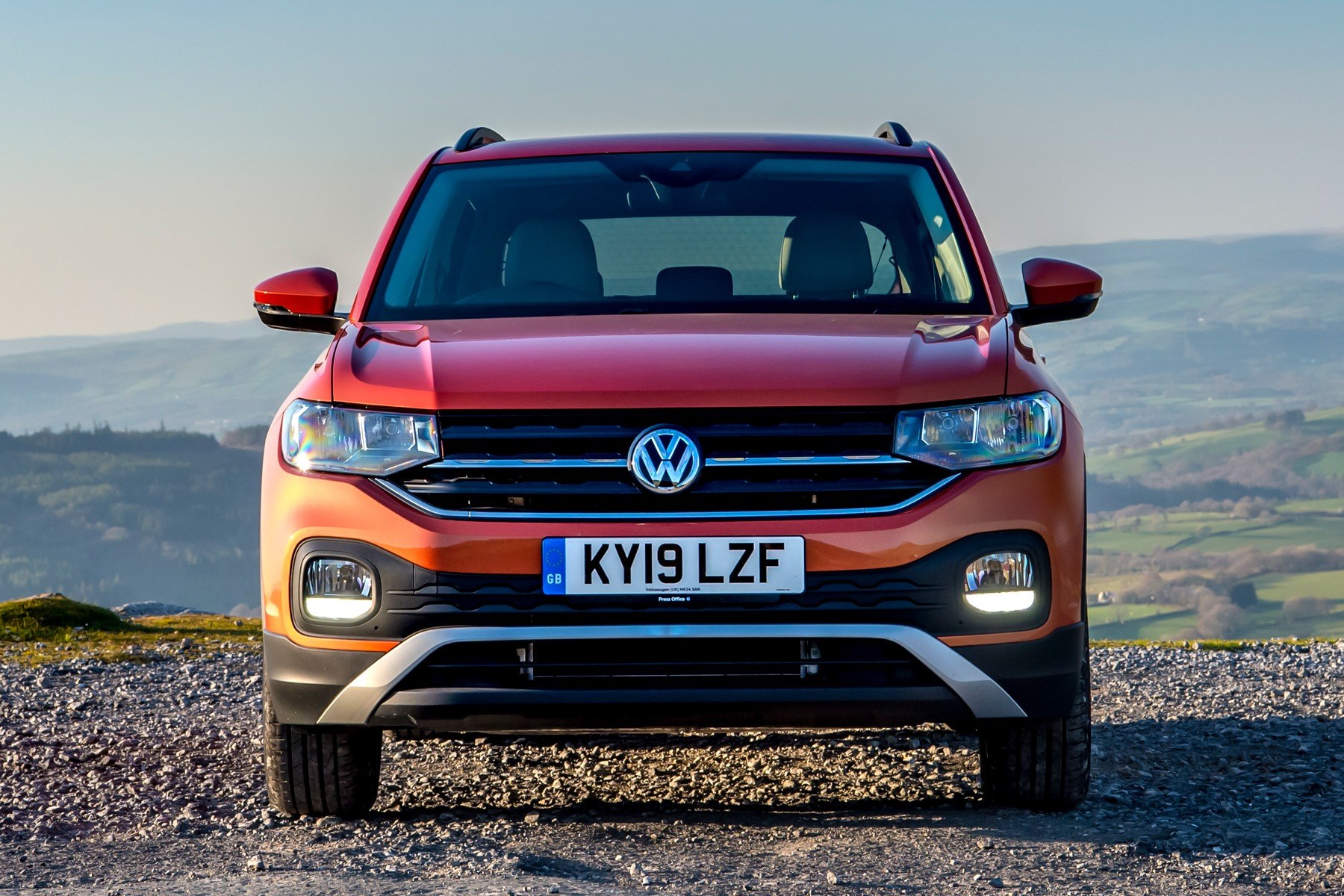 Volkswagen T-Cross
The T-Cross is the smallest SUV in Volkswagen's nine-model line-up. It's recently been facelifted, with crisp new LED headlights at the front and tweaks to the full-width light bar at the rear. It has a confident feel inside, with a tall dashboard and high-positioned touchscreen, and the lofty seating position is comfortable. It has more space than a Polo supermini in the rear, and the boot can be stretched to 455 litres by smart use of the sliding rear seat. The T-Cross is a very smooth and refined small SUV to drive, and the downsized turbo engines perform well without consuming too much fuel.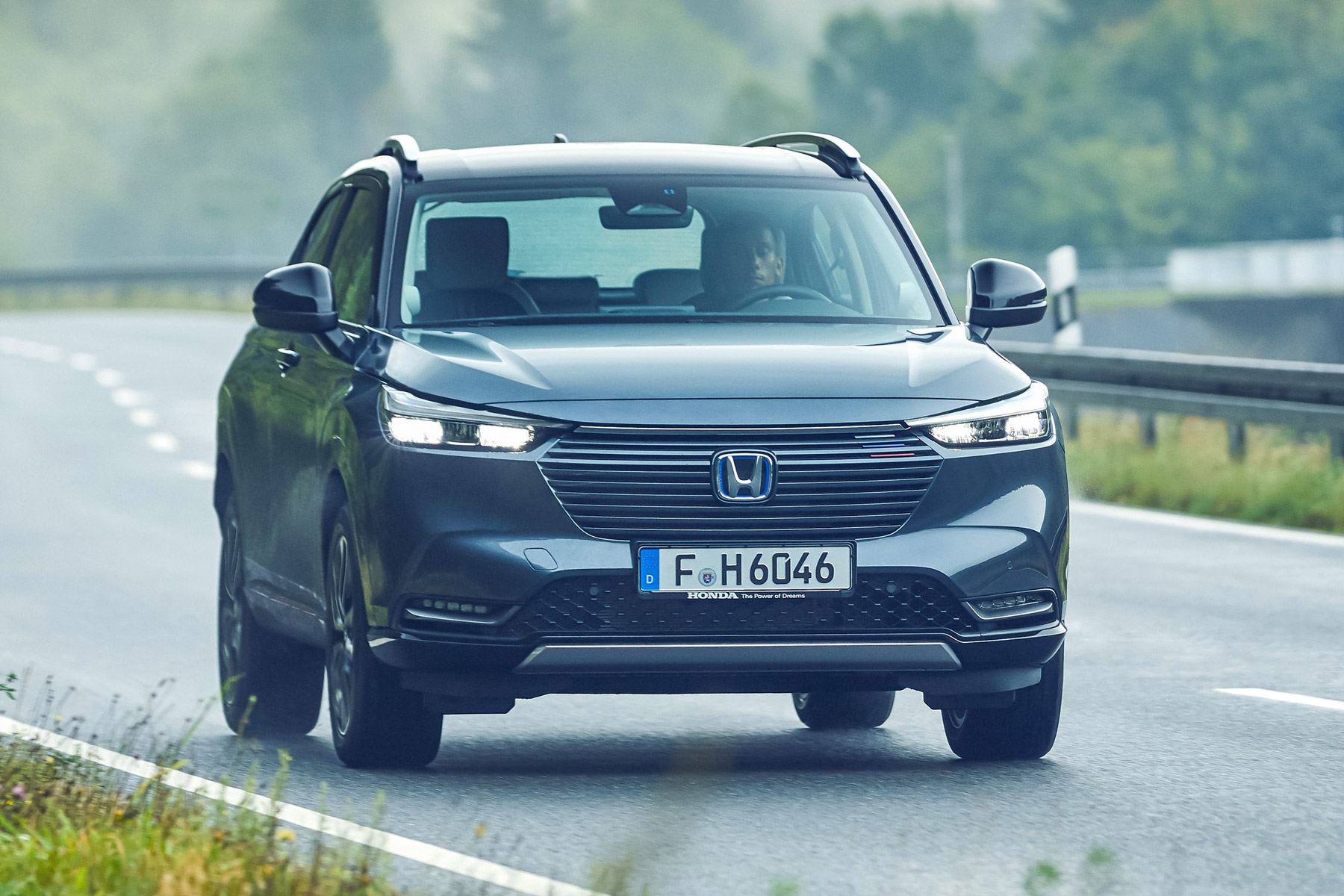 Honda HR-V
The Honda HR-V has been transformed in its latest guise. It has a futuristic, almost concept car look, with plenty of body-colour styling details and a coupe-like rake to its rear roofline. The interior, which is trimmed in contemporary materials, feels upmarket and refined, with an infotainment system that's leaps and bounds better than Honda's previous effort. It's a pure-hybrid model line now, using the e:HEV dual motor system. This underbonnet wizardry helps the engine shut down regularly, saving fuel and reducing CO2 emissions, while the electric motor is there to boost the 1.5-litre engine when you do need instant acceleration.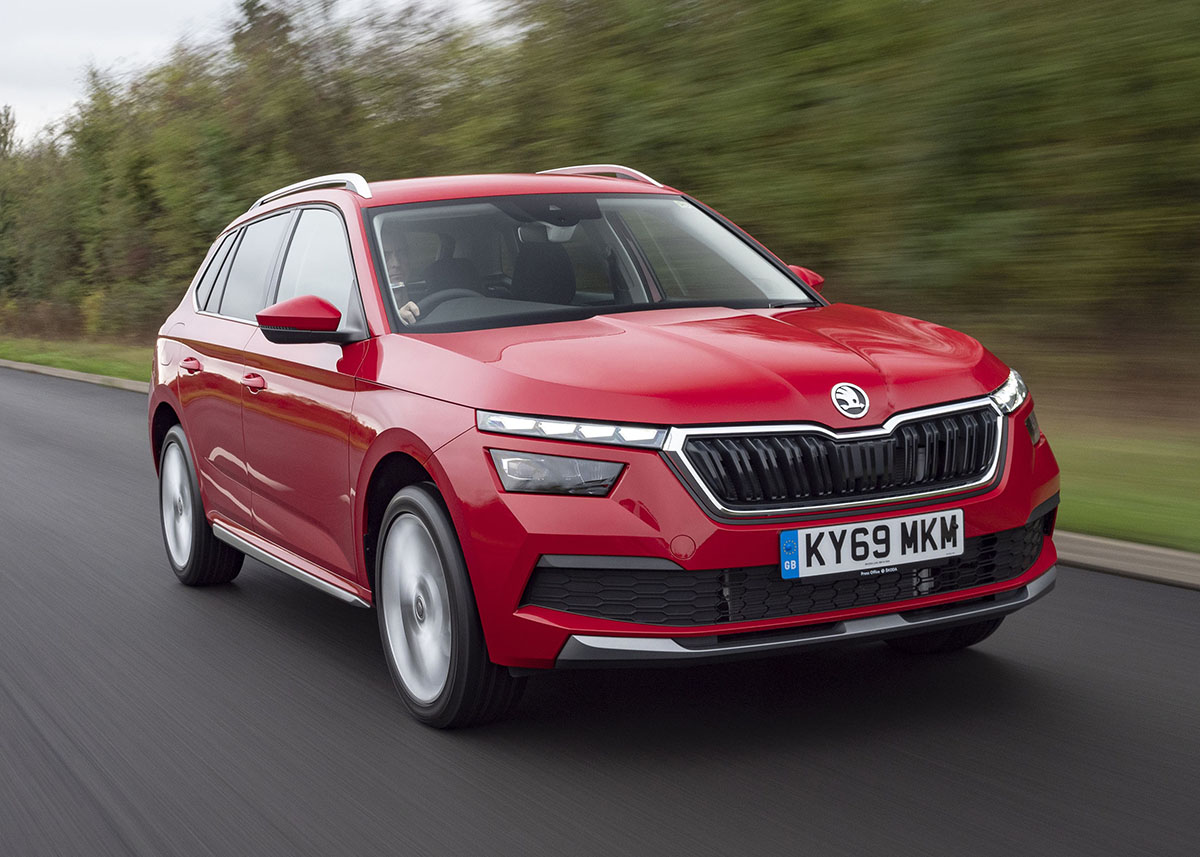 Skoda Kamiq
The Skoda Kamiq is the Czech firm's smallest SUV, but it inherits all the styling cues of the larger Karoq and Kodiaq. It is compact and urban-friendly, with neat LED running lights that have a smart crystal glass effect. All Kamiqs get standard alloy wheels and autonomous emergency braking, the latter bolstering city safety. The 400-litre boot expands to almost 1,400 litres with the rear seats folded, making this a surprisingly practical small SUV. It feels grown-up and stable to drive, with decent pulling power from the turbo petrol engines and the stress-saving option of an automatic transmission on certain variants.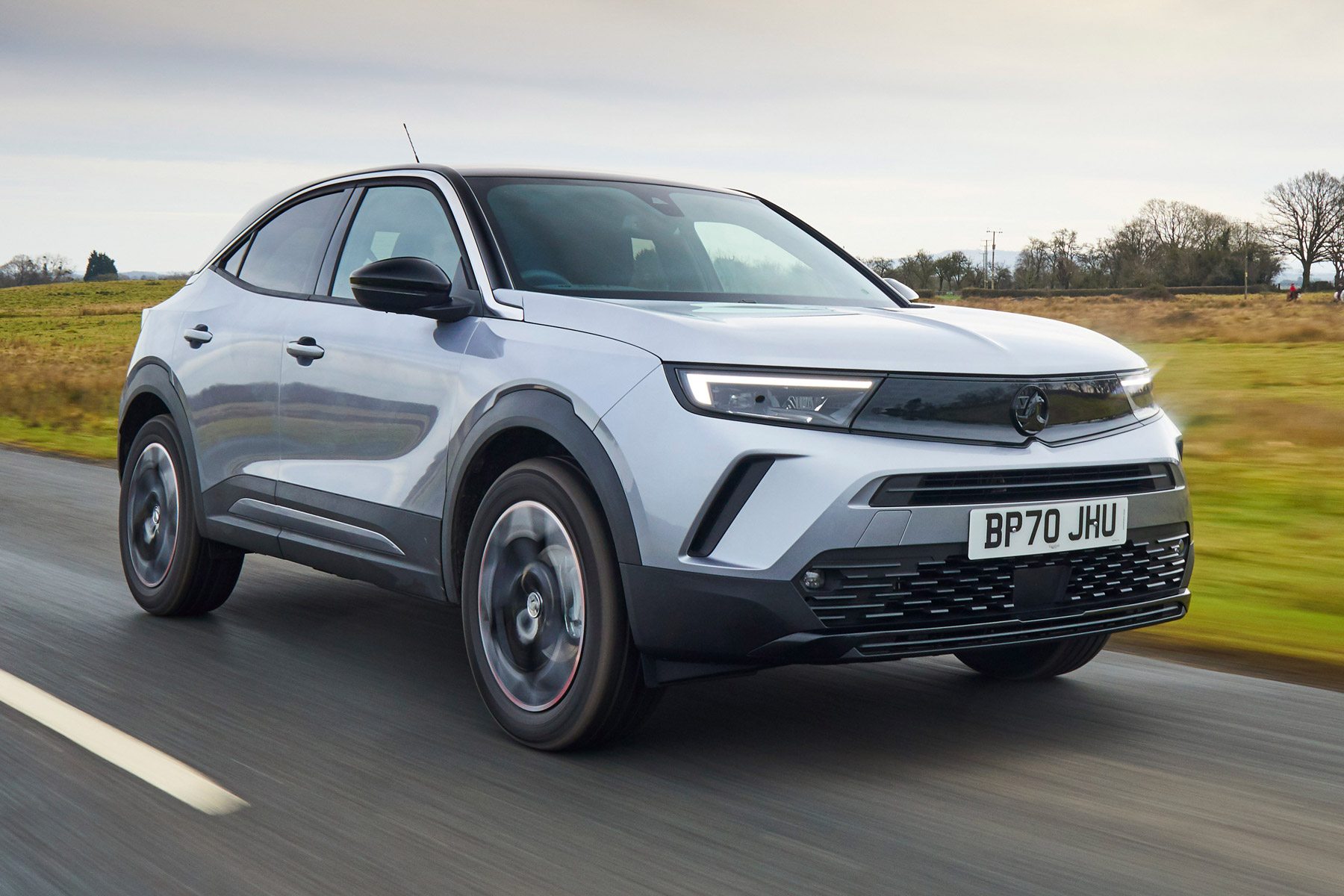 Vauxhall Mokka
The Vauxhall Mokka is another small SUV with a distinctive, forward-thinking design. It has an athletic profile, and looks particularly good with the large alloy wheels and the contrasting colour packs that Vauxhall offers. It has a modern feel inside, with dual wraparound screens for the driver, plus a high, safe seating position for those in front and rear. Space in the back is just about adequate, though – others offer more, but that's the price you pay for the sporty looks. Choose from petrol or diesel engines (most go for the 1.2-litre turbo petrol), or make the switch to electric with the Vauxhall Mokka-e.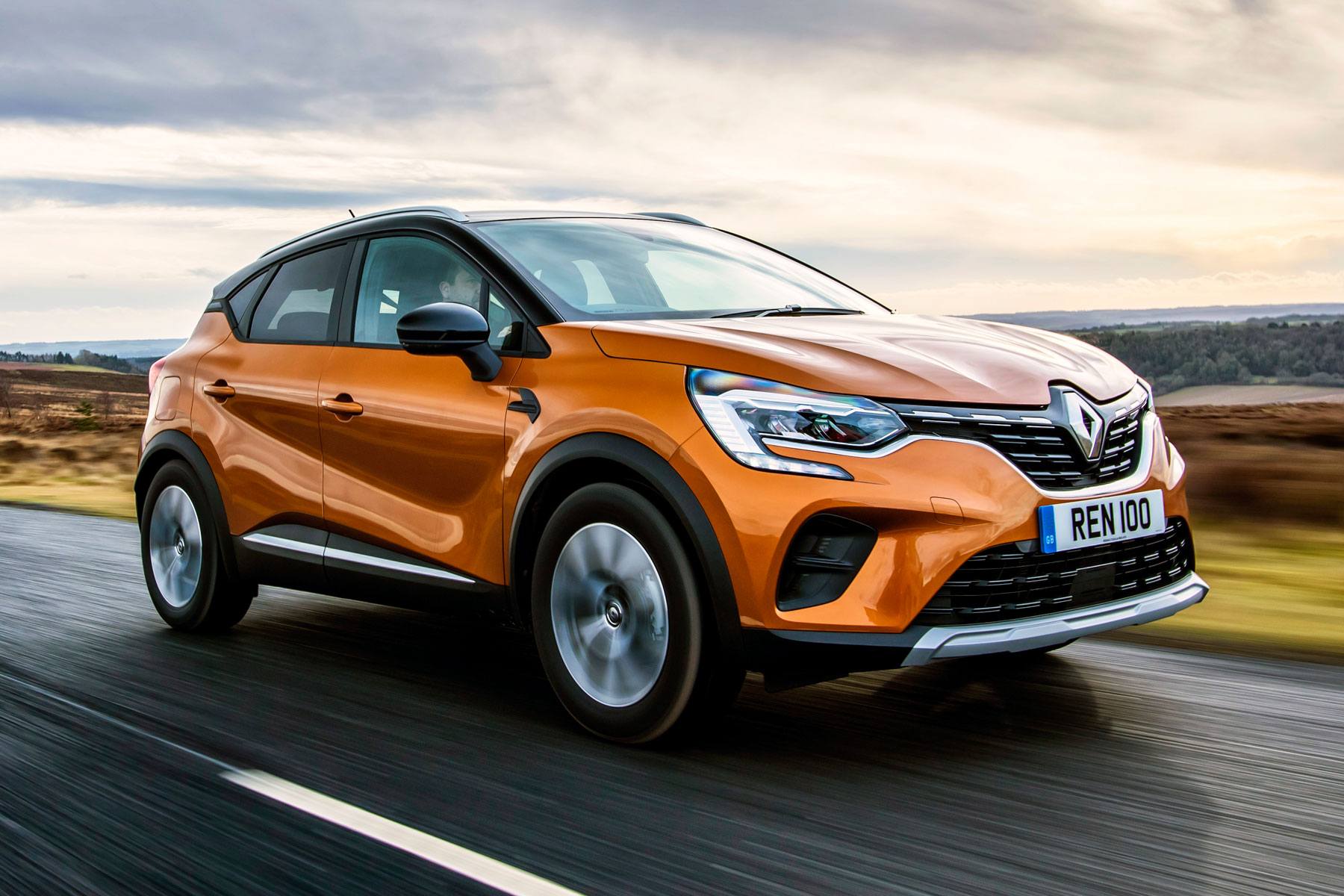 Renault Captur
The Renault Captur is one of this sector's classiest and most sophisticated SUVs. It's a pretty, elegant car with an upmarket interior. The rear seat slides, so you can vary boot capacity with passenger legroom, and all seats are comfortable and supportive. Renault even lets you complement the luxury feel with a Bose premium sound system. Engine-wise, the downsized petrol turbo is most popular, but Renault now offers two E-Tech hybrids: a regular 'full hybrid' and a plug-in hybrid with extended battery range for up to 30 miles of pure electric motoring.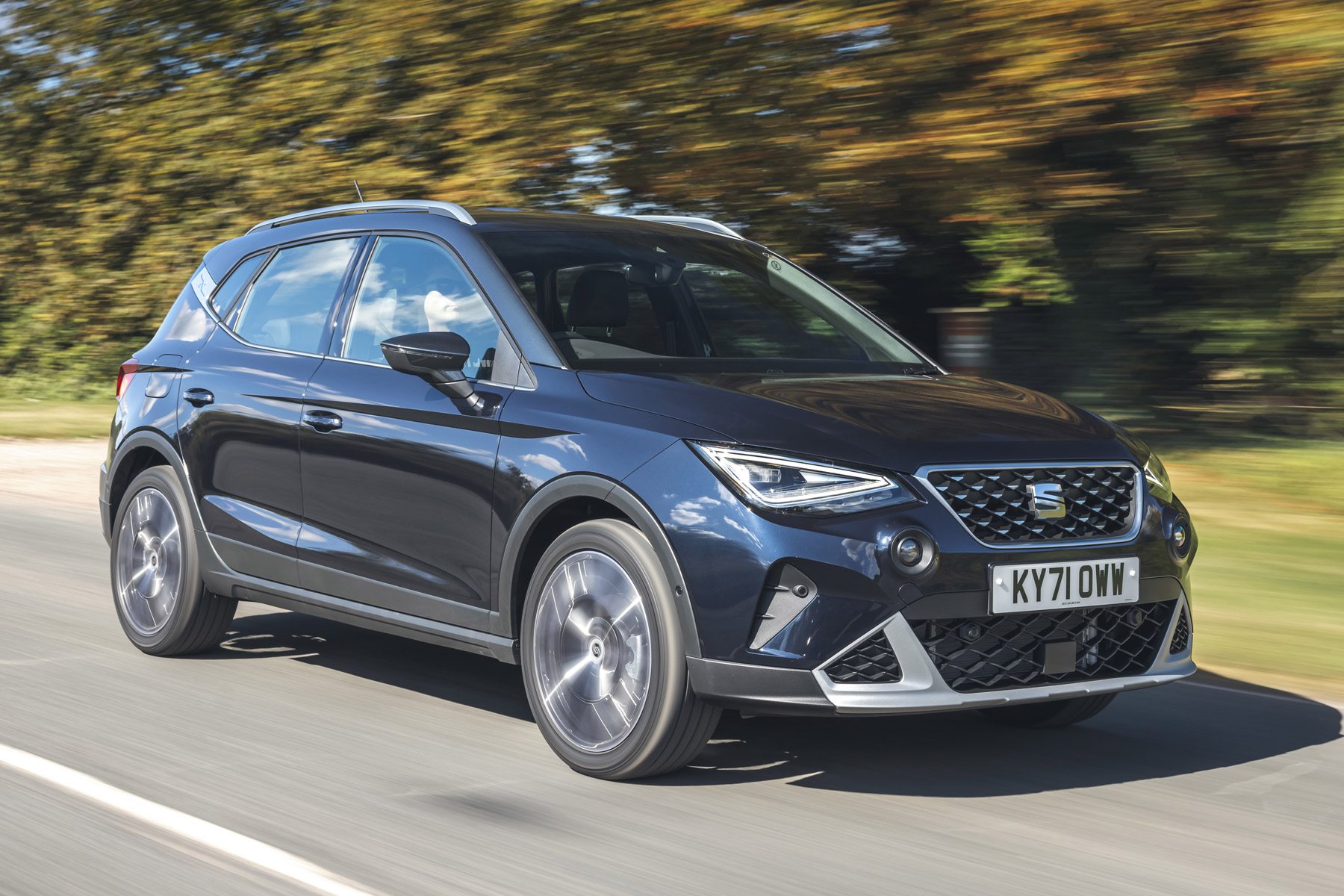 SEAT Arona
The SEAT Arona has recently been facelifted, giving the Spanish firm's smallest SUV an even more distinct look. We like the additional round lights at the front, while the contrast roof option remains – as does the chrome split in the rear roofline. The 'handwriting-style' Arona logo on the bootlid is smart, too. The interior has been redesigned, and now features a larger freestanding infotainment screen, which is much nicer to use than before. Most buyers choose the excellent 1.0-litre TSI engine, which is all the motor you'll ever need, but those who want more oomph can pick a 150hp 1.5-litre petrol.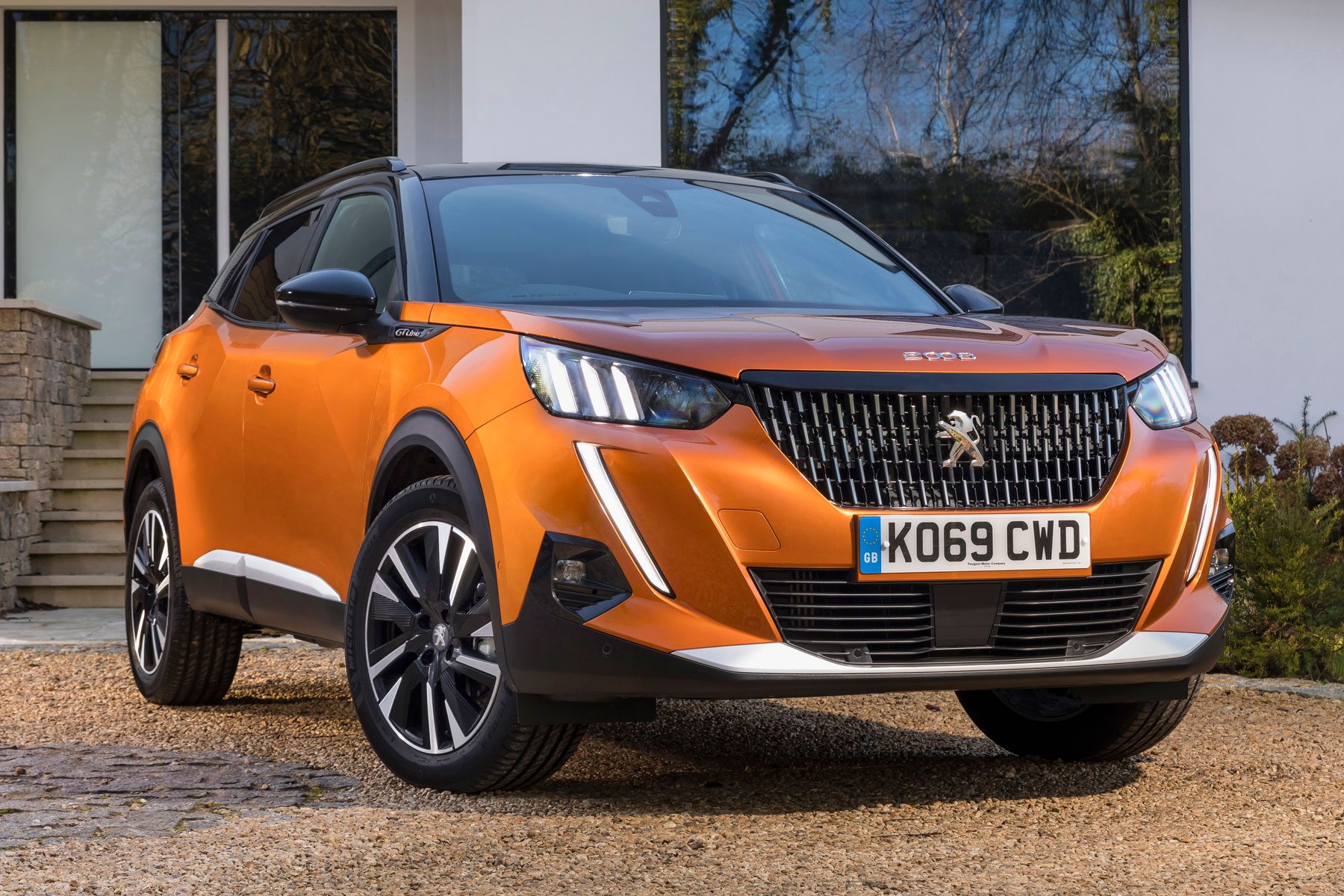 Peugeot 2008
The 2008 is yet another very stylish and distinctive modern Peugeot. It has a head-turning profile, with sharp lines intersecting smooth curves, and the large grille at the front is imposing. Its high-riding stance also delivers a commanding seating position inside. The dashboard is striking, with a broad full-colour instrument binnacle positioned above the steering wheel: part of Peugeot's unique i-Cockpit layout. The 1.2-litre turbo petrol engine is an excellent choice, but you can also get a fully electric version: the e-2008. This has an EV driving range of more than 200 miles, allowing 2008 fans with one eye on the 2030 petrol and diesel ban to get ahead.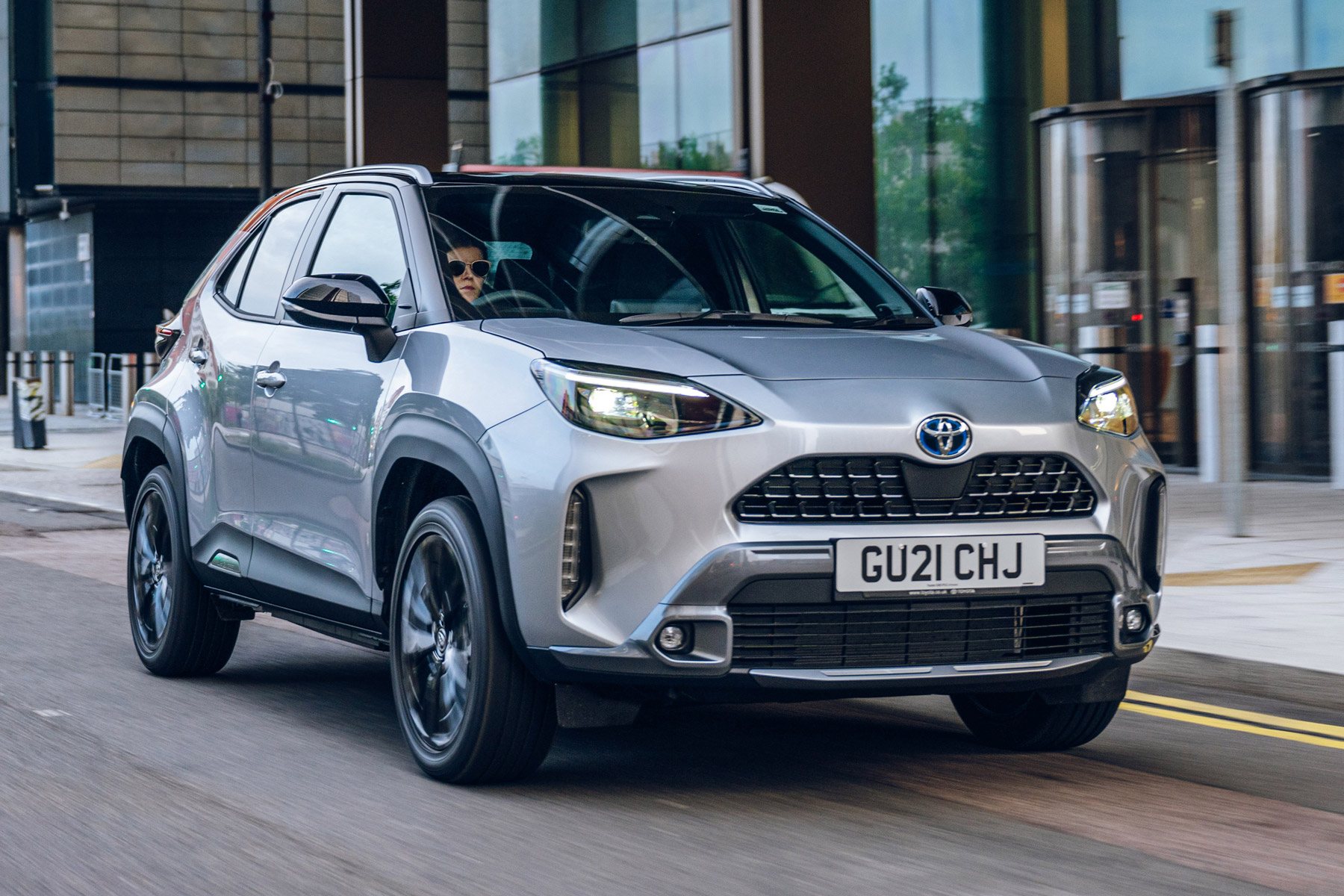 Toyota Yaris Cross
The Toyota Yaris Cross is a fresh new model for the Japanese firm. It's derived from the well-received Yaris supermini, and has a unique body style that is more muscular and assertive. Spot the styling cues from the larger RAV4 family SUV. Inside, it's similar to the Yaris, with a taller variation of that car's dashboard, which is no bad thing; it's easy to use and solidly built. The Yaris Cross's larger body brings more interior and boot space as well. Under the bonnet, it uses a 1.5-litre petrol-electric 'self-charging' hybrid engine. It's an easy way to drive a lot of miles in pure electric mode without the associated worry of range anxiety.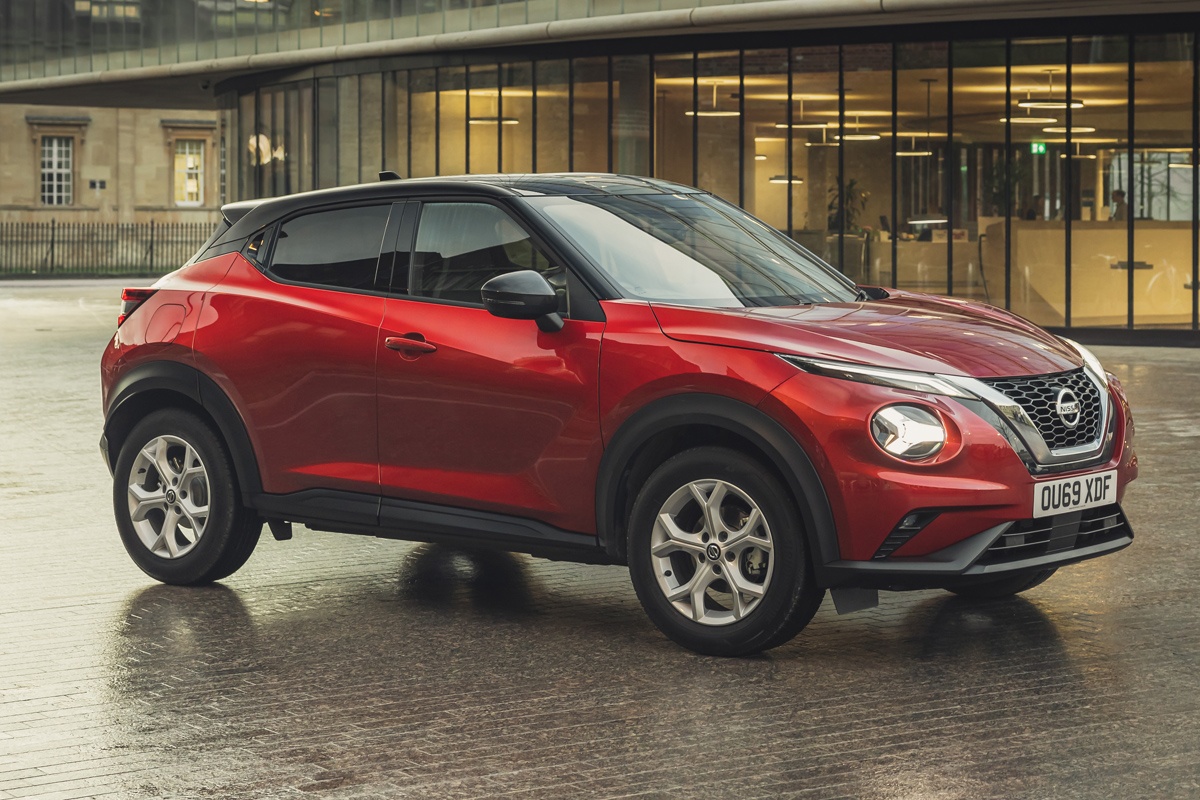 Nissan Juke
The Nissan Juke is the original style-led small SUV, inventing this sector just as the larger Qashqai created the family crossover. The original Juke was very quirky looking, and proved extremely popular. This second generation model aims to modernise the same look, while fixing the parts of the original that weren't so competitive: notably interior space and boot capacity. It certainly ticks the boxes in those areas, and quality has also had a lift, enhancing the feeling of solidity. At the moment, there's just a single turbo petrol engine to choose from, but a hybrid model is imminent. It should deliver a good amount of real-world pure electric motoring, says Nissan.
Can you get a small SUV with all-wheel drive?
All-wheel drive is rare at this level. Small SUV owners generally don't need the extra traction and grip – and sticking with front-wheel drive helps save costs, complexity and fuel. The Audi Q2 is one small SUV that offers all-wheel drive, although it's a premium-priced machine and the Quattro system adds further to the sale price. A slightly larger choice is the Dacia Duster 4x4. If you want something even smaller, both the Fiat Panda Cross and Suzuki Ignis offer 4x4 versions.
Can you get an electric small SUV?
Electric SUVs are starting to grow in popularity. Vauxhall and Peugeot were two of the first, with pure electric versions of the Mokka and 2008 (the Mokka-e and e-2008). Both have a driving range of well over 200 miles and can use public rapid chargers for fast top-ups. More electric small SUVs are coming – Ford is planning an electric Puma for 2024 – but in the meantime, several brands offer hybrid and plug-in hybrid models. The Toyota Yaris Cross and Honda HR-V come as standard with hybrid tech, and you can get a plug-in hybrid version of the Renault Captur.
Are small SUVs good on fuel?
The beauty of small SUVs is that, despite their confident, rugged styling and high-riding comfort, they are almost as good as regular small cars in terms of fuel consumption. Most models here come in efficient turbo petrol form, with official consumption of more than 50mpg. You can also get hybrid and plug-in hybrid versions of some models that offer even greater economy. Hybrids are particularly good in town, while you'll be able to drive up to 30 miles with a fully-charged plug-in hybrid before using a single drop of fuel.