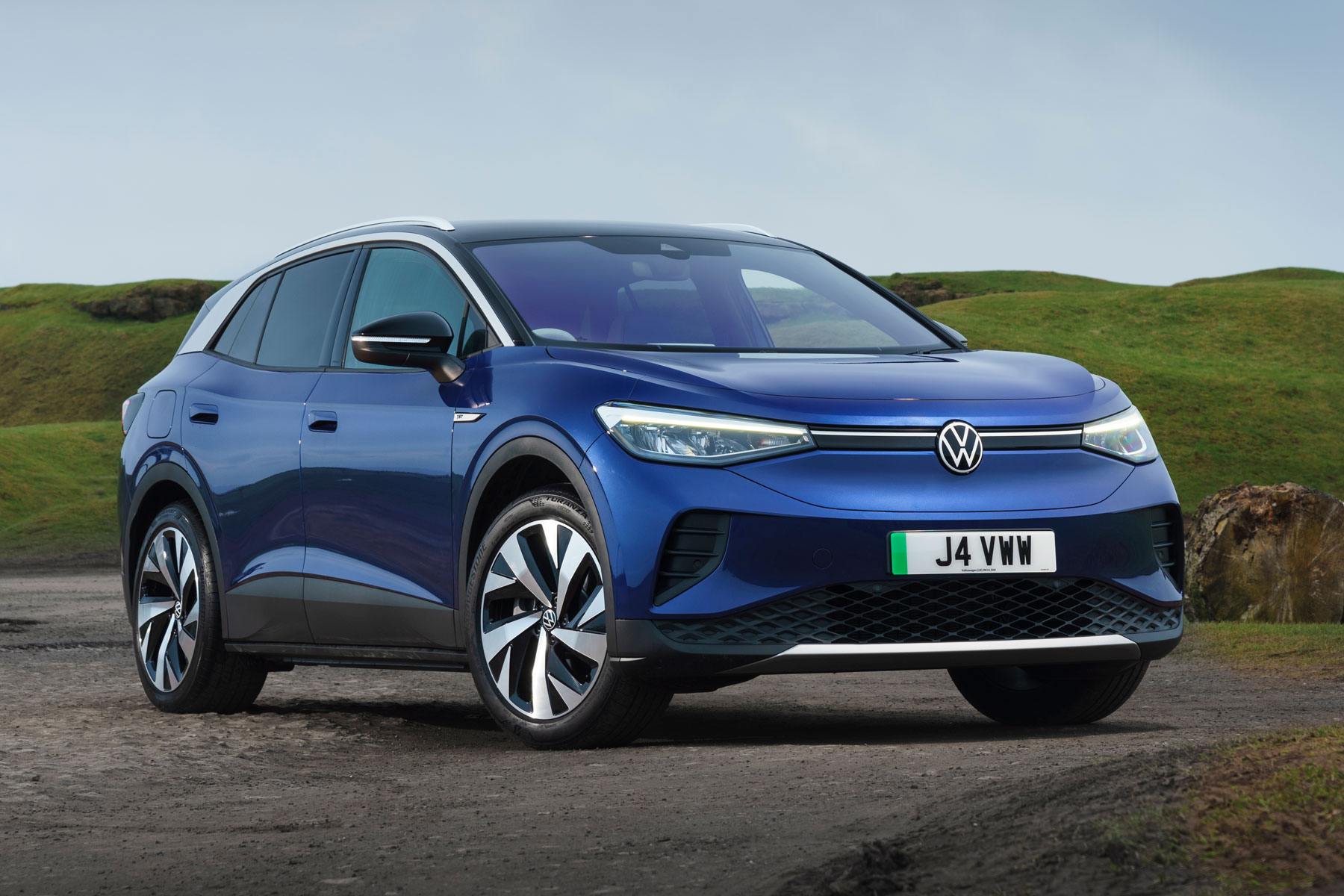 New car buyers across Europe are signing up for SUVs in droves. The high-riding, rugged-looking machines are the single most popular type of new car, and sales show no signs of slowing down.
But amidst the SUV craze, there's a landmark deadline looming: the phasing out of new petrol and diesel cars from 2030. These are the internal combustion engines that dominate the SUV sector even more than for most other varieties of car.
Car manufacturers are preparing for the future, though. The combination of SUV style and a pure electric drivetrain are ready and waiting for 2030 right now – and there are growing numbers of them coming to market.
Here, we round up 10 of the best EV SUVs on sale, which will help motorists go electric without having to compromise on the lofty seating position and smart styling offered by the best SUVs.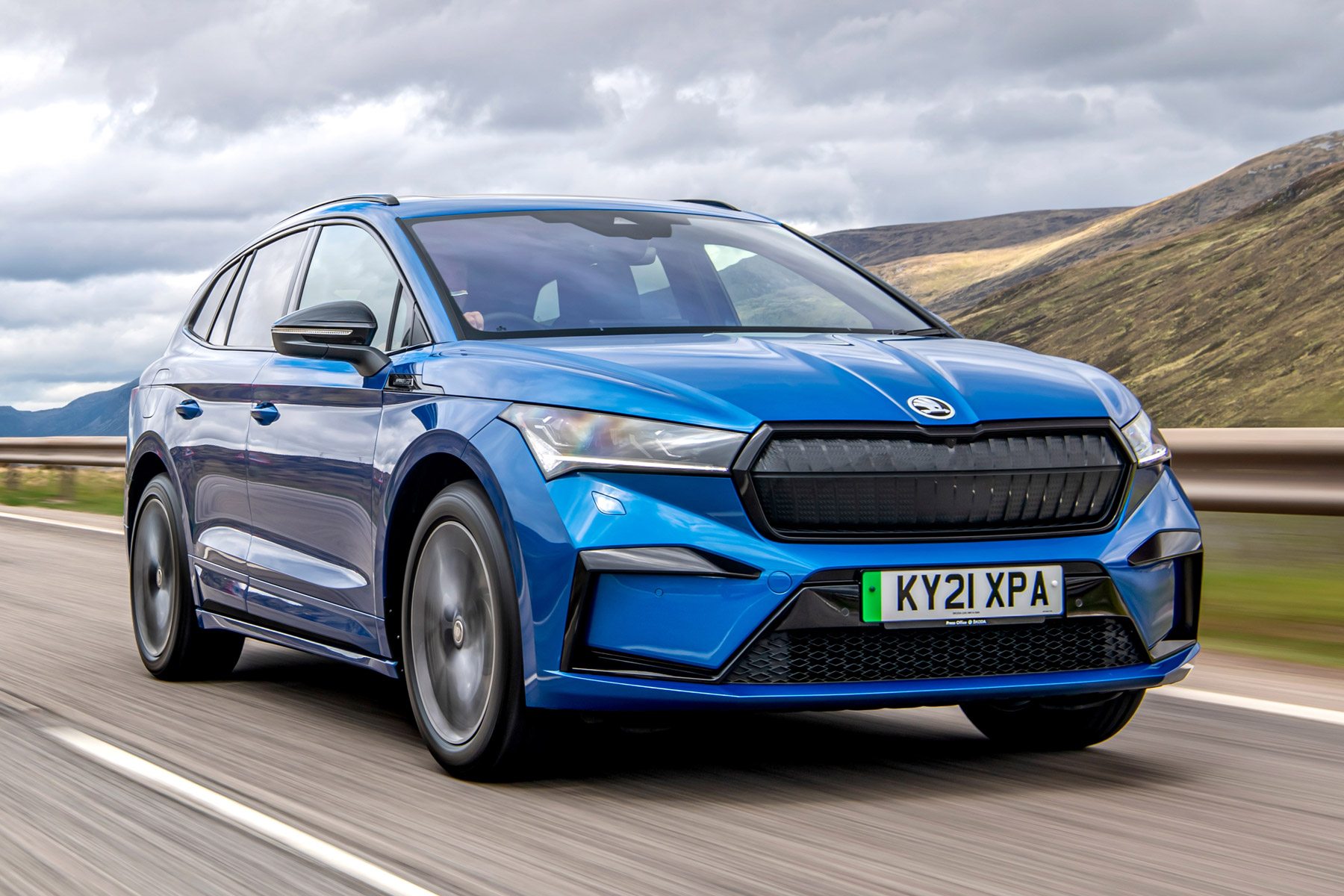 Skoda Enyaq iV
Skoda's first electric SUV is a fantastic all-rounder. It's smartly-styled, combining the assertive looks of its 'K-branded' petrol SUVs with the sleek, more aerodynamic appearance of a futuristic EV. You can even get an illuminated crystal grille. It has a welcoming, open-plan feel inside, with an eye-catching 13.0-inch central touchscreen and a range of trim packages. The Enyaq iV is spacious, with loads of room for five people, and equipment levels are generous even in the entry-level version. Choose from Enyaq iV 60 or 80 variants – the number refers to the battery capacity in kWh – and drive free from range anxiety, with the range-topper offering a healthy 330 miles between charges.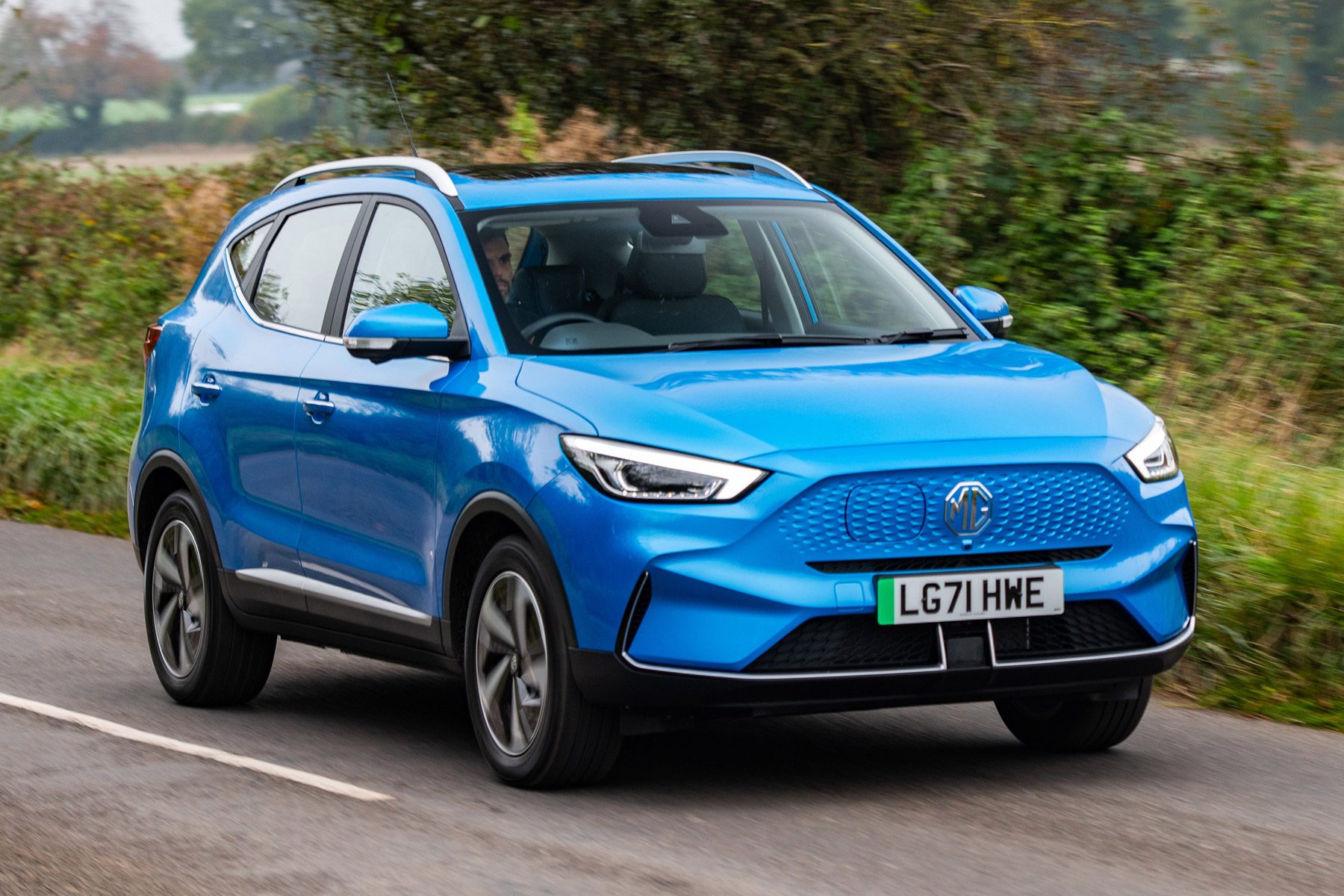 MG ZS EV
The MG ZS EV is an electric SUV that appeals first and foremost because of its bargain prices. The entry-level version starts from less than £28,000 – we don't call it basic because it's anything but, with a crisp 10.1-inch touchscreen forming the centrepiece of the interior. MG Pilot safety assist is also included, and owners can even use the MG smartphone app to monitor their vehicle remotely. The standard battery has a range of almost 200 miles, and there's a new Long Range version with a 273-mile range – easily enough for the average family's weekly motoring. MG includes a seven-year, 80,000-mile warranty as well.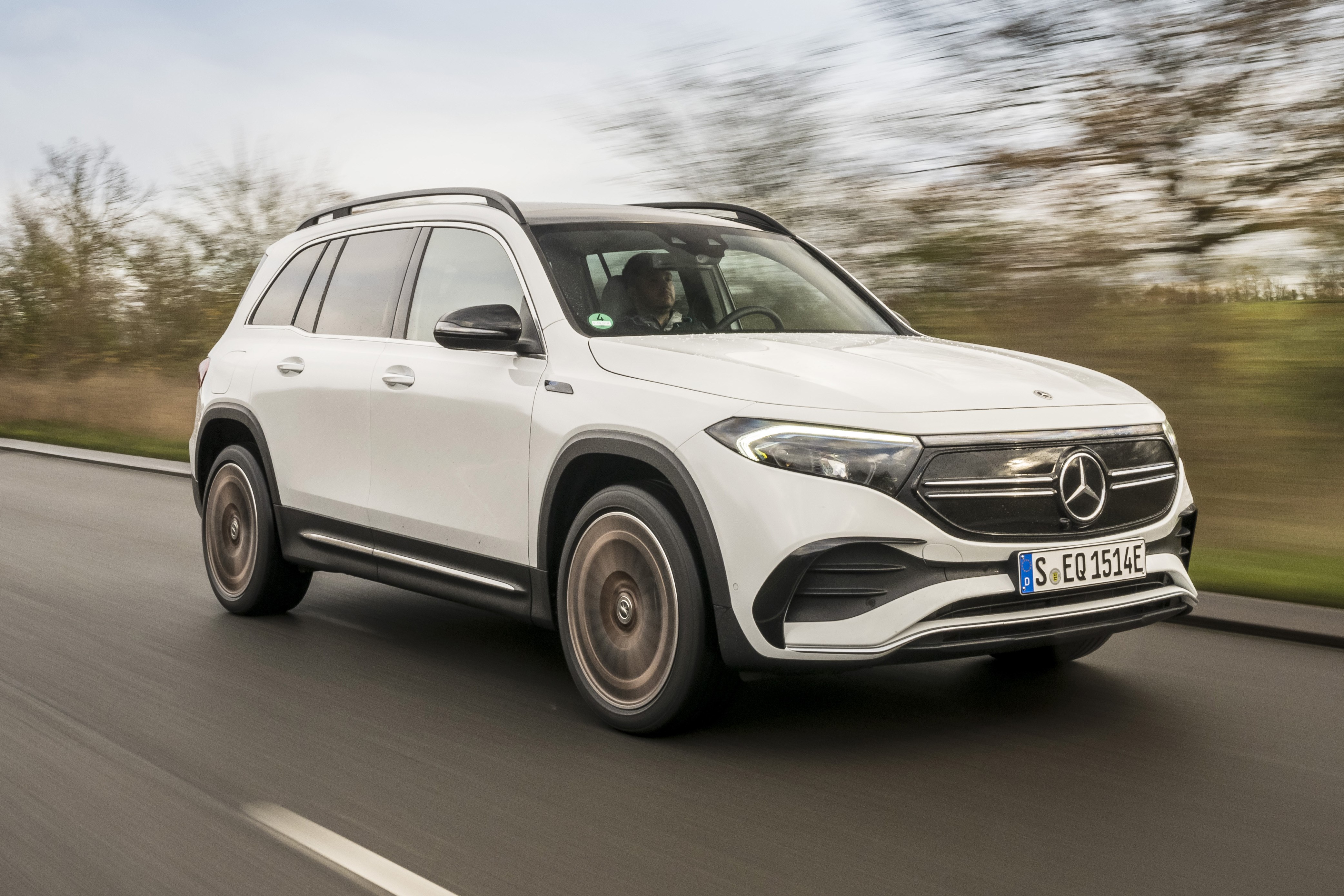 Mercedes-Benz EQB
The Mercedes-Benz EQB is a rare thing: a seven-seat, SUV-style electric car. It has a decent range of up to 257 miles, and can rapid-charge in around half an hour, but it's the EQB's practicality that really marks it out. The third row of seats folds flat into the floor when not needed, and space for the other five passengers is generous. We also love the high-tech interior based around the MBUX infotainment system, with crisp touchscreen functionality and the option of features such as augmented reality sat-nav. EQB prices start at a premium-level £53,000, but the Mercedes has practicality few other EVs can yet match.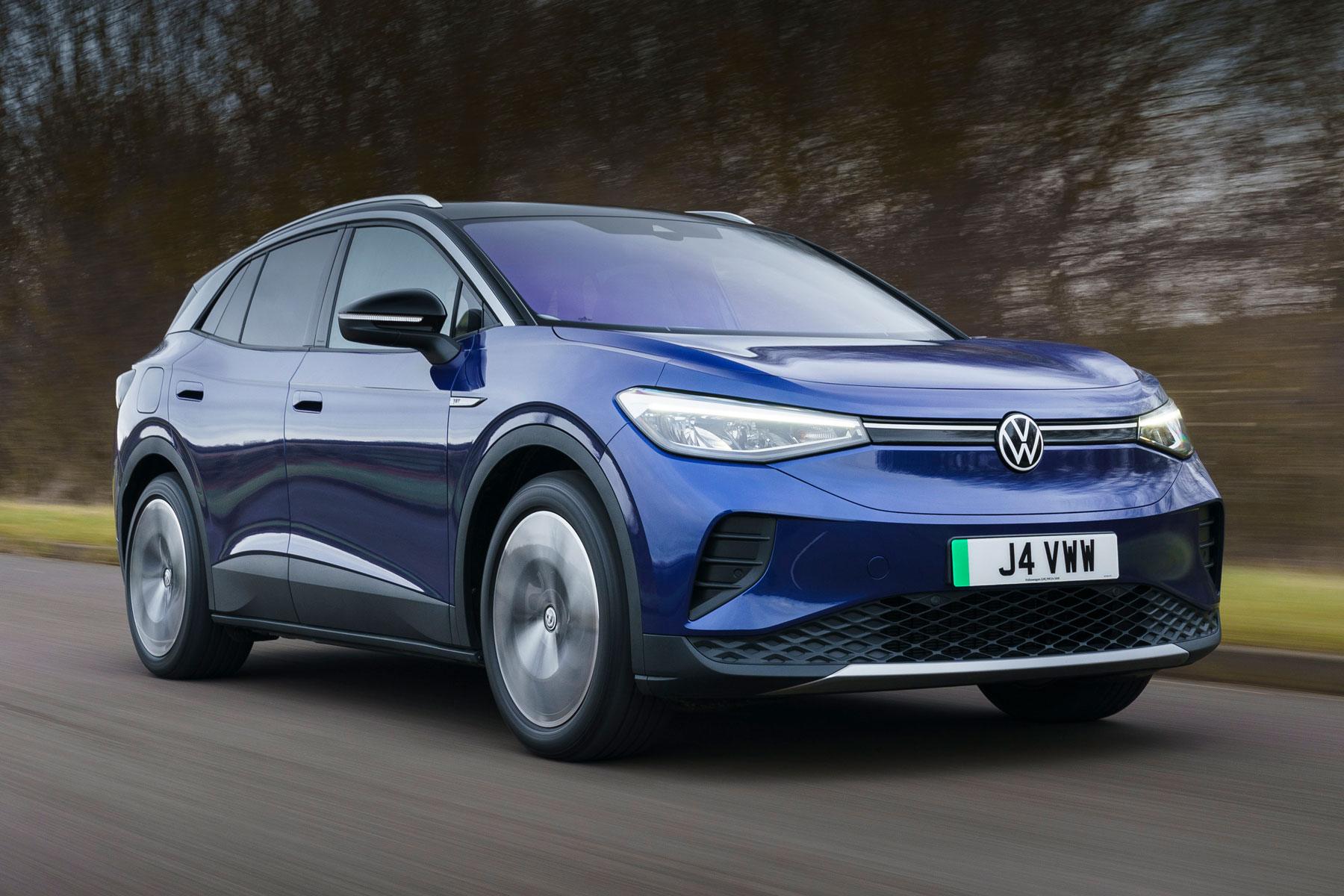 Volkswagen ID.4
The Volkswagen ID.4 is the SUV sister car to the innovative ID.3 family hatchback. Billed as a pure electric alternative to the Tiguan SUV, the ID.4 has a modern appearance and a welcoming, open-plan interior with lots of space for five. It is a voluminous car with a big boot, and the sense of space is enhanced by Volkswagen's digital-centric dashboard. There's a four-model range of Life, Style, Family and hot-hatch-inspired GTX variants, and a choice of 52kWh Pure Performance or 77kWh Pro batteries; the latter has a range of up to 317 miles. The GTX also comes with grippy all-wheel drive, for entertaining performance.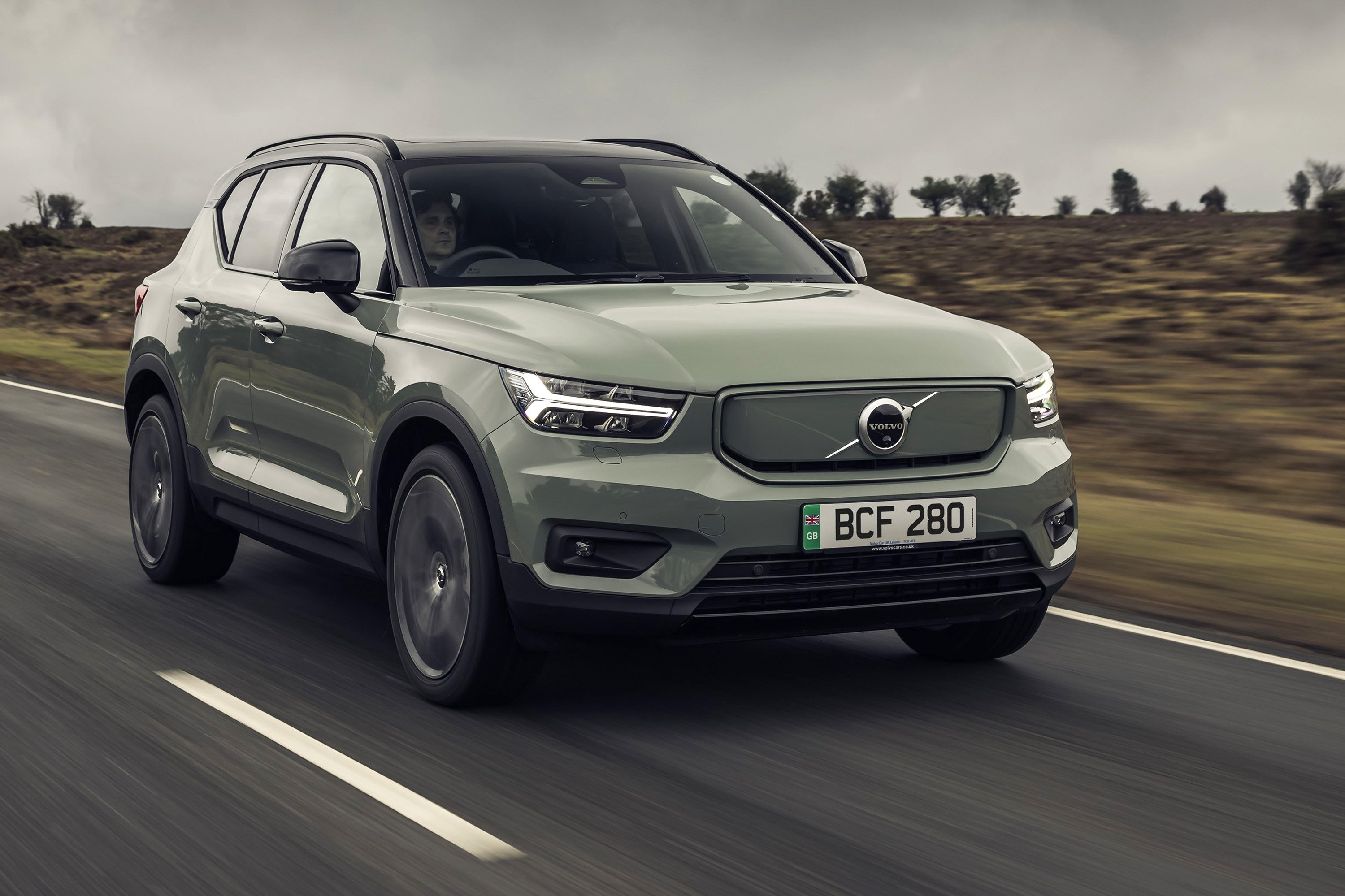 Volvo XC40 Recharge
The Volvo XC40 Recharge range is available as a plug-in hybrid or the pure electric version we're looking at here. Choose either a single motor model with 231hp or a twin motor variant with a sports-car-like 408hp and 0-62mph in just 4.9 seconds. Both have an EV driving range of around 250 miles. The premium-looking XC40 has an appealing and upmarket interior, complete with Google-based infotainment. It's an extremely practical car for five, as you'd expect from a Volvo, and it's refined and stable on the move, with a pliant ride and confident feel. A neat feature is an additional front boot, ideal for storing the charging cables.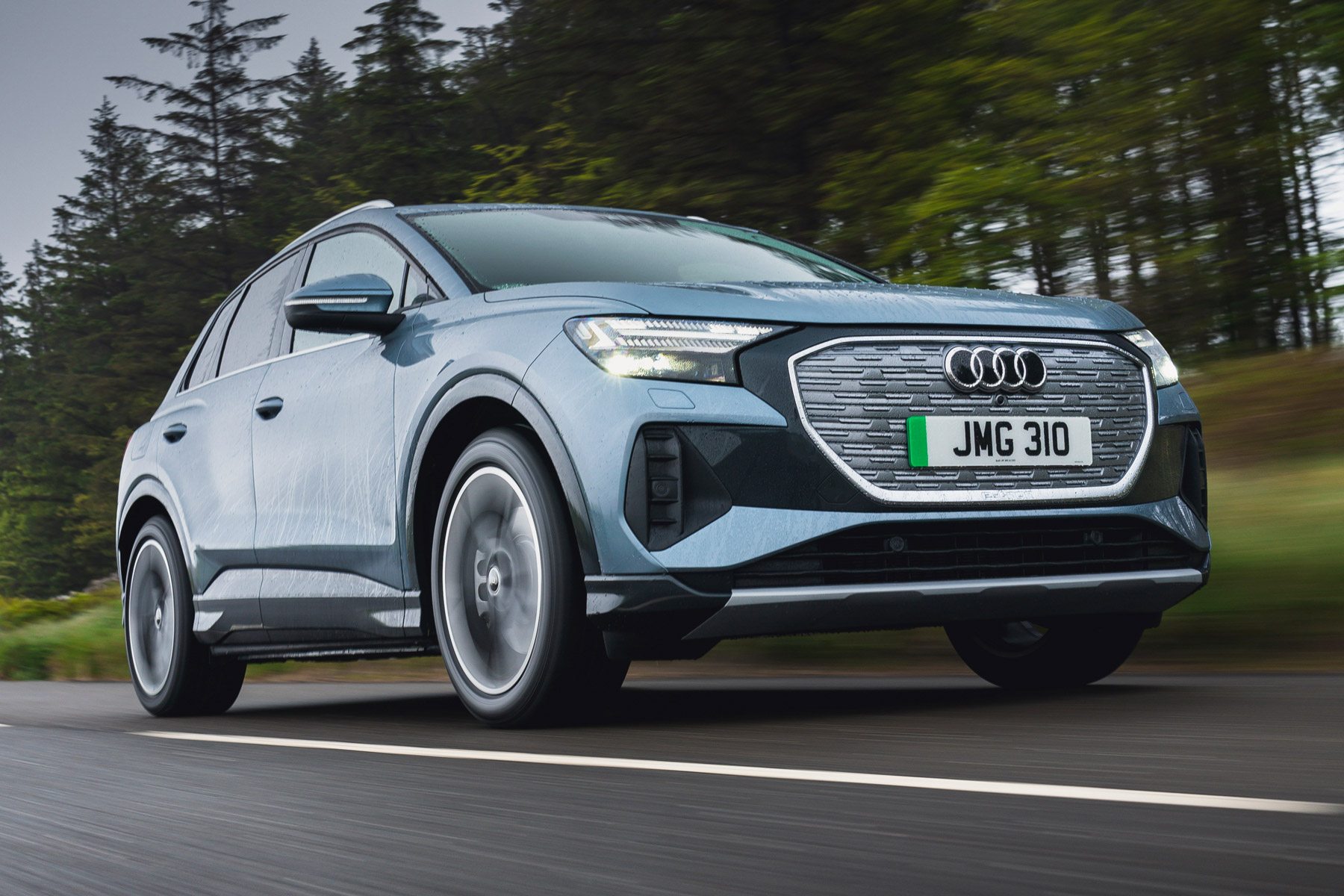 Audi Q4 e-tron
The Q4 e-tron is Audi's best mainstream electric car to date. It looks very modern, with intricate detailing and an appearance befitting prices starting from £48,000. The interior is futuristic, with a full array of electronic screens and liberal use of piano black trim. It's roomy inside, with a huge amount of adjustability for the driver and comfortable rear seats, and it's a very plush and refined car to drive. Audi uses its confusing numbering system to denote batteries and power: choose from 52kWh or 77kWh batteries and three levels of output, with the most efficient combination offering a range of 316 miles.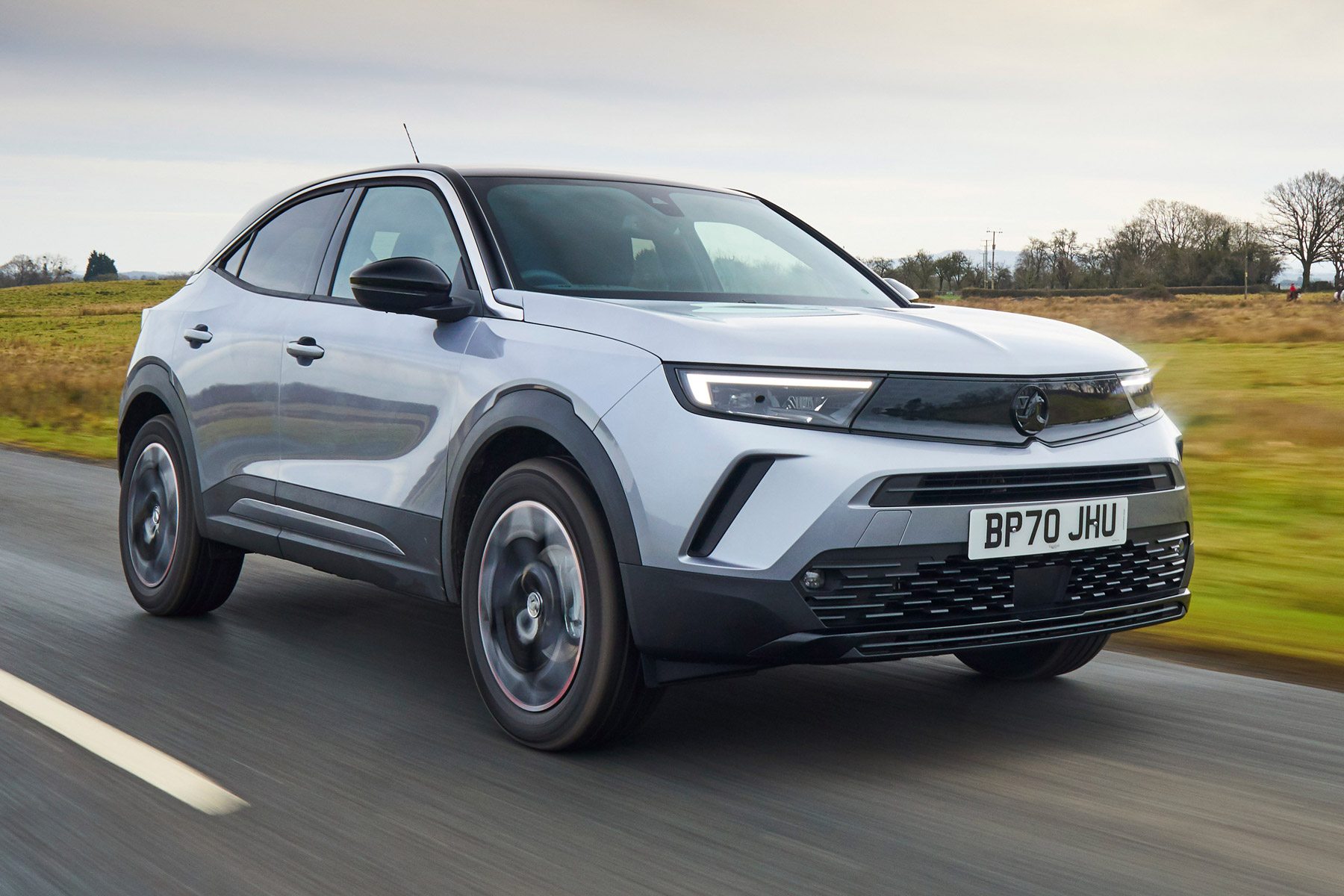 Vauxhall Mokka-e
The Vauxhall Mokka-e is a bit of a rarity right now, being an electric small crossover SUV. It offers an alternative to the regular petrol and diesel Mokka range, and the visual differences are intentionally minimal. It has a 50kWh battery and 136hp motor, for reasonable performance and a driving range of almost 210 miles. Electric power suits the Mokka-e's almost concept car styling, and the futurism is carried through inside, where the high-sat driver faces a wraparound instrument display with dual screens. The Mokka-e is good to drive, with refinement few small SUVs can match, although rear-seat space isn't quite adult-friendly – it's best reserved for children back there.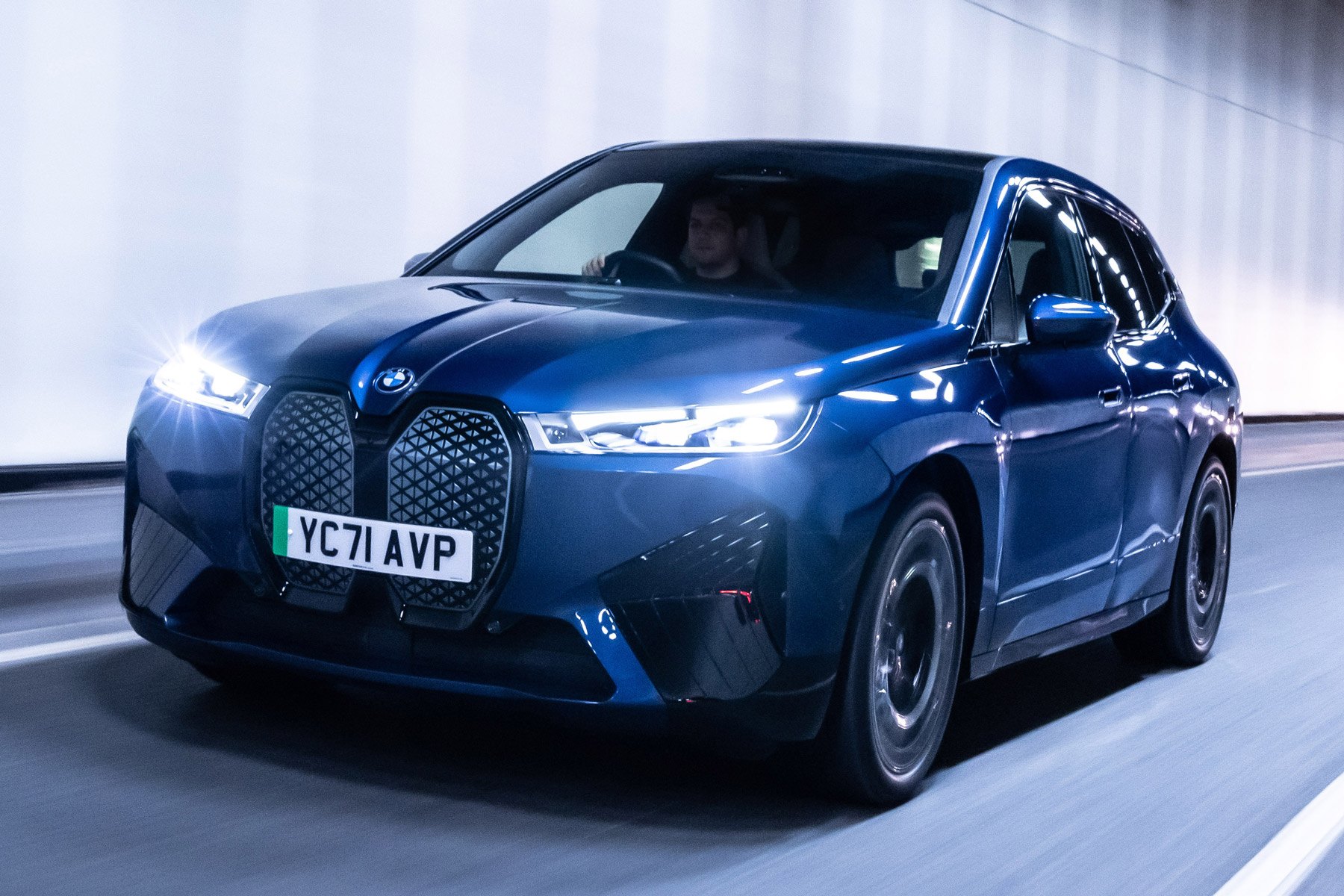 BMW iX
The BMW iX is a really dramatic-looking new electric SUV from the sporty German brand. Visually, it references the groundbreaking i3 compact car, but takes things to a whole new level with its size and extremely bold front kidney grilles. It's little short of breathtaking inside as well, with an immaculate widescreen infotainment display and jewel-like detailing for all the minor controls. Fit and finish are impeccable and it genuinely feels like a real range-topper. The regular xDrive40 has a range of 257 miles, and the extraordinary xDrive50 offers up to 380 miles, along with 0-62mph in just 4.6 seconds. It does have a six-figure price tag to go with it, mind – considerably more expensive than the £70,000 entry-level iX.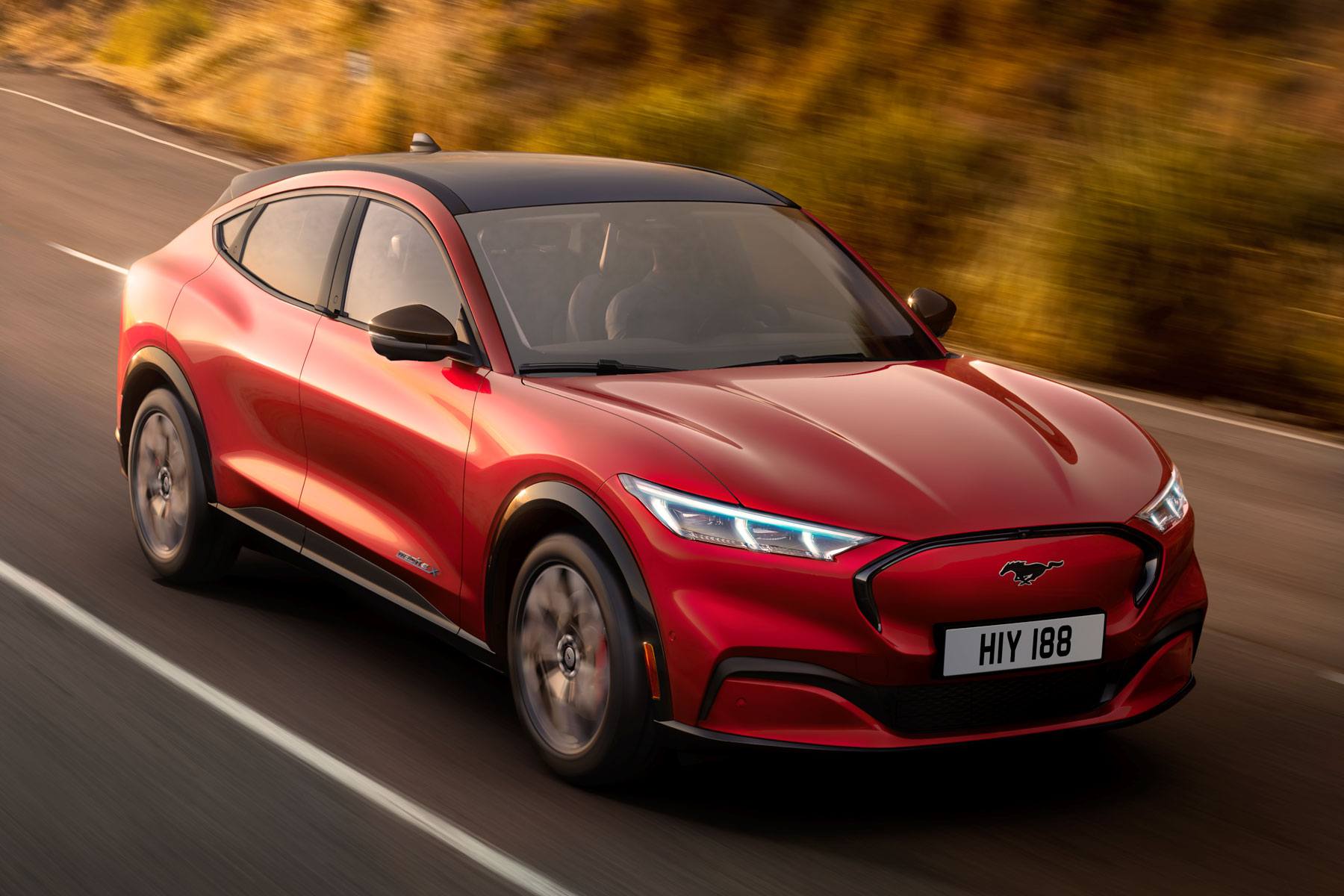 Ford Mustang Mach-e
Ford's electric SUV engineers were inspired by the classic Mustang GT in creating the Mach-e. It references the original 'pony car' throughout, from the badge on its curvaceous nose to the radical plunging rear roofline. It's a big car with family-friendly space for five, and they'll be amazed by the enormous portrait-format touchscreen inside. It comes in RWD and AWD guises, with 70kWh standard or 91kWh extended range batteries. Choose the right combination and you'll have up to 379 miles of EV range. Or you could have the range-topping Mustang Mach-e GT and experience wild 0-62mph acceleration in just 3.7 seconds.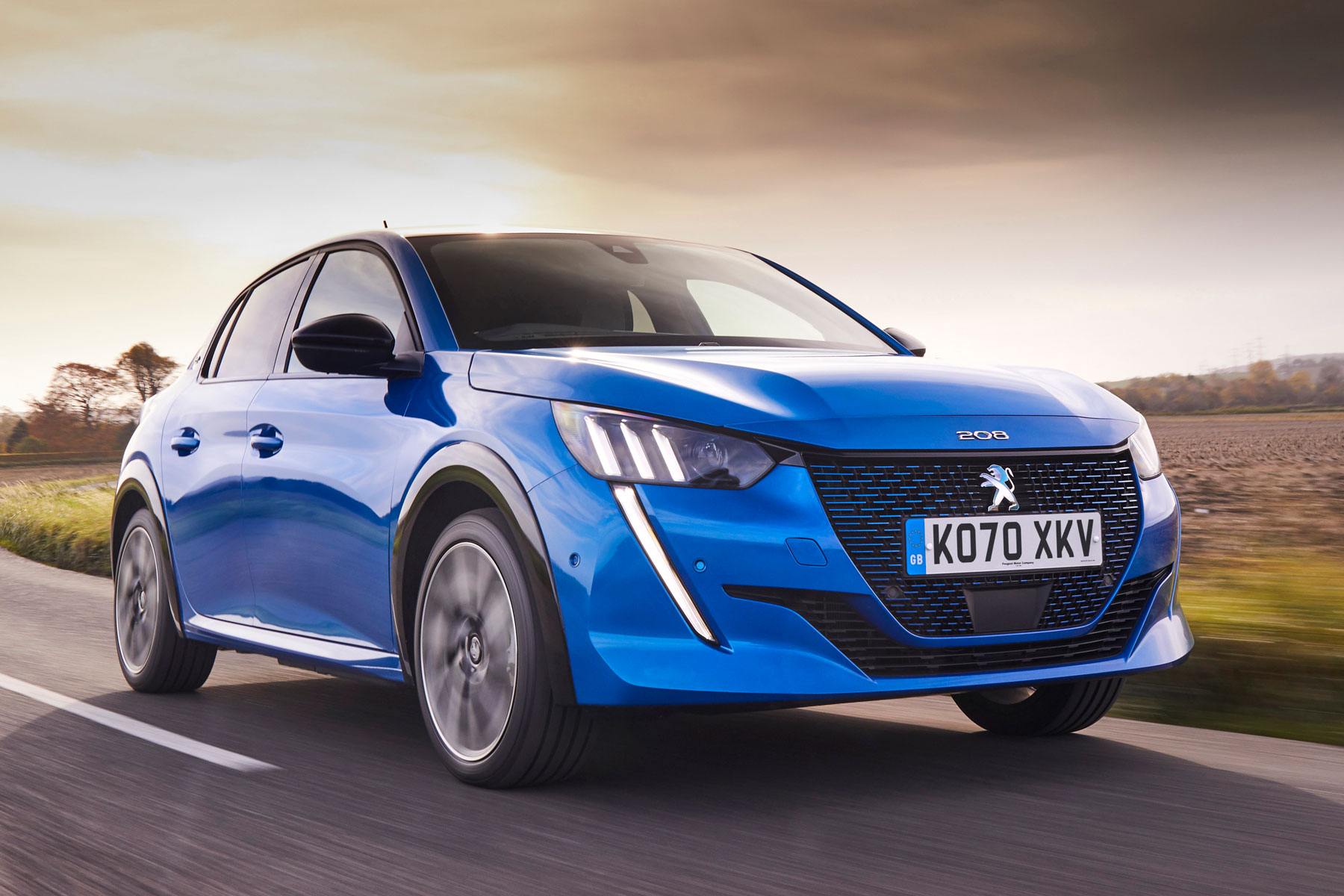 Peugeot e-2008
The Peugeot e-2008 is an all-electric version of the regular 2008 small SUV range. Like the related Vauxhall Mokka-e, it lines up alongside normal petrol and diesel models, so customers can make a direct comparison to see if going electric is right for them. Growing numbers of Peugeot buyers are making the switch, particularly as the higher monthly lease or PCP finance payments are more than offset by the cheaper 'refueling' costs you get with an EV. The e-2008 can be marked out with blue detailing around its distinctive front grille, and high-tech displays inside let you closely monitor the remaining charge and efficiency of your driving. Peugeot's novel i-Cockpit layout, with a super-small steering wheel, is also distinctive.
Are electric SUVs spacious?
Modern electric car batteries don't take up as much space as you'd think – and because they can be packaged beneath the floor, they're also kept well out of the way of passengers and luggage. Add in the fact that electric motors are far smaller than regular car engines, and this means electric SUVs are often more spacious than regular petrol and diesel equivalents. The Volkswagen ID.4 is a great example of this. Some electric SUVs even have an additional boot in the front, for storing cables or soft bags.
Are there any seven-seat electric SUVs?
The seven-seat electric SUV is still something of a rarity, but they are growing in number. The Tesla Model X was one of the first, and is still on offer for those who can afford it. The more recent Mercedes-Benz EQB is a much cheaper alternative, using the space efficiency inherent in electric cars to pack in three rows of seats within a footprint measuring less than 4.7 metres long. And when the rearmost seats aren't needed, they can be folded to provide an enormous boot even in five-seat guise.
Do electric SUVs have a good EV range?
Although electric SUVs are inherently heavier and less aerodynamic than regular cars, their extra size and height comes in very useful when packaging batteries. This means electric SUVs can often have bigger batteries than regular hatchbacks, which helps deliver a good driving range. The Ford Mustang Mach-e is a fine example of this, with a brilliant range of almost 380 miles, which is yours for a still-affordable price. Every single electric SUV we've listed here is capable of driving for well over 200 miles between charges.