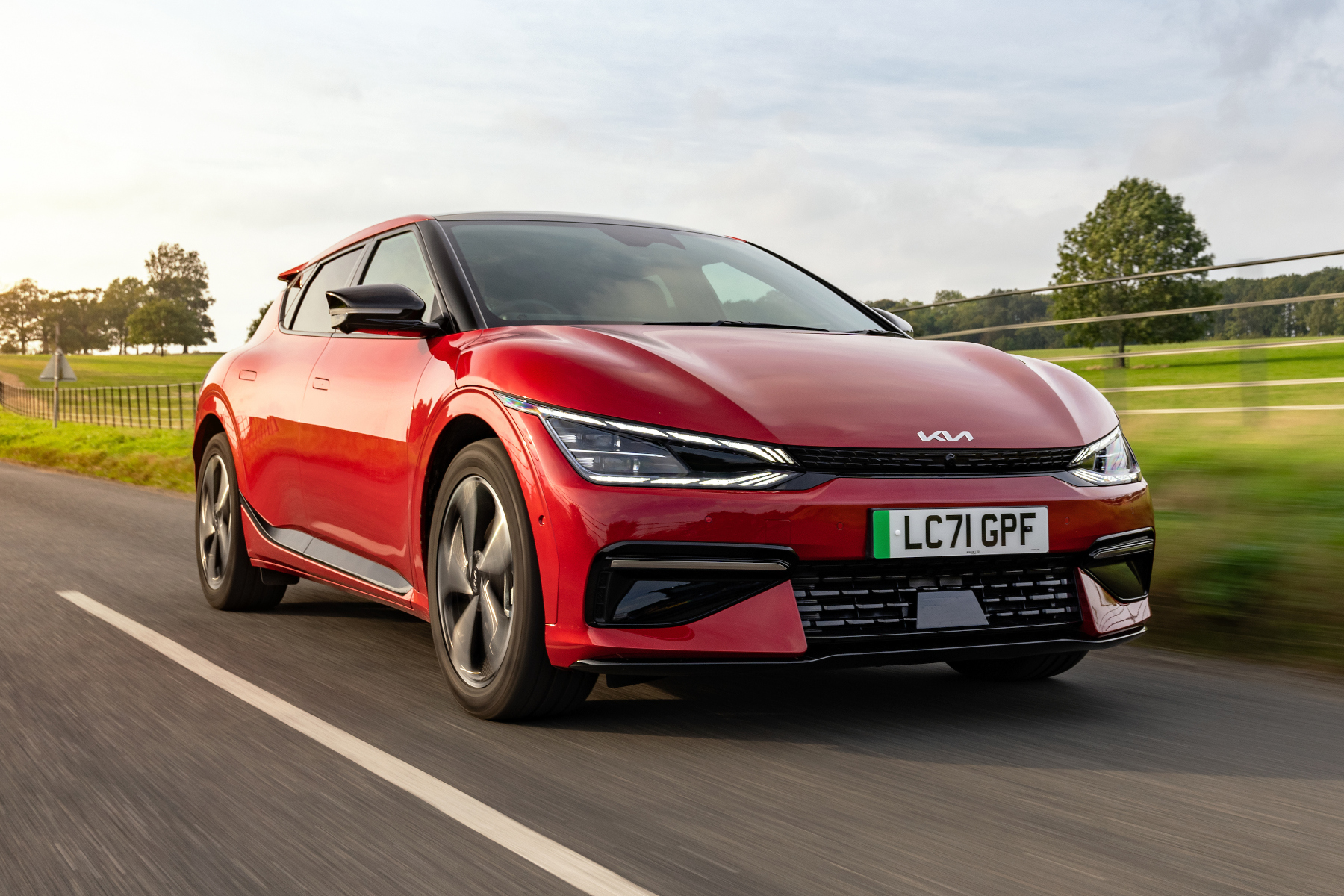 These are the best new and used electric cars you can buy in 2023. From everyday EVs with cheap running costs to premium SUVs with limo-like refinement, we've shortlisted the 10 best electric vehicles you can buy right now.
If truth be told, there has never been a better time to buy a new or used electric car. EV standards are exceptionally high, with vehicle manufacturers unveiling an ever-growing number of class-leading electric cars. 
The best EVs are more than a match for their petrol and diesel rivals, with the latest electric cars offering excellent comfort, practicality and road handling. Improvements in battery tech have also made range anxiety a thing of the past, with the latest EVs capable of covering over 300 miles on a full charge. 
Here, we reveal 10 of the best electric cars you can buy right now. All of them have a good range, family-friendly interior space and futuristic good looks. Some deliver really outstanding performance; others impress with their affordability.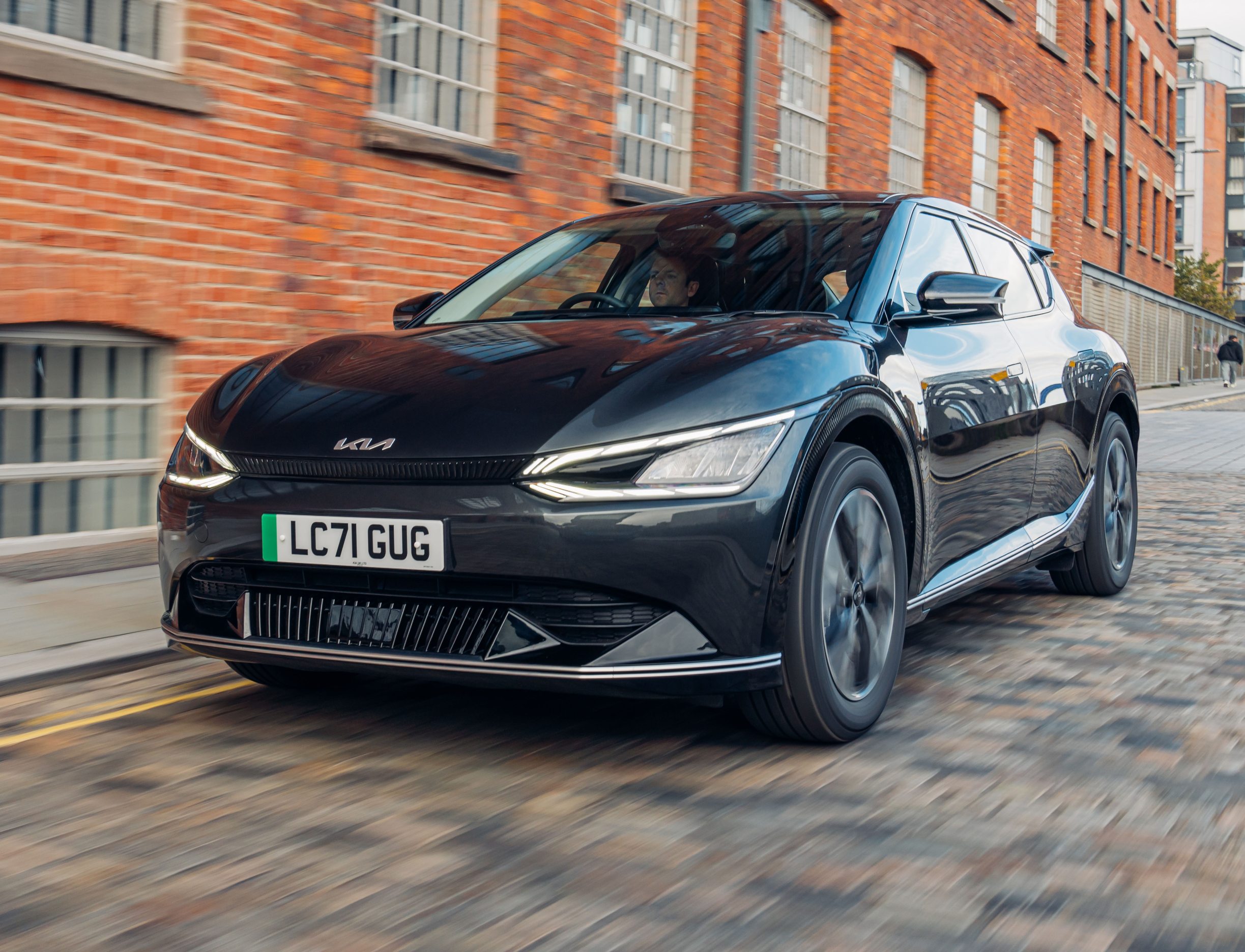 Kia EV6
Stylish, affordable and capable of travelling up to 328 miles on a full charge, the Kia EV6 is a bold car from the Korean firm that offers a premium experience at a more family-friendly price. It starts from around £44,000 and the battery can be rapidly charged from 10 to 80 per cent in just 18 minutes. What's more, with space for five, the entire family can enjoy the thrills from a performance car that does 0-62mph in 7.3 seconds, even in entry-level rear-wheel-drive guise. The all-wheel-drive EV6 needs just 5.2 seconds to reach 62mph.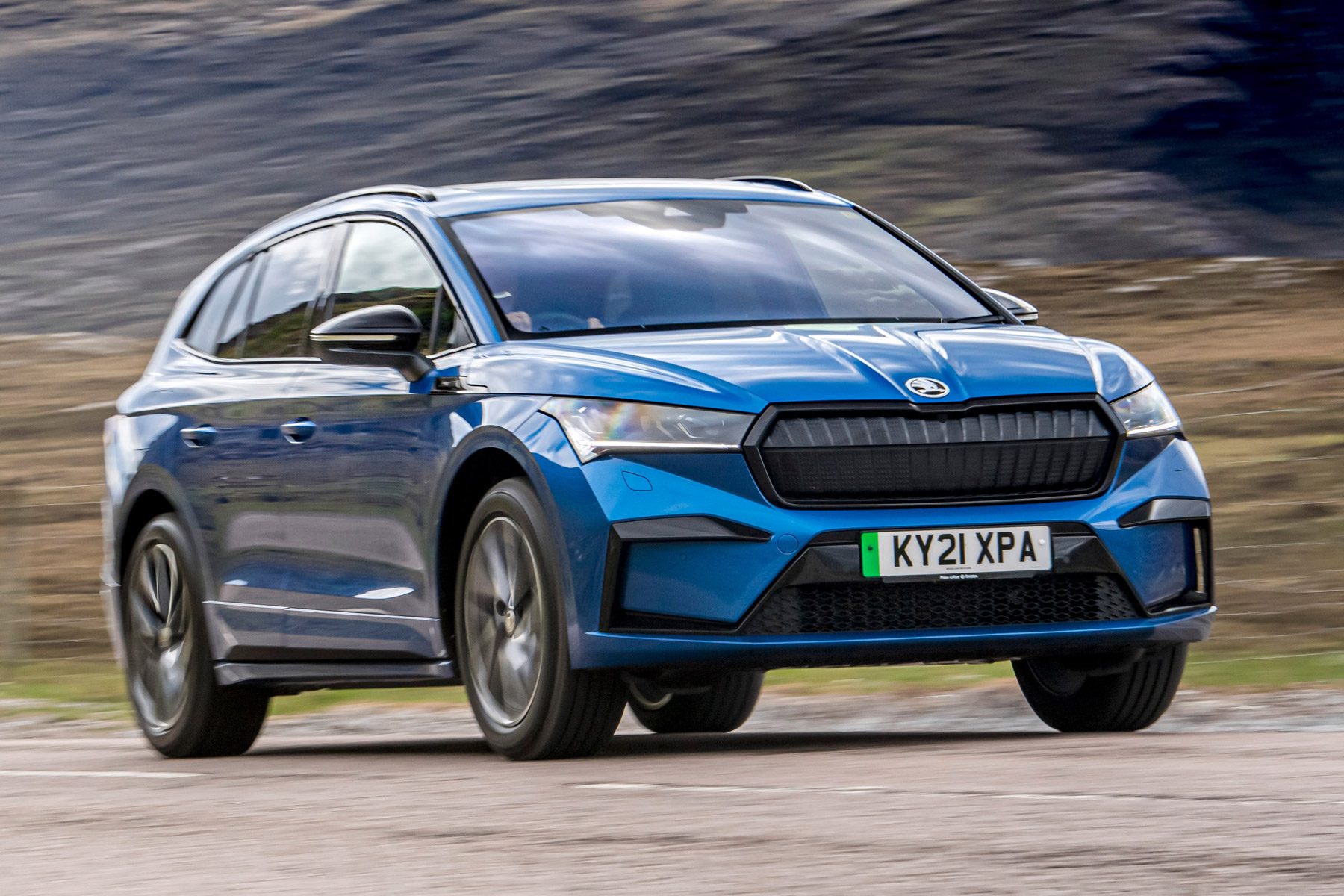 Skoda Enyaq iV
The Skoda Enyaq iV is a great electric SUV. The spacious and upmarket interior can accommodate four large adults, while the refined cabin and quiet electric motors will allow you to cover large distances in quiet comfort. Skoda offers the Enyaq iV in 60 and 80 guises, referencing the kWh capacity of the battery; the maximum advertised range is 246 miles for the 60 and 339 miles for the 82. Buyers can choose from rear-wheel drive or all-wheel drive as well, the latter providing thrilling acceleration thanks to its improved traction. A large 13-inch touchscreen is the centrepiece of the dashboard, and you can choose various decor 'themes' such as Lodge, Loft and Lounge.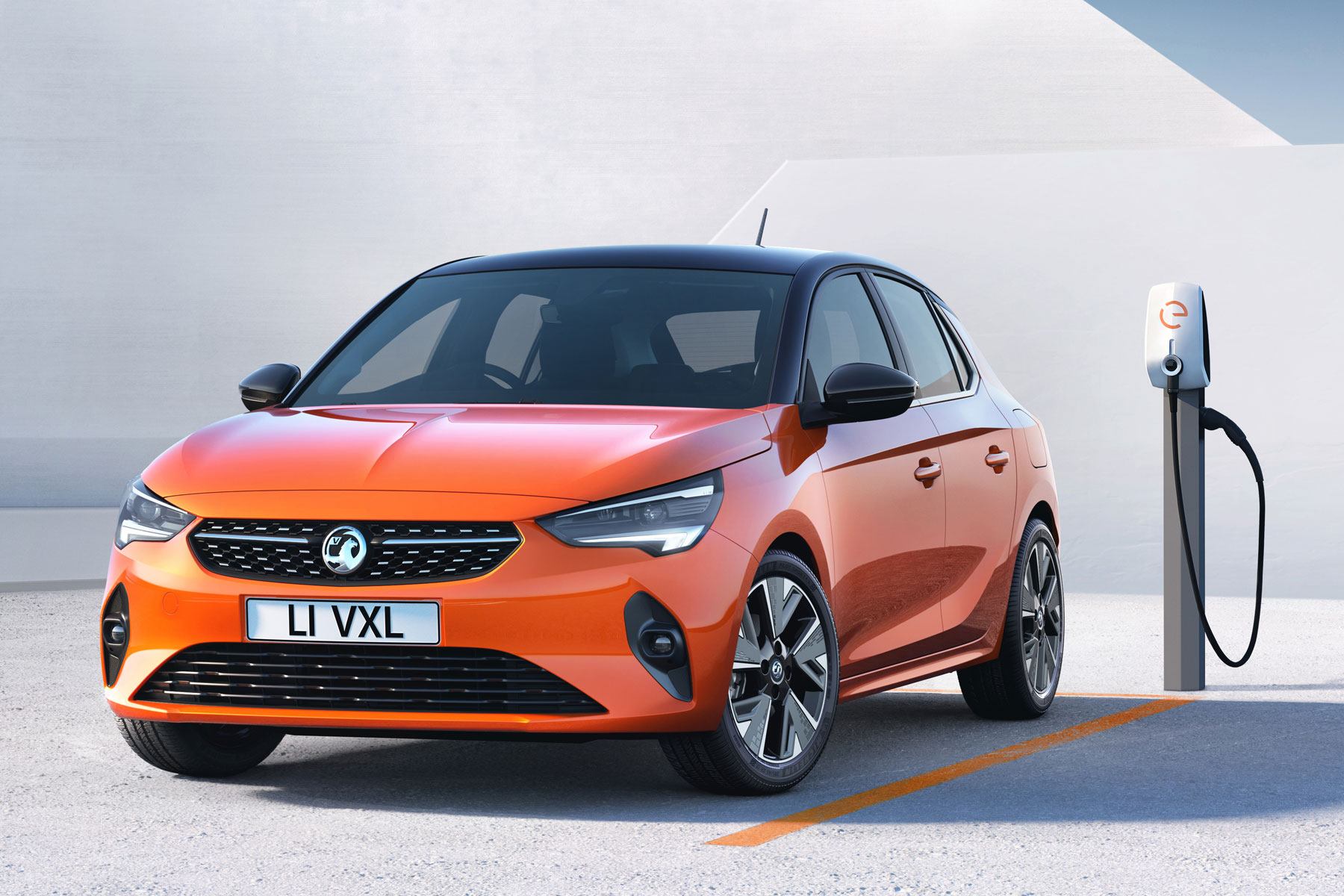 Vauxhall Corsa-e
The Vauxhall Corsa-e is the all-electric version of Britain's best-selling car: the Corsa. Aside from the green stripe on the number plate, it's hard to tell apart from its petrol-powered siblings. This is intentional; the British brand wants to make choosing an electric car feel as normal as possible. The Corsa-e is just as roomy as other Corsas inside, with five-door practicality and a decent boot, and it shares the same easy-to-use interior. A 50kWh battery and 136hp electric motor make it the fastest new Corsa you can buy, and recent enhancements have improved the EV driving range to just short of 220 miles.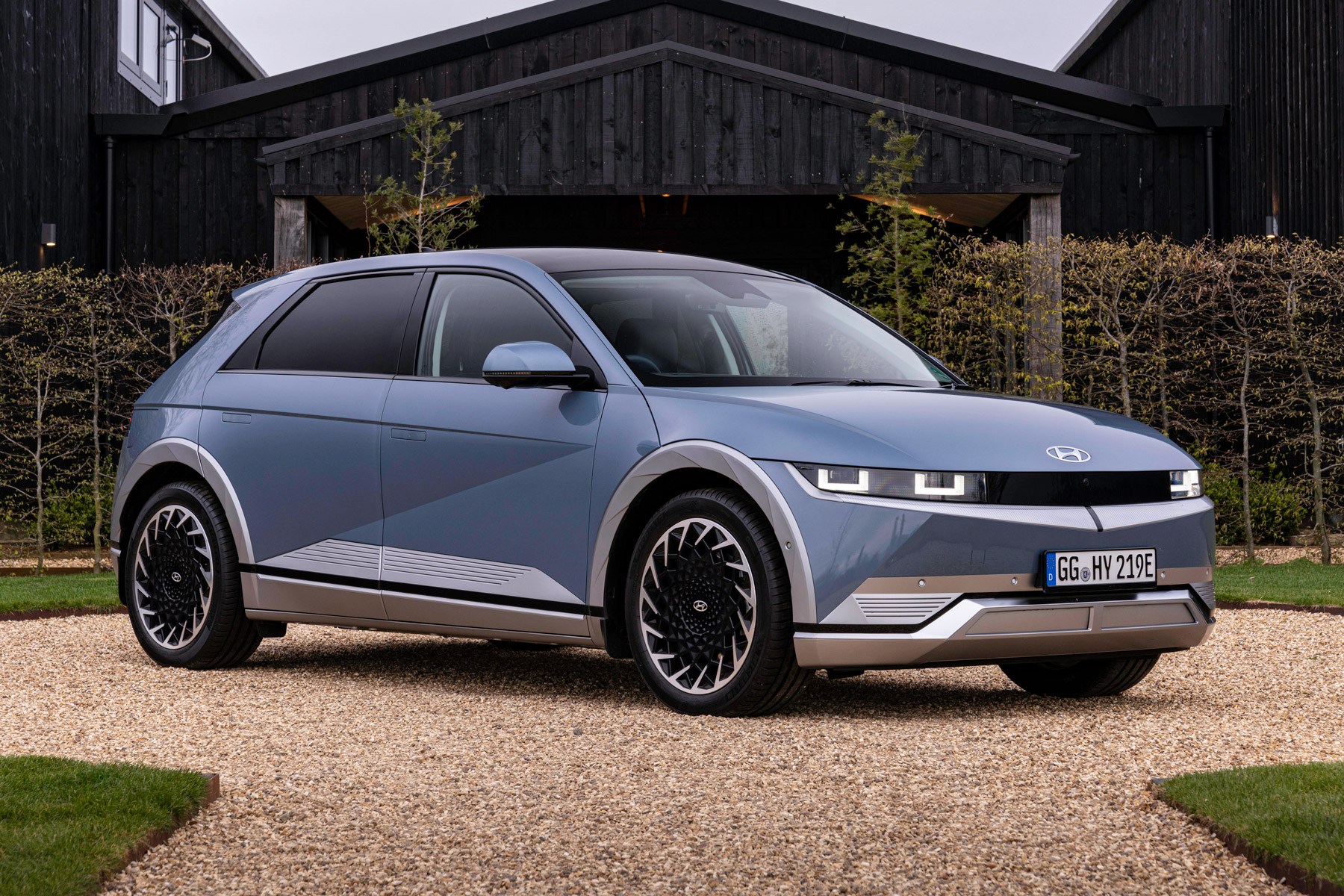 Hyundai Ioniq 5
The radical Hyundai Ioniq 5 is one of the most standout new electric cars you can buy. It takes straight-line boldness to a new level, celebrating the square throughout its head-turning shape. Inside, it feels modern, but the focus is on luxury, with a calming dashboard and plush seats that recline into a bed at the touch of a button, so you can snooze while charging. There's good room inside for five, although boot space is more average – the price you pay for that radical rear (it doesn't have a rear wiper either). The top-spec Ioniq 5 has a driving range of almost 300 miles, while even the entry-level model can cover nearly 240 miles between charges.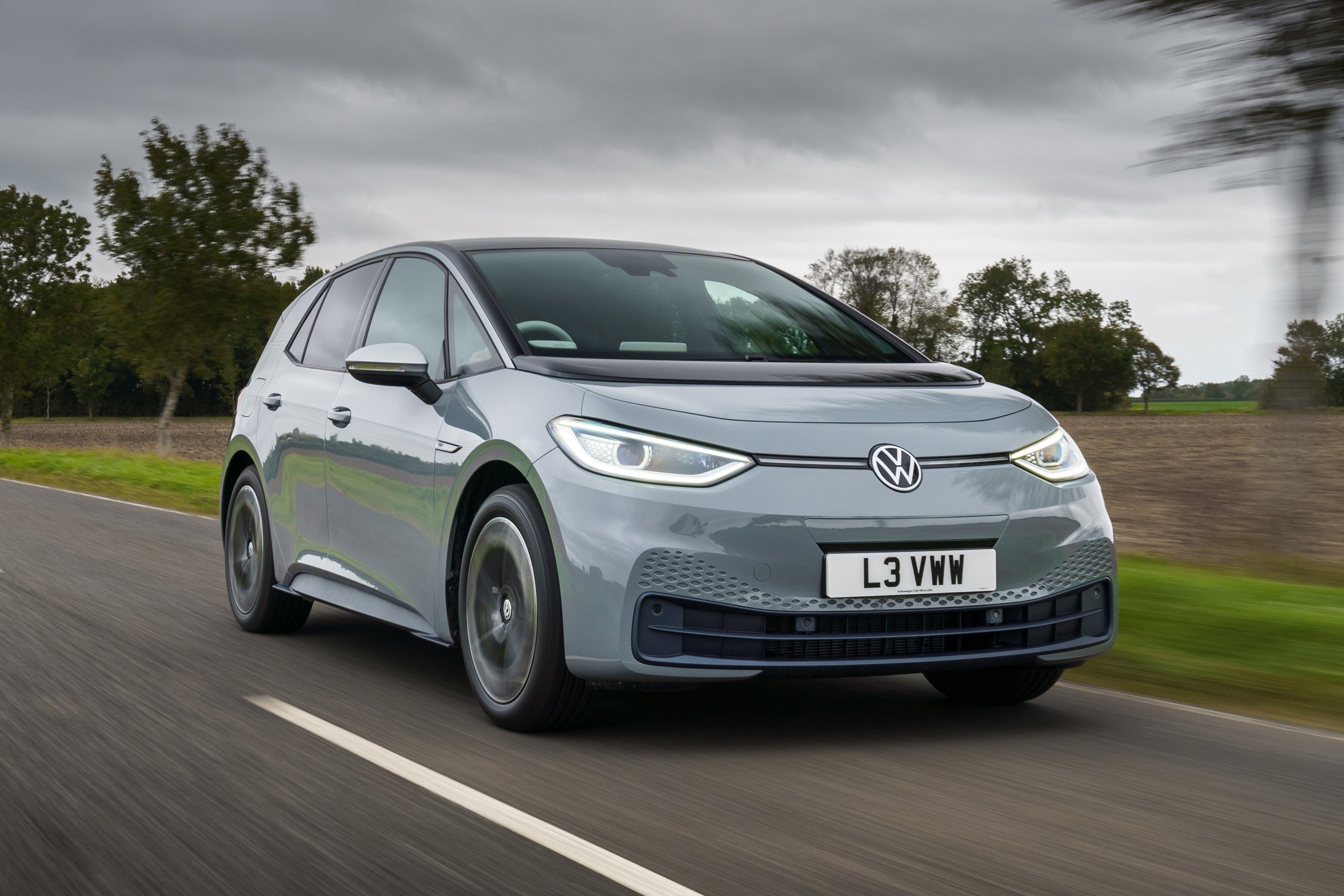 Volkswagen ID.3
The Volkswagen ID.3 is an all-electric alternative to the well-loved Golf family hatchback. It's similar in size on the outside, but because electric cars are so much more space-efficient, it's actually roomier on the inside. The boot is fractionally larger, too. We like the ID.3's modern appearance, with large alloy wheels and a glassy cabin, which is carried through to the interior, where nearly every button is replaced by a central touchscreen. The ID.3 is offered with a 58kWh battery that is advertised with a maximum range of 260 miles. A larger 77kWh battery will cover up to 339 miles, according to Volkswagen.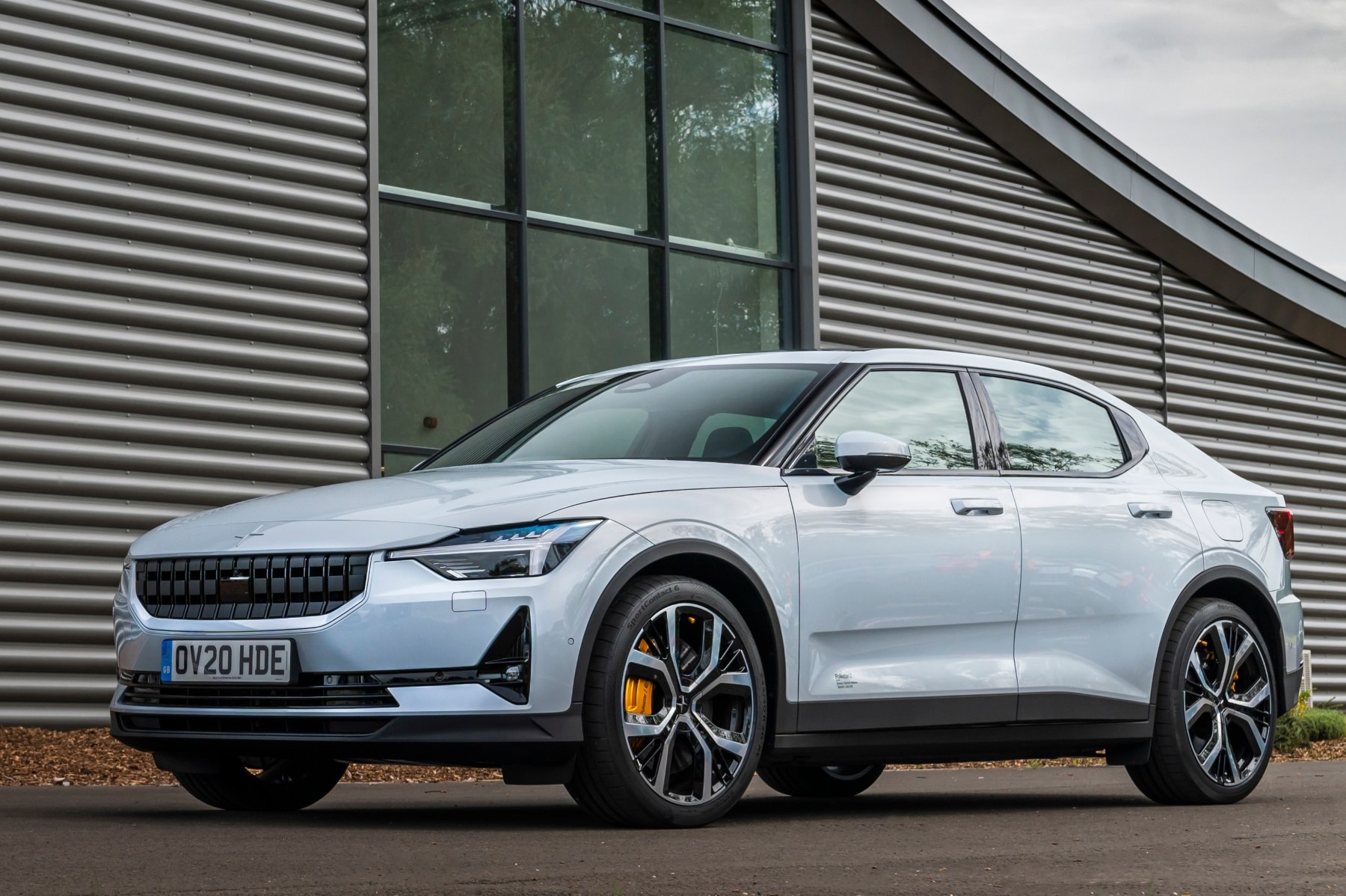 Polestar 2
The Polestar 2 is a sporty crossover that's based on the electric Volvo XC40, albeit with a luxury bespoke design outside and in. Prices start in the region of £45,000 and the Polestar 2 has a maximum advertised range of 394 miles. Available with single or dual electric motors, the Polestar 2 is a joy to drive with dynamic handling and blistering straight-line performance. The standard single motor version will cover 0-62mph in just 6.2 seconds, while the dual motor model can lower that to an Audi R8 rivalling four seconds.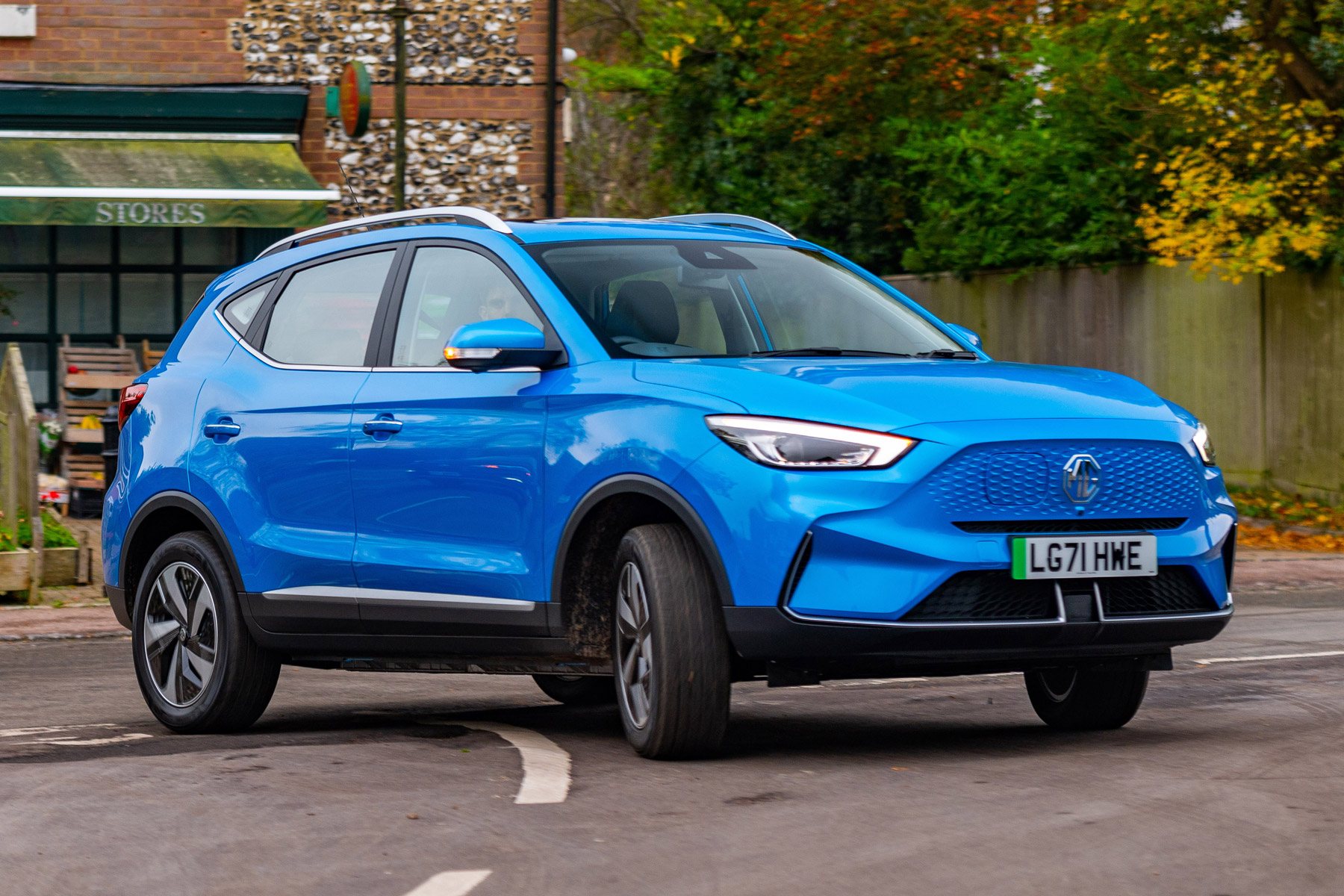 MG ZS EV
Good value, easy to drive and backed by a seven-year/80,000-mile warranty, the MG ZS EV is an attractive SUV that shows you don't need to break your bank account to buy a class-leading EV. Its appeal has recently been bolstered with a smart facelift that gives it a cleaner, more modern appearance. A big new touchscreen inside improves the onboard experience, and it's ready to pair with Android and Apple smartphones. MG has launched a Long Range version that can travel for up to 273 miles between charges, although even the standard battery has been improved to almost 200 miles of range.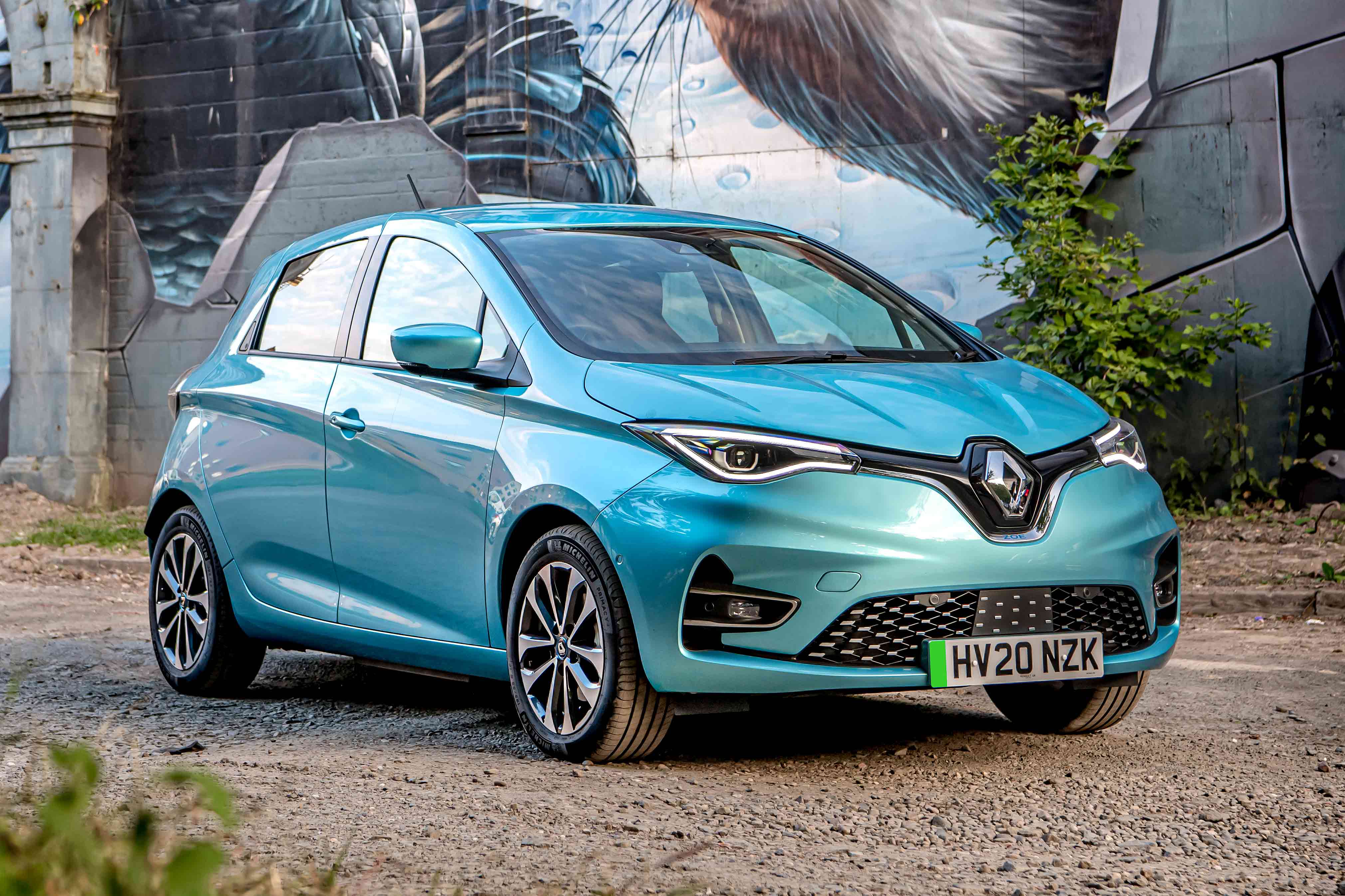 Renault Zoe
The Renault Zoe is one of the original affordable electric cars. It's been on sale for almost a decade, making it a familiar sight in the EV world. This heavily-revised second generation version is a neat, friendly-looking car, with clean lines and a chic-feeling interior. Renault uses textiles cleverly, to give it an upmarket feel, and the touchscreen infotainment system is easy to use. Choose from two motors: a 108hp R110 and 135hp R135. Both have a 52kWh battery and a driving range of up to 239 miles. Both are also available with rapid-charge functionality, for speedy top-ups at public charging points.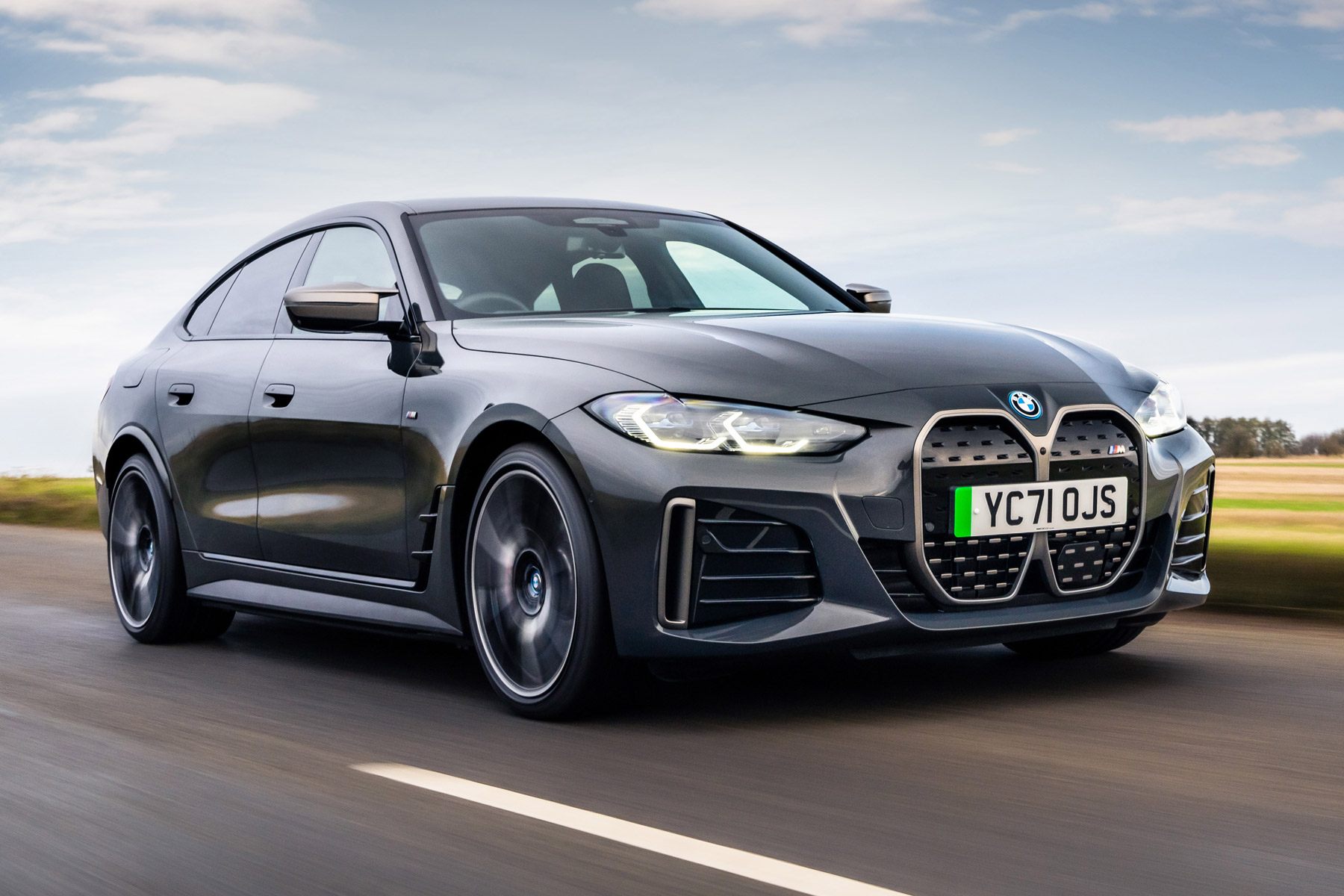 BMW i4
The i4 is BMW's rival to the Tesla Model 3. It's currently offered in two guises: the i4 eDrive40 has a range of up to 365 miles, while the M50 produces a staggering 544hp. It's a coupe-style four-door, derived from the 4 Series Gran Coupe, but the i4 has more contemporary detailing, such as flush door handles and optional 'electric blue' flashes. BMW's latest infotainment system is impressively slick and good-looking, and the i4 is very refined inside. What really sets it apart is how brilliant it is to drive, with fantastic handling, plenty of engagement and performance by the bucketload.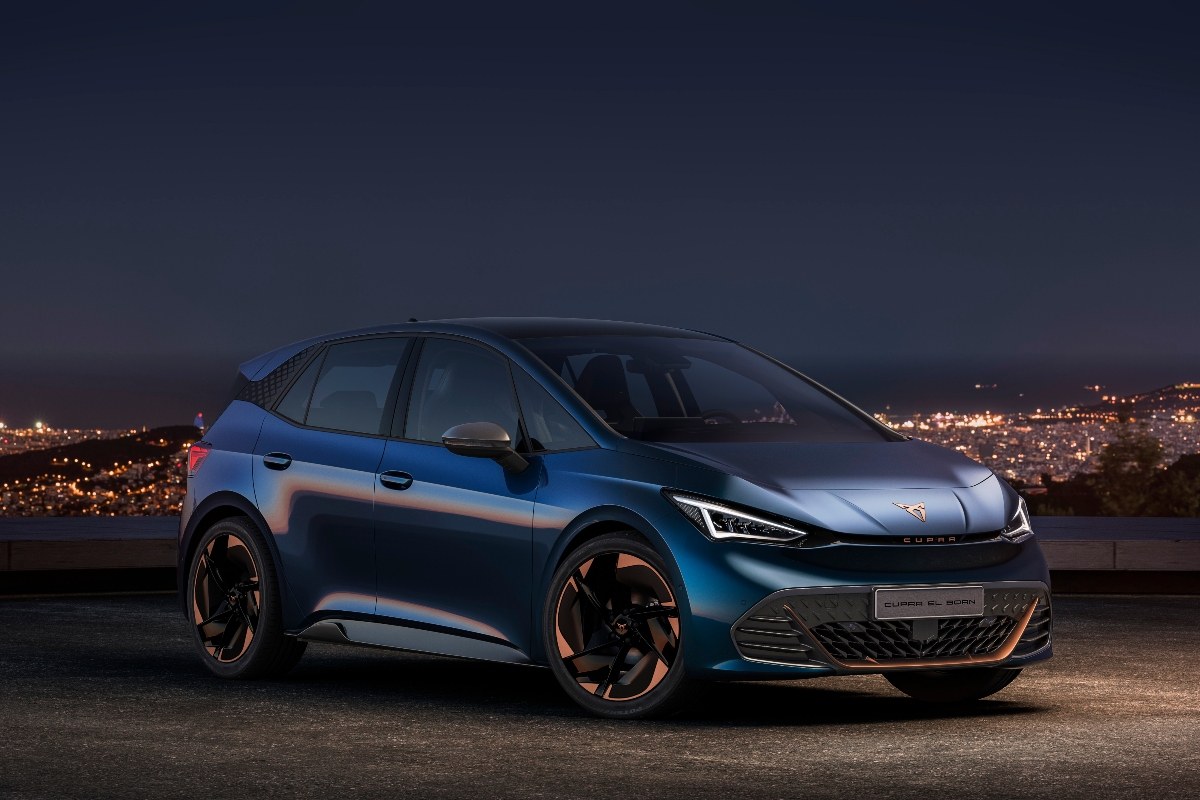 Cupra Born
If you want an electric SUV with some hot hatch flair then the Cupra Born could be your perfect car. Cupra is the sporty sister brand of SEAT, and the Born is designed to provide high-octane thrills at a price most people can afford. Offered with a 52kWh or 77kWh  batter, the Born will cover 0-62mph in around seven seconds while its maximum advertised range is 343 miles. Factor the comfortable and spacious cabin and it's easy to see why the Born has become such a hit for Cupra. 
Do the best electric cars have a long range?
Every car we've listed here can cover at least 200 miles, and many are capable of driving for more than 300 miles between charges. Range anxiety is still an issue for those new to EVs, meaning it's important for the best electric cars to have a driving range large enough for this not to be a factor in everyday motoring. The reality for many motorists is they'll be charging up just once a week, so generous are the electric ranges now on offer.
What is range anxiety?
So-called 'range anxiety' is where motorists are worried about driving their electric car because they're not sure it will have enough range to get them to their destination. It's not helped by a lack of public chargers in many parts of the country; drivers worry they'll be left stranded and unable to easily recharge their EV. Range anxiety is something often felt by those who don't drive an EV, as a barrier to making the switch. Many who actually own electric cars report that range anxiety soon disappears.
What is the best electric car on a budget?
Electric cars aren't as affordable as petrol or diesel cars yet, but the gap is narrowing all the time. This list includes new electric cars that will cost you less than £30,000 to buy, while some used models in this top 10 can be found for under £20,000.