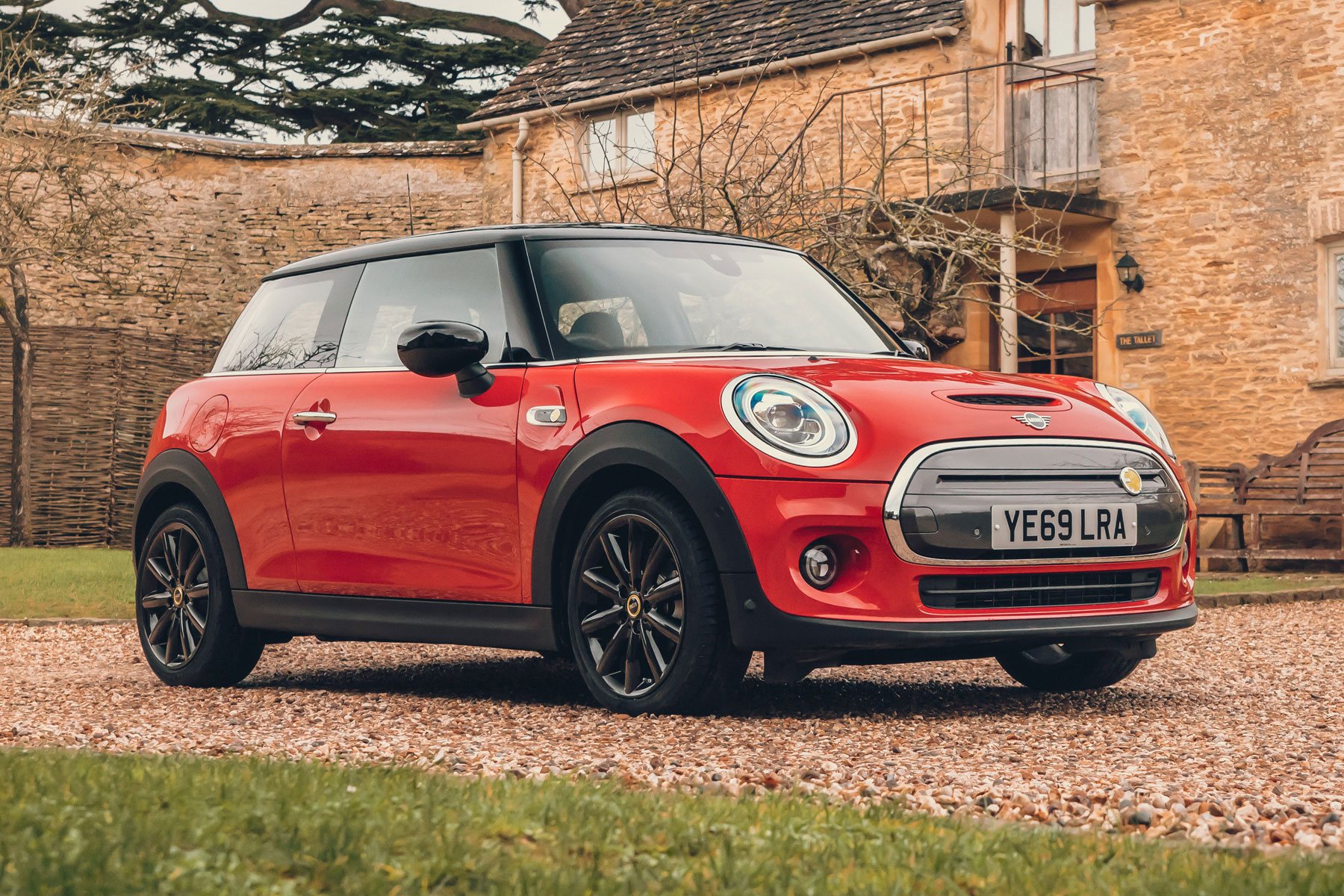 Small cars are the biggest-selling class of new vehicles in Britain. We love our superminis, and year after year have placed cars such as the Ford Fiesta and Vauxhall Corsa at the top of our annual new car sales chart.
It means this is a sector ripe to go electric. The cars are already popular, and keeping them small means prices should not be as expensive as some other types of electric car.
Although small electric cars often have correspondingly smaller batteries, their reduced EV range between charges is less of an issue because the cars don't often do that many miles per day.
Indeed, if you have access to a charging point at home, a small electric car will actually be more convenient than a regular petrol or diesel model, because you will never have to visit a filling station again.
Here is our pick of the 10 best small electric cars you can buy right now.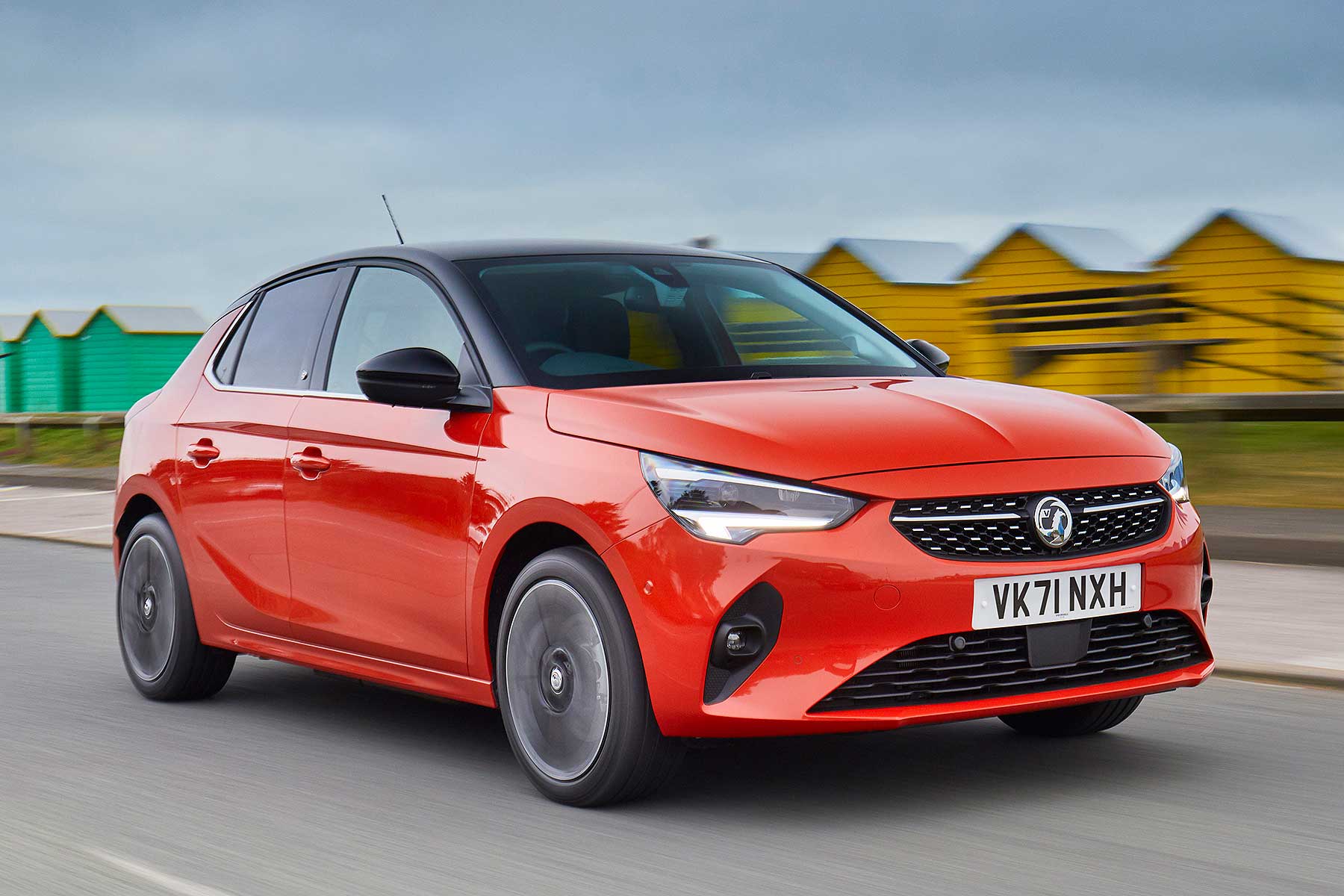 Vauxhall Corsa-e
The Vauxhall Corsa has usurped the Ford Fiesta as the country's best-selling car. Unlike its Blue Oval rival, though, the Vauxhall is available in pure electric guise – called the Corsa-e. With 136hp, it's actually the most powerful Corsa you can buy, and the 50kWh battery provides a driving range of around 220 miles. It looks identical to petrol and diesel Corsa models, as Vauxhall wants to normalise electric motoring, and has the same sophisticated styling and grown-up interior. All versions of the Corsa-e offer a good level of standard equipment. You can also get rapid charge functionality, for 100kW charges to 80 percent battery capacity in just 30 minutes.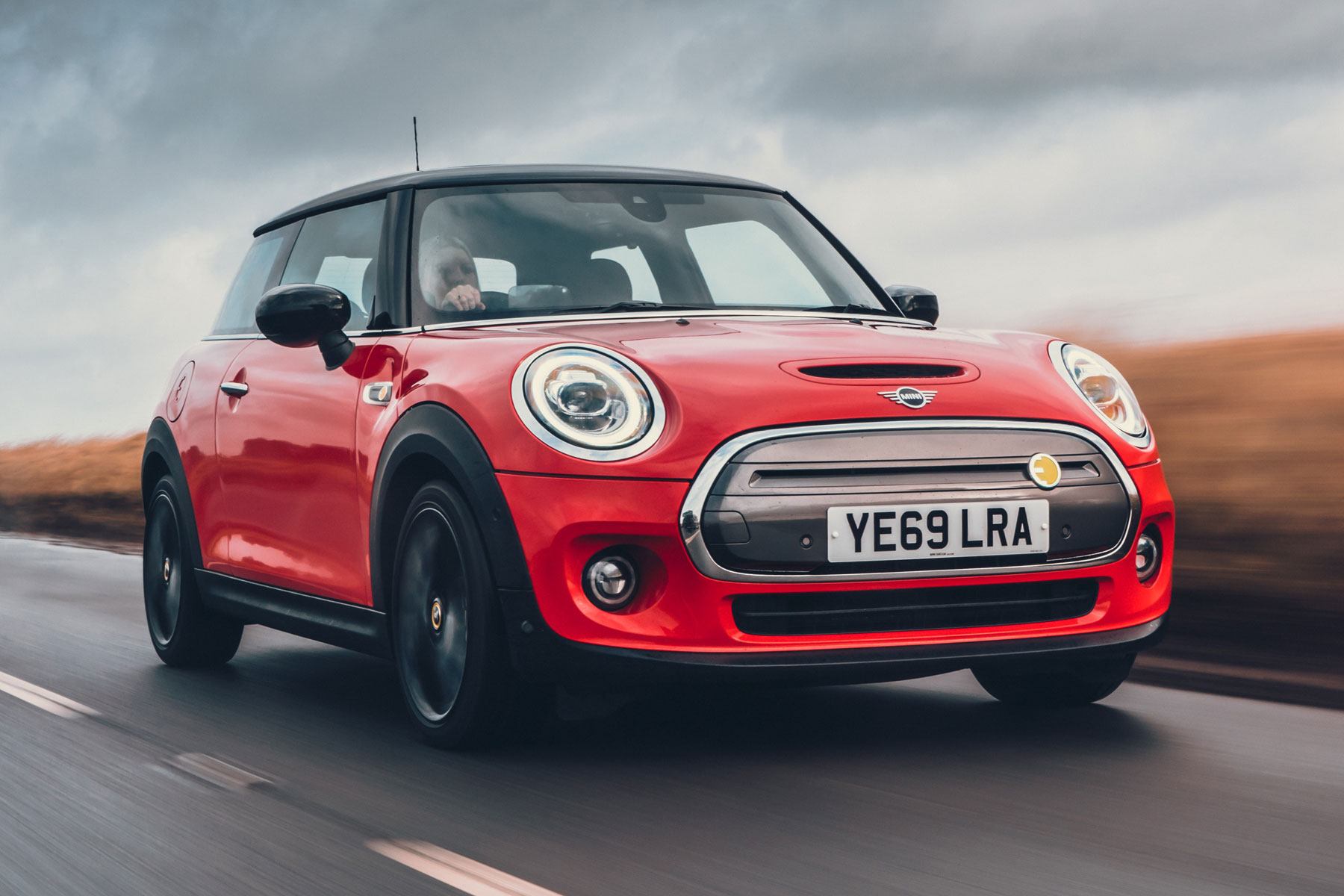 MINI Electric
The MINI Electric sees a British icon electrified. Offered in three-door hatch guise, the MINI Electric packs in a 184hp electric motor – that makes it more potent than even the 2.0-litre turbocharged Cooper S. It's why the MINI Electric shares Cooper S branding, including the eye-catching bonnet air scoop. The 32.6kWh batteries give an EV driving range of around 145 miles, and they'll be tremendously fun miles, thanks to the car's brilliant handling and sharp steering. Inside, it's a great two-seater – space for rear passengers is scant – and BMW-grade fixtures and fittings underline the MINI's premium appeal. Prices start from a surprisingly affordable £27,000.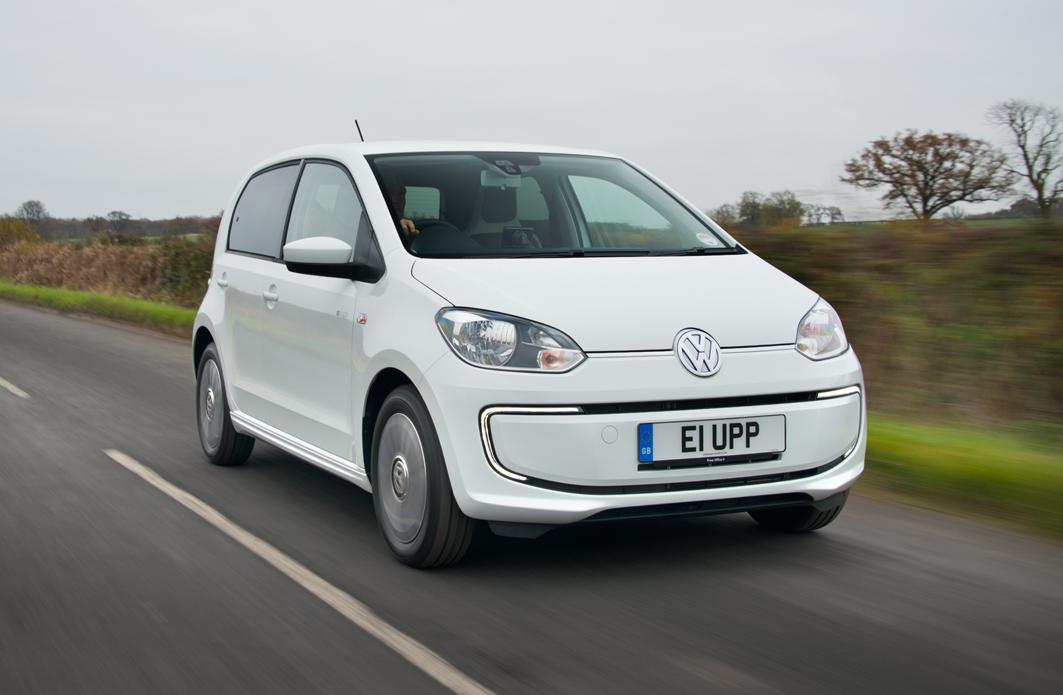 Volkswagen e-Up
The Volkswagen e-Up is an ingenious small electric car. It's brilliantly packaged, so is able to seat four adults with five-door practicality, despite measuring just 3.6 metres long. Even the boot isn't bad, at 251 litres. It doesn't short-change motorists in terms of range either, driving for up to 159 miles before the 36.8kWh battery needs recharging. Simple and easy to steer around town, the e-Up has all the essentials, such as air conditioning and even a heated windscreen. We also like Volkswagen's novel smartphone holder for easy access to your device on the move. All this is yours for very affordable prices, starting from around £24,000.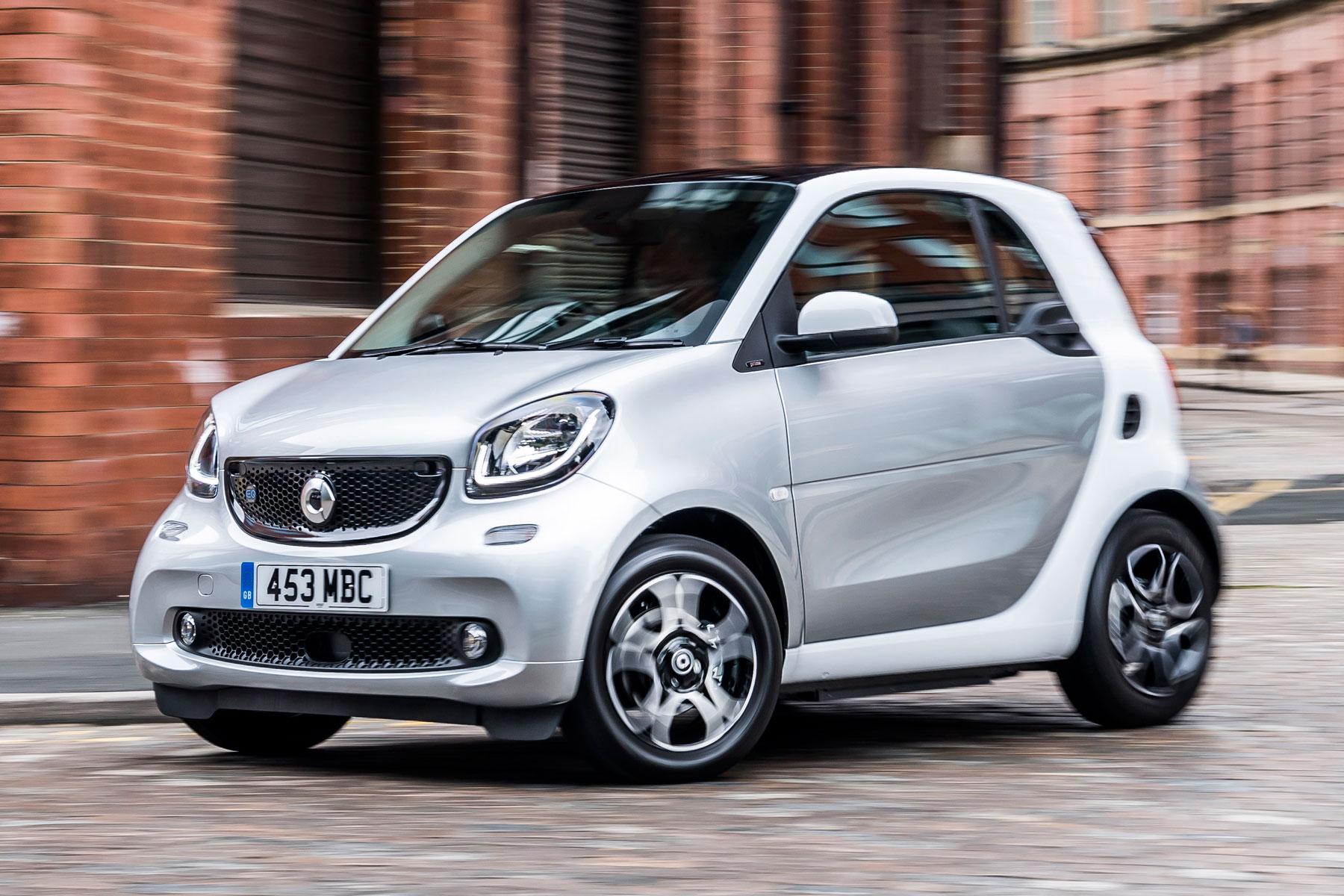 Smart EQ Fortwo
The Smart EQ Fortwo is the cheapest 'proper' EV you can buy. There are ways to go electric and pay even less, but they're vehicles such as the Renault Twizy quadricycle, which are hard to recommend. The super-safe EQ Fortwo is much more like it; parent company Mercedes-Benz even crash-tested it with an executive E-Class to prove how solid it is. The car's driving range is tiny, admittedly, at around 80 miles, but this is a two-seat car designed for the city, and its amazing 2.7-metre length means it can be parked almost anywhere. It has plenty of Mercedes creature comforts to make cross-town drives comfortable – and keeping the batteries small means prices can start from just over £20,000.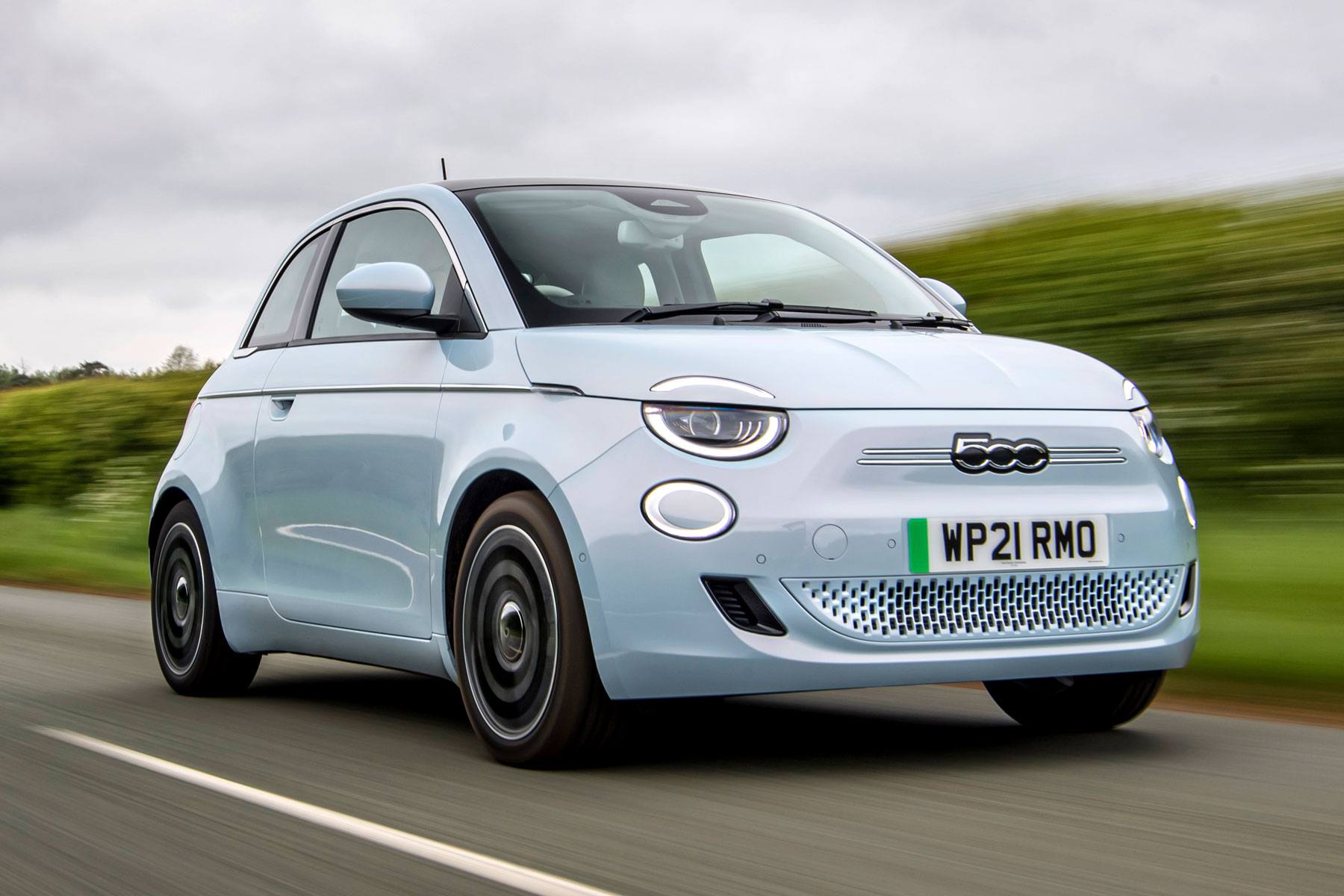 Fiat 500 Electric
The latest Fiat 500 has gone all-electric. You can still get a petrol-powered 500 Hybrid, but if you want the very latest Fiat city car design, you need to pick the 500 Electric. It's offered with two batteries: an affordable 24kWh version with a 115-mile range, plus a longer-range 42kWh model that covers 199 miles between charges. Fiat has taken the 500 upmarket, with jewel-like detailing on the outside and a more sophisticated feel within. The touchscreen infotainment system is comprehensive and the high-set seats are comfortable. It's very refined to drive and the ride is comfortable around town, making it a real step up for 500 fans.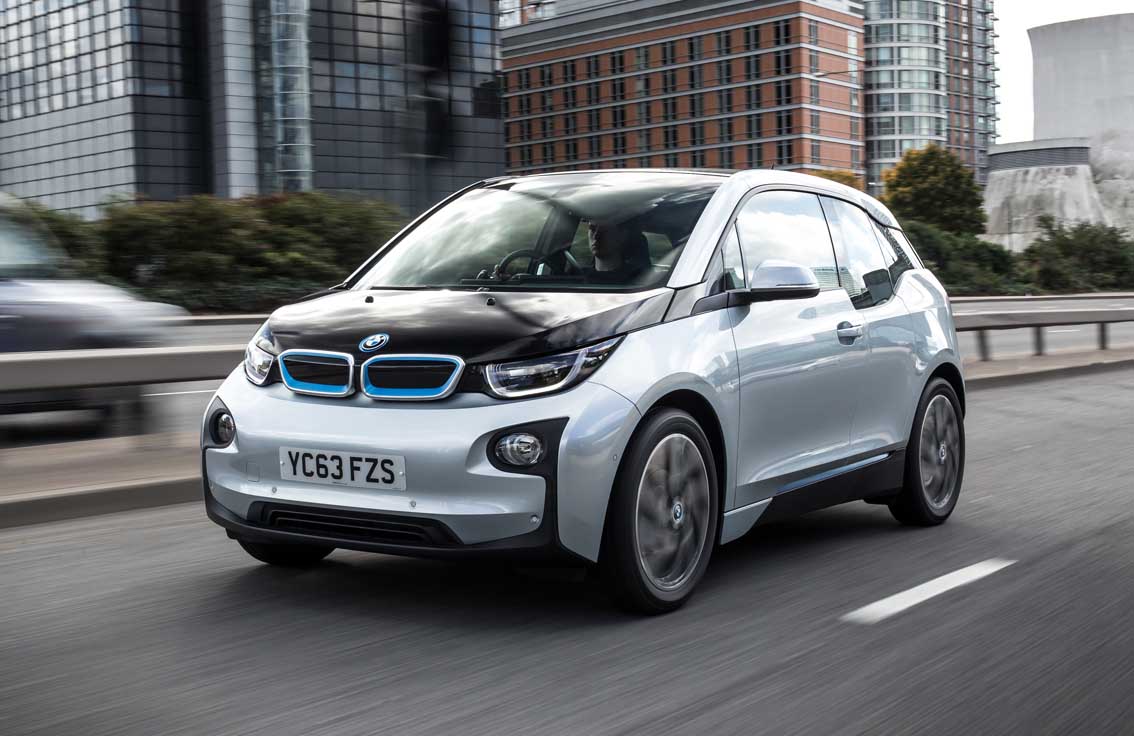 BMW i3
The BMW i3 remains one of the most innovative electric cars yet launched. Granted, it's hardly in its first flush of youth, but there is still nothing quite like it. Built with extensive use of exotic carbon fibre, it's a classic 'small on the outside, big on the inside' electric car. There are rear-hinged back doors to open up the back seats, but it's in the front where you want to be: the modernist dashboard is stylish and beautifully finished. The rear-wheel-drive i3 is offered in standard or sportier i3S guises, and both drive like true BMWs, with an EV range of around 190 miles.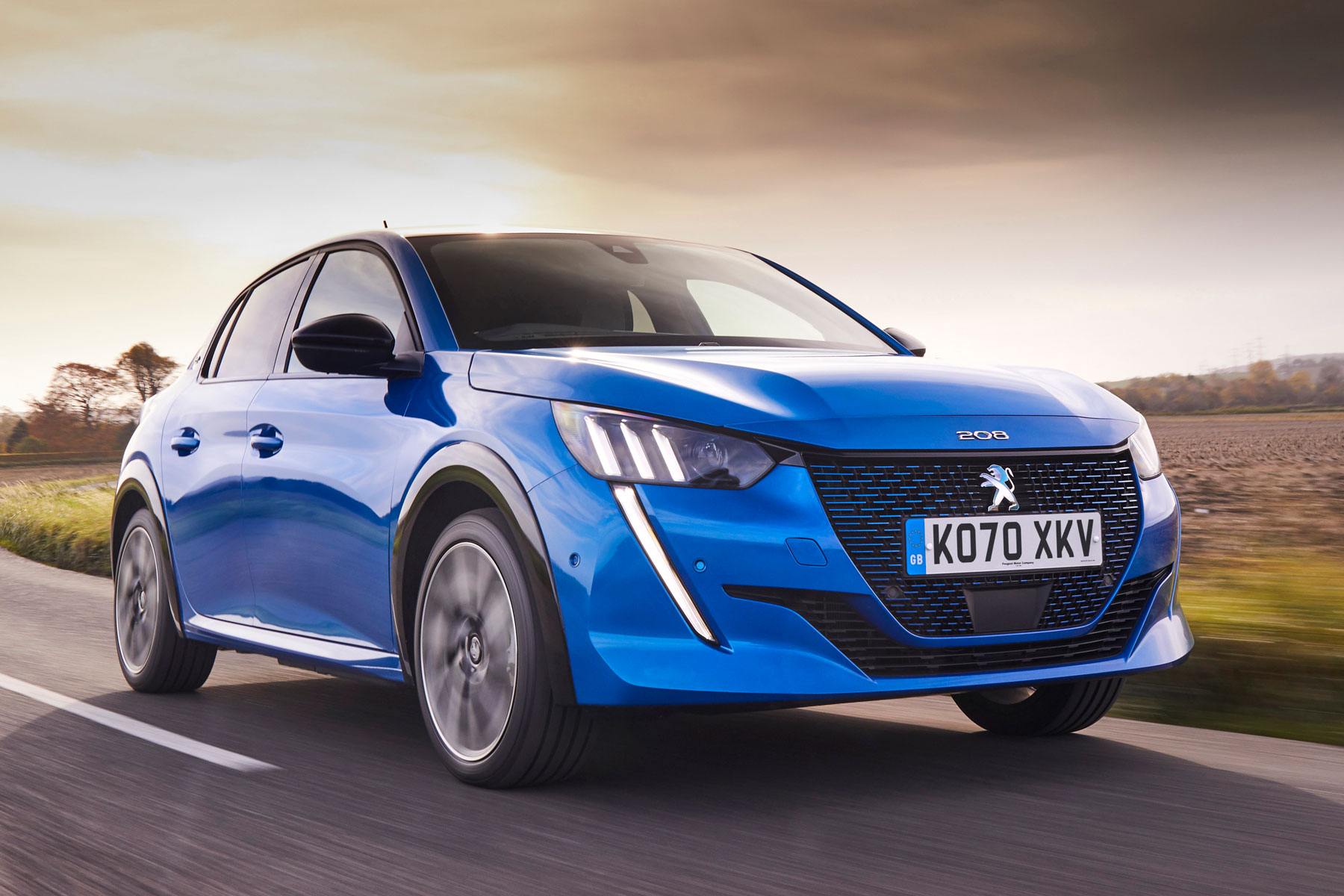 Peugeot e-208
Like Vauxhall with its closely related Corsa-e, Peugeot offers the 208 supermini range in petrol, diesel or pure electric e-208 variants. It marks out the electric 208 with fittingly electric blue details, but otherwise it's the same distinctive and classy-looking supermini that has proved so popular across Europe. The interior is distinctive as well, with the Peugeot i-Cockpit layout offering a high-set instrument binnacle and tiny steering wheel. The e-208 uses a 50kWh battery for an EV driving range of 225 miles, and the 136hp electric motor delivers punchy performance and very refined cruising ability.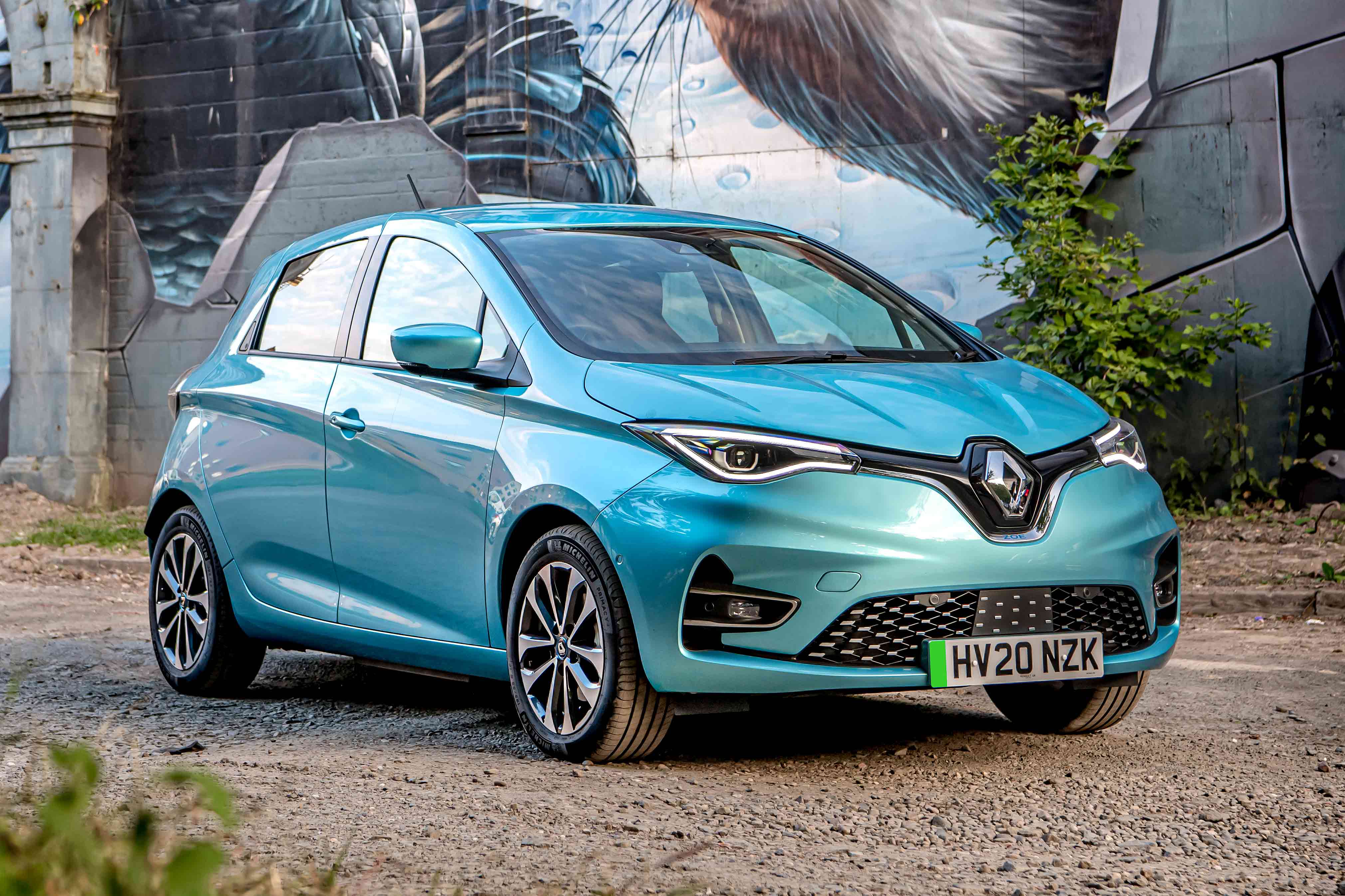 Renault Zoe
The Renault Zoe was one of the first mainstream electric cars to go on sale, and has gained a loyal following over the years. This second generation model has smoother, more sophisticated styling and a smart interior that blends comfortable recycled textiles and a comprehensive infotainment touchscreen. There are two versions, R110 or R135 (the number references the power output) and most Zoes come with rapid charging functionality for faster top-ups of the 52kWh battery. We're pleased to see Renault has abandoned its confusing battery lease scheme; with the latest Zoe, batteries are definitely included.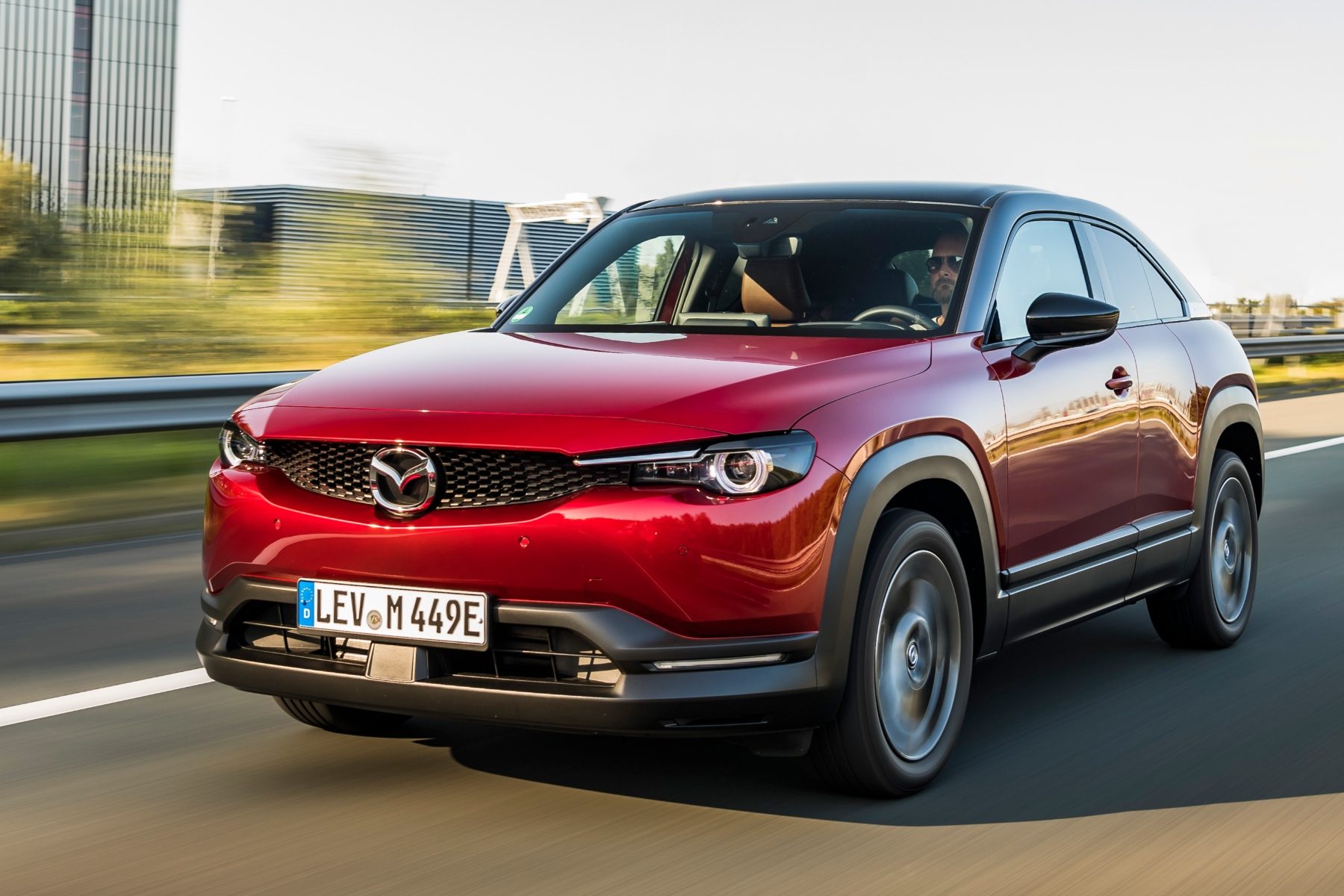 Mazda MX-30
The Mazda MX-30 is a quirky and unusual small EV. It's a cross between an MX-5 sports car and a high-riding SUV, with a long bonnet, GT-style rear end and raised ride height. Inside, it boasts an upmarket interior with ingenious use of cork trim, while passenger access is aided by rear-hinged back doors. Mazda says the battery has intentionally been 'right-sized', to ensure this small SUV is affordable, and a range of around 125 miles will be enough for most people to go several days between charges. The small battery also helps to keep weight down, so the MX-30 rides nicely and feels nimble around town.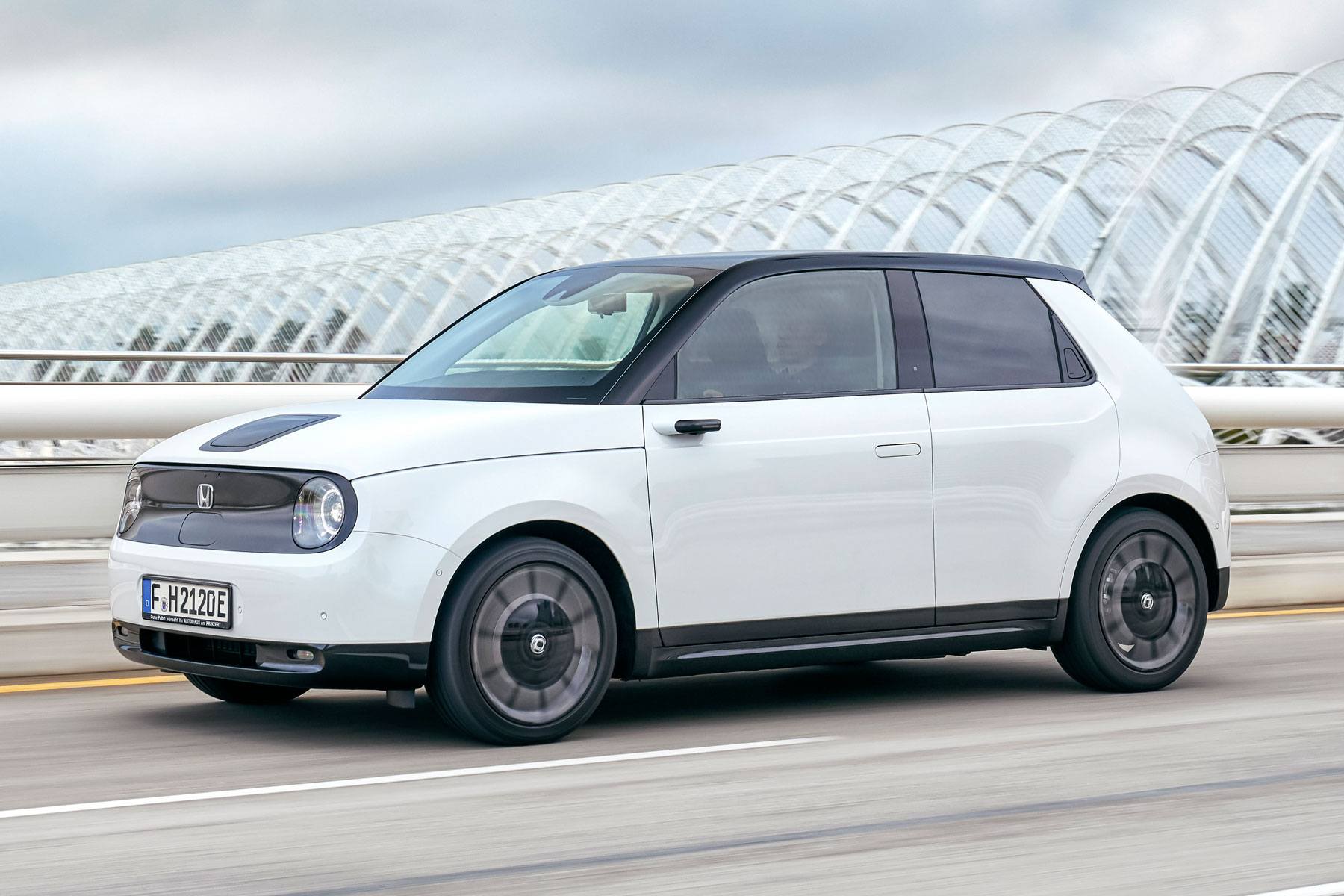 Honda e
The Honda e is one of the most ingenious small electric cars on sale. It's a tiny city car, but one that uses the compactness of EV running gear to squeeze in five doors and four seats. There's a surprising amount of room inside, although the best seats are those in the front – particularly as occupants get to marvel at a full-width array of colour screens. Even the door mirrors have been replaced by cameras. You can get a 152hp version for punchy power to the rear wheels, and all versions of the Honda e have a 35.5kWh battery for a driving range of around 135 miles. Its premium feel does come at a premium price, mind.
What is the smallest electric car you can buy?
The smallest electric car on sale – and by that, we mean a proper car – is the Smart EQ Fortwo. It measures just 2,695mm long, yet still offers big-car space inside for two people. If you need more seats and practicality, there's the four-seat EQ ForFour, but we actually prefer the Volkswagen e-Up. This is a compact 3.6 metres long and provides enough space for four adults inside. A 159-mile driving range is also double that of the Smart, and for just a few thousand pounds more.
What is the cheapest small electric car?
The Smart EQ Fortwo takes the title of cheapest electric car on sale, too. The Renault Twizy and upcoming Citroen Ami are cheaper, but they are technically classed as quadricycles, not proper cars. The Smart EQ Forfour is also affordable, but at this end of the market, we'd go for the Volkswagen e-Up as offering the best value for money to those seeking a cheap electric car. For around £24,000, there's nothing to beat the little Volkswagen's all-round abilities and EV driving range.
Can you get a small electric car with a good EV range?
It's true to say that some small cars do have a short driving range. That's how the Smart EQ Fortwo is so affordable – bigger batteries are more expensive and price really matters at this end of the market. What's more, as most small car owners don't cover high mileages each day, some manufacturers argue that around 150 miles is sufficient. You can, however, buy several small electric cars with a range of over 200 miles. The Vauxhall Corsa-e and Peugeot e-208 both offer up to 225 miles, according to the official test.