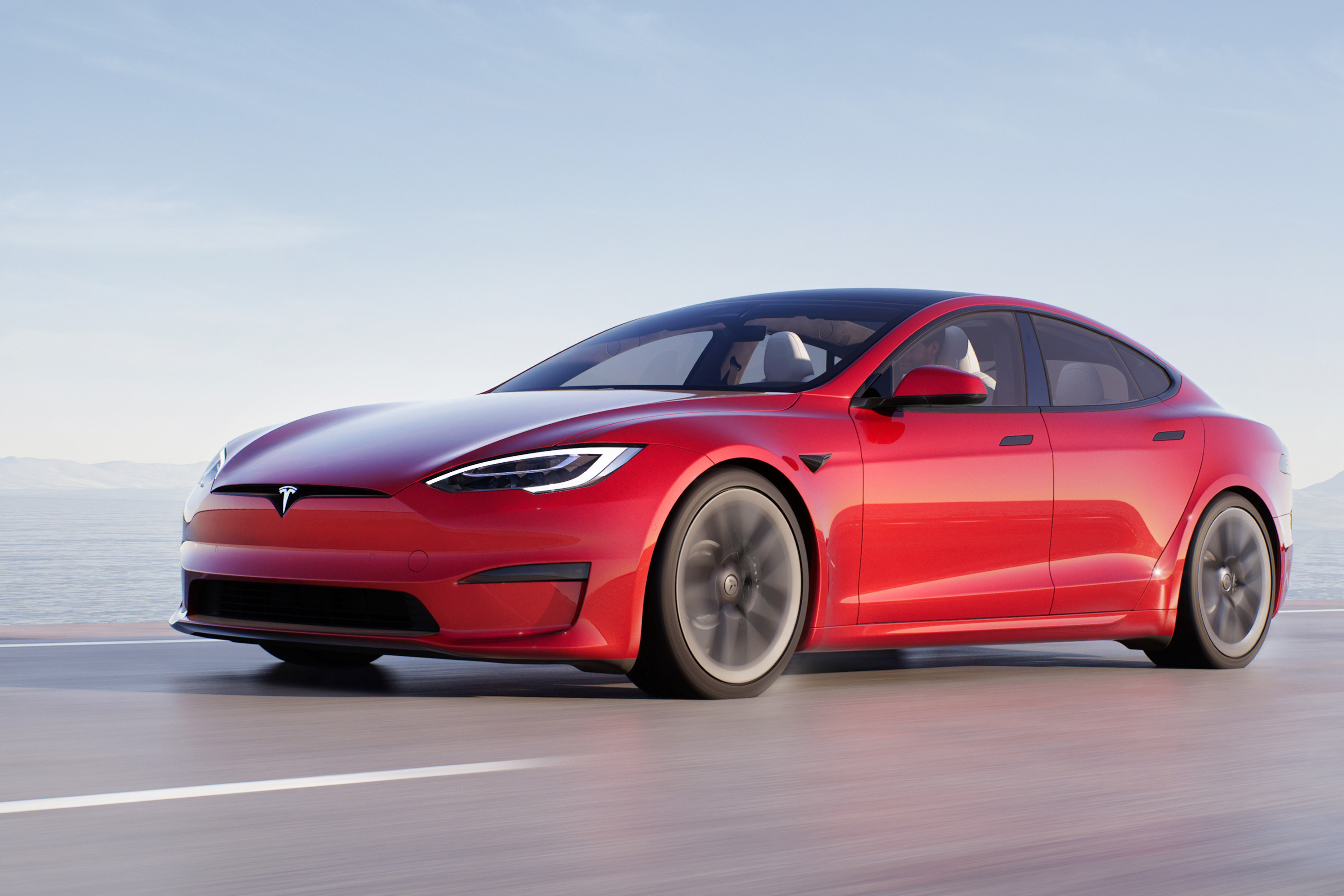 The beauty of electric cars is how easy it is to make them faster. You don't need to build bigger engines or add more and more turbochargers to get more performance from an electric car; simply fit a more potent electric motor. Maybe even two of them: they're so compact, it's easy to do.
This is why so many electric cars feature extreme performance. Car manufacturers want to create headline-grabbing acceleration and boastworthy top speeds – something Tesla has done very successfully – so dialling up the power is an easy way to add excitement.
If the batteries are big enough, this is a usable performance you can enjoy every day without anxiety, too. Many of the cars here have driving ranges of well over 300 miles, yet levels of performance that will worry Porsche 911 drivers. And all the while, you're doing it with planet-friendly zero-emissions kudos.
Prepare to be amazed by our guide to the fastest electric cars you can buy, listed in order of their blistering acceleration times.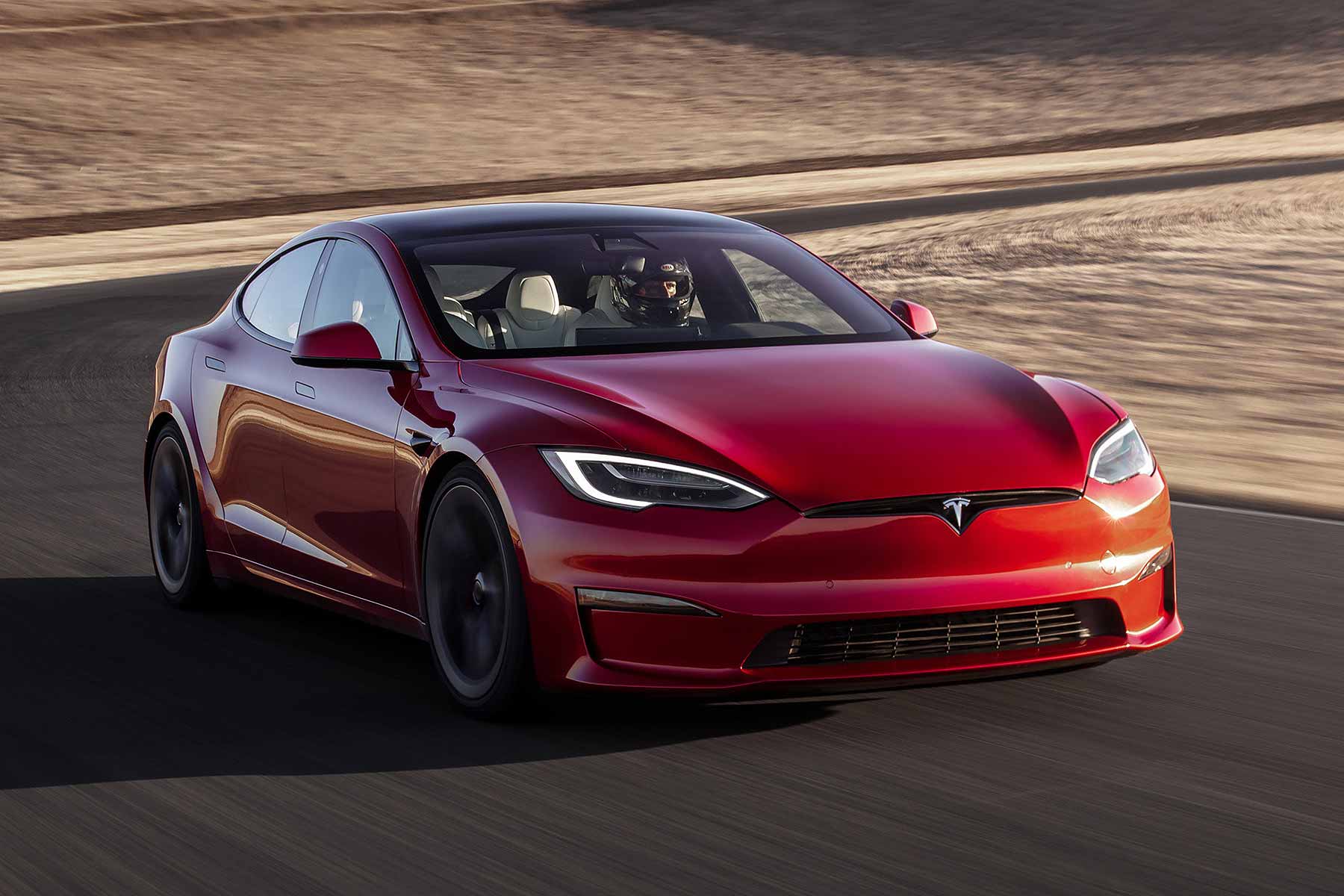 Tesla Model S
Elon Musk knows how to grab the headlines, and he certainly did so when announcing the Plaid version of his long-running Tesla Model S electric car. Courtesy of more than 1,000hp, it accelerates from 0-60mph in a scant 1.99 seconds – truly electrifying, and highly repeatable thanks to a tri-motor system and all-wheel drive. The Plaid also has a heady 200mph top speed, yet if you take things more steadily, it will cover almost 400 miles between charges. Tesla even promises us Full Self Driving capability will (apparently) arrive later this year. Needless to say, all this ability isn't cheap, with a price tag well into six figures.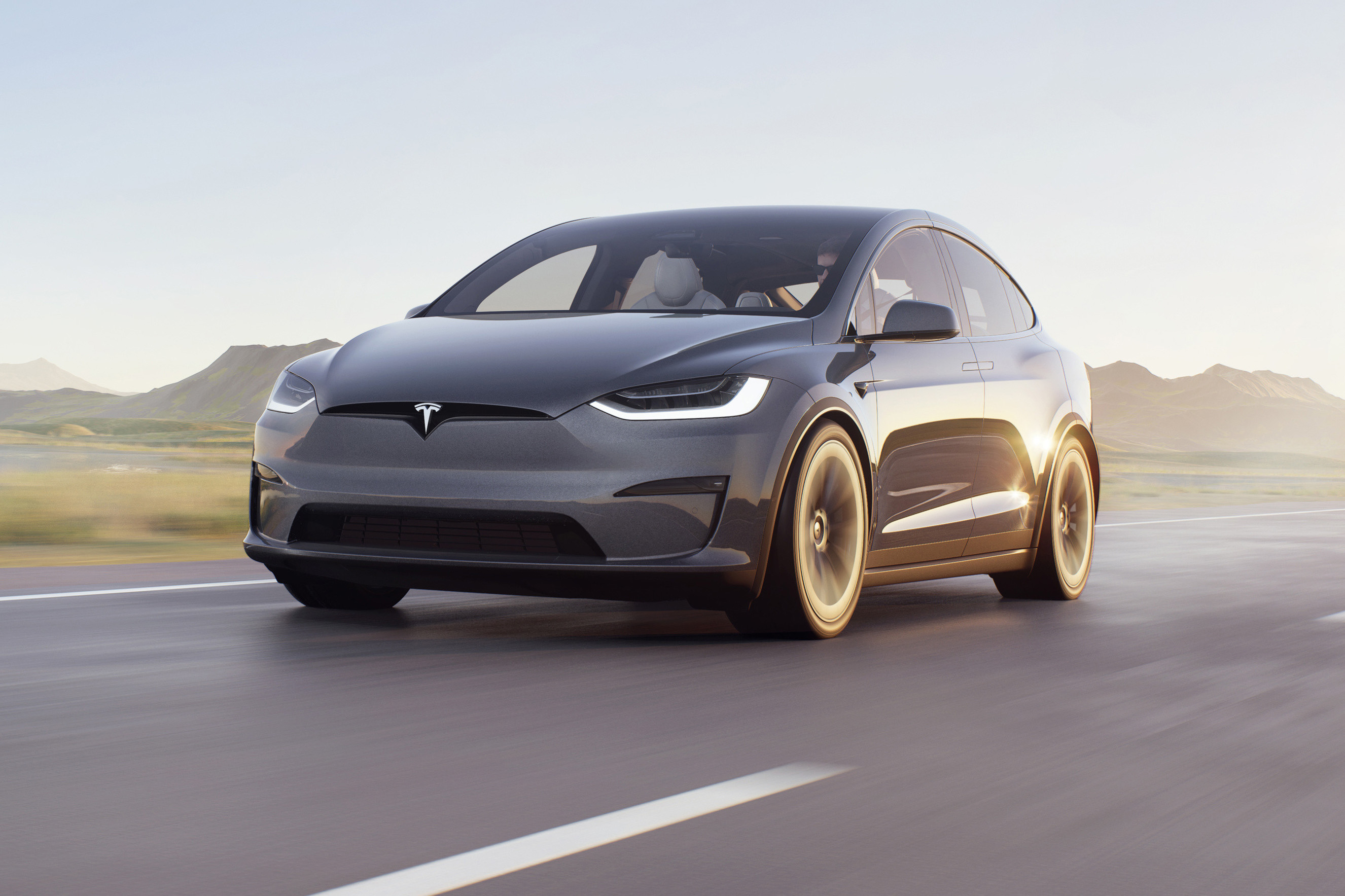 Tesla Model X
It's not just the Model S that comes in top-line Plaid guise. The Model X, Tesla's large seven-seat SUV, is also available in the monster-power grade. It has the same peak output of 1,020hp and, despite its weight and bluff aerodynamics, is able to reach 60mph in 2.5 seconds. The standing quarter-mile takes just 9.9 seconds, and it has an official driving range of more than 330 miles. Those on board will be thrilled by the Tesla infotainment system, which even allows you to watch YouTube videos while charging at one of the firm's super-convenient Superchargers. The aircraft-style 'yoke' steering wheel will be an endless talking point, too.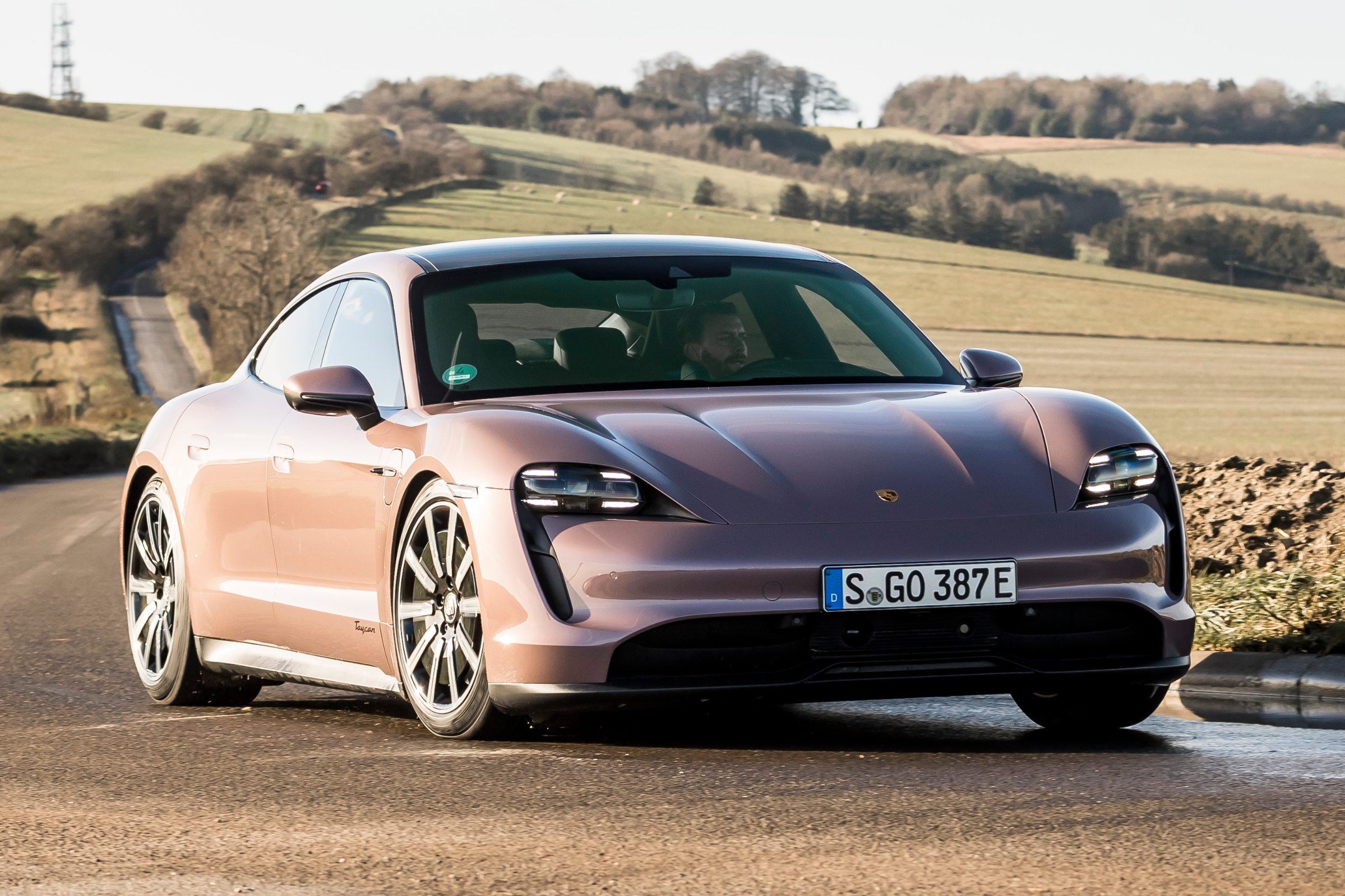 Porsche Taycan
The Porsche Taycan is rapidly becoming a real hit for the famous German sports car maker. It already outsells the 911 sports car, aided by a broad range that includes a four-door saloon alongside Sport Turismo and Cross Turismo estate versions. There are numerous increasingly powerful variants, with the Turbo S topping the range in terms of performance. Zero to 62mph takes just 2.8 seconds, aided by an easy-to-use launch control system. Overboost power of up to 761hp also helps the Turbo S hit 162mph, but still offer an official range of around 250 miles. Standard 800V DC charging means the Taycan takes just minutes to recharge at a 350kW rapid charger, so you can use all the performance without fear of getting stranded.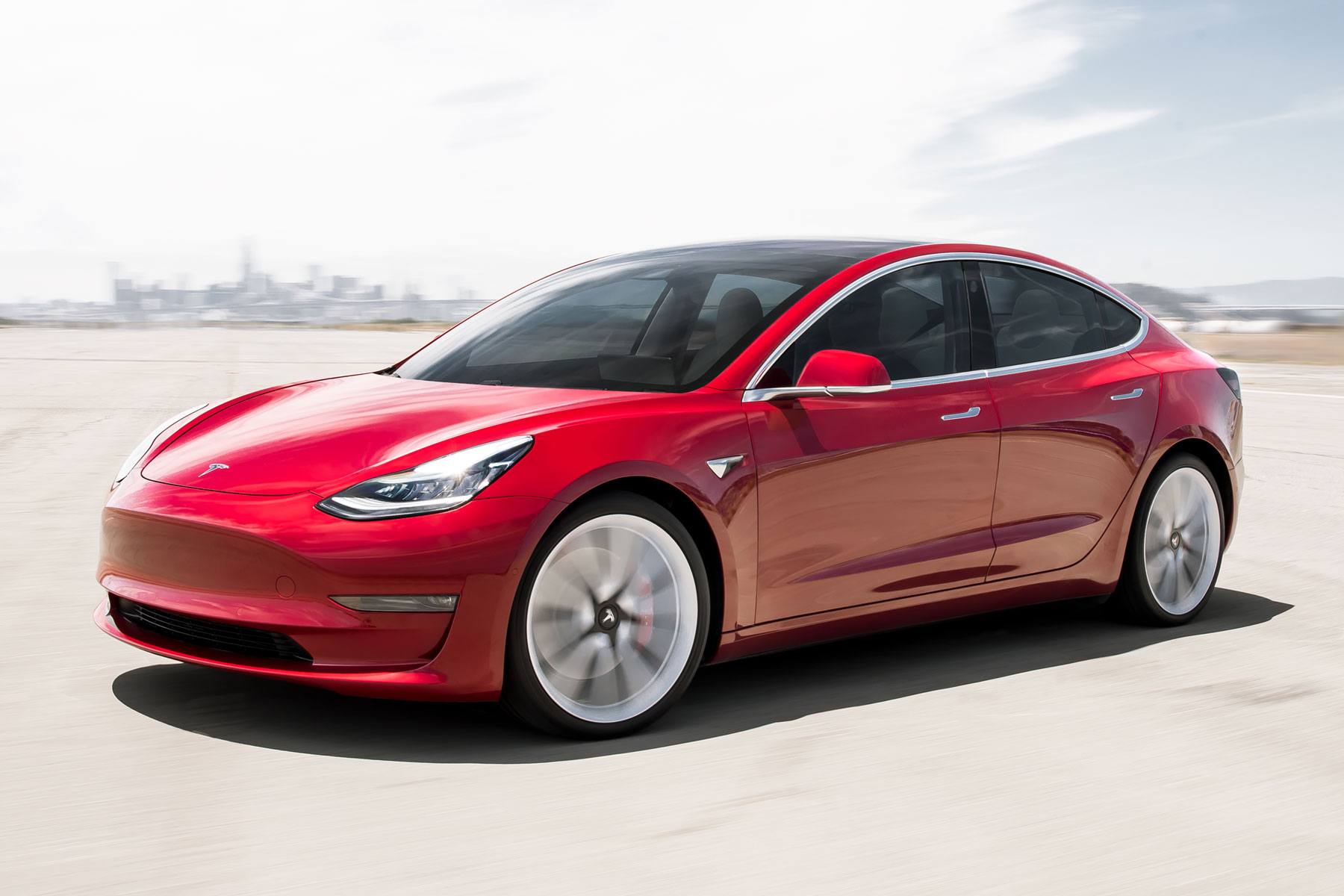 Tesla Model 3
The Tesla Model 3 is a best-selling car here in the UK. Indeed, it was the second most popular car overall in 2021, beaten only by the Vauxhall Corsa – a remarkable feat for what is a premium-priced electric car. Many owners are willingly stepping into the range-topping Model 3 Performance variant, which hits 60mph in a mere 3.1 seconds and doesn't stop until it reaches 162mph. Even so, the Performance still boasts an official electric driving range of 340 miles. Taking all that into account, a list price of just under £60,000 doesn't seem too excessive. This isn't only one of the fastest electric cars, but also one of the most popular.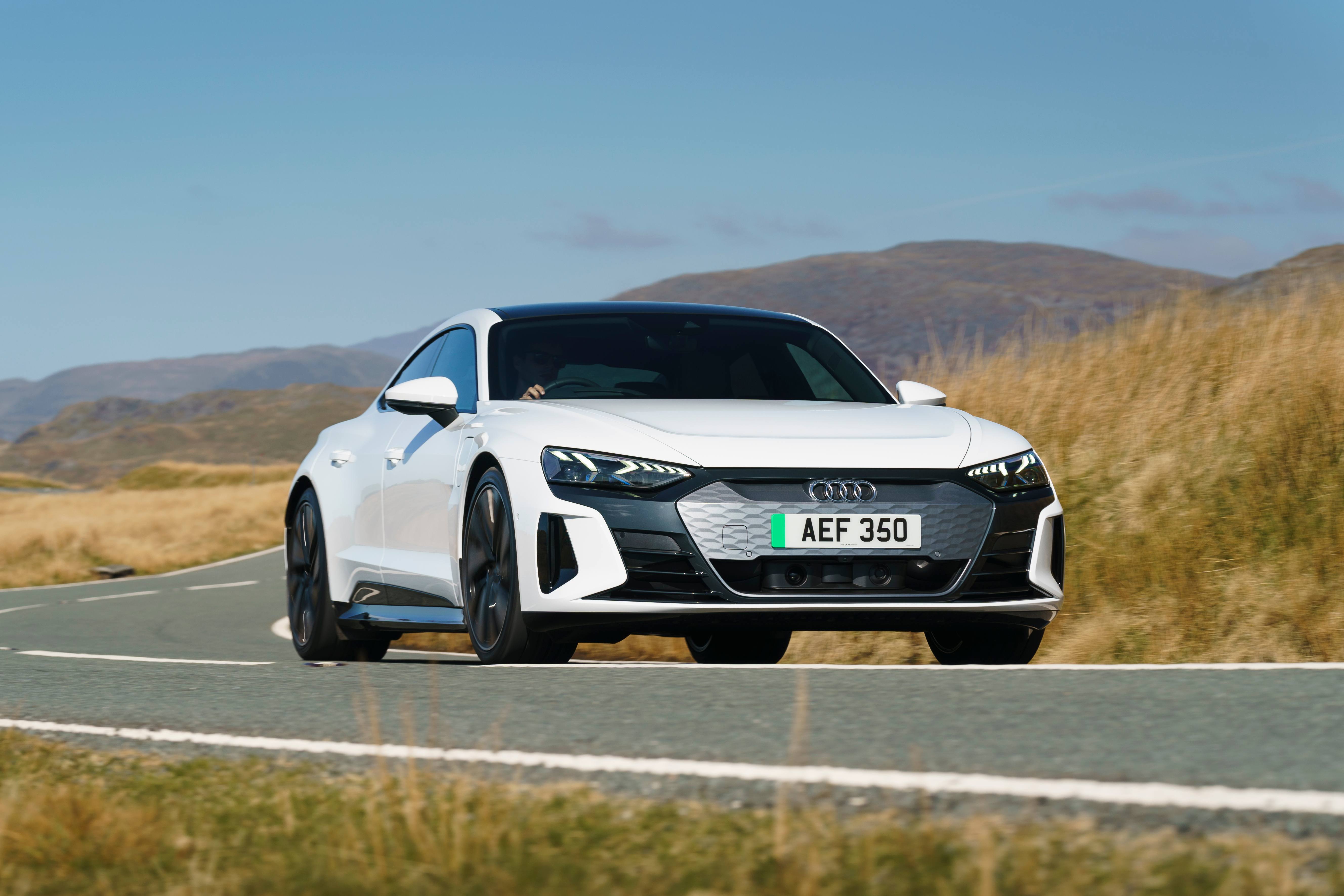 Audi RS e-tron GT
A dramatic and futuristic-looking four-door coupe, the RS e-tron GT is the range-topping version of the Tony Stark-approved e-Tron GT range. With 646hp delivered to both front and rear wheels, Quattro traction shoots it from 0-62mph in 3.3 seconds. Such excitement is enhanced by a low-slung driving position and futuristic controls, while the drive itself is very organic and enhanced by good feedback and balance. Owners can even boast that their RS e-Tron GT is built on the same line as the Audi R8 supercar. It does have supercar-style prices to match, though, starting from £114,000.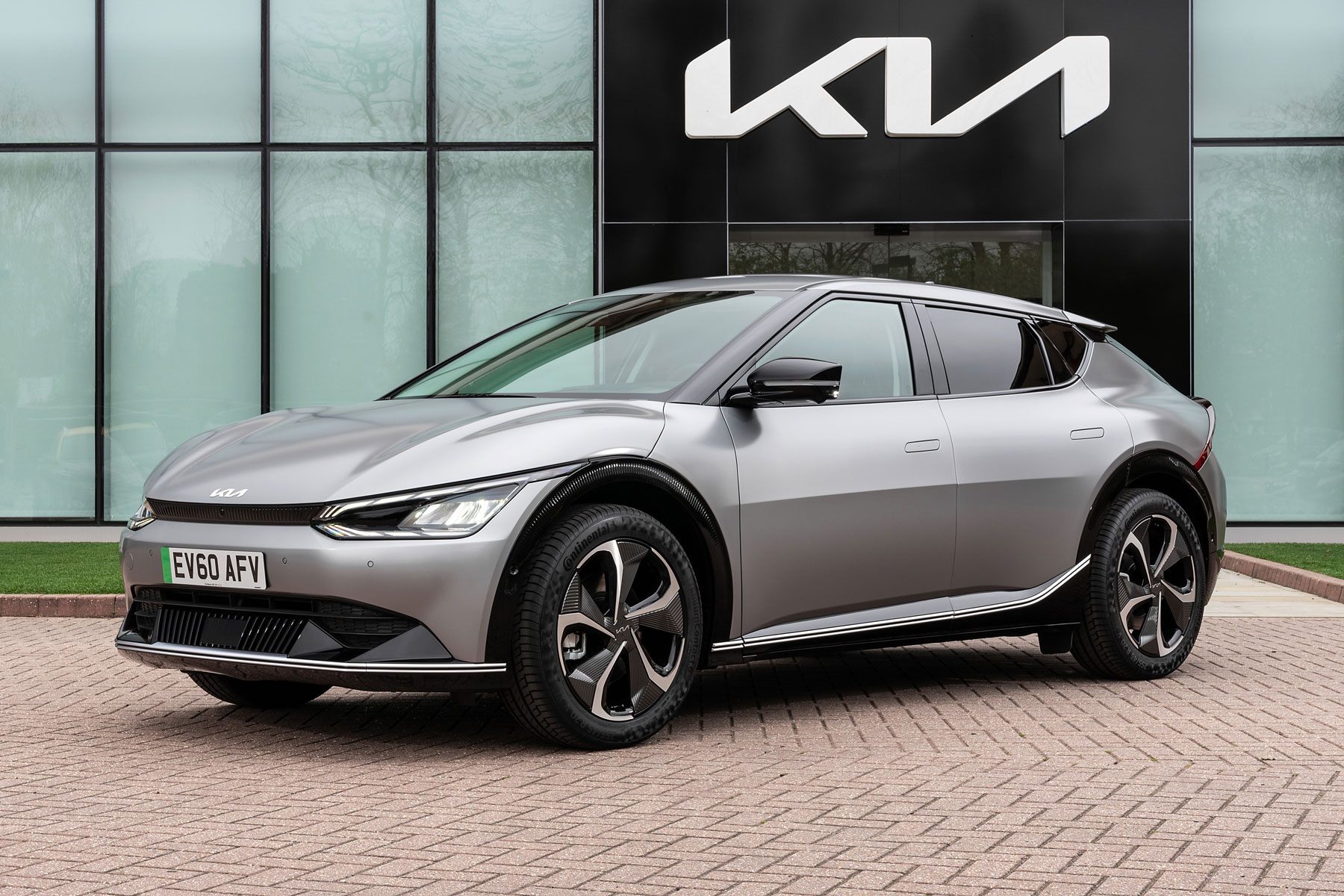 Kia EV6
The EV6 is Kia's most exciting car ever. A sporty all-electric crossover, it has curvaceous lines and a dramatic interior. Even the regular versions drive in a spirited way, but for ultimate performance you need the EV6 GT flagship. A massive power output of almost 580hp provides acceleration from 0-62mph in just 3.5 seconds – from a Kia, remember! It has a limited-slip differential and adaptive suspension as standard, so it's able to handle such potency through the bends. All this comes for a tantalising price of less than £60,000, plus owners continue to benefit from Kia's lengthy seven-year warranty.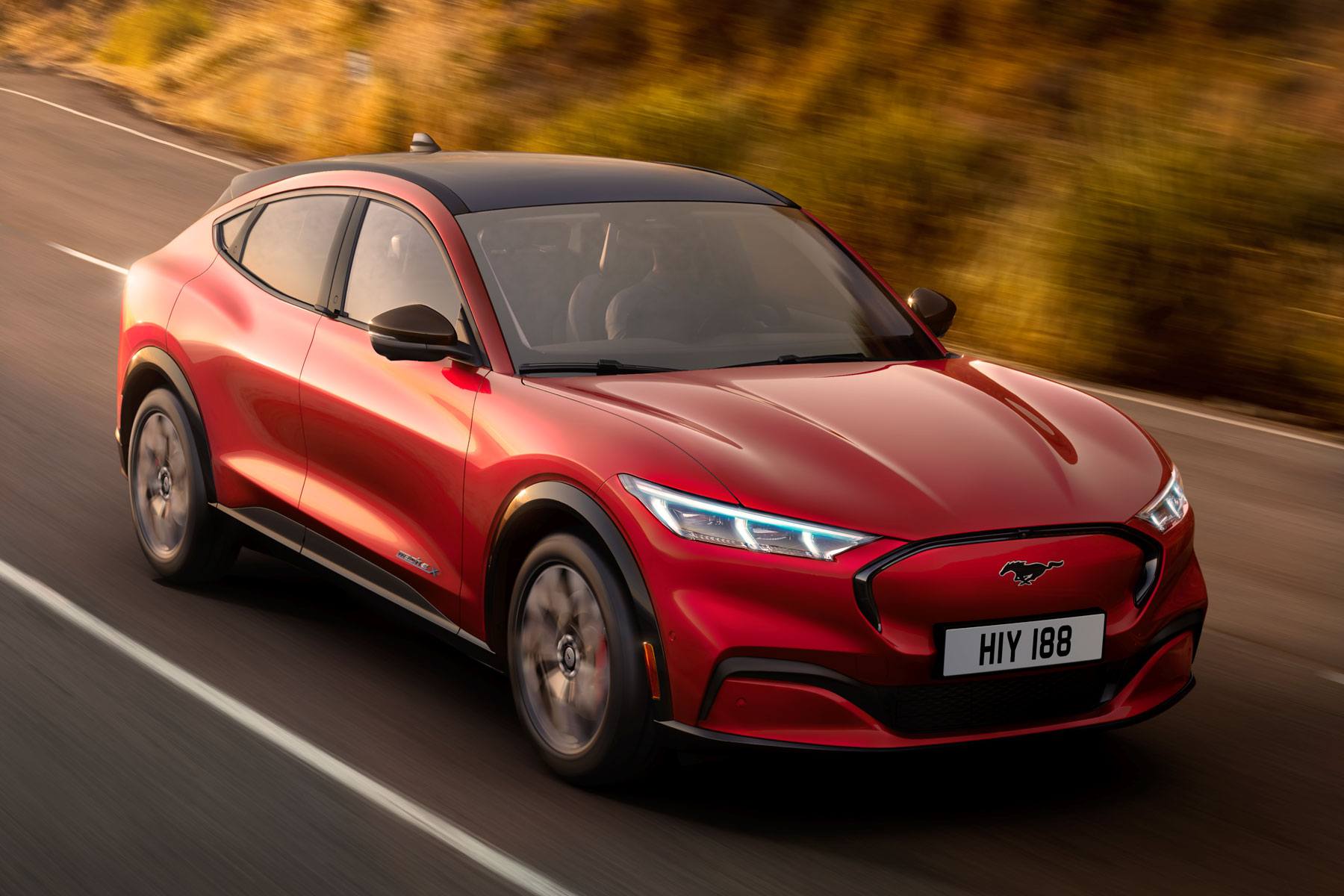 Ford Mustang Mach-e
The Ford Mustang is a famous muscle car and the Mach-e is a convincing pure electric SUV development of that theme. The range-topping GT is the ultimate Mustang Mach-e, with 20-inch wheels, body colour detailing and brilliant GT Performance seats. It blasts to 62mph in 3.7 seconds, making it the fastest Ford you can buy in the UK – yes, quicker even than the V8-engined Mustang Mach 1. The 310-mile range is useful, and Ford says it can add 70 miles of rapid-charge range in 10 minutes. Prices for the ultimate electric Mustang start from around £66,000.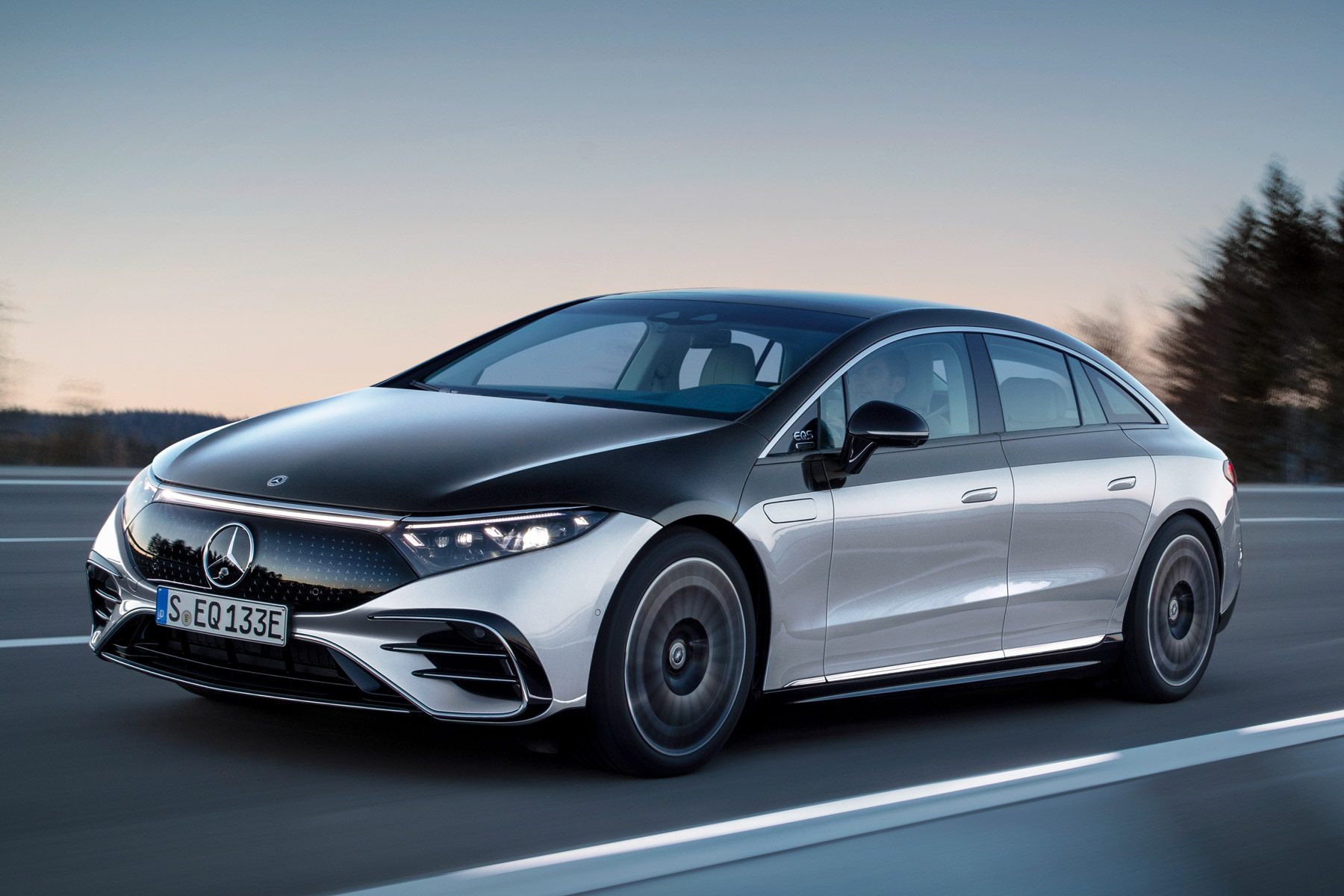 Mercedes-Benz EQS
The Mercedes-Benz EQS is the S-Class of its electric car line-up: a range-topping four-door luxury saloon with the very highest standards outside and in. It's particularly jaw-dropping with the fully-digital Hyperscreen interior, which shows that anything that Tesla can do, Mercedes-Benz can do better. The fastest version is the Mercedes-AMG EQS 53 4Matic+ version, with 658hp to propel a large luxury car to 62mph in 3.8 seconds. An enormous battery also gives it a range of 350 miles: more than ample for swift long-distance cruising in silent-running comfort. It's fair to say such abilities do not come cheap, though, with prices starting from £155,000.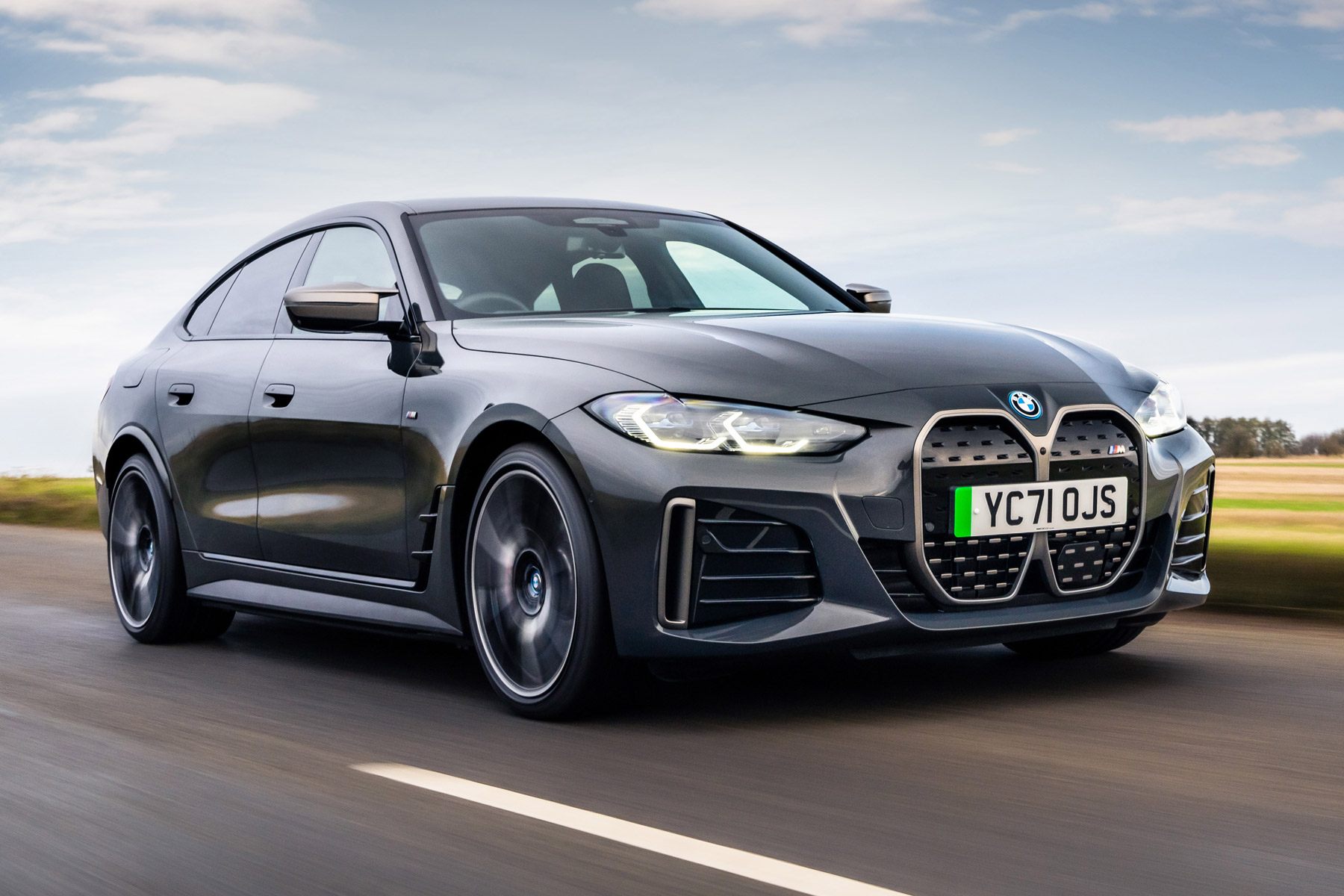 BMW i4
The i4 is the long-awaited Tesla Model 3 challenger from BMW. The company already has years of experience in building electric cars with the innovative i3. Derived from the 4 Series Gran Coupe, the i4 is a more mainstream take on this. It's available in entry-level i4 eDrive40 guise, which has 340hp, but the ultimate model is the i4 M50, with 544hp for 0-62mph acceleration in 3.9 seconds. It also has an electric driving range of almost 320 miles, while the BMW M Performance makeover leaves you in no doubt as to the M50's sporty credentials. It steers and handles brilliantly, with sporty sophistication by the bucketload.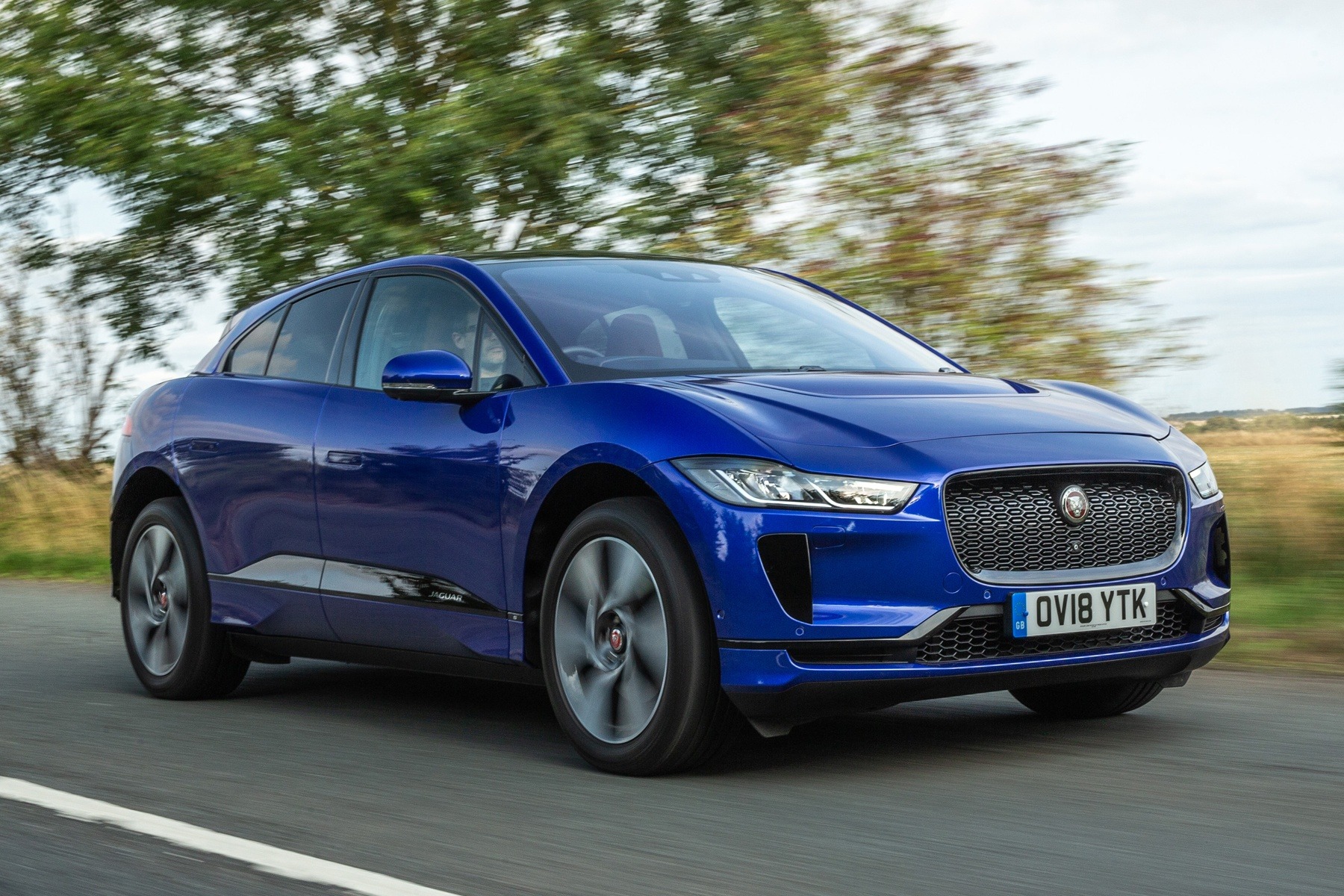 Jaguar I-Pace
The Jaguar I-Pace was a breakthrough electric car for the British firm. A former World Car of the Year winner, it was an electric crossover SUV ahead of its time, arriving well before rivals from Audi, BMW and Porsche. With 400hp and all-wheel drive from its twin-motor setup, it reaches 62mph from rest in 4.5 seconds, while a certified range of over 290 miles is good for a high-riding SUV. It looks beautiful, with a wonderfully curvaceous profile, and the interior has been enhanced with the latest Pivi Pro infotainment system, which is now one of the best in the business. Such performance, ability and luxury is yours for prices from around £66,000.
Why are the fastest electric cars so quick?
The fastest electric cars are so speedy because it's far easier to fit powerful electric motors than it is to install high-output engines. You can double the power of an electric car simply by dropping in an extra motor to power the other set of wheels – and as electric motors are so compact, it's child's play to squeeze in a more powerful one instead of an entry-level version. Car manufacturers are capitalising on this with some extremely thrilling EV performance cars.
Which is the fastest electric SUV?
The fastest electric SUV is the Tesla Model X Plaid. It has a dramatic top speed of 163mph which, for such a tall and upright seven-seater producing zero emissions, is extraordinary. The Porsche Taycan Cross Turismo is a similarly potent SUV-style crossover with plenty of German autobahn potential – and we're sure models such as the Ford Mustang Mach-e GT and Kia EV6 GT would boast heady top speeds if it wasn't for their range-saving speed limiters.
What is the fastest electric car I can afford?
The Tesla Model 3 delivers perhaps the best combination of performance and affordability. The range-topping Model 3 Performance costs from just under £60,000, yet can do 0-62mph in a scant 3.1 seconds, which is faster than most Porsche sports cars. A 162mph top speed is pretty exciting too – and if you're a company car driver, you'll enjoy such mighty performance alongside serious Benefit-in-Kind tax savings. Given all this, it's easy to see why the most affordable Tesla electric car has proved so popular in the UK.