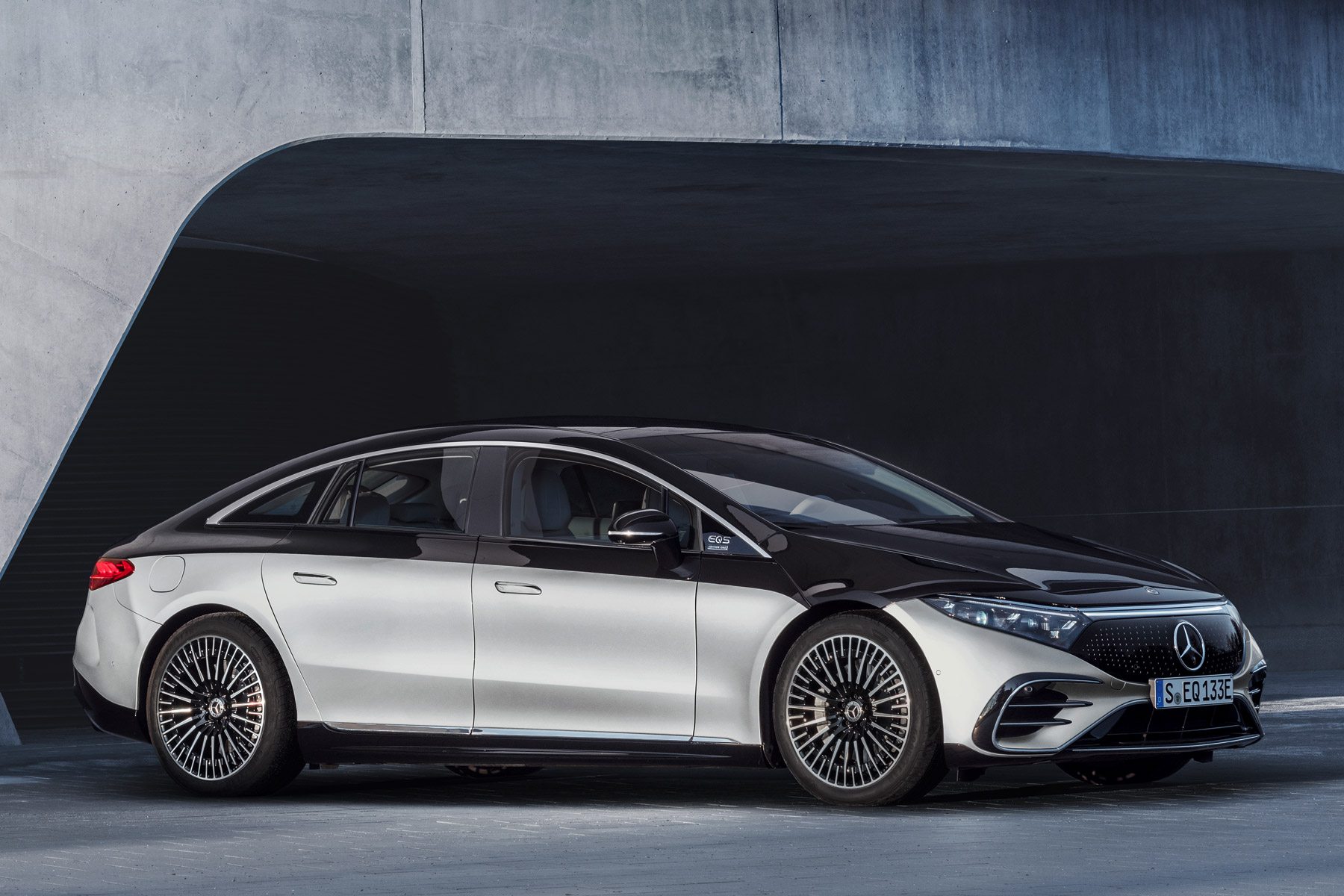 Range anxiety – the fear of not having enough battery range to complete a journey by electric car – remains a very real concern for many new car buyers. Indeed, it is stopping some people from making the switch entirely.
But range anxiety is easing all the time, thanks to new electric cars that are pushing the boundaries of overall driving range. There was a time when hitting 300 miles was noteworthy. Today, that's only the starting point for many electric cars.
Although most people don't cover such high mileages in one go, it's good to know the car is capable of it, should they need to. Having such high-capacity batteries also makes them more convenient to own; you don't have to plug in each night, and they're particularly good for those people who don't have a charging point at home.
Here are the electric cars with the longest range, then. You'll be stopping well before they do…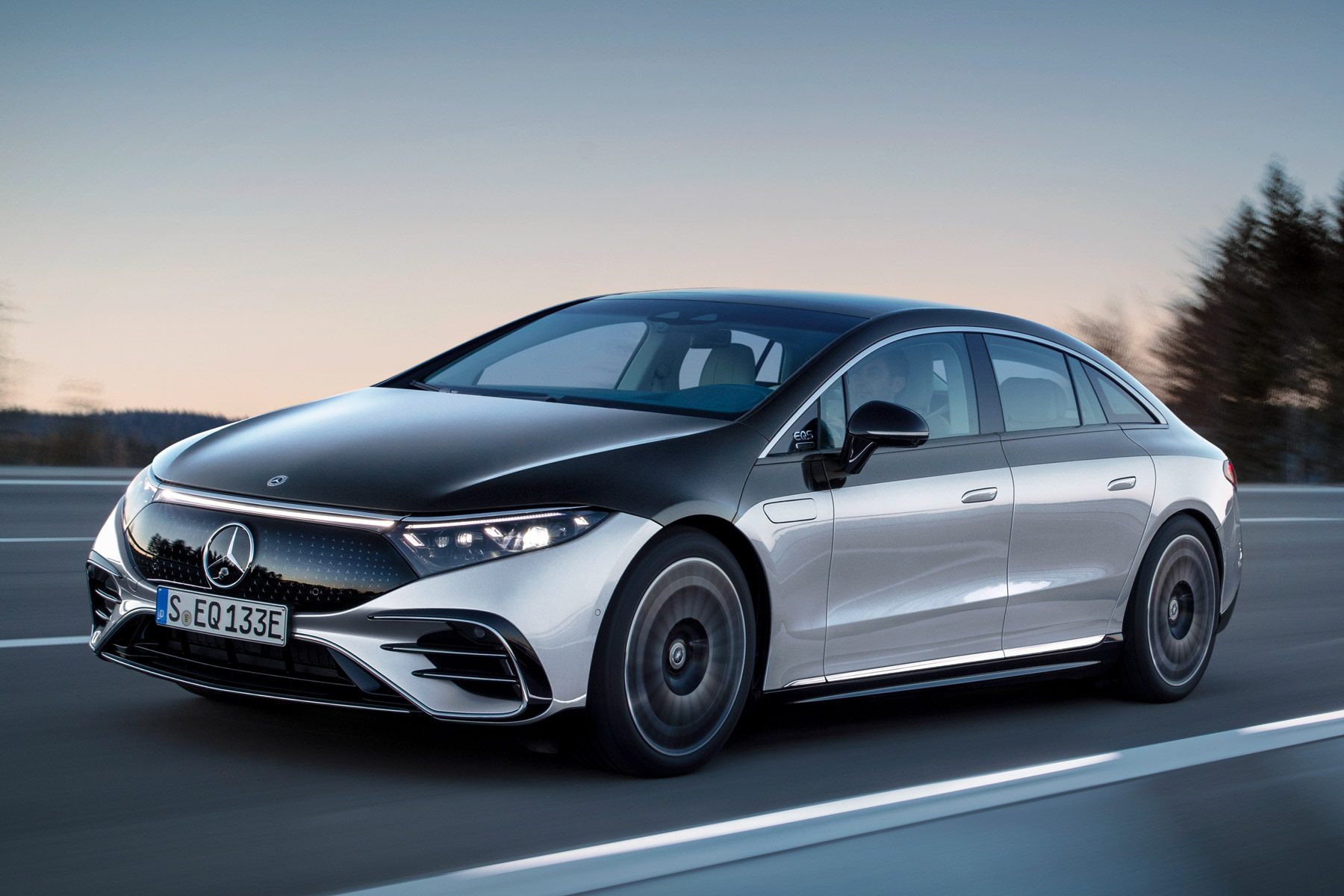 Mercedes-Benz EQS
The Mercedes-Benz EQS currently holds the title of electric car with the longest range, thanks to a total EV mileage of 453 miles. That's an extraordinary total, well clear of every other car on sale. The firm's pure electric range-topper – the EV alternative to the S-Class – achieves this courtesy of a giant 107.8kWh battery, mounted low down beneath the seats so it's still spacious inside and has a sleek profile that's certain to turn heads. The interior is pretty awe-inspiring as well, particularly if you choose the fully-electronic Hyperscreen layout. Rapid charging functionality allows recharges from flat to 80 percent in just half an hour.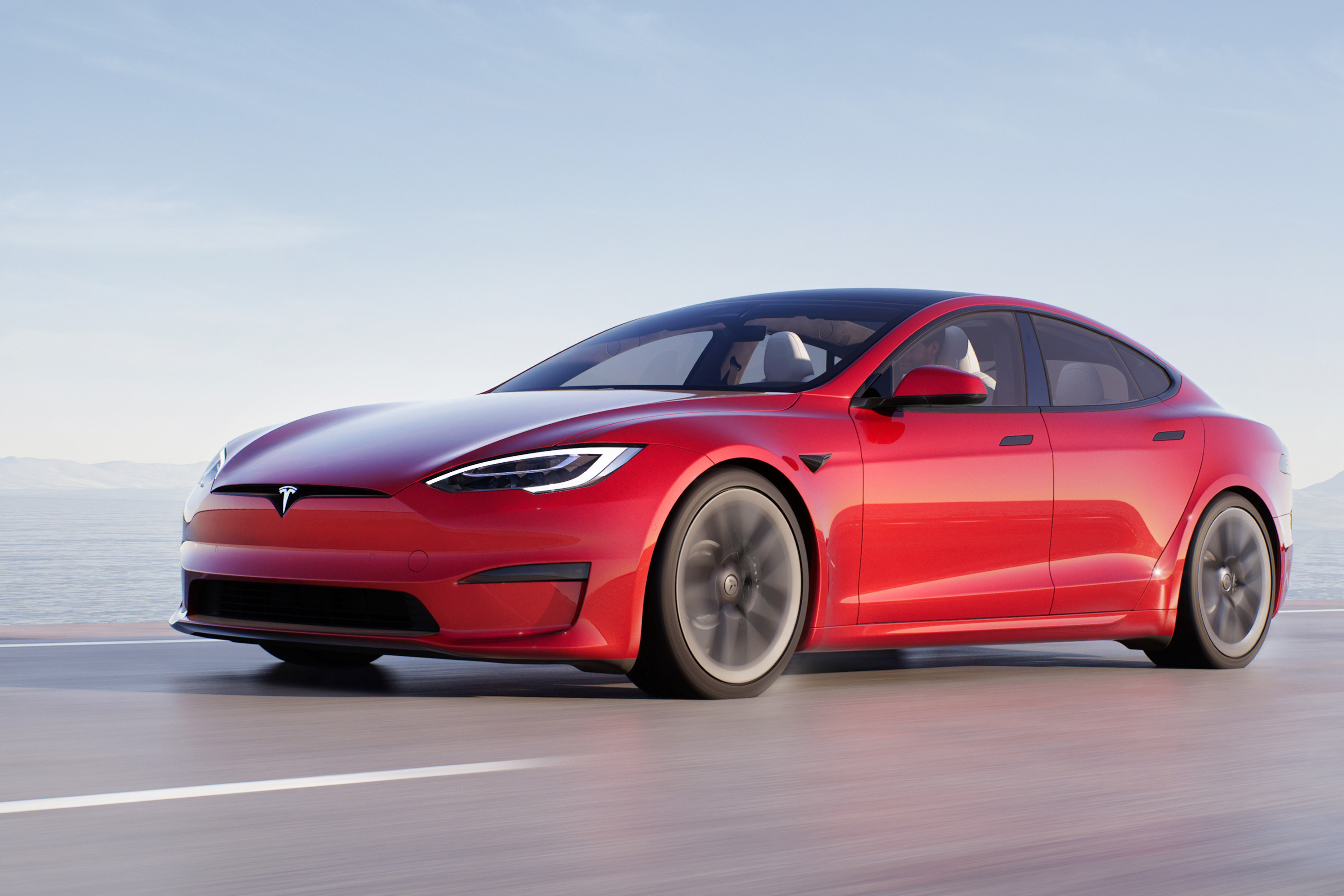 Tesla Model S
The Tesla Model S held the record for longest-range electric car for a fittingly long time. It was the first to achieve more than 400 miles, with a 405-mile range in Dual-Motor All-Wheel-Drive guise. Remarkably, this is combined with 0-60mph acceleration in just 3.1 seconds. You won't get 405 miles if you make use of all the performance, obviously, but Tesla's brilliant Supercharger network allows easy recharges on the go. Oh, and there's also the incredible Model S Plaid, with a 200mph top speed and 0-60mph in 1.99 seconds. The range does dip slightly, but it's still a more-than-acceptable 396 miles.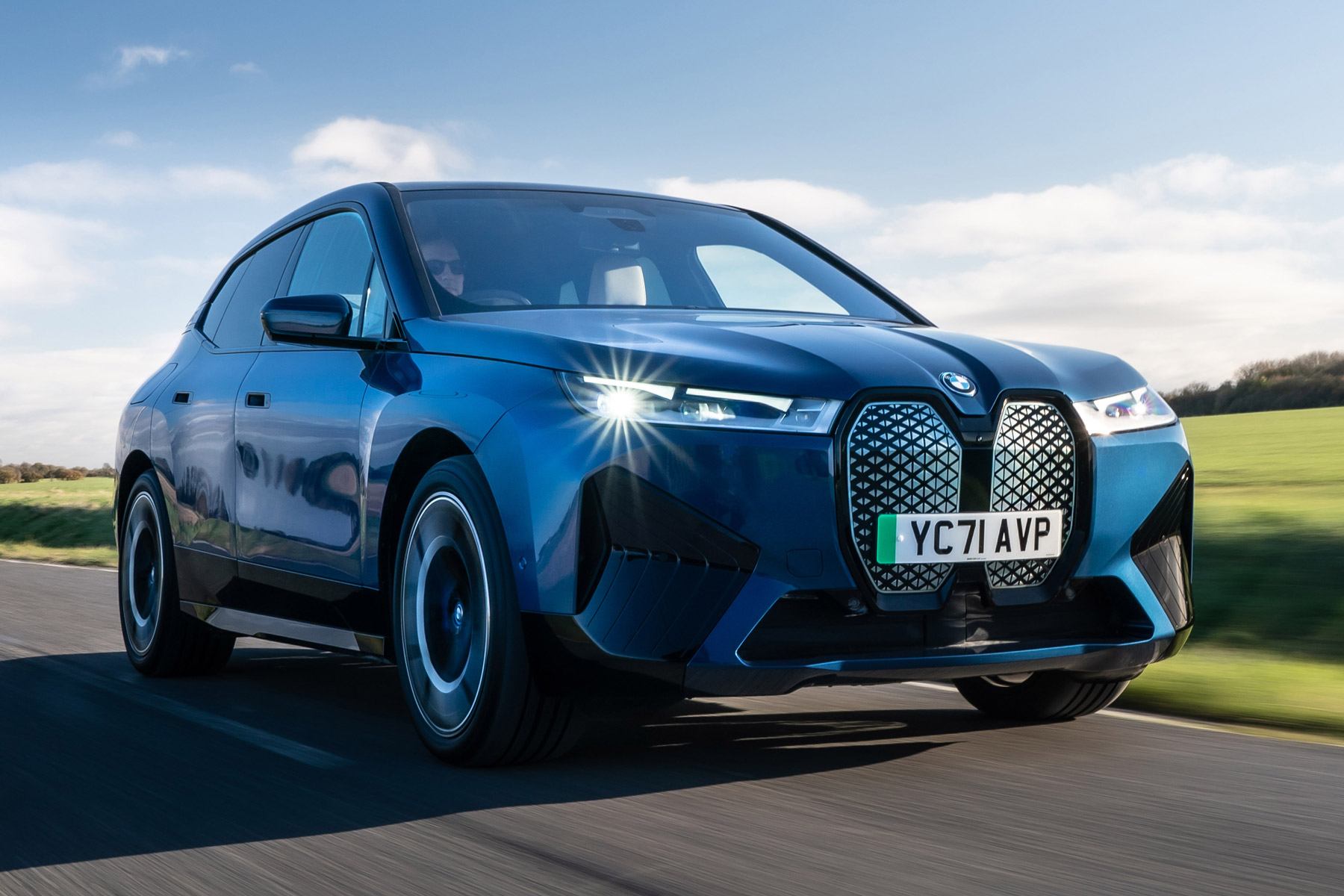 BMW iX
BMW's striking new flagship electric SUV, iX prices start from around £70,000, but it's the xDrive50 you want if you seek the longest range. Prices for this model are over £111,000, but it does have a humongous 111.5kWh battery onboard, serving up a 380-mile range. For such a large and tall SUV, that's incredible, particularly as the xDrive50 also has 520hp for electrifying acceleration. Visually, it's certainly distinctive, with huge kidney grilles at the front, but inside it's much calmer, with an ultra-luxurious cabin that's finished to the very highest standards. BMW's latest infotainment system is a work of electronic art and the voluminous interior space ensures it's comfortable for five.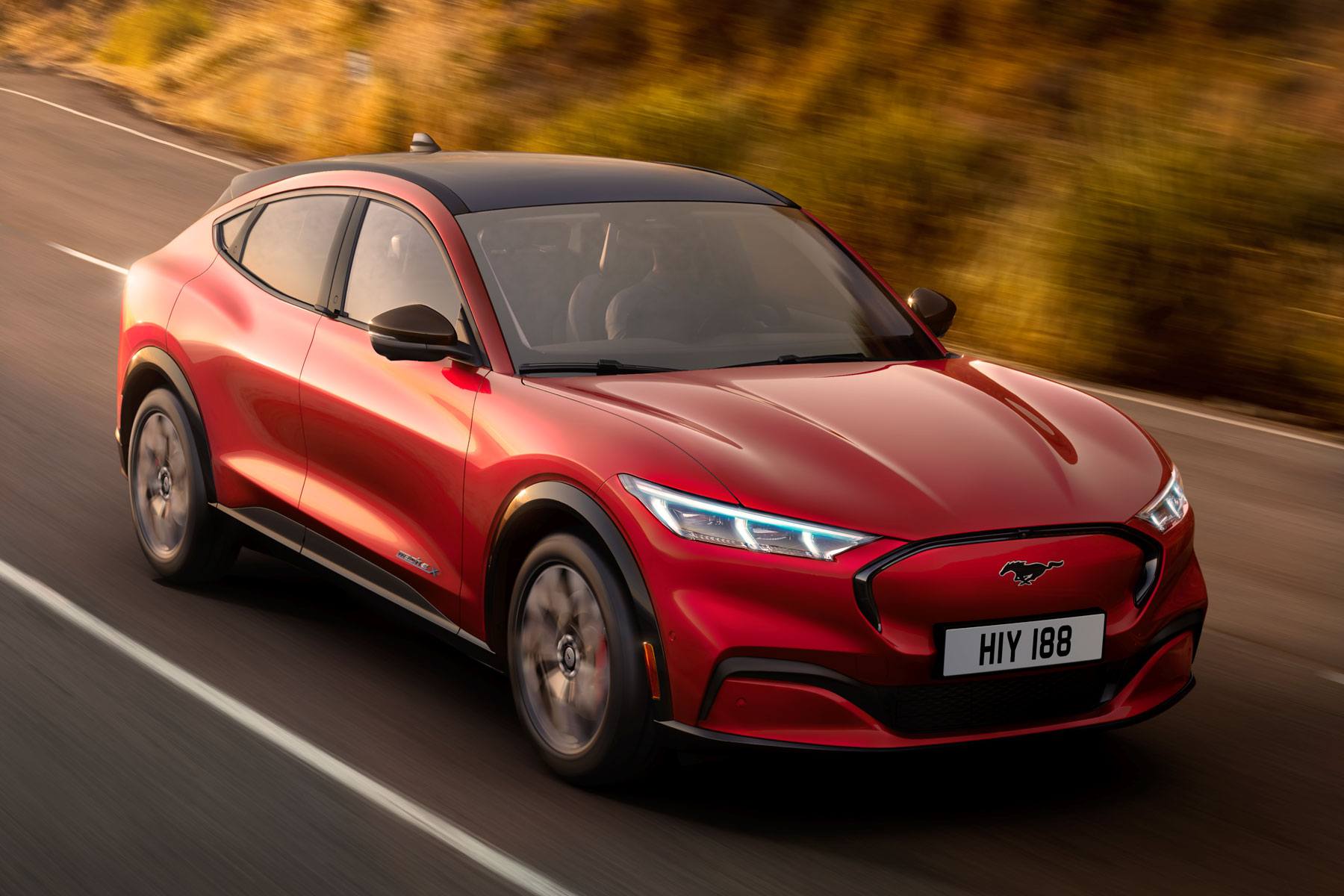 Ford Mustang Mach-e
The first dedicated all-electric Ford sold in the UK, the Mustang Mach-e was inspired by Ford's famous V8 GT car: the Mustang fastback. Prices start from around £42,500, which gets you a 70kWh battery with an electric range of up to 273 miles. That's pretty good, but the 91kWh Extended Range battery is even better, offering up to 379 miles. Although you can get an all-wheel-drive Mustang Mach-e, the rear-drive models are most efficient. All have a spacious interior, with the centrepiece of a giant portrait-format touchscreen in the middle of the dashboard. It's more than a match for anything from US rival Tesla.
Tesla Model 3
The Tesla Model 3 is a very popular new car in the UK, despite prices starting from almost £44,000. Owners like the tech-centric Tesla image, the performance of the Model 3 line-up and, of course, the car's range. The Long Range Dual Motor model offers an impressive 374 miles, and it too is able to use the straightforward 'drive up, plug in' Supercharger network. You'll never need another charging app or RFID card again. Oh, and while the Model 3 Long Range does indeed have a long range, it also boasts rapid acceleration times: 0-60mph in 4.2 seconds is as quick as some Porsche 911s.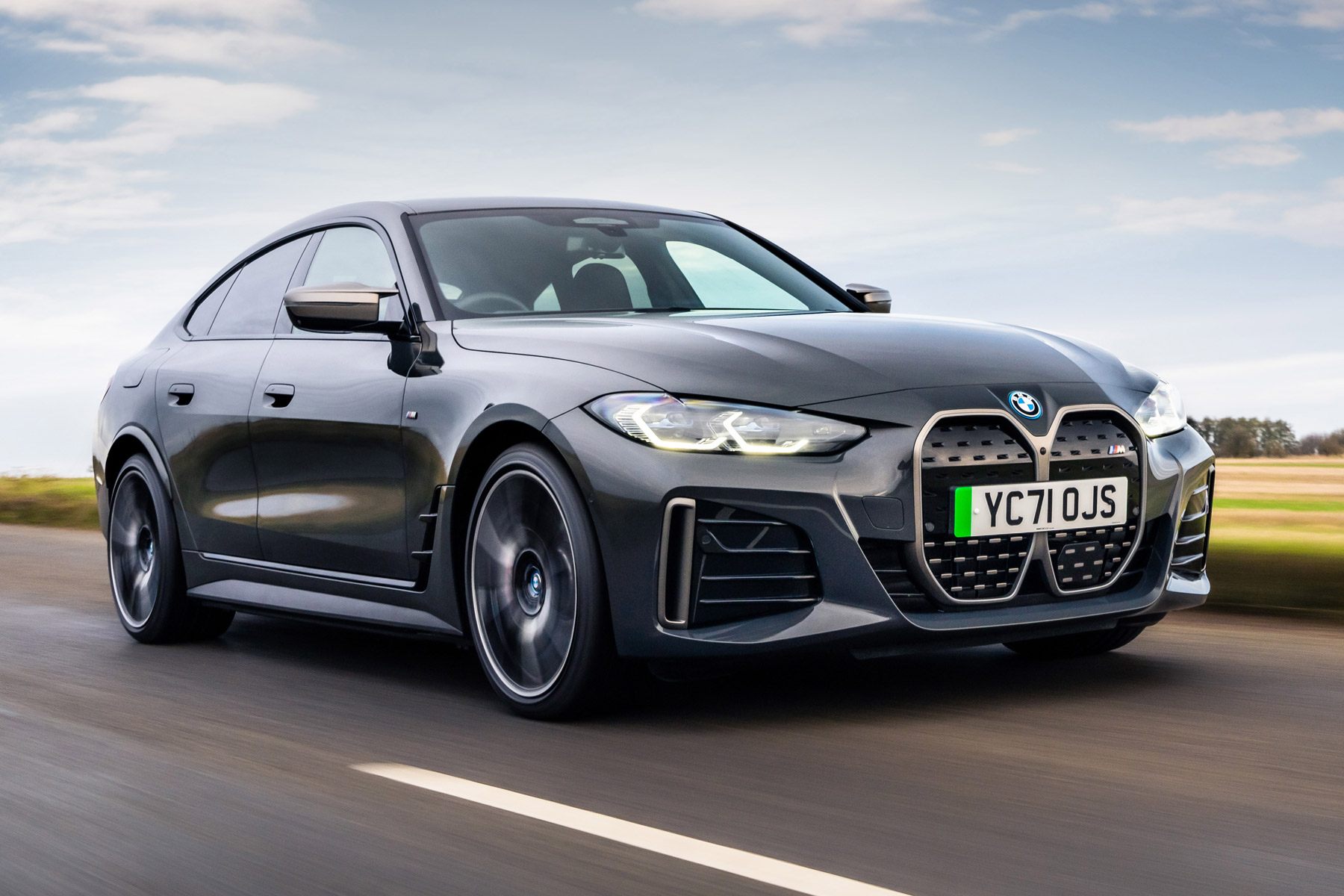 BMW i4
The second BMW to feature here in our guide to electric cars with the longest range, the i4 earns its place in eDrive40 guise. This has a battery capacity of almost 84kWh, which gives it the ability to cover up to 365 miles between charges. It does so with sporty prowess, too; this is an expertly-honed four-door coupe, with beautiful handling and a connected, driver-focused feel. It has a level of dynamic sophistication that will wow those used to a Tesla Model 3. BMW's latest interiors are interesting, with a premium layout incorporating the firm's top-notch infotainment system.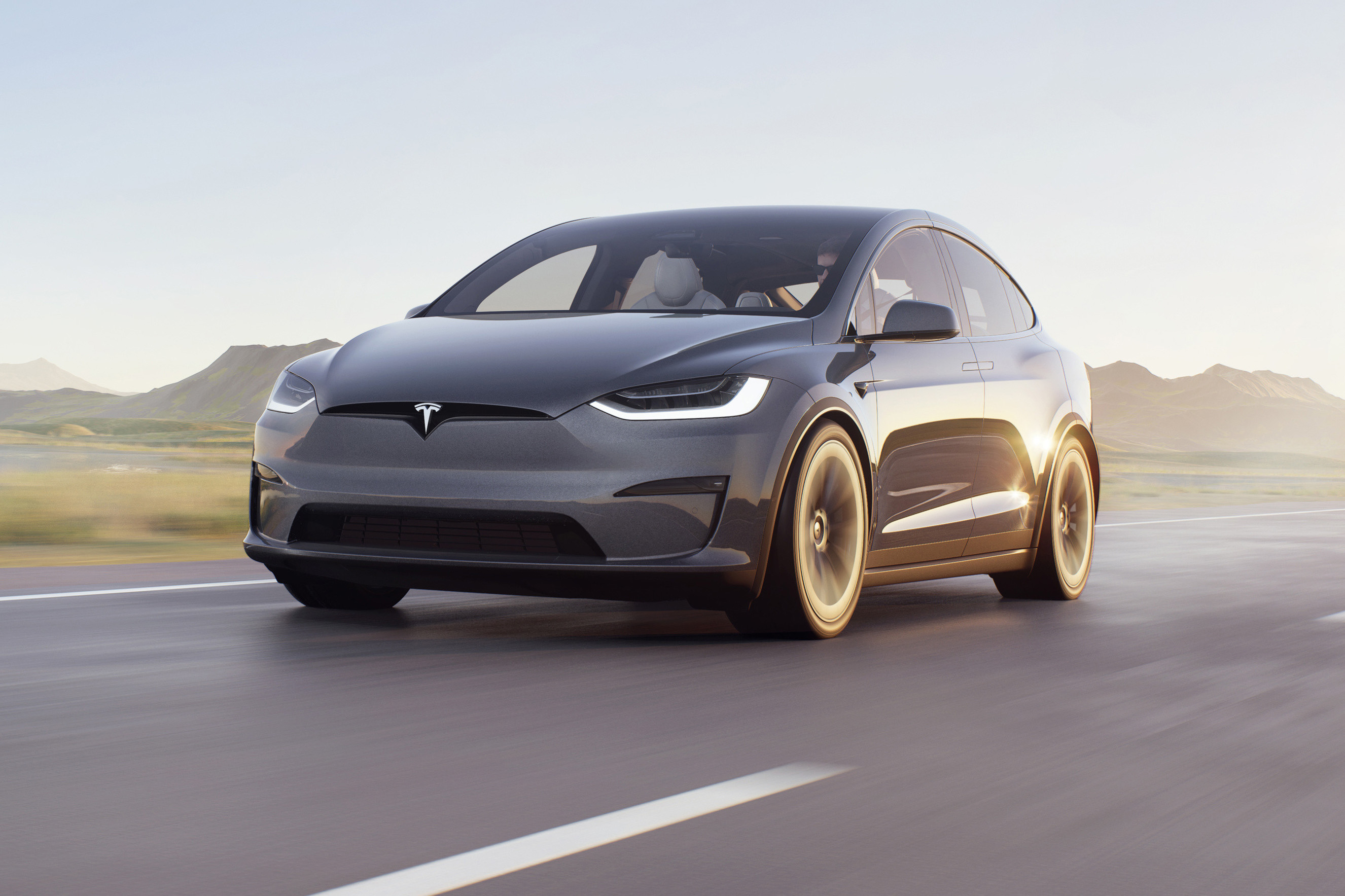 Tesla Model X
The Tesla Model X is dramatic even for those simply standing outside; the radical 'Falcon Wing' rear doors are almost guaranteed to draw a crowd. It's a big and tall SUV, with space for up to seven people, and uses the distinctive Tesla portrait-format touchscreen in the centre. The Model X also uses a 100kWh battery for a driving range of up to 348 miles – that's impressive for one so big. Also noteworthy is the performance Tesla has achieved: the top speed is 155mph and 0-60mph takes just 3.8 seconds. If that's not fast enough, the 1,000hp Model X Plaid does the benchmark sprint in just 2.5 seconds.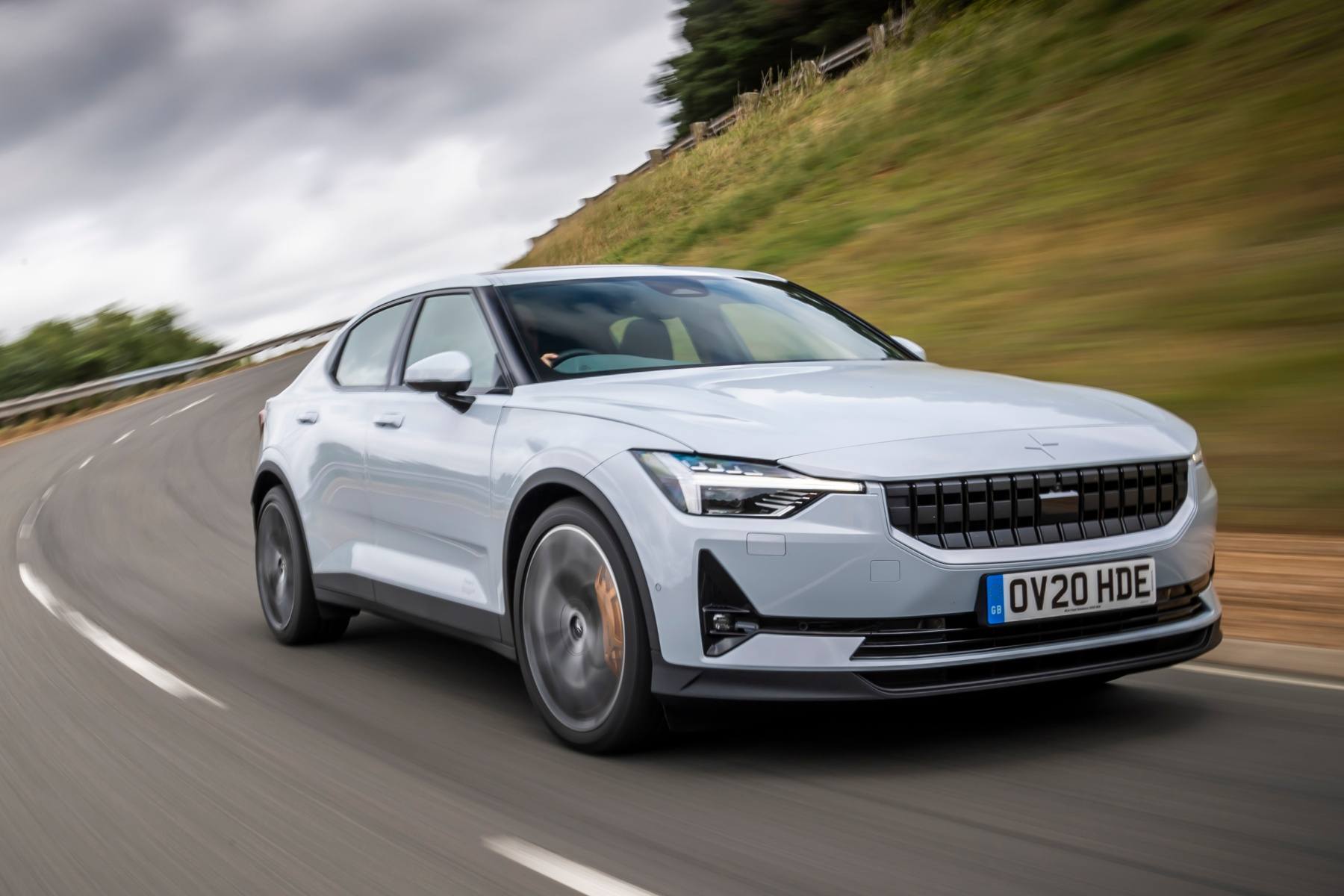 Polestar 2
The Polestar 2 is winning plenty of fans in the UK. A new premium brand born out of Volvo, the sporty marque is building its British presence and finding particular favour among company car drivers, who love its tax-friendly appeal. With a 78kWh battery, it's capable of travelling for up to 335 miles between charges – and standard rapid-charge functionality means it can be topped up from 10-80 percent in 35 minutes. The clever and comprehensive Google-based infotainment system allows you to easily find charging points on the move, and even see how many plug sockets are available at each location.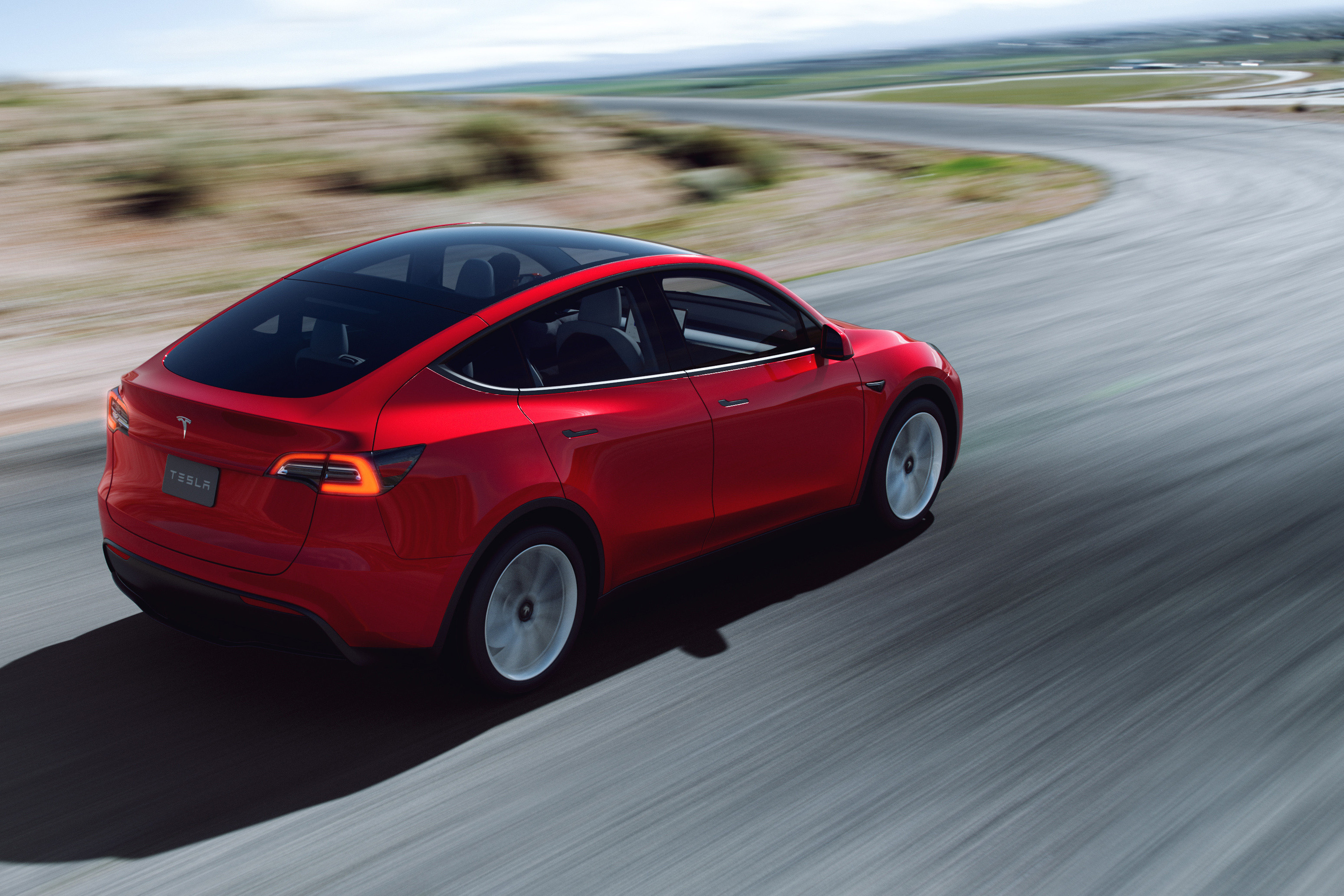 Tesla Model Y
The Tesla Model Y is the American car company's newest model. It's similar in appearance to the Model 3, but the crossover-style design is taller and, inside, a lot more practical and spacious. You can have it in seven-seat guise (five seats are standard) and the boot is enormous when you fold down all the rear seats. This doesn't come at the expense of range, though. The most family-friendly Tesla yet has a 331-mile range in Long Range Dual motor guise, and also serves up 0-60mph acceleration in a thrilling 4.8 seconds. The Tesla infotainment system, equipped with an array of apps including YouTube, will keep your family entertained for hours.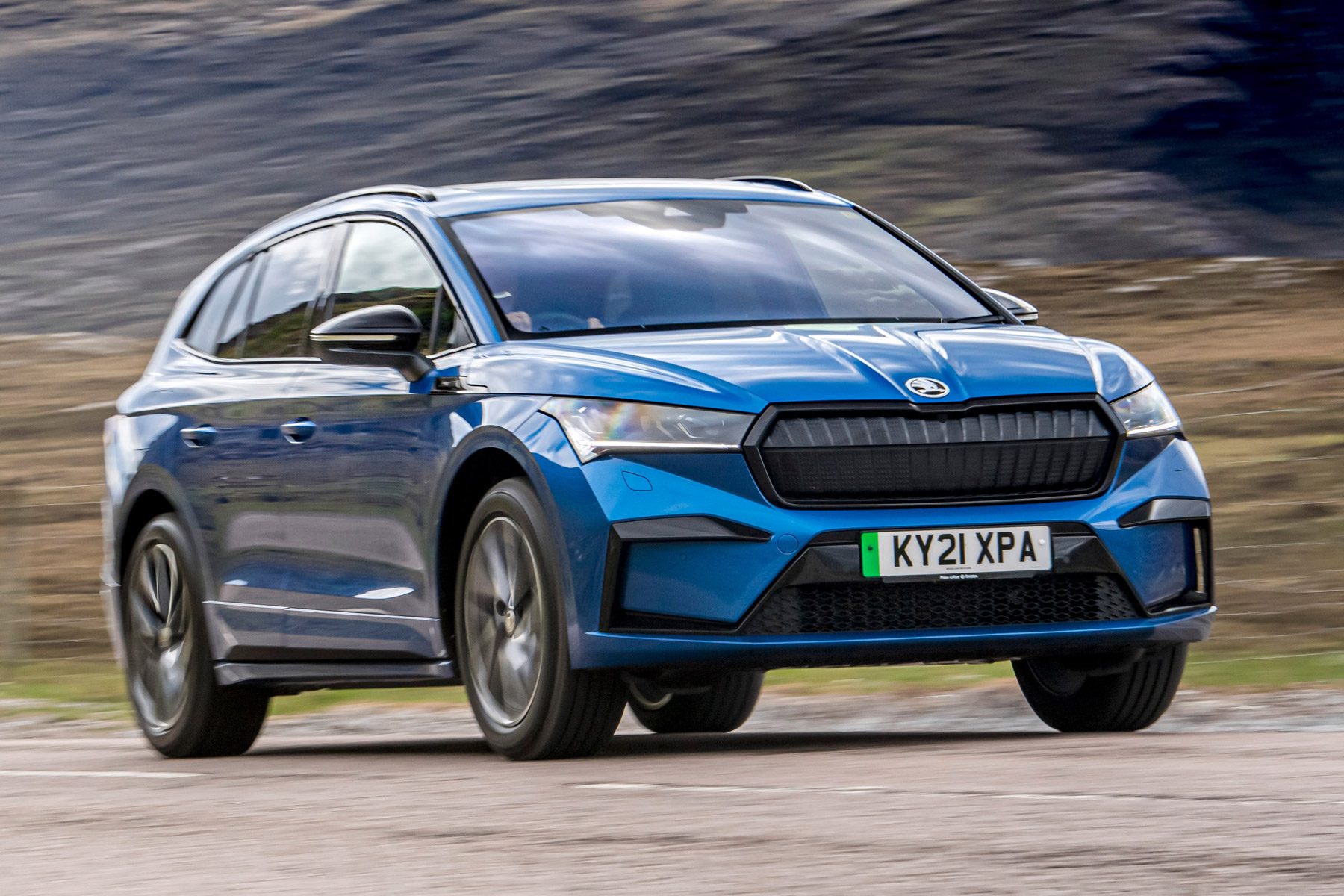 Skoda Enyaq iV
The clever Skoda Enyaq iV is an uncommonly well-thought-out family electric car. Visually, it combines sleek aerodynamics with a crossover SUV profile, and makes the most of its space-efficient EV underpinnings with a roomy and well-made cabin. There's an abundance of room, and despite prices starting from less than £35,000, it's well equipped, with the centrepiece being a 13.0-inch touchscreen media system. The most affordable model is the Enyaq iV 60, but it's the bigger battery of the Enyaq iV 80 that serves up the longest range: a total of 330 miles between charges.
Can you get an electric car with a 400-mile range?
The thought of an electric car with a 400-mile range was once fanciful. How on earth would you pack in batteries with sufficient charge, without it weighing as much as a small truck? But technology continues to come on in leaps and bounds, and the Mercedes-Benz EQS currently holds the record for longest range – offering more than 450 miles. The Tesla Model S has a range of over 400 miles, too. Now the gauntlet has been thrown down, expect the 400-mile club to start expanding.
Which is the electric SUV with the longest range?
BMW was an early electric car pioneer, and it's used that experience to create the iX, currently Britain's longest-range electric SUV. Despite its size and weight, it still manages to boast a 380-mile range between charges – and if its heady list price is too much, the Ford Mustang Mach-e is close behind, with a range of 379 miles. It's notable how many SUVs are among the electric cars with the longest ranges.
Do long-range electric cars take a long time to charge?
The very largest electric car batteries – those with capacities of 100kWh or more – will take days to recharge if you plug them into a domestic three-pin plug socket. These models are best used with a wallbox, which gives overnight charging capability. But the electric cars with the largest batteries also often have uprated electrical architectures with rapid charging capability. The Mercedes-Benz EQS, for example, can go from flat to 80 percent full in just 31 minutes.