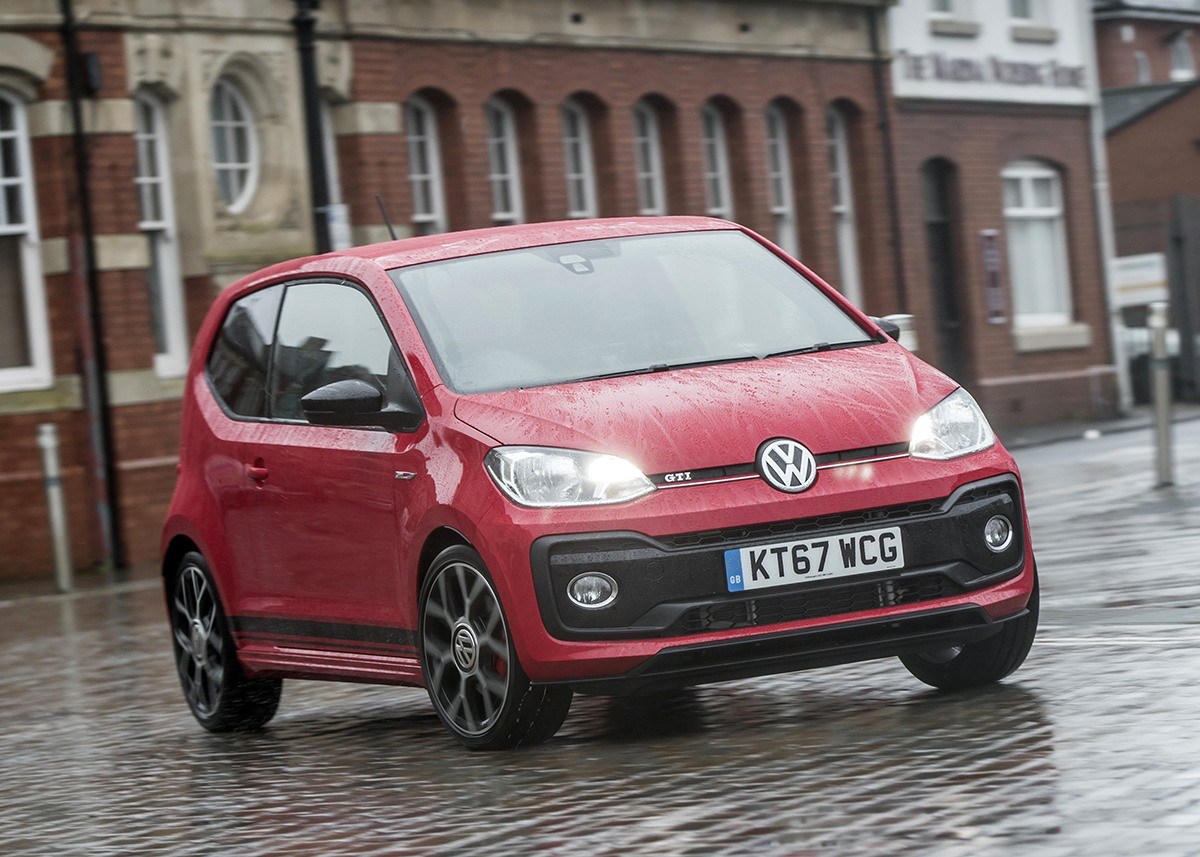 Sorry, Geri Halliwell, but you don't need to scream to go faster. All you need is a cheap fast car and an empty road. Actually, a race track would be better, but you know where we're coming from.
Anyone who has played Top Trumps will know that the fastest cars tend to come with six- or even seven-figure price tags. Supercars for the rich and famous, not for those of us who have to hold down a 9-to-5 job. The ring road rather than the Nurburgring.
That doesn't mean you can't go fast on a budget. We've selected 10 of the best cheap fast cars you can buy right now, with prices ranging from around £17,500 to £35,000. In the real world of congestion, speed limits and enforcement cameras, they're likely to be as fast as a Ferrari or Lamborghini.
Get yourself strapped in, because these cheap fast cars will spice up your life.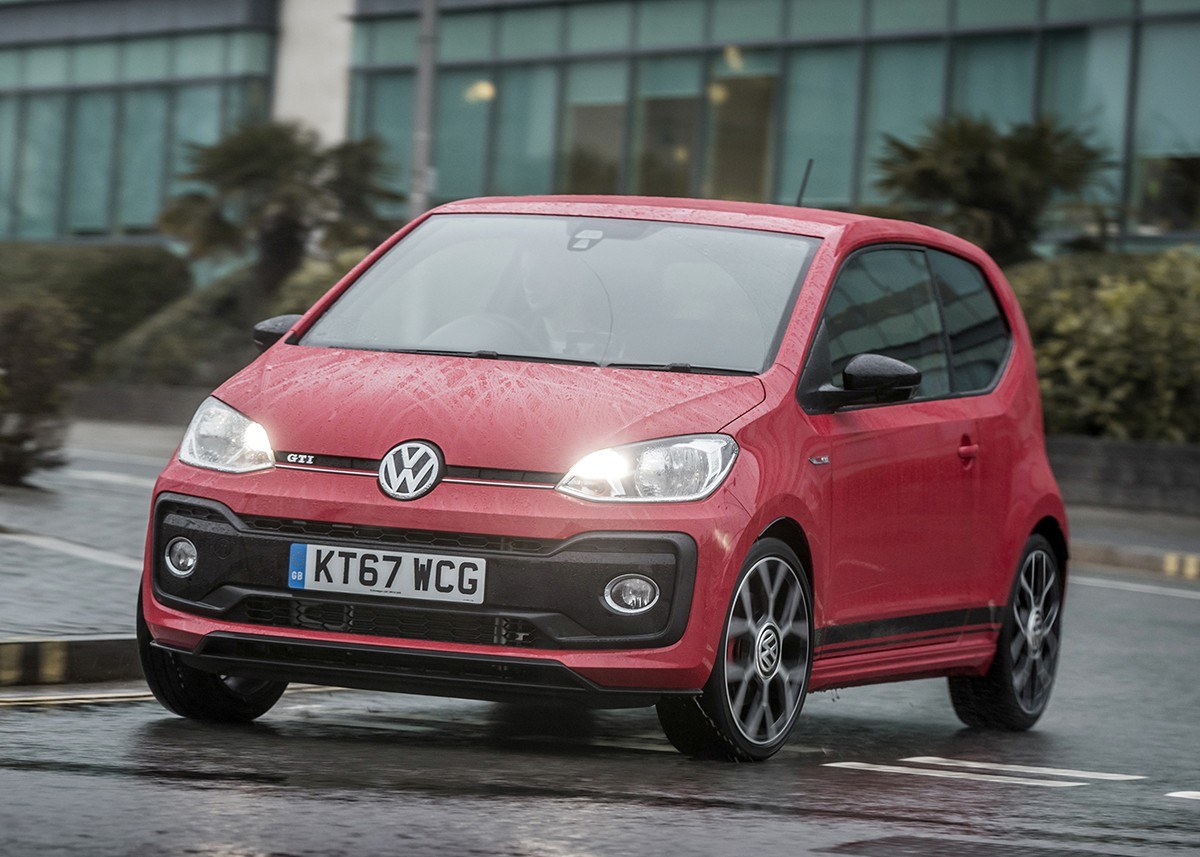 Volkswagen Up GTI
The Volkswagen Up GTI is the cheapest and smallest candidate on our list of the best cheap fast cars. Power is sourced from an equally small 1.0-litre turbocharged engine, which produces a modest 115hp. However, because the Up GTI weighs a little over 1,000kg, acceleration is surprisingly peppy. In fact, a 0-62mph time of 8.8 seconds is very similar to that of the original Volkswagen Golf GTI. In three-door form, the Up GTI costs around £17,000, but you'll pay a little extra for the more practical five-door version. Either way, this is great fun to drive in the city.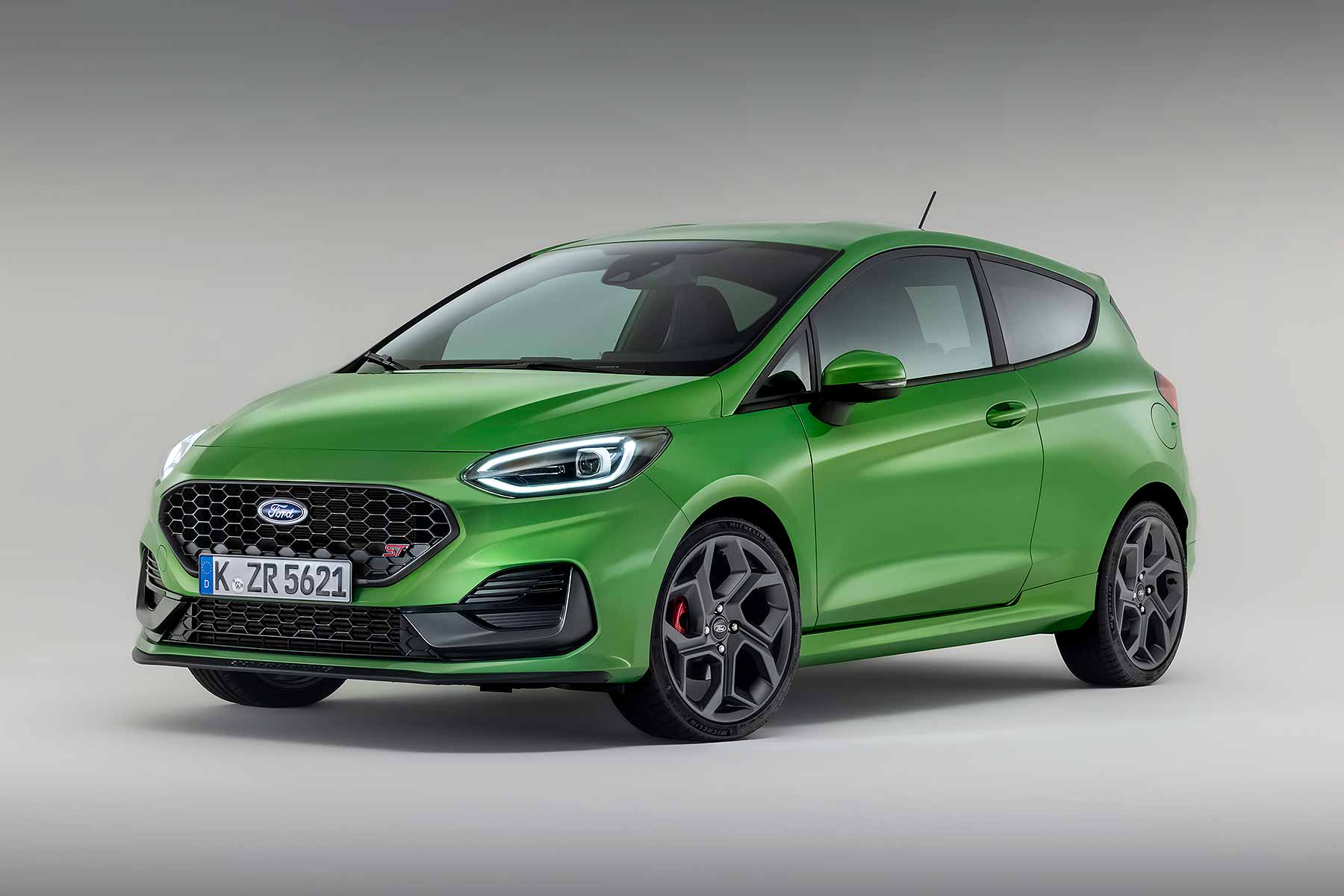 Ford Fiesta ST-3
All things considered, the Ford Fiesta ST-3 is probably the best affordable hot hatchback you can buy. Following an update in 2022, the best just got even better, with the ST benefiting from a subtle facelift, increased torque from its zesty 1.5-litre three-cylinder engine, Matrix LED headlights and optional Mean Green paint. There's nothing miserly about the specification, with the list of equipment including 18-inch alloy wheels, an 8.0-inch touchscreen infotainment system, a 12.3-inch digital instrument cluster, a Quaife limited-slip differential, keyless start and a heated windscreen. It costs around £26,500, which is excellent value for a hot hatch of this quality.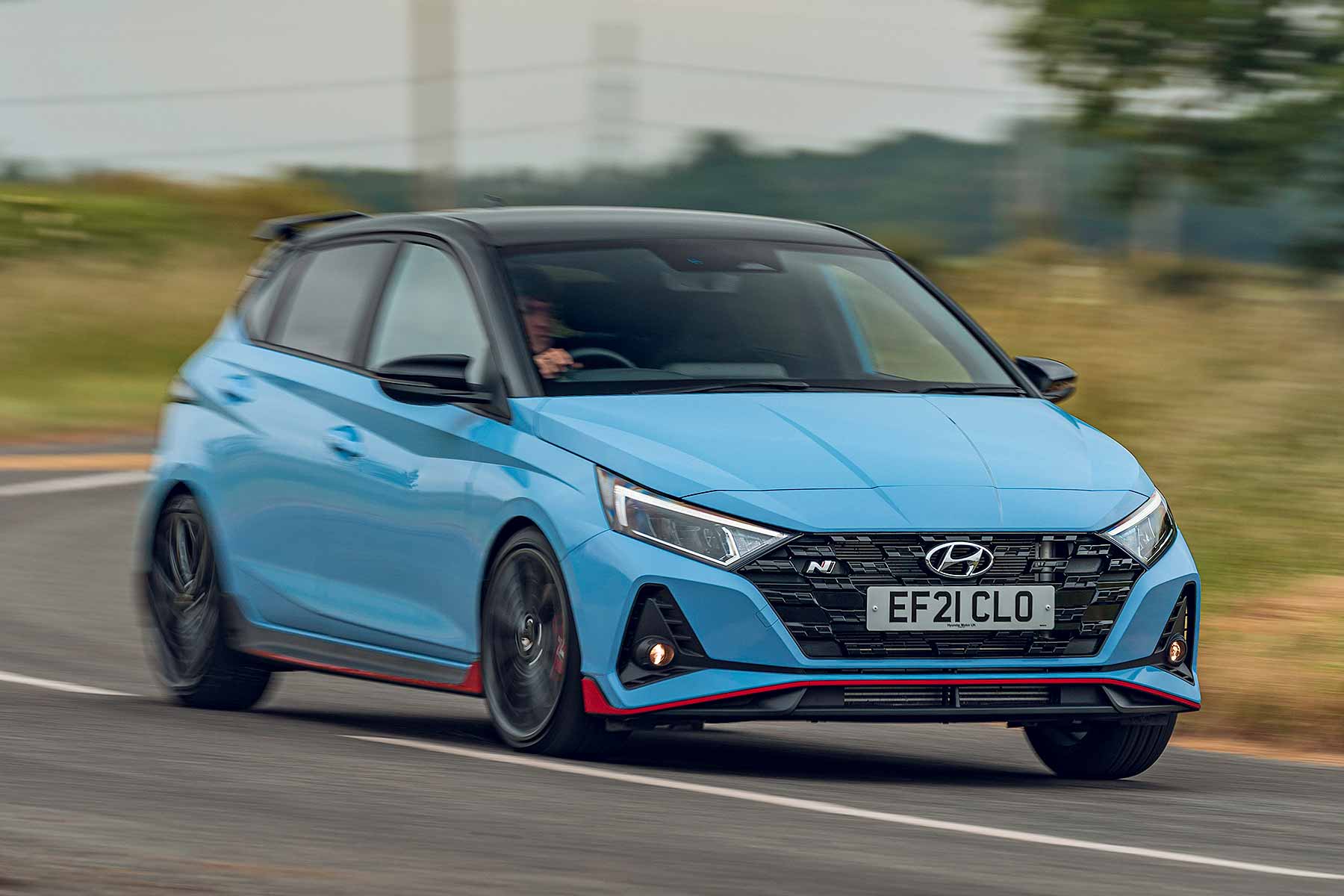 Hyundai i20 N
The Hyundai i20 N is like a terrier nipping at the heels of the Ford Fiesta ST, determined to wrestle affordable hot hatch supremacy from its grasp. That's a long-winded way of saying the i20 N is brilliant fun. Power is sourced from a 1.6-litre turbocharged engine producing 204hp: enough to propel the i20 N to 62mph in just 6.2 seconds. At £25,000, it's slightly cheaper than the Fiesta ST, plus you benefit from a five-year, unlimited mileage warranty. The Hyundai also looks edgier than the Fiesta, and comes with an array of different driving modes, a mechanical limited-slip differential and rev-matching.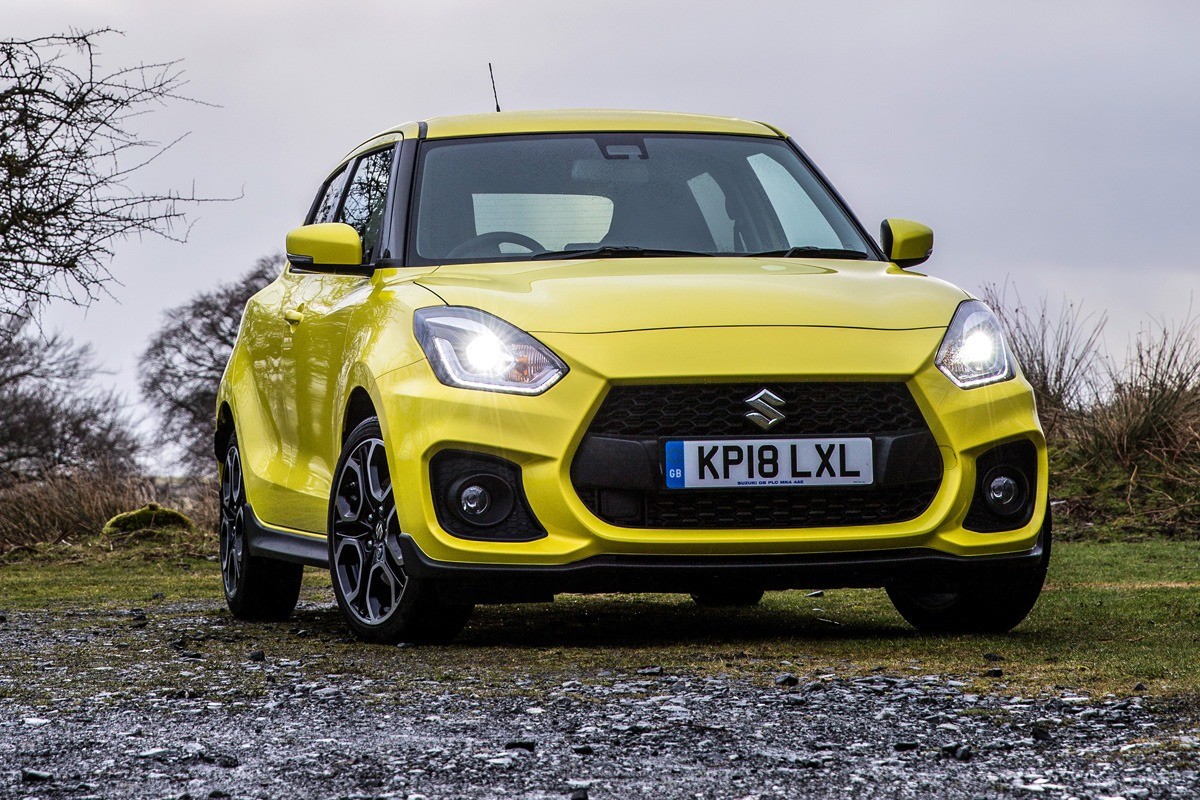 Suzuki Swift Sport
At £22,500, the Suzuki Swift Sport sits somewhere between the Volkswagen Up GTI and Ford Fiesta ST. It features a 1.4-litre turbocharged mild hybrid engine producing 129hp, which is enough to propel the Swift to 62mph in 9.1 seconds. Not as, ahem, Swift as other hot hatches, then, but official fuel economy of around 50mpg is impressive. This should result in lower running costs, making the Suzuki a cheap fast car to run on a daily basis. Standard kit includes 17-inch alloy wheels, keyless entry and start, dual exhaust pipes and smartphone integration.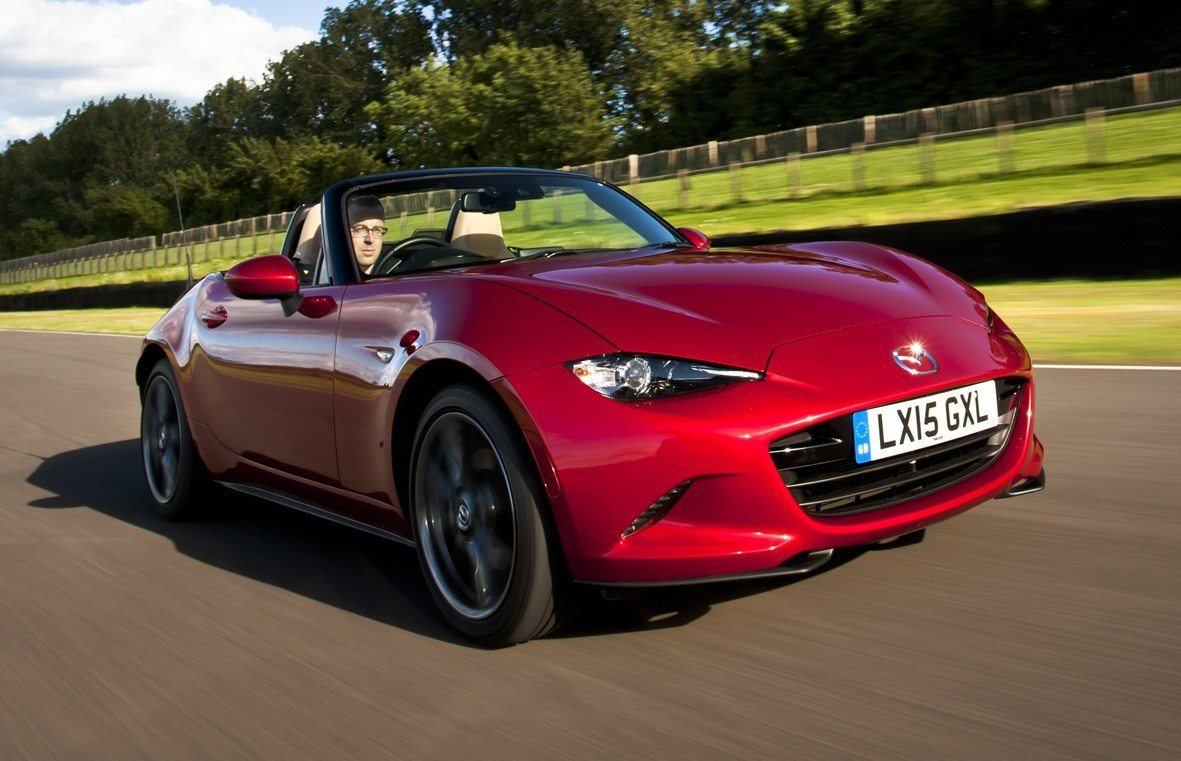 Mazda MX-5
A proper sports car on a list of cheap fast cars – what's the catch? There isn't one, because you'll get change out of £25,000 when buying the entry-level Mazda MX-5. That's for a MX-5 with a 1.5-litre engine in SE-L trim, but even the more lavish version comes in at around £27,000. It's worth the expense, because the Sport model adds goodies like rear parking sensors, a Bose surround-sound system, rain-sensing wipers and automatic headlights. The fizzy 1.5-litre engine produces 132hp at 7,000rpm, so you'll have great fun using the terrific six-speed manual gearbox to get the best from it.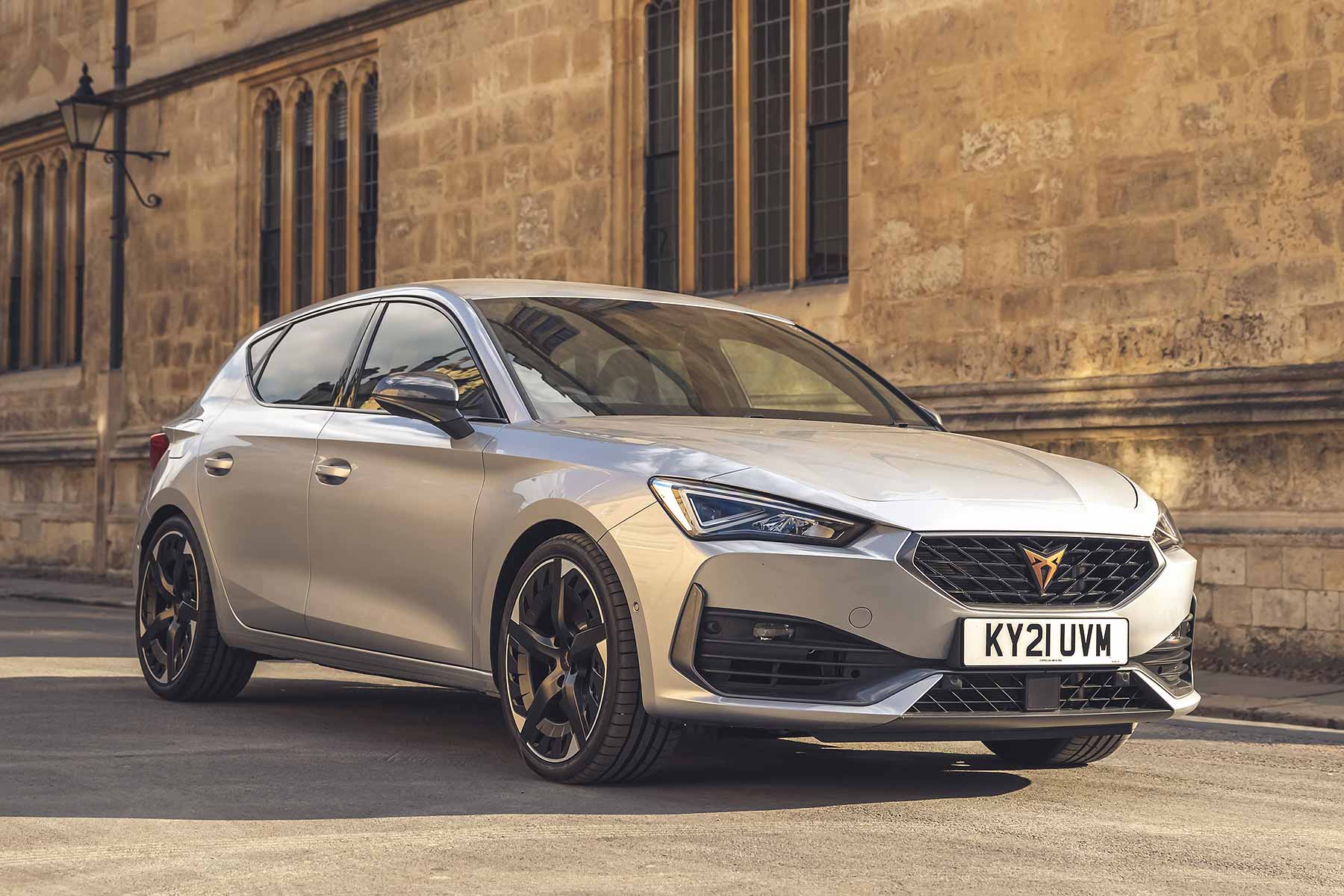 Cupra Leon
Cupra is the performance arm of SEAT, which is part of the mighty Volkswagen Group empire. This explains why the Cupra Leon shares a lot in common with the Golf GTI, including a 2.0-litre turbocharged engine producing up to 300hp. That said, to get 300 horses, you need to buy the £40,000 VZ3 version, and we'd recommend the cheaper VZ1. For £33,000, you get the same engine, but with the output detuned to 245hp. Highlights include 18-inch alloy wheels, a 10-inch touchscreen with navigation, a digital instrument panel, LED headlights and a heated steering wheel.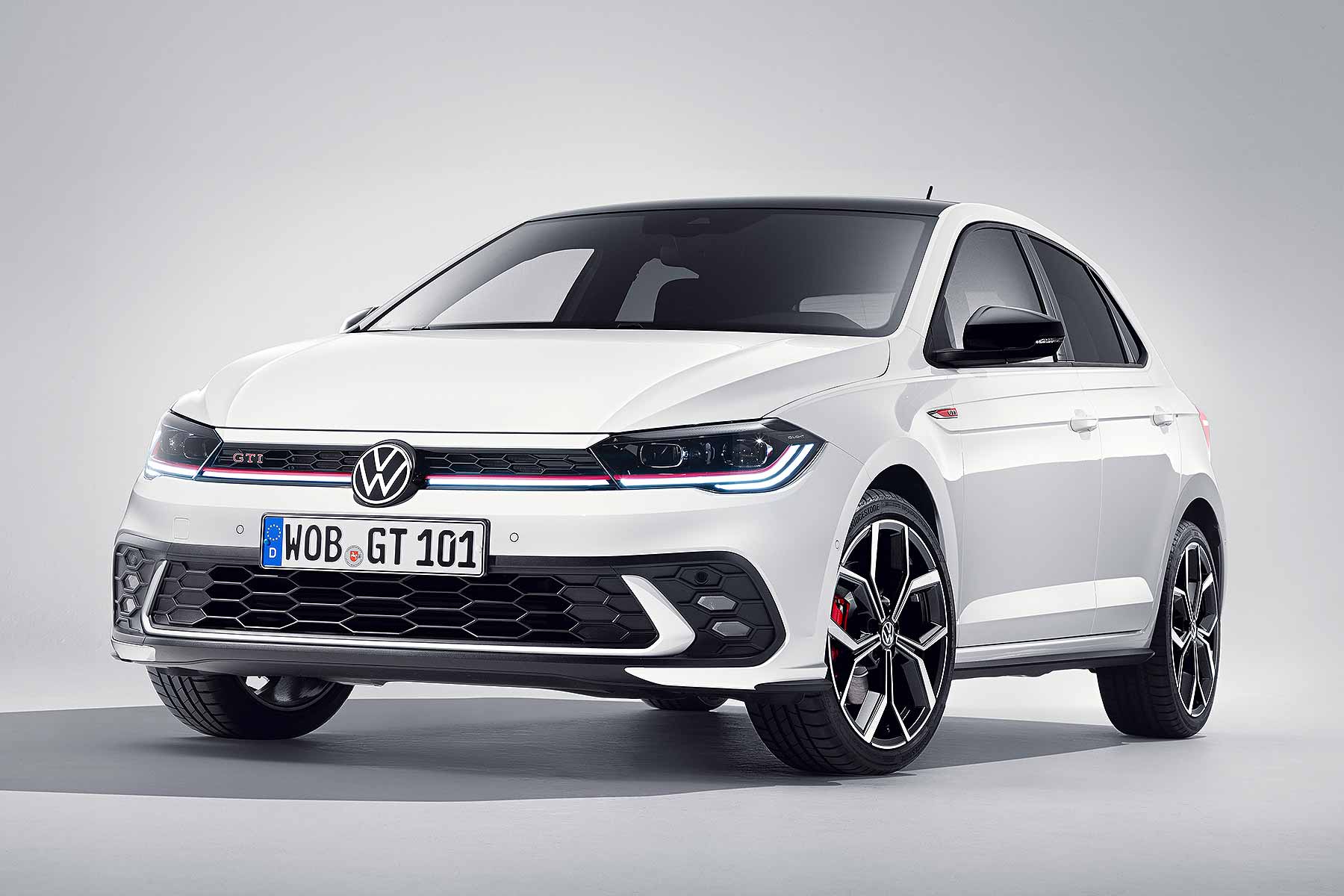 Volkswagen Polo GTI
If your budget won't stretch to a Volkswagen Golf GTI, the Polo GTI is worth a look. In standard trim, it costs just £24,500, which is excellent value for a GTI with a 2.0-litre turbocharged engine producing 200hp. Highlights include 17-inch alloy wheels, sports suspension, a GTI styling pack, LED rear lights, a multifunction steering wheel, sport seats and a choice of driving modes. The GTI+ adds £1,500 to the price but features the likes of LED headlights, rain-sensing wipers, a 10.3-inch digital instrument cluster, keyless entry and adaptive cruise control. That's a lot of goodies in a small car.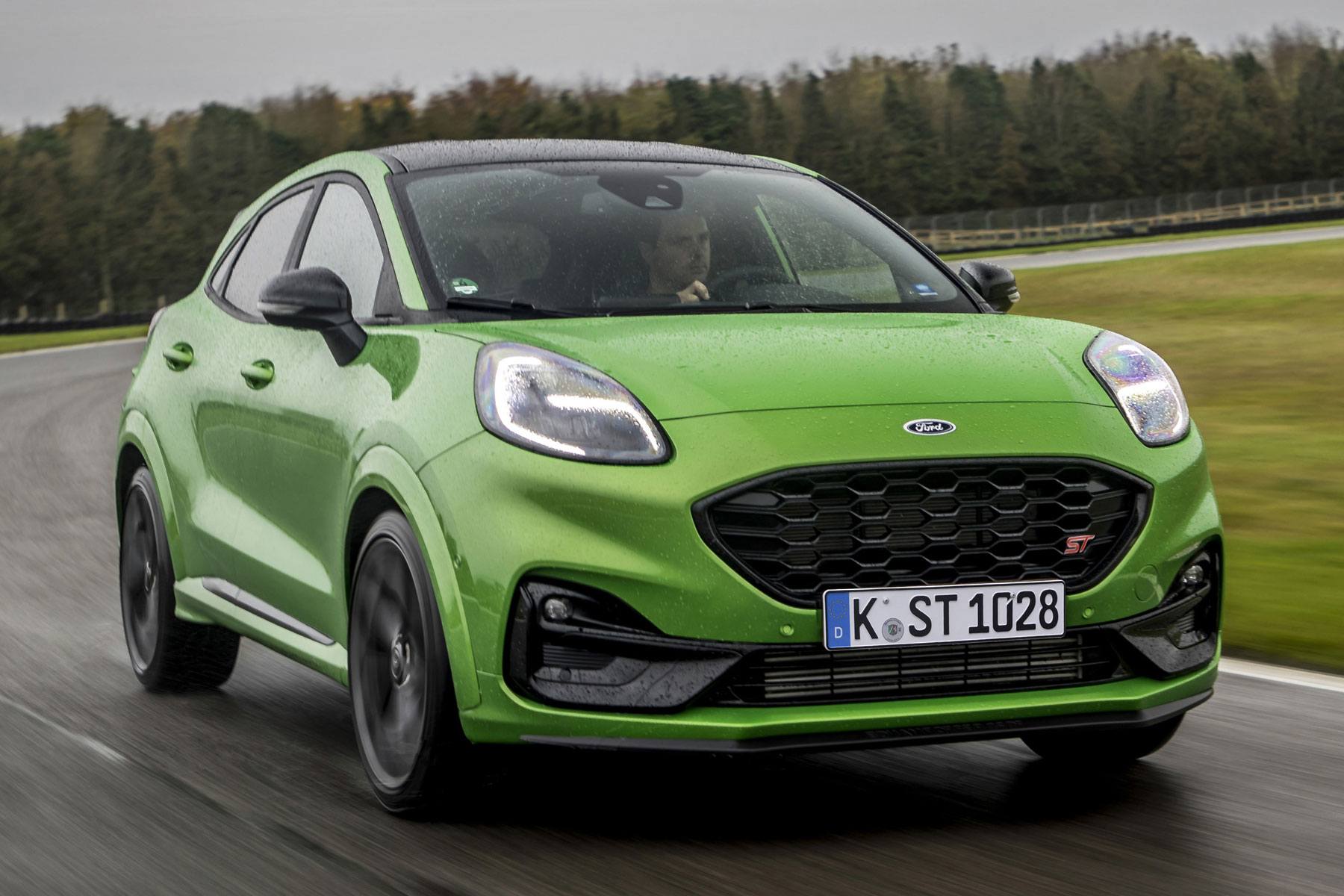 Ford Puma ST
Compact crossovers shouldn't be this much fun. It helps that the Ford Puma ST is based on the Fiesta ST, with power sourced from the same 1.5-litre turbocharged engine. The 200hp family car will hit 62mph in just 6.7 seconds before reaching a top speed of 137mph. It costs just shy of £30,000, which makes it one of the most expensive cars on our list, but the Puma ST is loaded with standard equipment and is brilliant fun to drive. Highlights include 19-inch alloy wheels, an ST styling kit, LED headlights, Recaro seats, a heated steering wheel, a B&O premium sound system, wireless phone charging and an engine sound enhancer.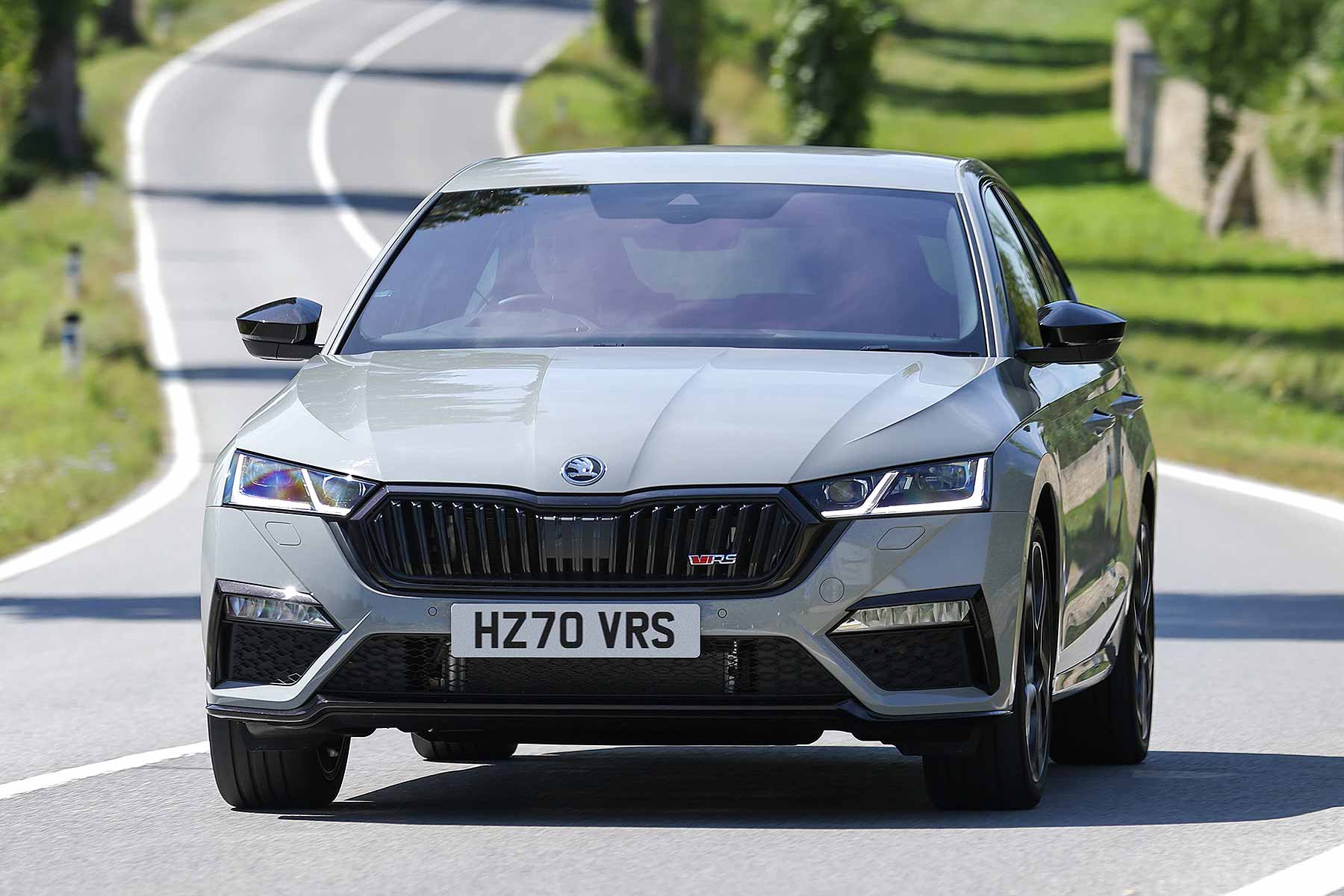 Skoda Octavia vRS
The Skoda Octavia vRS has always been the more practical but cheaper alternative to the Volkswagen Golf GTI. It shares the same platform and engines, but you get a larger boot and more equipment as standard. Highlights include 19-inch alloy wheels, Matrix LED headlights, a three-spoke leather steering wheel and LED rear lights with dynamic indicators. There's even a choice of three engines: a 2.0-litre turbocharged petrol producing 245hp, a 2.0 diesel offering 200hp, and a new 1.4-litre plug-in hybrid with 245hp and up to 44 miles of electric range. You can look forward to low running costs if you opt for the plug-in vRS.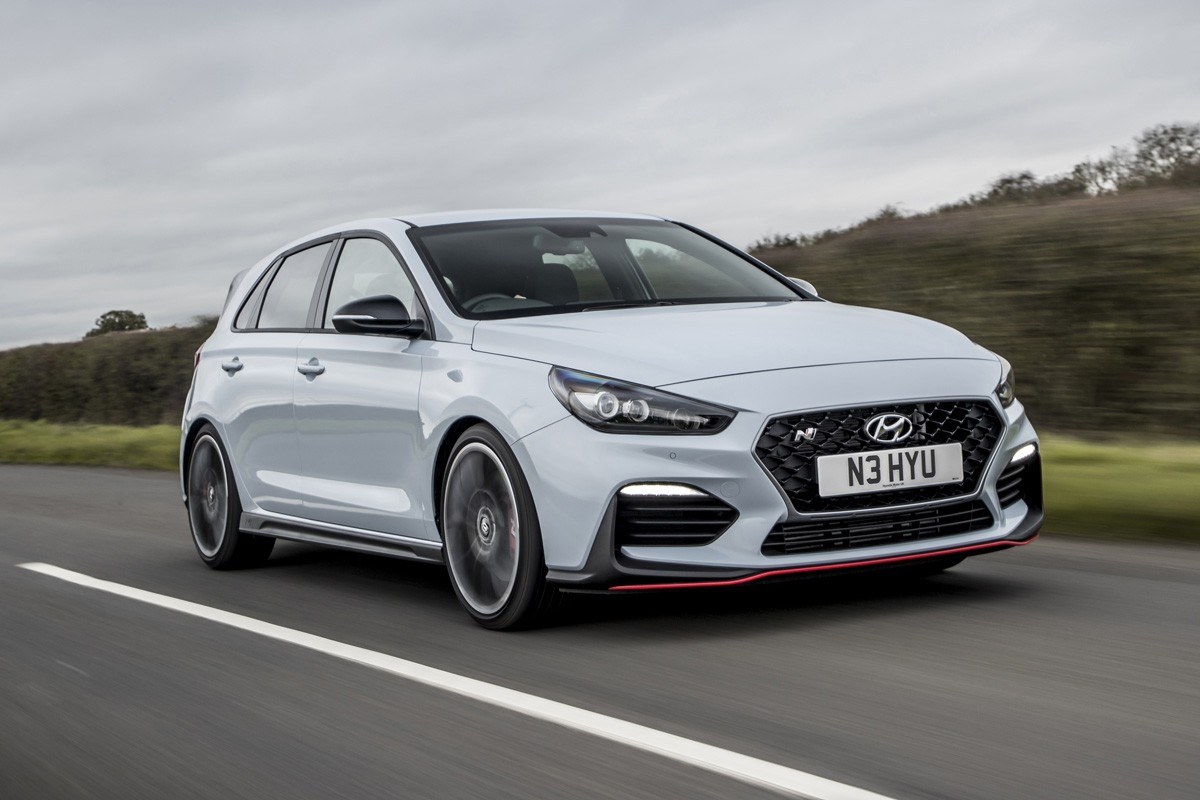 Hyundai i30 N
There are a number of different hot hatches costing around £35,000, so why have we chosen the Hyundai i30 N? The five-year unlimited mileage warranty is a key consideration, as peace of mind is a huge selling point when you're buying a cheap fast car. It's like your head and your heart are working in perfect harmony. It's also a formidable performer, with a 2.0-litre turbocharged engine producing 280hp, rev-matching and a new, optional eight-speed DCT automatic transmission. An i30 N with the auto transmission and launch control will hit 62mph in just 5.4 seconds – half a second faster than if you opt for a manual gearbox.
What is the cheapest sports car?
At around £25,000 for the 1.5-litre version, the Mazda MX-5 remains the cheapest sports car you can buy. It's as brilliant to drive as a roadster costing triple the price, with the 2.0-litre model offering the arsenal to outgun a Porsche. Speaking of which, the 718 Cayman costs £46,500, making it the cheapest option from a traditional sports car manufacturer. Another alternative is the all-new Toyota GR86, which will cost from £29,995 when it goes on sale in summer 2022.
Is 0-62mph time important when buying a cheap fast car?
Not at all. Although a 0-62mph time is a way of benchmarking or comparing different fast cars, it's of little use in the real world. For example, the Volkswagen Up GTI isn't particularly quick to 62mph, but its tiny dimensions and excellent grip combine to make it ideal for urban driving. You should consider things like how a car corners, the ride comfort and how you feel behind the wheel.
What's the best cheap fast supercar?
It all depends on your definition of a supercar. An 'entry-level' Porsche 911 costs around £87,000, but we'd argue that it doesn't become a supercar until you select the Turbo or GT3 models. You'll need at least £130,000 for the privilege of owning one of those. Perhaps take a look at the new Chevrolet Corvette? The mid-engined Corvette is now available in right-hand-drive for the UK and costs around £77,000 in basic form. Not bad for a genuine supercar with a 6.2-litre V8 engine producing 482hp.