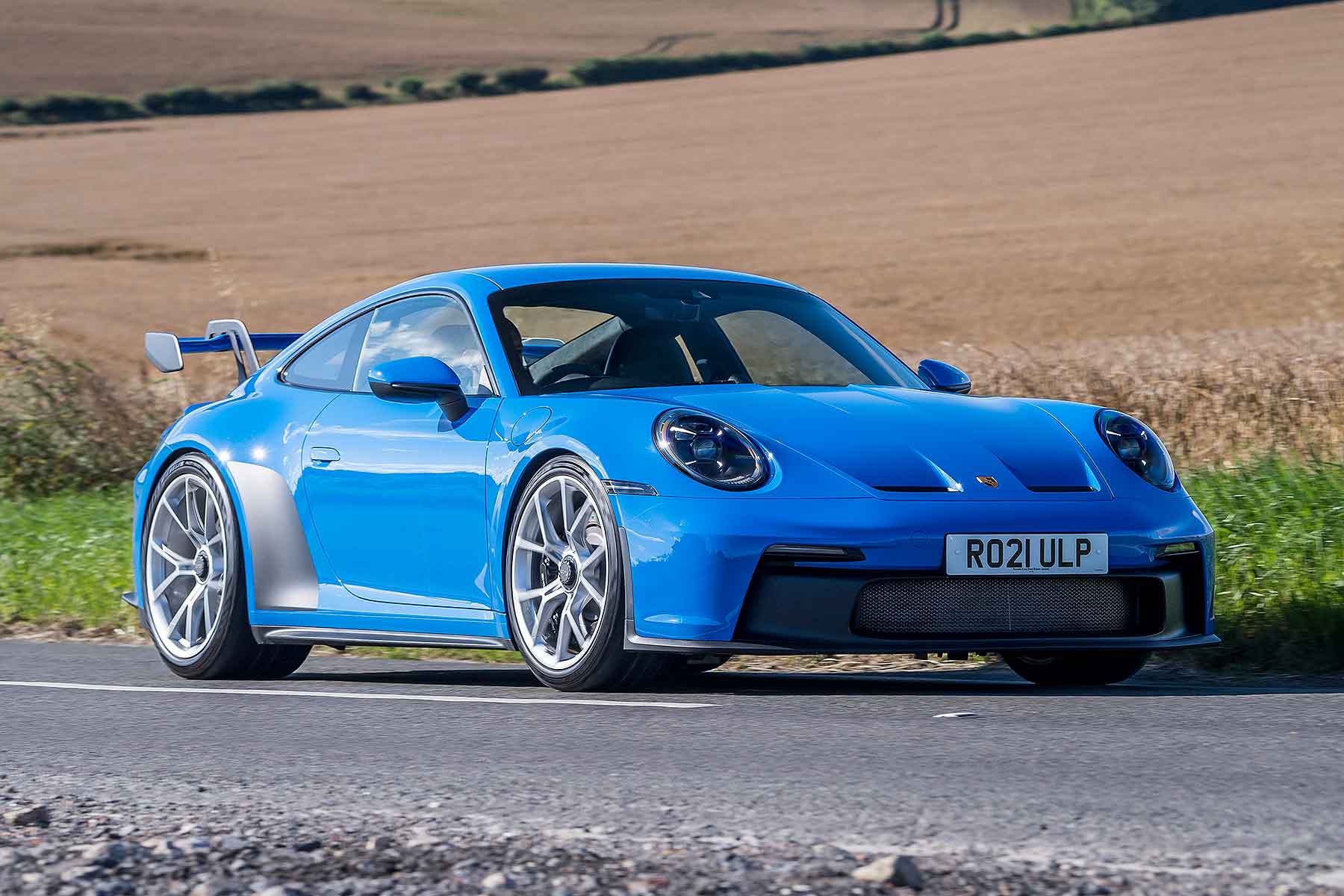 Let's face it, most of us secretly dream of owning a supercar. Their exceptional performance, glue-like handling, dramatic lines (and all the envy they induce) – if you've anything more than a passing interest in motoring, you probably yearn for a supercar.
Helpfully, there is no end of brilliant models to choose from. The supercar sector is going through something of a purple patch, with legendary marques such as Ferrari and Porsche releasing icon after icon, and other brands like Lamborghini and McLaren nibbling at their heels.
Supercars are, of course, very expensive. You don't push boundaries on a budget. But some cost a lot more than others, so we've tried to steer clear of the hypercar arena and focus on the genuine supercars, including a couple of 'entry-level' models. It means you don't quite need a rollover jackpot to get behind the wheel.
So, let's sit back and dream of owning some of the best supercars on sale.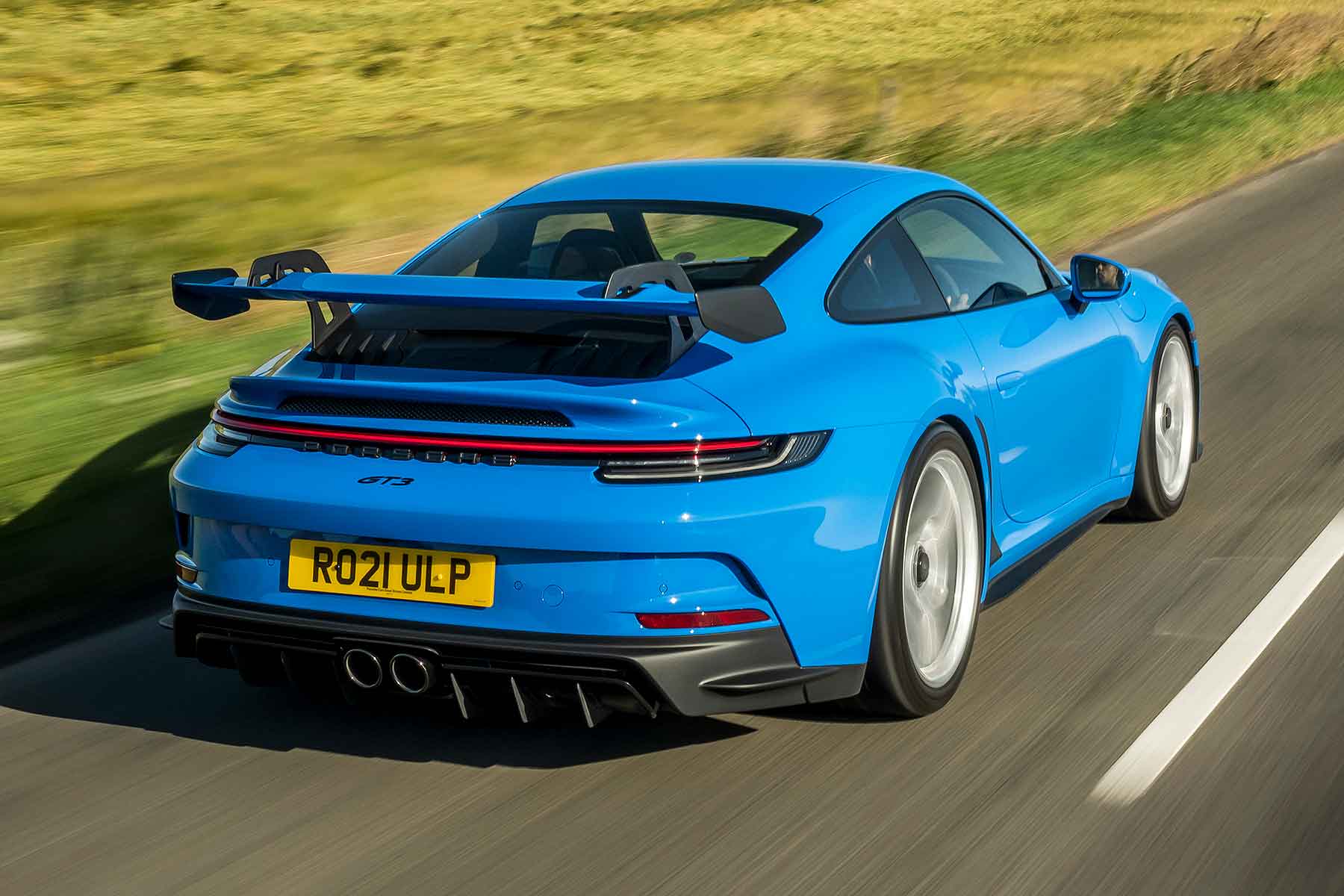 Porsche 911 GT3
We don't just start with any Porsche 911, but the 911 of the moment: the amazing GT3. You can get it in regular guise with a giant rear wing, or the more discreet GT3 with Touring Package, but both are monumental cars to drive. It has exotic features like unique race-inspired front suspension, while the non-turbo 4.0-litre flat-six engine puts out a howling 510hp and revs to 9,000rpm. It's arguably a bit too raw for everyday use on the road, but what a brilliant track-day machine – as fast as a racing car and reliable enough to drive flat-out all day long. Nurburgring, here we come…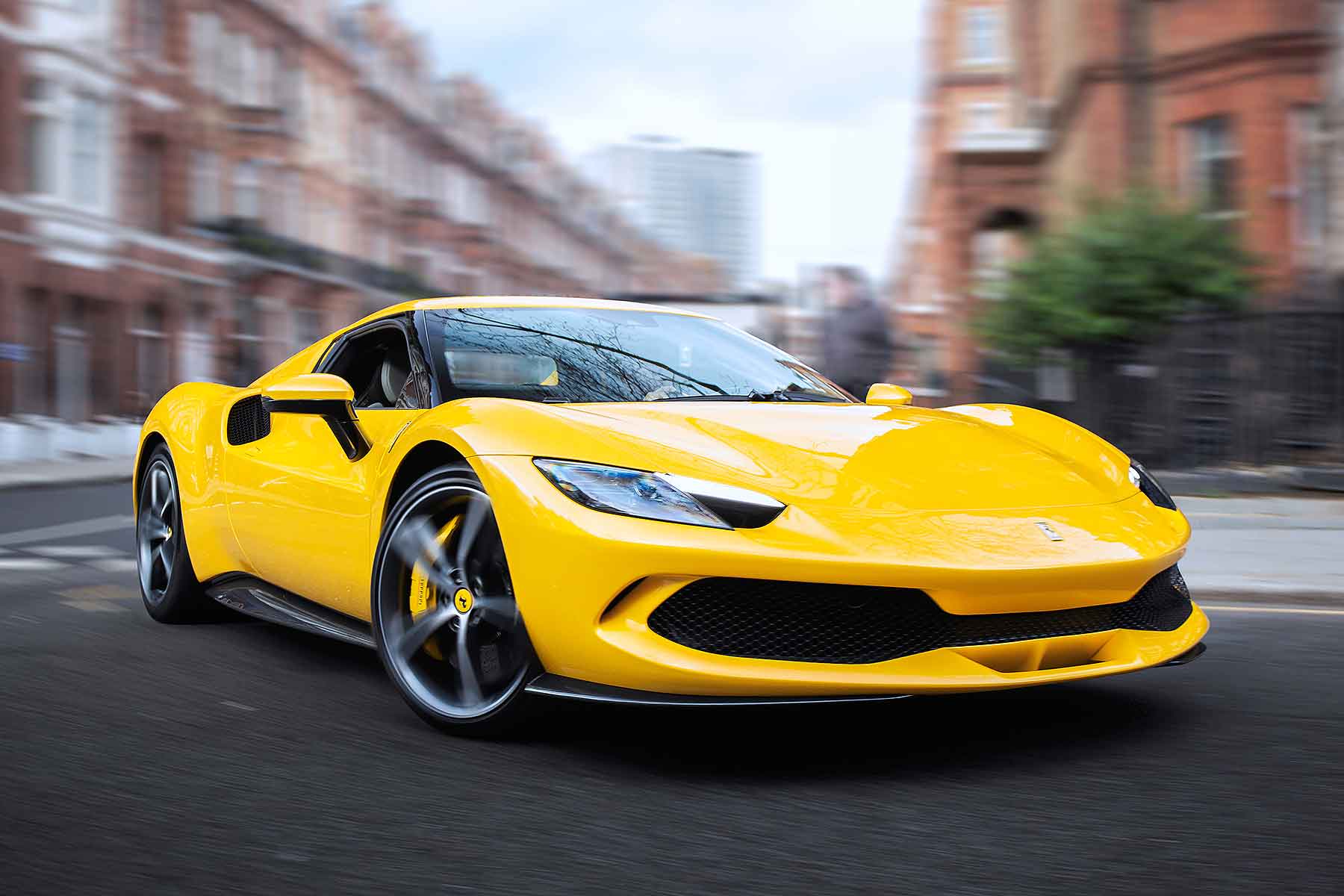 Ferrari 296 GTB
The beautiful 296 GTB looks every inch the classic Ferrari for the modern era. This mid-engined supercar has also been brought bang-up-to-date thanks to the surprising inclusion of plug-in hybrid power. Combined with a howling twin-turbo V6 turbo engine, it boasts a ferocious output of 830hp. Performance is mind-blowing, as is the way Ferrari has made the 296 GTB feel so organic and natural to drive. It even has an e-driving range of up to 15 miles, should you wish to sweep through town in zero-emissions silence. Another brilliant Ferrari that we'll look back on in years to come as a real landmark.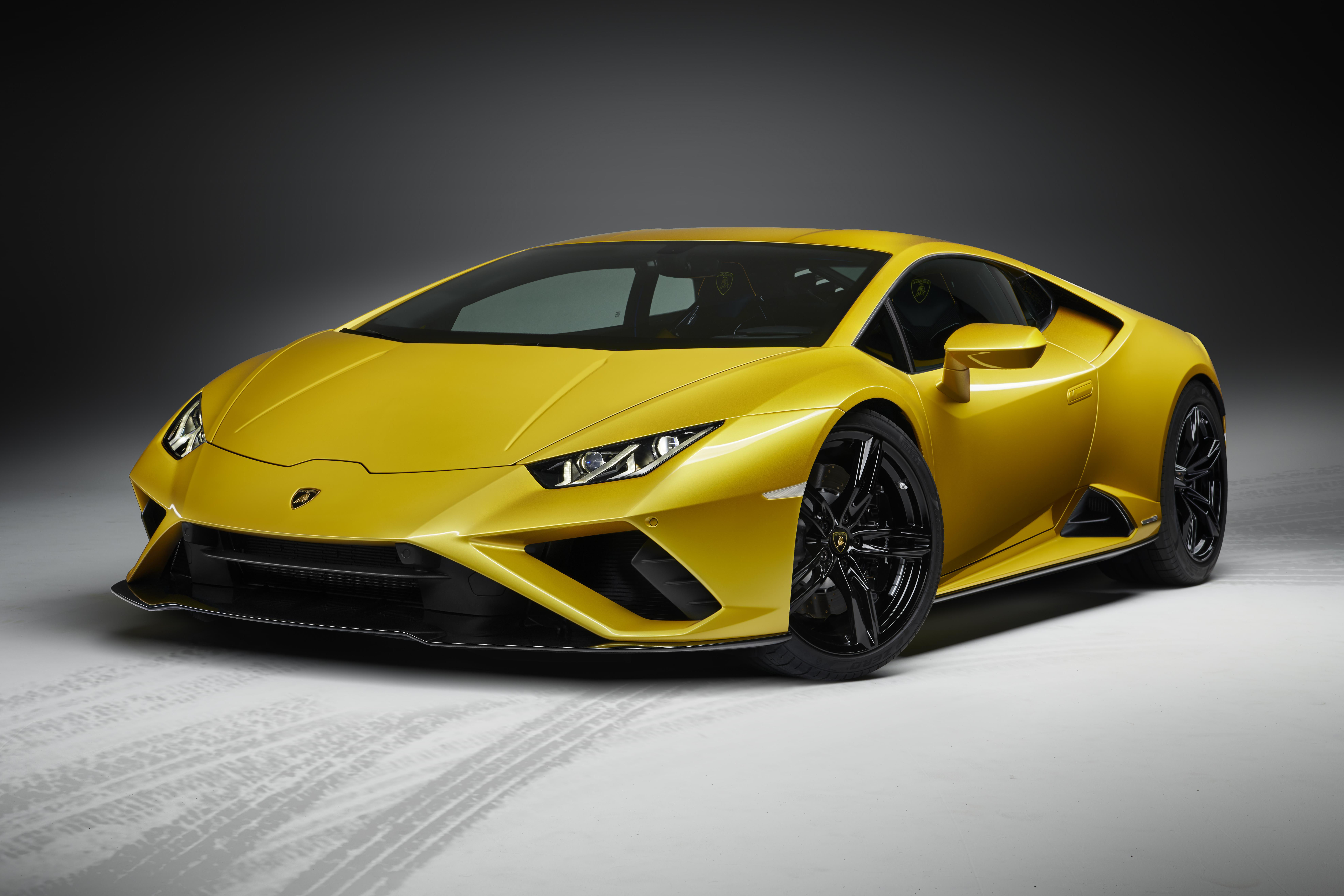 Lamborghini Huracan Evo
Lamborghini is a hugely popular supercar brand among the TikTok generation. The Huracan is its most accessible model, with the Huracan Evo being the all-rounder entry into the range. It hardly has entry-level performance, mind: the wailing V10 engine produces 640hp for 0-62mph in just 2.9 seconds. Perfect mid-engined weight distribution helps here, and also gives a thrilling drive, aided by the security of four-wheel traction. Mind you, the system can be tweaked to send more drive rearwards, for tail-out thrills, should you so wish. The Huracan Evo's dramatic looks are maybe even more of a draw than its performance, and it's a high-energy, impactful car to sit inside. There'll never be a dull moment with one of these on your driveway.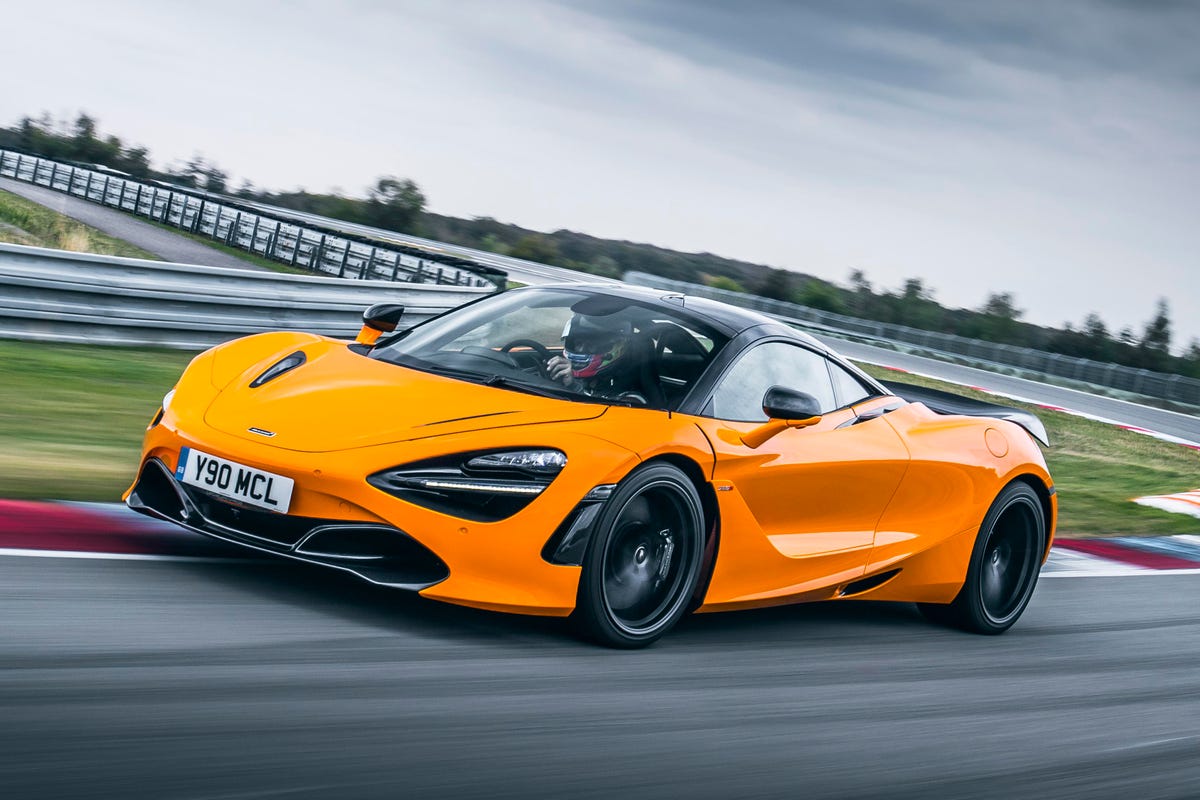 McLaren 720S
As its name suggests, the McLaren 720S produces a colossal 720hp from its 4.0-litre twin-turbo V8 engine. This gives 0-62mph in a decidedly boastworthy 2.8 seconds, and it will cover the quarter-mile in just 10.4 seconds. It is extraordinarily fast and dramatic. Made from carbon fibre, the McLaren feels raw, like a race car, and the way it handles is just as exciting, with feedback and precision like you've never felt before. On the racetrack, the handling is thrilling, but beautifully balanced and viceless, thanks to input from some of the best drivers in the world. A McLaren certainly packs plenty of head-turning impact when it drives past, too.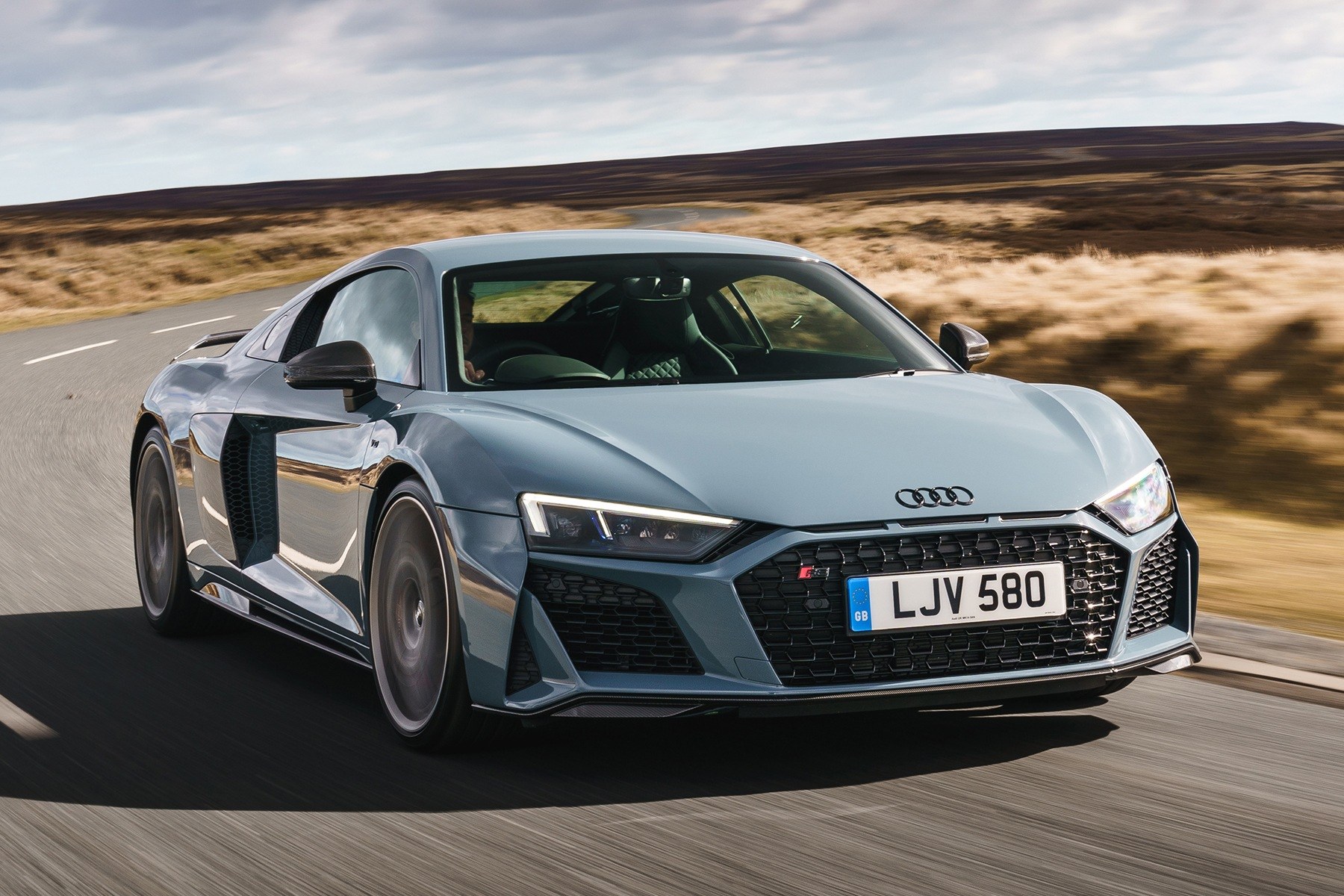 Audi R8
The original Audi R8 proved that supercars could be genuine everyday vehicles. OK, make that an exalted daily-driver that doesn't quite offer the practicality of an RS6 Avant, but the R8 wasn't simply for high days and holidays. This latest model offers between 570hp and 620hp from its 5.2-litre V10 engine, for 0-62mph in just 3.1 seconds. You can have it in exciting RWD guise, or the more all-weather-capable quattro. Both have a mid-mounted engine for balanced handling and a jaw-dropping engine note. Time to trade in that TT and explore the wild side of the Audi range.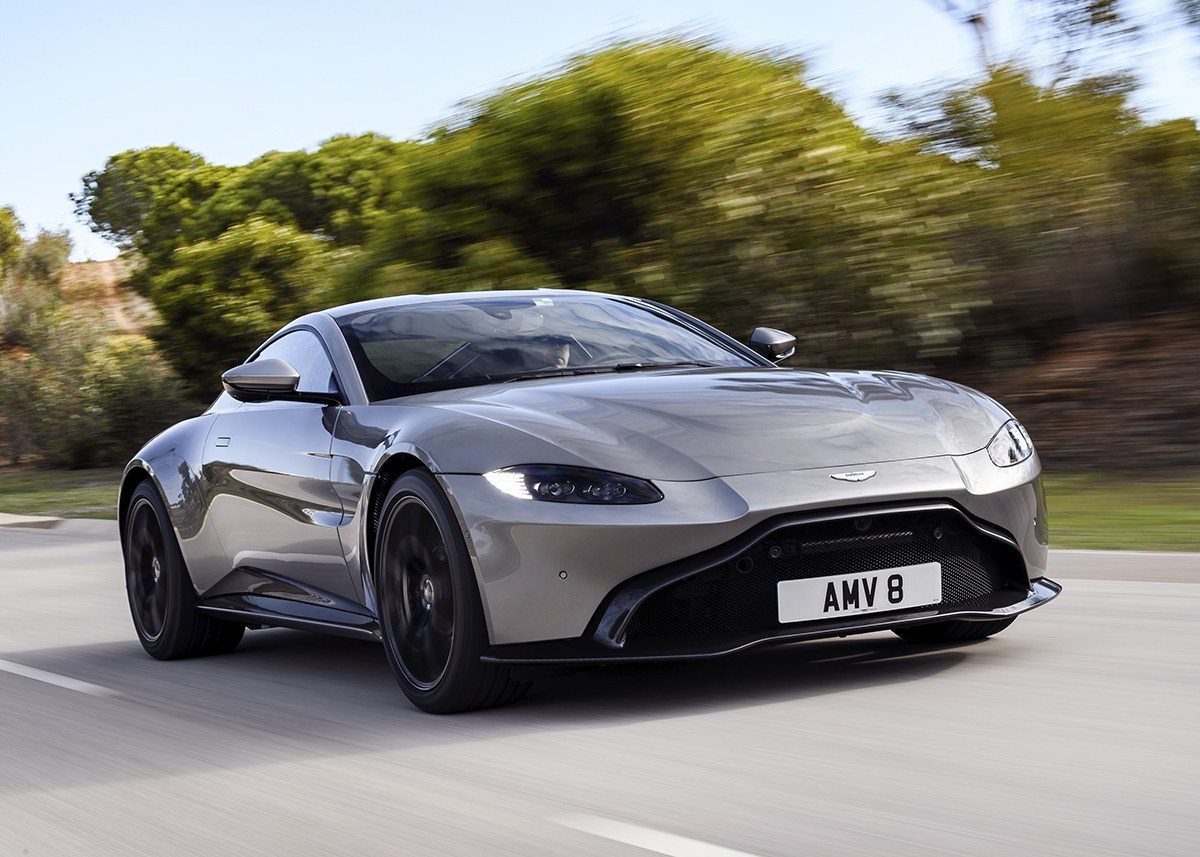 Aston Martin Vantage
The dial has been turned up on the Aston Martin Vantage with the recent introduction of an official Formula 1-approved version, the F1 Edition. It's the same car you will see sharing race-day safety car duties with the Mercedes-AMG GT-R. Available as both a coupe and Roadster, it boasts 535hp from its turbocharged V8, for 0-62mph in 3.5 seconds – but the handling is the real headline-grabber. Aston Martin has given it a full overhaul, including suspension components and geometry, as well as track-spec tyres, while enhanced aero generates more downforce. It's still not the rawest of supercars on a track, but is a free-flowing and entertaining supercar on the road. A nicely balanced machine, with the added bonus of official F1 kudos.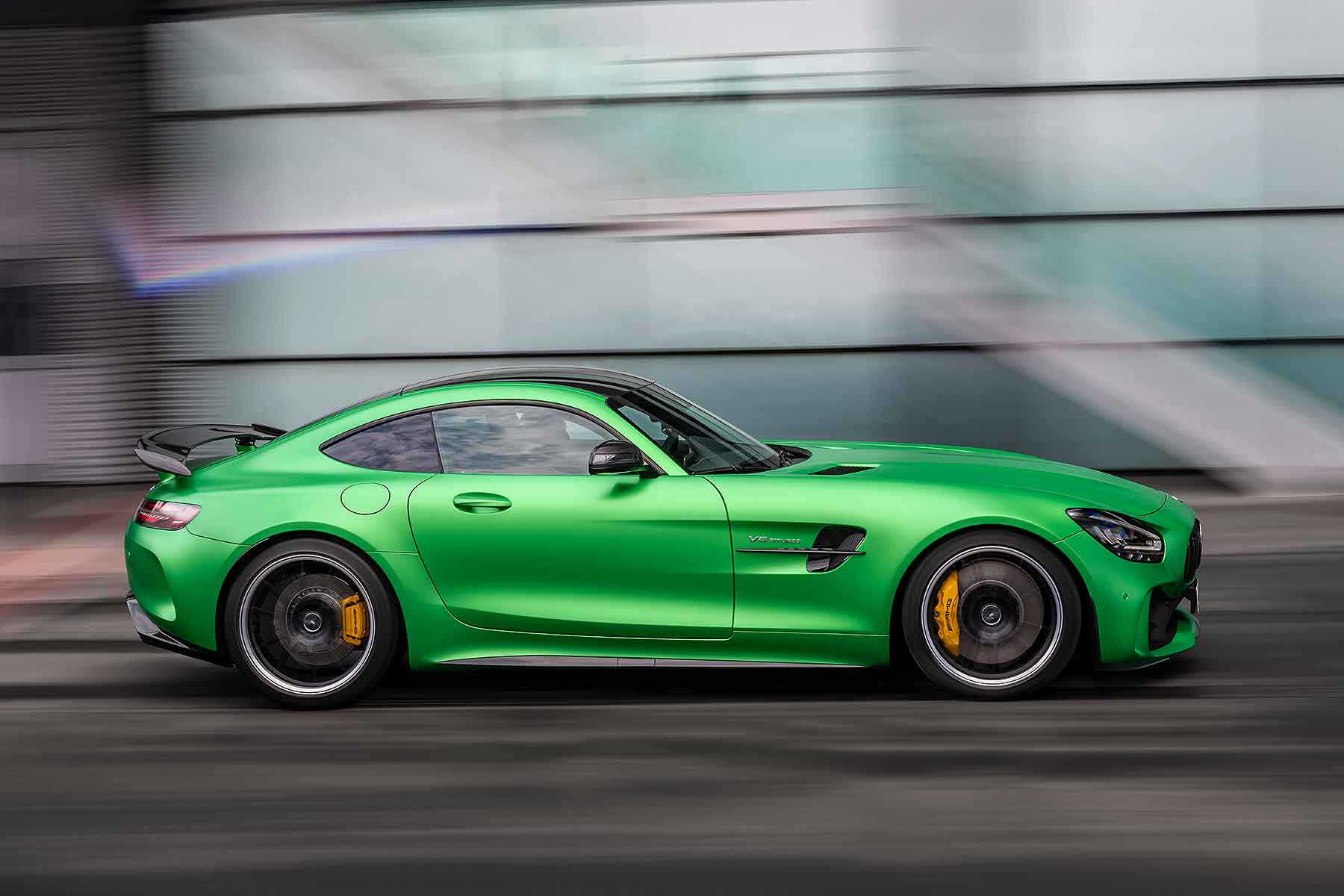 Mercedes-AMG GT-R
The Mercedes-AMG GT is the other supercar that carries out safety car duties for F1. There, it's the top-notch GT-R that leads the pack, with its 585hp V8 giving 0-62mph in 3.6 seconds and a 198mph top speed. But even the entry-level 4.0-litre GT has 530hp for 0-62mph in 3.8 seconds, so what's the difference? Well, it's the GT-R's Nurburgring-honed upgrades that set it apart: radical aerodynamics, upgraded suspension and bellowing exhausts that let everyone in the vicinity know you've arrived (you can even hear it over the F1 cars on TV). At launch, the GT R was revealed by none other than Lewis Hamilton himself, just for added wow-factor.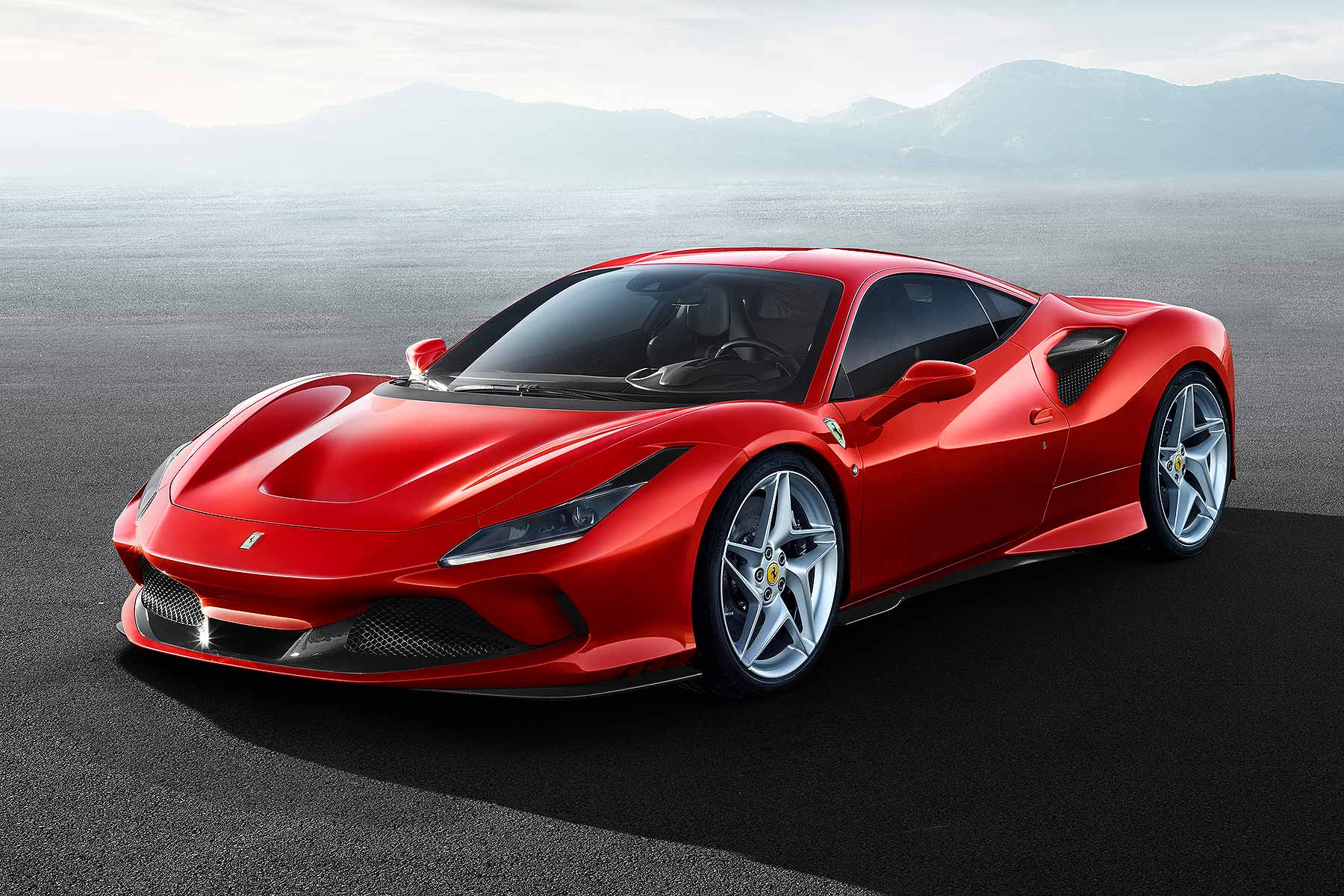 Ferrari F8 Tributo
If you think a mid-engined Ferrari really should have eight cylinders, you're in luck. The brilliant F8 Tributo remains on sale, a peerless and perfectly-honed modern iteration of the classic mid-engined Ferrari V8. The wonderful engine, a serial 'best engine in the world' winner, produces 720hp for 0-62mph in just 2.9 seconds, plus a spine-tingling sound as the revs rise. Ferrari clearly wanted the V8 to go out on a high, so has honed this car to handle impeccably and be a feedback-focused thriller to drive. However, it's also refined enough to be used everyday, should you so wish. A genuine modern classic – buy one while you can.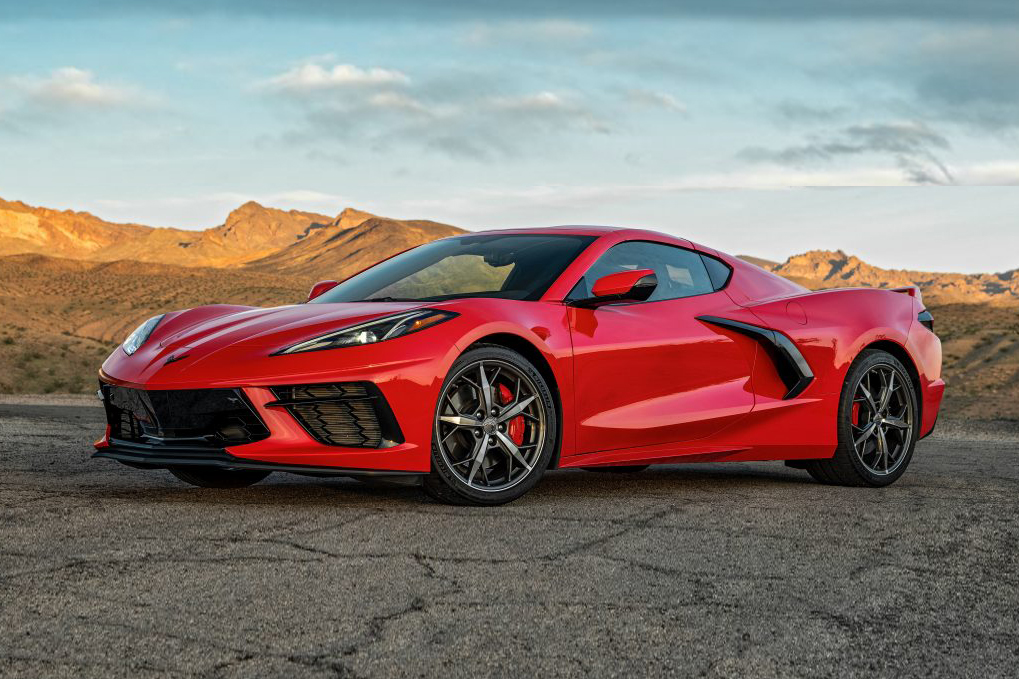 Chevrolet Corvette Stingray
The Chevrolet Corvette is an American icon that's long been denied to Brits due to the lack of right-hand drive. But we need wait no longer, for the latest Stingray model is available with its steering wheel on the correct side, for prices starting from around £80,000. This buys a 482hp version of the legendary 6.2-litre V8, which for the first time is mounted in the middle of the car. It's good for 184mph and 0-62mph in 3.5 seconds – and if you want even more, try a Z06 version. It perhaps doesn't have the finesse of a Porsche 911, but the Corvette is still a thrilling drive. It's also a surprisingly practical mid-engined car with a big boot, if that sort of thing is important.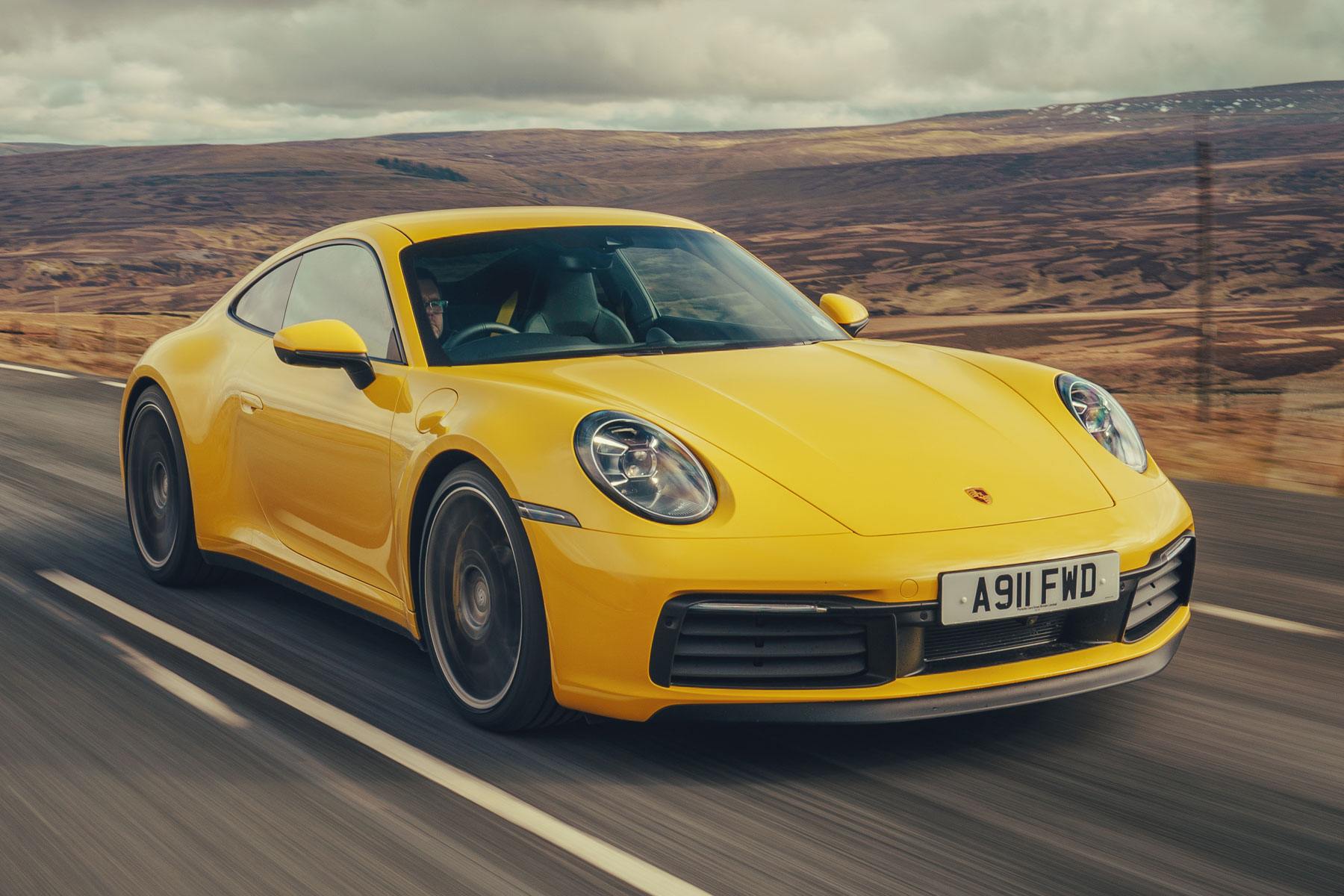 Porsche 911 Carrera
We started with a Porsche 911 and we'll close with a Porsche 911. The entry-level Carrera is a very different beast to the GT3, but that doesn't make it any less worthy. Indeed, for some, it has the perfect blend of attributes. For starters, the handling is more accessible, and the ride is less nailed-down. It's still a delight to drive, but doesn't demand the same 'racing driver' level of expertise to get the best from it. A total of 385hp from the 3.0-litre flat-six turbo is ample – 0-62mph takes 4.2 seconds – and the overall vibes you get from spending time in it are still classical Porsche 911. Best of all, you won't have to wait in a queue for years to own one, and the price tag is a far more accessible £87,000, instead of well beyond £130,000 for a GT3.
Which supercar brand is best?
The most valuable supercar brand in the world, by a clear margin, is Ferrari. The Italian marque just keeps on growing, and can seemingly do no wrong. With the 296 GTB, it is handling the transition to plug-in hybrids perfectly, and it will soon be readying the ground for its first ever SUV – a car that's sure to be a hit and help finance even more standard-setting supercars. While Porsche, McLaren, Lamborghini and others provide a stern challenge, Ferrari is the best supercar brand right now.
Which is the most popular supercar?
The world's most popular supercar is the Porsche 911. This is helped by the brand covering such a diverse and broad range with it, from entry-level Carrera models, to the sporty GTS, to the high-performance Turbo, to the track-honed GT3. You can have the 911 as a coupe, cabriolet or Targa, with rear-wheel drive or all-wheel drive, and we even hear a 911 hybrid is coming soon. There's something for everyone, which helps explain why the long-running 911 remains so popular.
Which is the best supercar to drive daily?
There was a time when a supercar was something you only used on special occasions. They were too awkward, too cumbersome and, let's face it, too unreliable to be dependable daily drivers. The Porsche 911 helped to change all that, with city slickers flocking to it in the 1980s and helping cement its reputation as the world's most popular supercar. Its sheer drivability remains a draw today, but others have caught up. The Audi R8 is another fine everyday supercar, while the Corvette Stingray has also been made more usable. The American