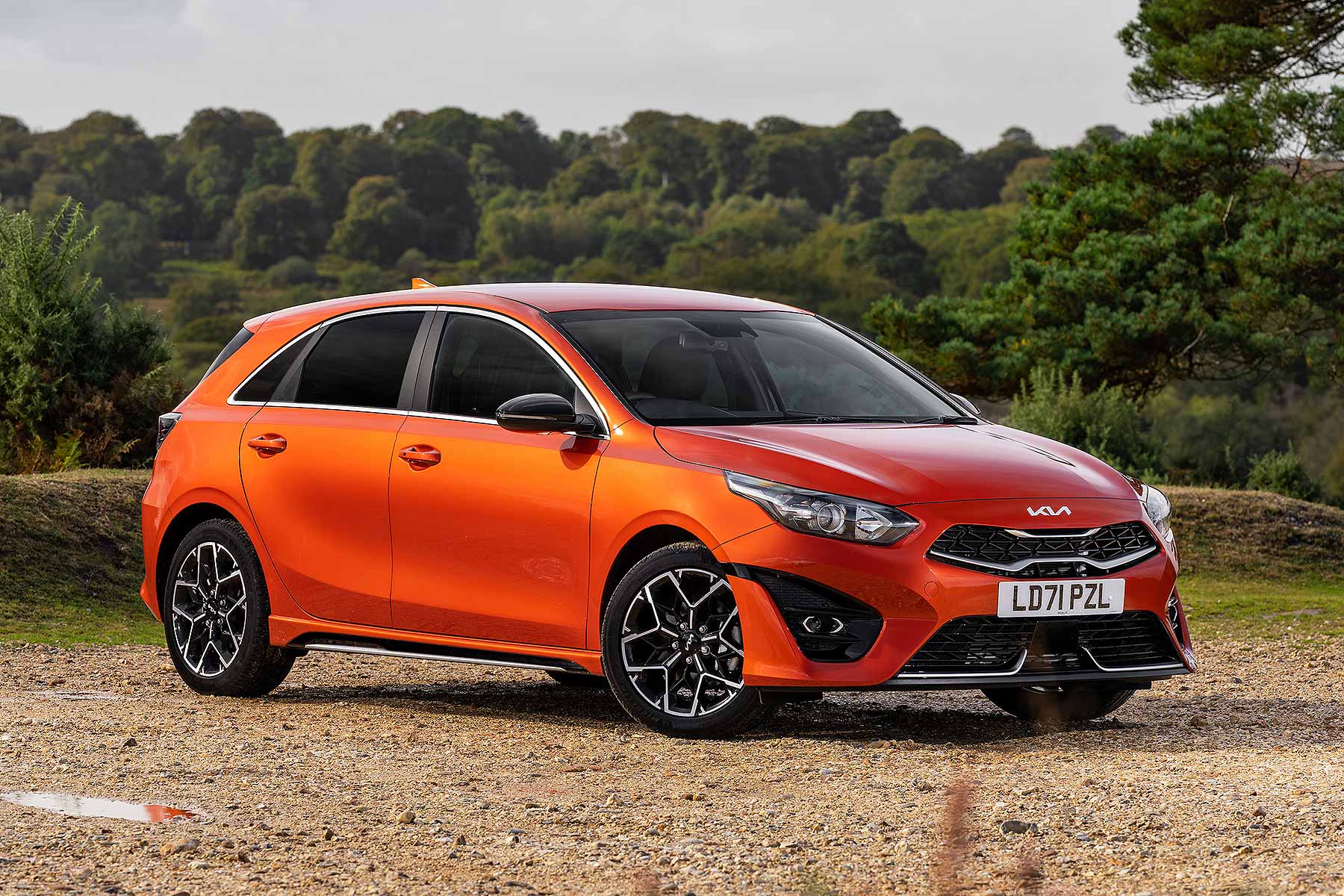 By law, motorists need to have car insurance before they can take their vehicle on the road – ideally, for best peace of mind, a fully comprehensive package. Should the unexpected happen, car insurance is there to pick up the pieces.
Still, none of us like actually having to pay for it each year. Particularly if our car happens to be one of the more expensive vehicles to insure.
The bills always come at the wrong time, and they often present eyebrow-raising figures that are inexplicably higher than the previous year.
Short of spending a morning on the telephone and comparison websites, another surefire way to get more palatable car insurance is to choose one of the cheapest family cars to insure. Here, we list 10 of the best, which families will love and car insurers will treat gently.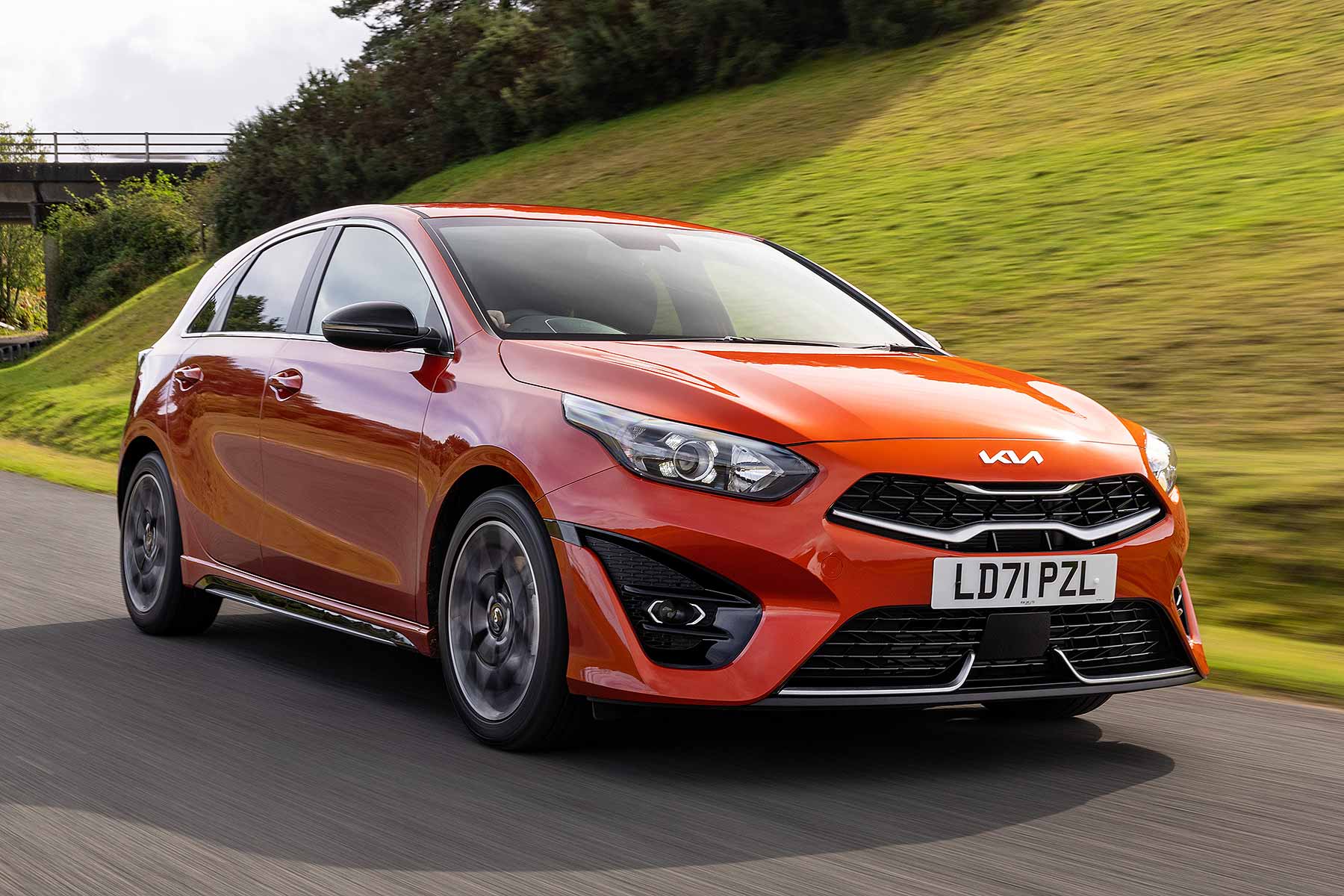 Kia Ceed
The Kia Ceed isn't just a great family car, it's also one that is cheap to insure. Insurance ratings start from group 8 for the entry-level 1.0-litre turbo engine. This model has more than enough power for everyday driving, and is generously equipped even in basic '2' grade. Recently facelifted, the Ceed has a sporty and distinctive new look, with a more aggressive front end and, inside, improved touchscreen technology. The rear seat is spacious, the boot is an ample size and, of course, as it's a Kia, the Ceed enjoys the benefit of a seven-year, 100,000-mile warranty.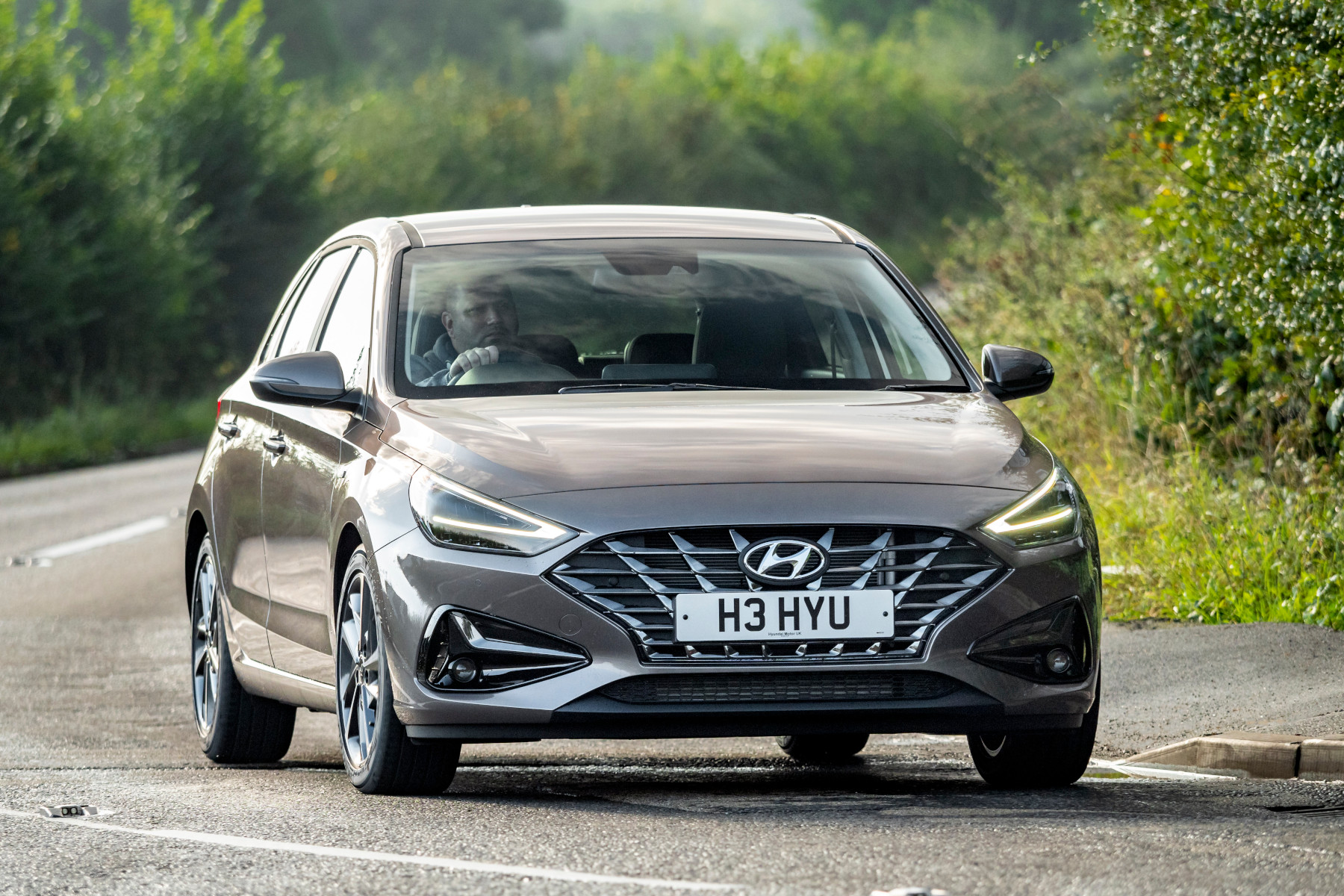 Hyundai i30
If the Kia Ceed majors on sporty appeal, the Hyundai i30 is more about refined elegance. The latest version has an upmarket appearance, with a premium-look front end and solid, Volkswagen-Golf-like appeal inside. It drives in a similarly plush way as well, with good refinement and a pliant, absorbent ride. Just the job for tackling high mileages with ease, with a five-year, unlimited-mileage warranty offering further reassurance it's up to the job. Like the Ceed, the entry-level i30 boasts an affordable group 8 insurance rating, with the same 1.0-litre turbo engine providing enough oomph, despite its affordability.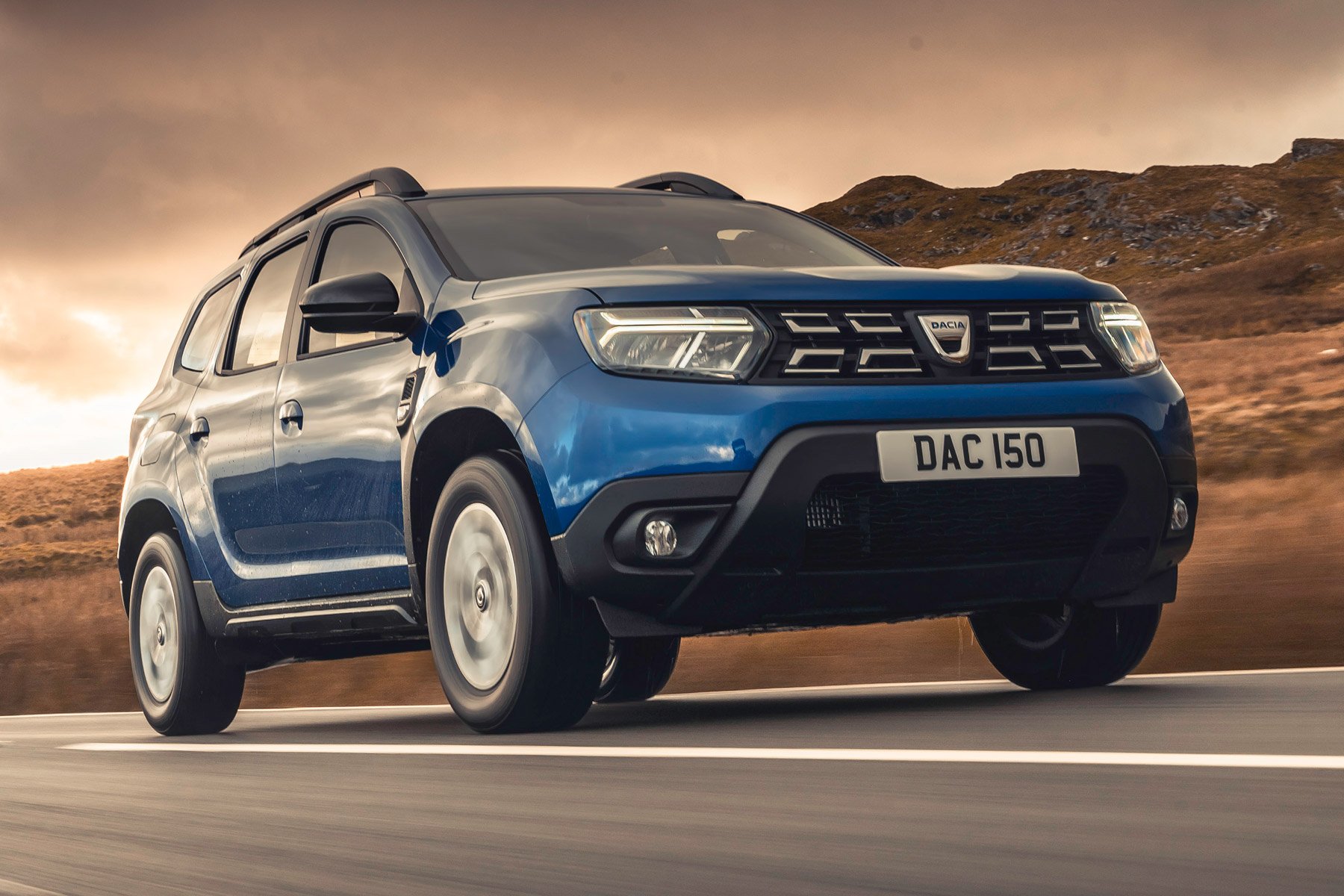 Dacia Duster
The Dacia Duster is a very popular family car, thanks to its sheer affordability. For around £15,000, you get a high-riding crossover SUV with rugged looks and a nicely practical interior, plus good rear-seat space and a generous boot. Equipment levels are inclusive even in the entry-level version, although Dacia says most buyers choose higher-grade models, such good value are the prices. The cheapest version to insure is the 1.6-litre non-turbo petrol model, which has a group 9 rating, although we think the 1.0-litre turbo is a better all-rounder. It has more pulling power, making it an easier car to drive, and fuel economy is better as well. Besides, insurance only rises by one band, giving it a group 10 rating.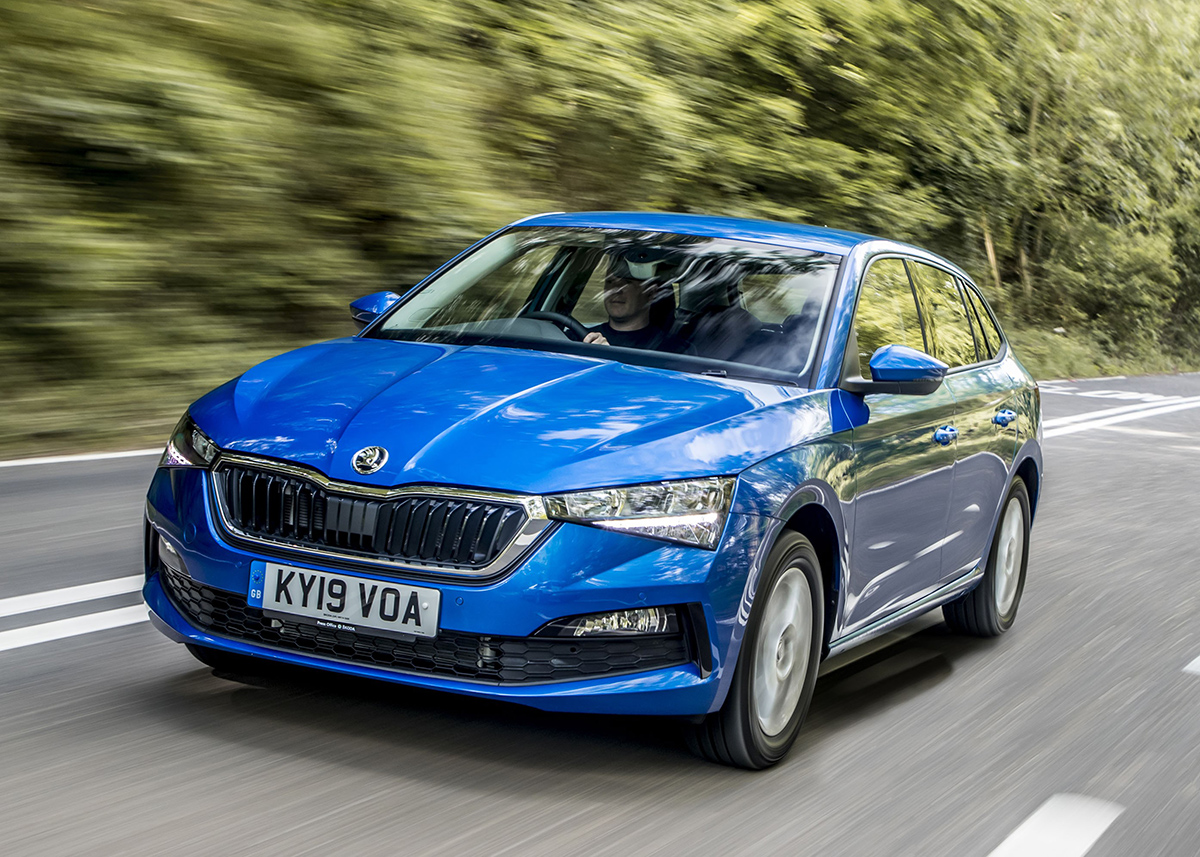 Skoda Scala
The Scala is Skoda's family-focused five-door hatchback, which slots in between the Fabia supermini and larger Octavia. It's not radically styled like some family cars, instead offering sober-suited style that should age well. Those who want a bit more verve can pick the cool-looking Monte Carlo version, with blacked-out detailing and jazzy interior features. The core Scala range is focused around the Volkswagen Group's excellent 1.0-litre TSI turbo engine, a super little petrol motor that is ultra-smooth and great on fuel. The 95hp version of the Scala weighs in with a commendable group 10 insurance rating, which will help keep running costs in check.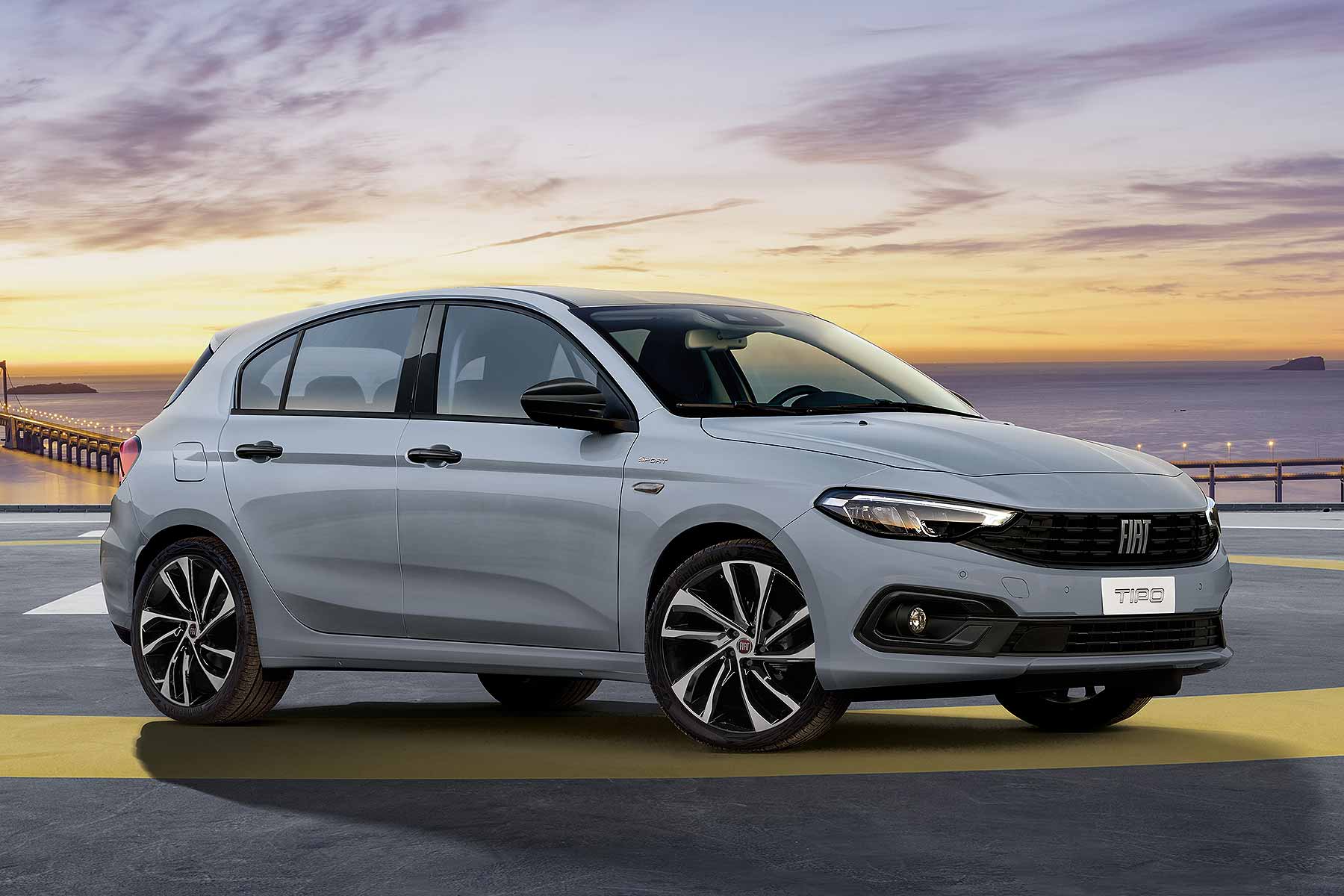 Fiat Tipo
The current Fiat line-up is focused around the famous 500 city car – now available in pure electric guise – plus its more practical iterations: the 500X crossover and 500L people carrier. However, the firm does have another car in its line-up, and it's one focused on families: the Tipo five-door family hatchback. It has recently been facelifted, gaining new technology inside and a smartened-up appearance, including the latest version of the Fiat logo. The Italian brand is another manufacturer offering a super-efficient 1.0-litre turbo petrol engine. In entry-level grade, this boasts a compelling insurance rating of group 10.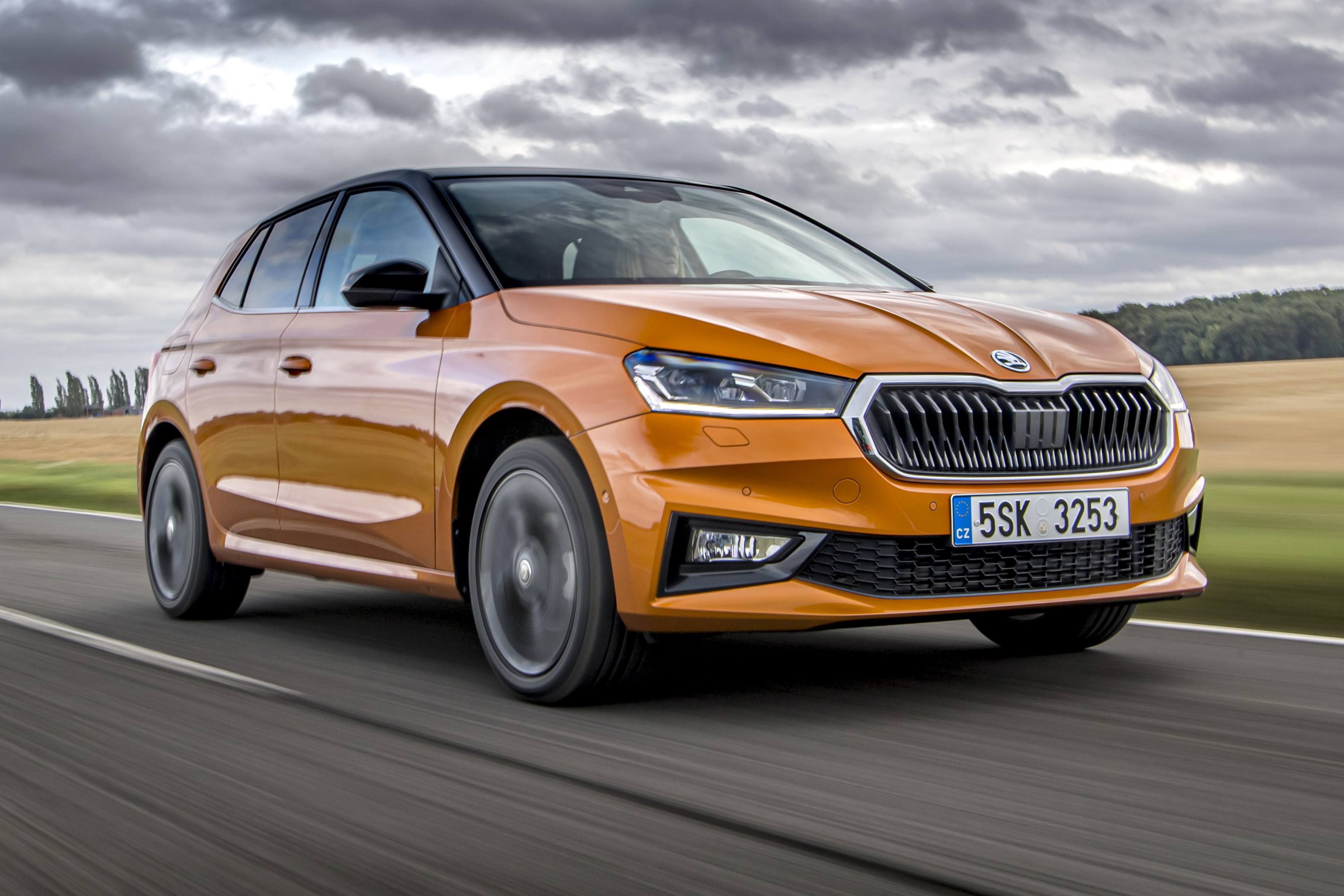 Skoda Fabia
Wait, we're including a supermini here? Don't families need bigger cars and more space? Well, that's where the latest Skoda Fabia is different; the firm has intentionally made it larger than most of its rivals. It measures around 200mm longer, which liberates more rear-seat space than any small car rival. It also offers an enormous 380-litre boot capacity – far larger than anything else in this class (and actually a match for the Volkswagen Golf). If you don't mind trading a little power, the entry-level 1.0-litre engine boasts insurance ratings from as low as group 2. There are few cheaper cars to insure, never mind family cars.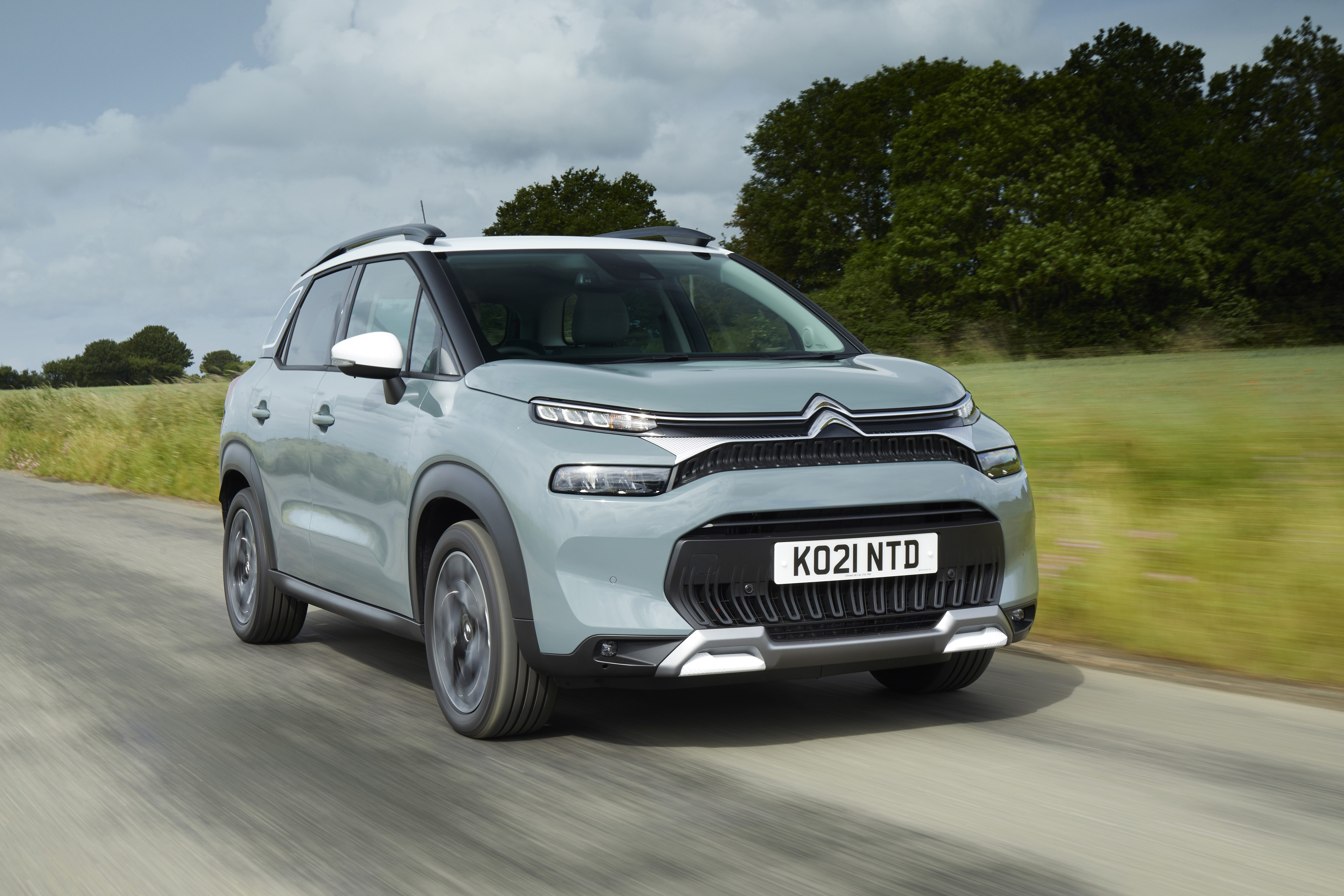 Citroen C3 Aircross
Supermini-based small SUVs are another way families can get cheaper car insurance. They're an alternative to the traditional five-door family hatchback – a little smaller on the outside, and a bit more affordable, but thanks to their high-riding stance they still provide decent space. The Citroen C3 Aircross is a great example of the breed. The firm's latest pricing strategy makes it affordable to buy, while the popular 1.2-litre Puretech 82 petrol engine has insurance ratings starting from group 6. For families, it is a real money-saver, and certainly one of the most comfortable family cars in our round-up.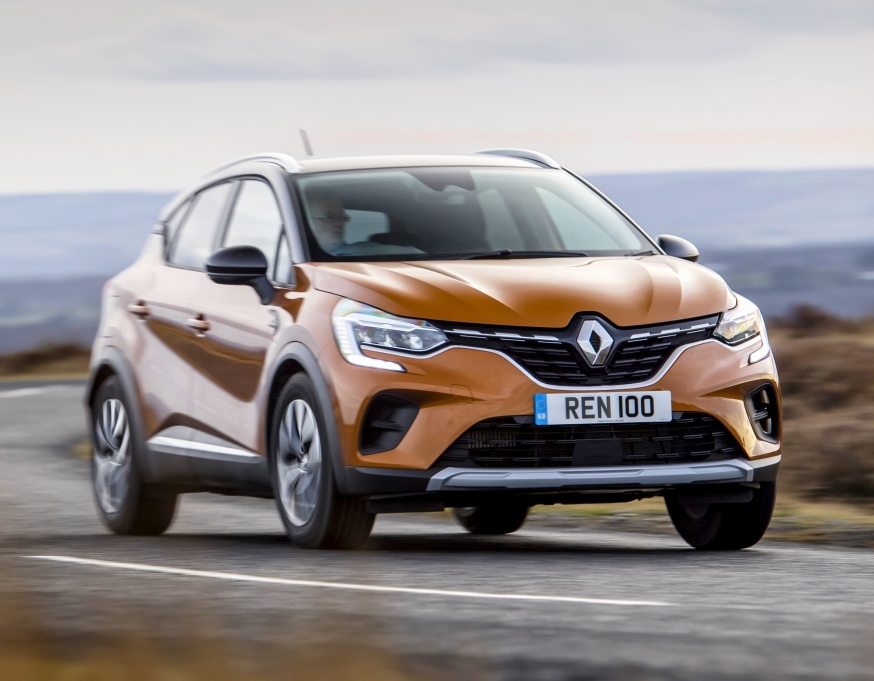 Renault Captur
The Renault Captur is the French firm's best-selling car right now. It is a small SUV alternative to the Clio supermini, with a taller profile and higher-riding stance giving a loftier, more confident seating position behind the wheel. Elegant styling on the outside is matched by a modern, premium feel on the inside. We like the use of textiles on the dashboard and the seats are supportive. It's roomier than a supermini in the rear and the boot is both well-sized and practical. The 90hp 1.0-litre TCe petrol engine offers the cheapest car insurance, with ratings starting from group 7. Very appealing for a car as smart-looking as this one.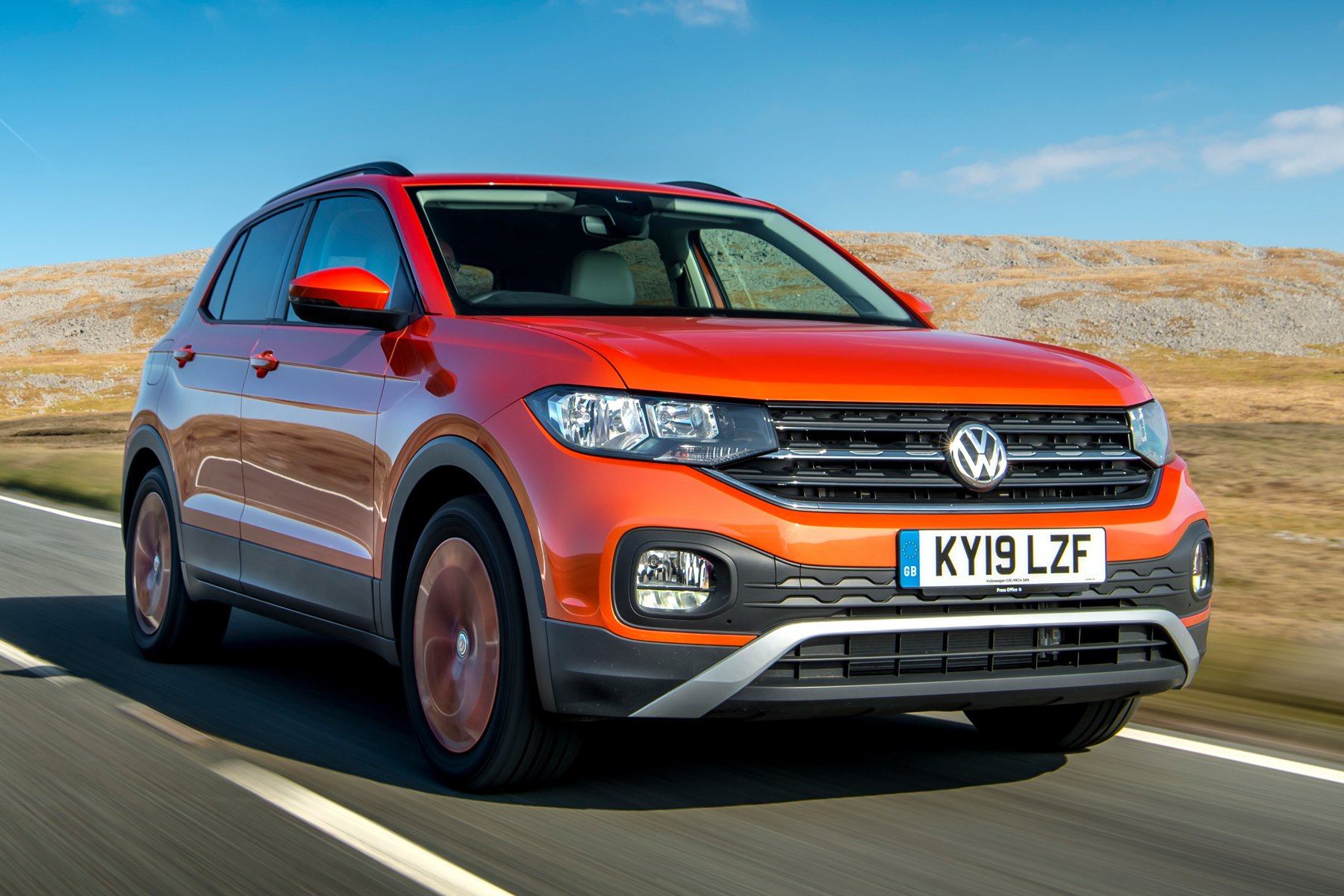 Volkswagen T-Cross
Volkswagen's smallest SUV from its diverse line-up is the T-Cross. It is derived from the Polo, but has a unique, squared-off bodystyle with a chunky and confident appearance. It feels distinct from the Polo inside as well, because of its high-up seating position and excellent visibility. Space is good inside and those in the rear won't have any grumbles. The T-Cross range is built around the 1.0-litre TSI 95 engine, which boasts car insurance ratings from a competitive group 9. Add in great retained values and impressive fuel economy for a family car that's likely to prove cheap to run.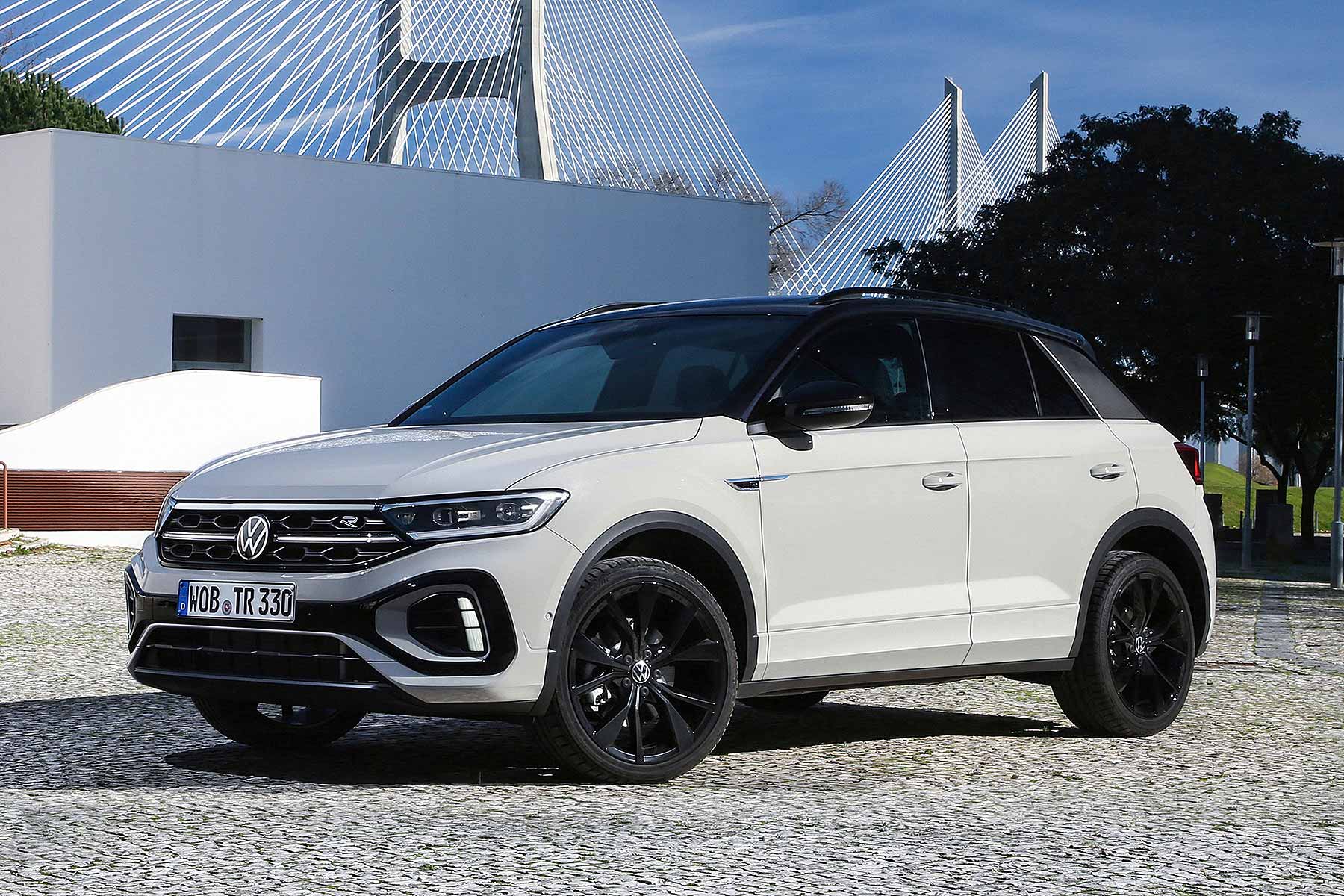 Volkswagen T-Roc
Perhaps the T-Cross is just a little too small for you? Maybe you want a car with a more athletic stance, sporty wheelarch flares, a more coupe-like rear roofline, bigger wheels and a more aggressive front end? Volkswagen has the answer for you if so: the T-Roc. It slots in between the T-Cross and the Tiguan, as a genuine alternative to a Volkswagen Golf. Customisation options are endless and the firm offers some very eye-catching colour combinations. This more expressive appeal doesn't come at the expense of car insurance ratings, however, with both the 1.0-litre TSI petrol and 1.6-litre TDI diesel boasting group 10 affordability.
What are car insurance groups?
Car insurance is split into groups that run from 1 to 50. This is how cars of different sizes, power outputs and levels of anti-theft protection are ordered in terms of insurance costs. The lowest-risk cars boast the most affordable ratings, from group 1 upwards. Very high-performance luxury cars are placed into group 50, with everything else dropping in between them. Needless to say, the rule of thumb is that if you want the cheapest cars to insure, you need to choose those in the lowest insurance groups.
Why do sporty cars cost more to insure?
Car insurance companies analyse the potential risk-profile of cars. Sporty cars have more powerful engines, which means they're likely to be driven in, well, a more effervescent manner… This immediately raises the risk, and you can see this in how more powerful versions of the same car boast higher insurance ratings. Then there's the additional desirability of sporty cars to thieves. They are more likely to be stolen, which car insurers also factor into their groupings. Add in the additional cost to repair and it's easy to see why premiums will increase.
How can I cut the cost of car insurance?
A quick way to cut the cost of your car insurance is to choose a car with the lowest possible insurance group. You could also consider fitting additional security measures if they're not already included – some car brands have optional alarms, which car insurers will reward you for. There are extra savings to be had from fitting a vehicle tracker, which allows police to locate the car if stolen (and will hopefully deter thieves in the first place). Parking on a driveway or in a garage will also reduce the cost of your car insurance premium.
More car insurance guides