McLaren has revealed the first images of the production-ready P1, the spiritual successor to the legendary McLaren F1 of the 1990s.
The company has yet to reveal any official details of the new car and, as you can see, the P1 remains completely covered in camouflage paint which is designed to obscure the car's aerodynamic curves ahead of its public unveiling at the Geneva Motor Show in March.
But the images do confirm that the production car will closely resemble the bright orange P1 concept which was revealed at the Paris Motor Show last year.
Expect the P1 to come fitted with a tuned version of the 3.8-litre twin-turbo V8 used in the MP4-12C mated to an F1-style electric KERS system. The total power output is expected to be in the region of 700bhp.
However, despite the car's impressive performance credentials, McLaren claims it is not interested in building the world's fastest or most powerful car, maintaining instead that its goal is to "produce the best driver's car in the world on road and track".
And if McLaren's past glories are anything to go by, we'd be surprised if it doesn't succeed.
Click on the image below to see a video of the P1 in action.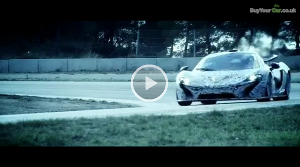 ---
---
Also of interest...