Refine your search
Used Fiat Cars
Let us help you locate your ideal Used Fiat car with our email alerts function. Click the button above and we will send you daily report of any Fiat cars near me that are newly advertised and that meet your specific Used Car search criteria.

CarSite can help you find the cheapest Fiat Cars online. We have the most Used Fiat Cars for Sale, listed online. When it comes to looking for a Used Fiat Car CarSite is the ideal search partner for you.


Used Fiat Models
Fiat Regional Results for this page
Fiat Cars in the UK
Manual
10 miles
White
Diesel
2023 Fiat Doblo Van
More info
Manual
43,763 miles
white
Diesel
2019 Fiat Fiorino Van
More info
Manual
62,476 miles
WHITE
Petrol
2015 Fiat PANDA Hatchback
More info
Manual
35,730 miles
red
Petrol
2019 Fiat 500 Hatchback
More info
Manual
92,100 miles
Black
Petrol
2008 Fiat 500 Hatchback
More info
Manual
33,000 miles
grey
Petrol
2018 Fiat 500 Hatchback
More info
Manual
23,500 miles
White
Petrol
2017 Fiat 500 Hatchback
More info
Manual
4,000 miles
Grey
Petrol
2021 Fiat 500 Hatchback
More info
Automatic
7,694 miles
black
-
2021 Fiat 500 Hatchback
More info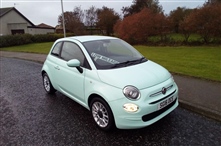 Manual
39,000 miles
Green
Petrol
2016 Fiat 500 Hatchback
More info
Browse Used Cars by Body Style...
Popular options to begin your search...
Fiat is one of the most famous brands in history. It is now part of the huge Stellantis corportation along with Alfa Romeo, Citroen, Maserati, Peugeot, Jeep and Vauxhall among others. The Italian brand made its name with small cars and is now best known for the hugely popular Fiat 500.
Fiat was founded by Giovani Agnelli in 1899 and in that same year produced its first car, the 31/2 CV, powered by a 0.7 litre engine, which produced 4.2 horsepower. Continuing to grow, Fiat expanded outside Italy and into the American market by 1908, where it represented a luxury model, due to the high price compered to domestic brands. By 1910 Fiat had grown to become the largest car manufacturer in Italy, which it has remained ever since.
During the Great War, Fiat was a producer of supplies for allied forces, with car production returning after the war. The company also went on to produce its first tractor. The founder left in 1921 when the communist party seized Fiat's plants but this occupation quickly ended. The Lingotto factory opened in 1923 and at the time was the largest factory in Europe. It was also the first Fiat factory to use an assembly line, helping the company to increase production and dominate the Italian car market, controlling 87% by 1925.
During the Second World War, Fiat's production again moved to military machinery, with the production of aircraft, light tanks and armoured vehicles. At the end of the war the Agnelli family was removed from control of Fiat due to their links to Mussolini's government and did not regain a leadership role until 1963.
In 1969 Fiat purchased the controlling interest in both Ferrari and Lancia, before acquiring Alfa Romeo in 1986 and Maserati in 1993. Fiat went on to form an alliance with Chrysler in 2009.
We have 4,748 Used Fiat Cars for Sale. CarSite lists 228,667 Used Cars for Sale online, updated daily. We can help you find the Cheapest Used Fiat Car local to you!