Refine your search
Used Fiat 500 Cars
Let us help you locate your ideal Used Fiat 500 car with our email alerts function. Click the button above and we will send you daily report of any Fiat 500 cars near me that are newly advertised and that meet your specific Used Car search criteria.

CarSite can help you find the cheapest Fiat 500 Cars online. We have the most Used Fiat 500 Cars for Sale, listed online. When it comes to looking for a Used Fiat 500 Car CarSite is the ideal search partner for you.


Fiat 500 Regional Results for this page
Fiat 500 Cars in the UK
Manual
35,730 miles
red
Petrol
2019 Fiat 500 Hatchback
More info
Manual
92,100 miles
Black
Petrol
2008 Fiat 500 Hatchback
More info
Manual
33,000 miles
grey
Petrol
2018 Fiat 500 Hatchback
More info
Manual
23,500 miles
White
Petrol
2017 Fiat 500 Hatchback
More info
Manual
4,000 miles
Grey
Petrol
2021 Fiat 500 Hatchback
More info
Automatic
7,694 miles
black
-
2021 Fiat 500 Hatchback
More info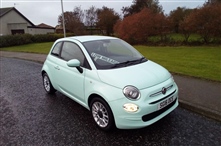 Manual
39,000 miles
Green
Petrol
2016 Fiat 500 Hatchback
More info
Automatic
9,945 miles
GOLD
-
2021 Fiat 500E Hatchback
More info
Manual
61,393 miles
green
Petrol
2015 Fiat 500 Hatchback
More info
Manual
35,000 miles
Grey
Petrol
2019 Fiat 500 Hatchback
More info
Popular Fiat 500 Searches
Other Fiat 500 Searches
Other Fiat models
More information, a brief history and our verdict on the Fiat 500


The famous Fiat 500 is an Italian icon that's as well loved over here as it is back home. It's been around in several guises since the 1950s and, like its pint-sized rival, the Mini, the latest 500 is a retro recreation that is both desirable and thoroughly contemporary.
The 500 competes in the city car sector, as an adorable rival to the more sober-suited Hyundai i10, Kia Picanto and Volkswagen Up. The Toyota Aygo X is its newest competitor, but is more of a small SUV rather than the retro-themed Fiat. All of its key rivals also offer five-door practicality, which the 500 does not. The Fiat Panda is available for those who want a five-door Fiat city car.
Those interested in a 500 today have two engine choices. The original reborn 500, first introduced in 2007, is on sale today in a slimmed-down line-up. All use the same 1.0-litre petrol engine – Fiat calls it the 500 mild hybrid, thanks to its extended engine stop-start tech. It's still a great-looking car, but not the most modern machine around.
Fiat's answer is the 500 Electric. This has all the classic looks of the original 500, but is a brand-new car that's only available in pure electric guise. It costs more than the original 'new 500', but is future-proofed and strong sales already show it's proving popular.
In either guise, the Fiat 500 is a hard-top three-door hatchback, but sun-seekers can choose the 500C, which has a full-length fold-back canvas roof.
The new 500 Electric has a more sophisticated interior than the 500 mild hybrid too, with the latest in touchscreen infotainment tech. It is more refined on the move, and safer in a crash. There's no denying it's a pricier proposition though, with list prices starting from almost £10,000 more.
All Fiat 500s work best as two-seat city cars, with compact boots that stretch to a more useful size with the rear seats folded. Oh, and if you want a sporty Fiat 500, why not look at the Abarth 595 line-up? They have larger-capacity 1.4-litre turbo engines offering power outputs of up to 180PS, for 0-62mph acceleration in little more than six seconds.


Fiat 500 models, trims, specs, engine sizes and more


The Fiat 500 mild hybrid offers a full range of models, from entry-level Pop to luxurious Dolcevita Plus. They all share the same 1.0-litre mild hybrid petrol engine, fitted only with a manual gearbox. An automatic not available.
In contrast, the Fiat 500 Electric only comes with a two-pedal automatic, due to its EV drivetrain. There's a range of model trims too, with the poshest being positively palatial.
Fiat 500 Electric buyers can choose from two battery sizes, either a 24kWh or a pricier 42kWh unit. The larger battery has slightly more power, so it's half a second faster in the benchmark 0-62mph dash.
Fiat 500 1.0 mild hybrid petrol: The 1.0-litre three-cylinder petrol engine that now forms the core Fiat 500 offering produces 70PS. The mild hybrid system provides a little boost of electric power under acceleration, so 0-62mph takes 13.8 seconds. The extended stop-start system helps save fuel in town and, overall, it averages a very impressive 61.4mpg.
Fiat 500 Electric 24kWh battery: The entry-level Fiat 500 Electric uses a 24kWh battery that gives a pure electric driving range of 118 miles. It produces 95PS and 0-62mph takes 9.5 seconds. The top speed is limited to 84mph.
Fiat 500 Electric 42kWh battery: The larger 42kWh battery significantly extends the electric driving range between charges, to 199 miles. It has more power at 118PS, but the heavier battery means it's not significantly faster in terms of acceleration, with 0-62mph taking 9.0 seconds. It has a 93mph top speed.

Fiat 500 features as standard & optional extras


Even if you go for the entry-level new Fiat 500, you still get a good level of standard features. The Pop comes with the all-important air conditioning, plus a 5.0-inch HD touchscreen radio and smart blue fabric seats with Fiat monograms.
The Dolcevita is even more alluring. On the outside, it gains stylish 15-inch multispoke alloys, and we love the dedicated white sand Matelasse fabric seats inside. All the chrome detailing and Dolcevita logo give it a premium finish.
If you want still more features as standard, you need the Dolcevita Plus. This gains automatic climate control, a 7.0-inch HD touchscreen radio with sat-nav, plus a complementary 7.0-inch TFT digital instrument cluster.
The 500 Red is a special edition in association with the Red organisation. It has swish fabric seats trimmed in Seaqual marine-recovered plastic, along with unique red-painted details, including the door mirrors, wheel centres and dashboard.
The Fiat 500 Electric carries a similarly comprehensive level of standard equipment, with standout grades such as Icon featuring a 10.25-inch infotainment system with standard Apple CarPlay and Android Auto connectivity, plus passive entry with a 'wearable' key.
The classy La Prima by Bocelli has a JBL premium audio system mastered by Andrea Bocelli himself, plus full LED 'infinity' lighting and a premium interior with those wonderful Fiat monogrammed seats.
The Fiat 500's exterior dimensions are:
Length: 3,571mm

Width: 1,627mm

Height: 1,488mm

Ground clearance: 116mm
The Fiat 500 Electric's exterior dimensions are:
Length: 3,631mm

Width: 1,683mm

Height: 1,529mm

Ground clearance: 123mm
We have 2,858 Used Fiat 500 Cars for Sale close to you. CarSite lists over 228,632 Used Cars online, updated daily, find the Cheapest Used Fiat 500 local to you!