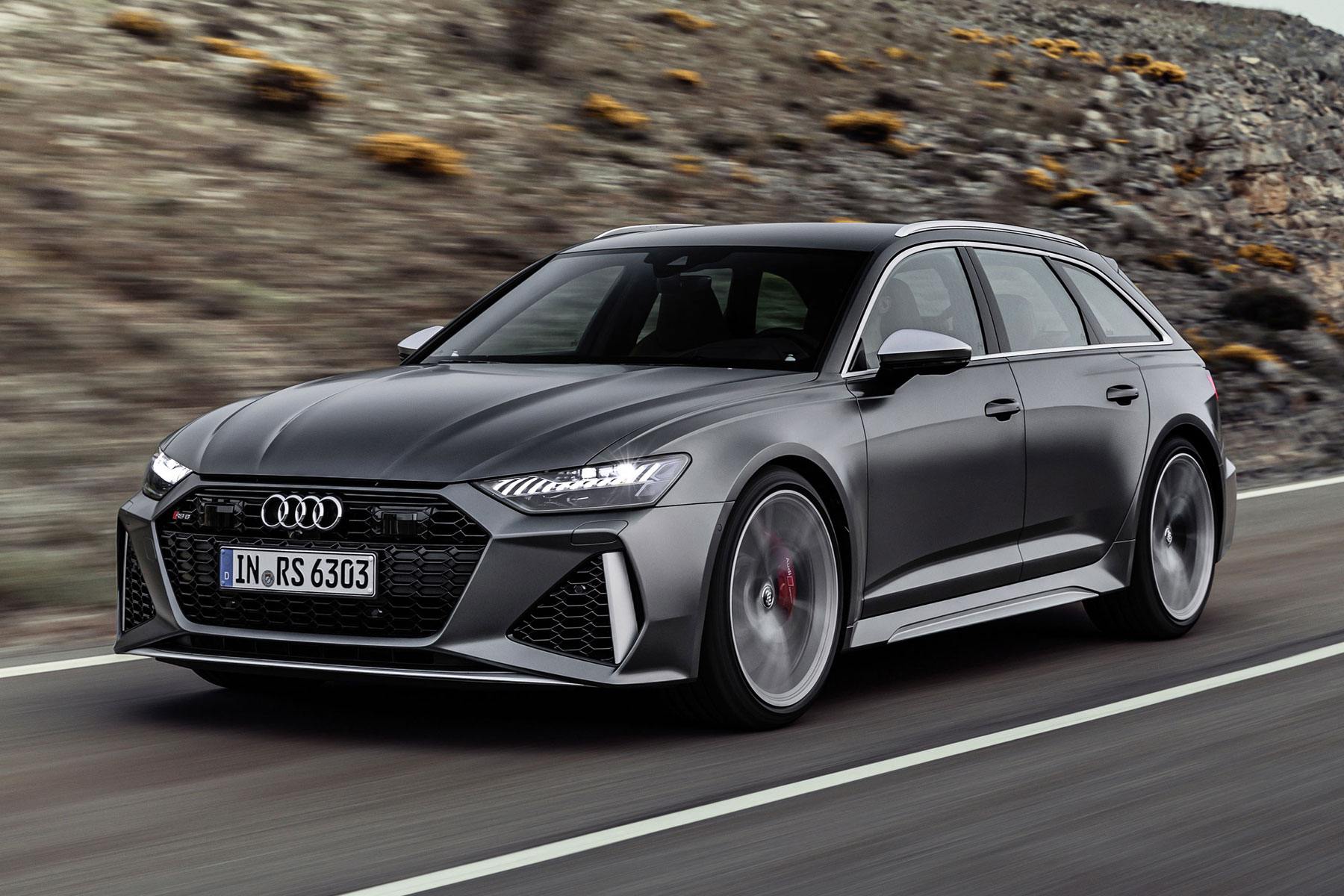 There's something truly tantalising about the idea of a fast estate car. On the surface, they seem to be sensible load-luggers, ideal for weekend trips to the tip or the seaside, while being faithful servants during the week thanks to their space and refinement.
But look more closely and their naughty side is revealed. The big wheels, the bulging wheelarches, the numerous exhausts poking out of the rear bumper...
Inside, they have sports seats, bright colour schemes and, when you start them up, rorty window-rattling soundtracks that are far from mainstream. Then you floor the right pedal and, wow, the acceleration is breathtaking.
Fast estate cars are something of a niche, but a wonderfully cool one. They are supercars for those who have children, dogs and all the other accoutrements of family life. They are the fast car you are still allowed to own. Here are 10 of the best fast estate cars on sale.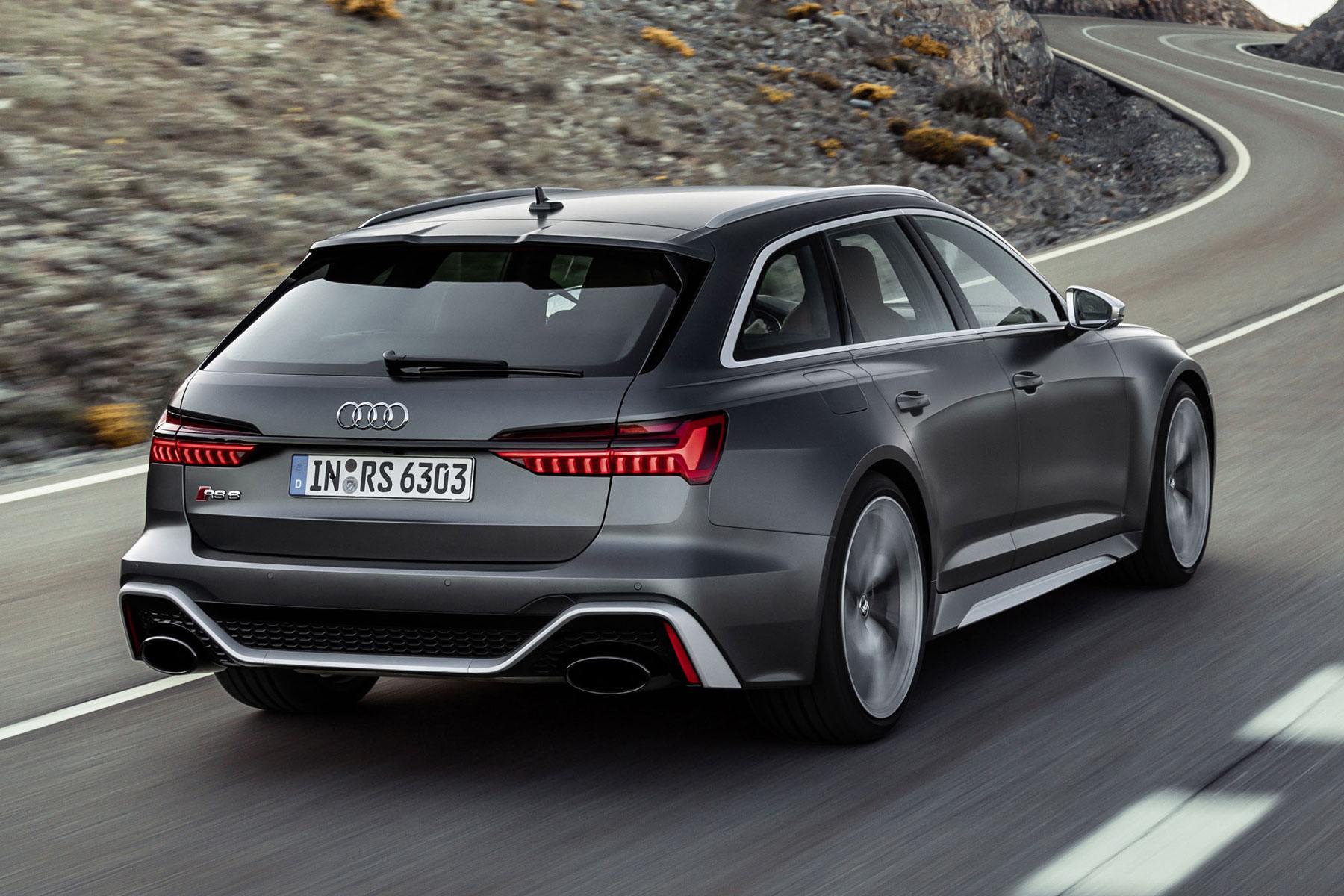 Audi RS6 Avant
The Audi RS6 Avant is one of the original fast estates. Several generations have thrilled families over the years, with each one gaining increasing amounts of power, because you can never have enough. The latest model has a whopping 600hp, courtesy of an exotic 4.0-litre twin-turbo V8 engine. Add in Quattro all-wheel drive and 0-62mph is yours in just 3.6 seconds. The RS6 Avant is a large car with a huge amount of rear-seat space and a 565-litre boot, which is as ample as the performance on tap. Muscular wheelarches and an aggressive bodykit give it plenty of on-street presence, too.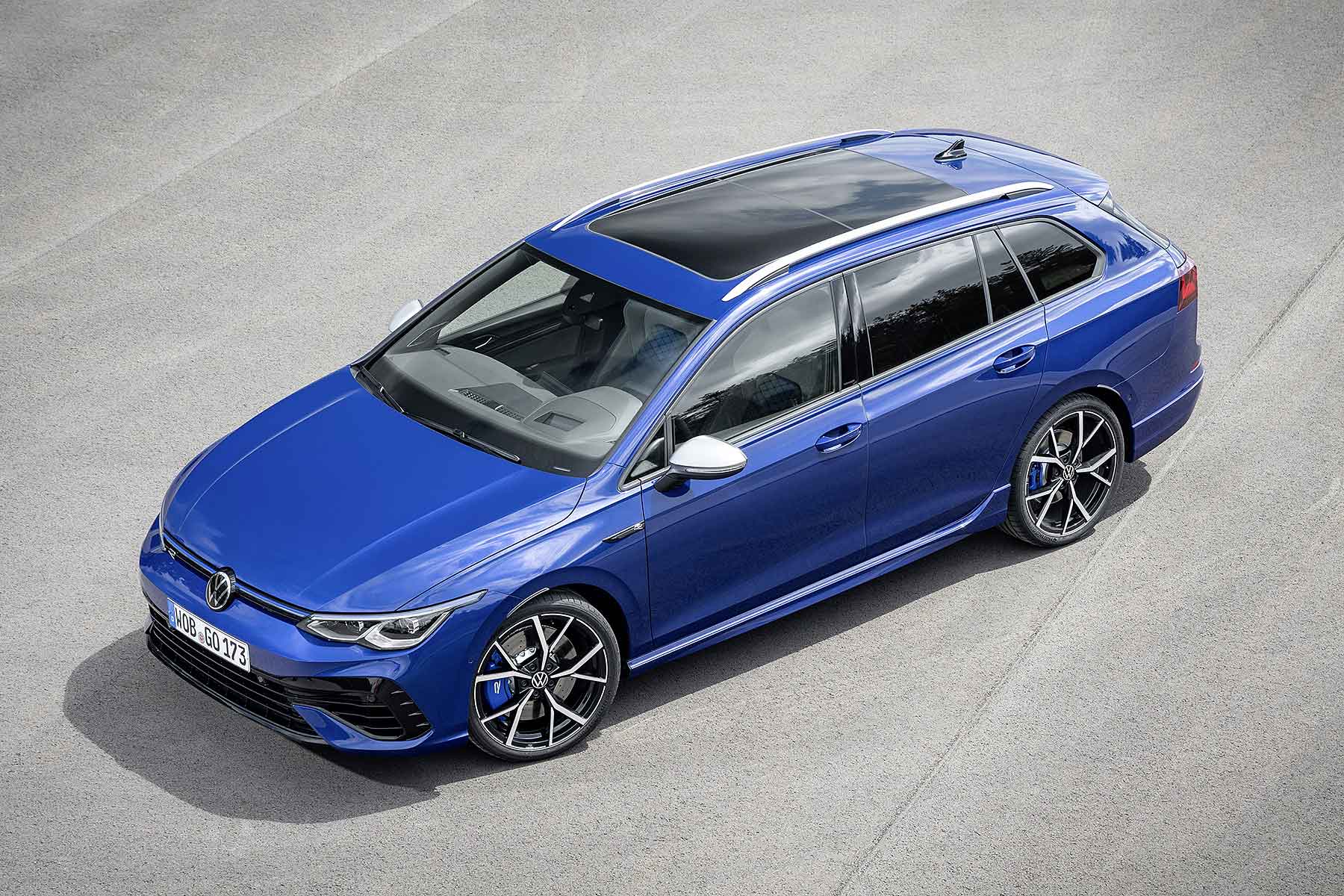 Volkswagen Golf R
The Golf R is the range-topping model in Volkswagen's family hatchback and estate model line, sitting above the famous Golf GTI. The R estate is a more recent addition, but it has all the trademark styling features: quad exhaust pipes, big wheels, silver door mirrors and the option of special Lapiz Blue paint – the colour so many are finished in. A 320hp 2.0-litre turbocharged engine, DSG automatic gearbox and 4Motion all-wheel drive give 0-62mph in 4.9 seconds. The Golf also remains glued to the road through corners, aided by R-Performance torque vectoring. Boot space of more than 600 litres is extremely commodious as well.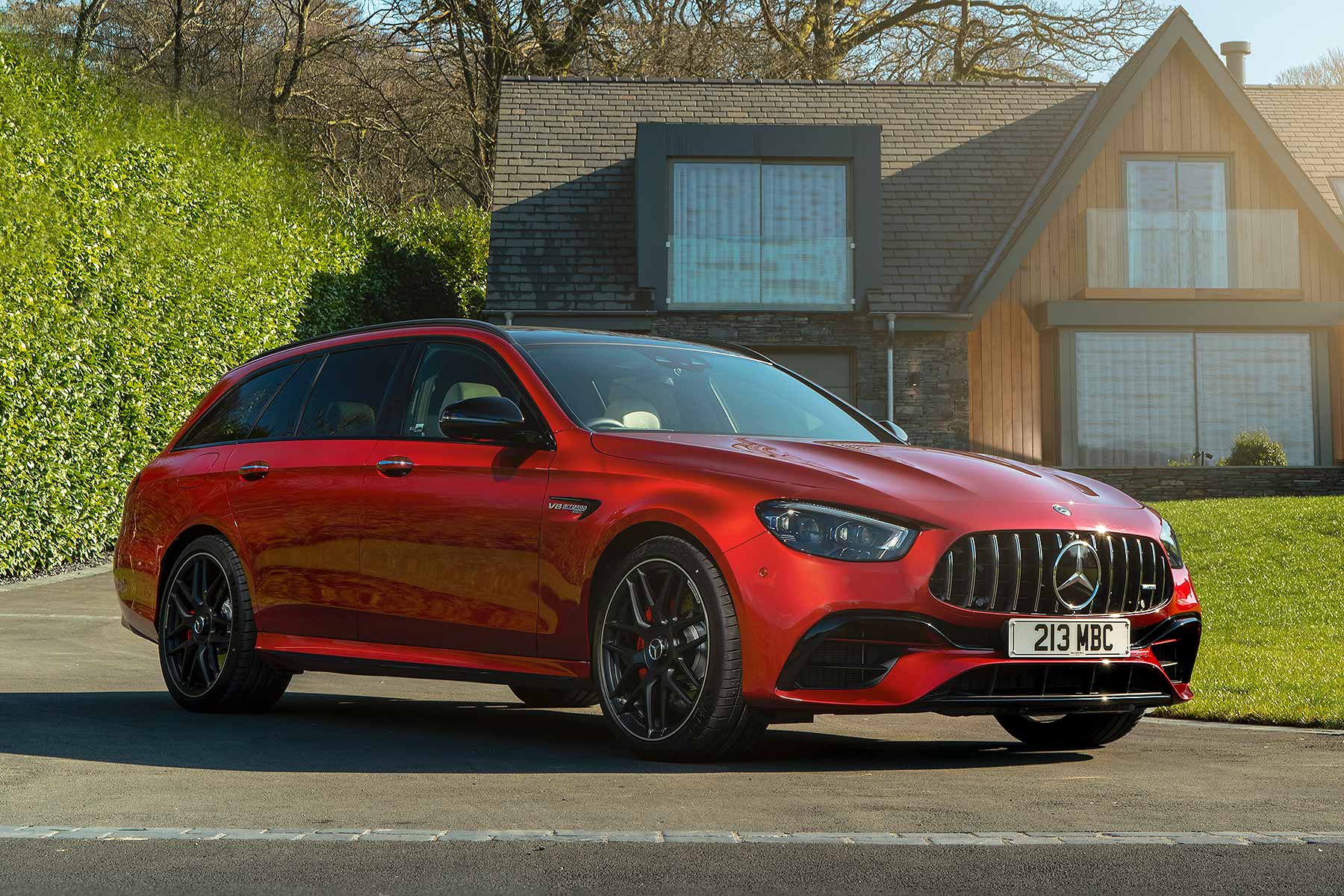 Mercedes-AMG E 63
The AMG versions of the Mercedes-Benz E-Class are bona fide headline-grabbers. Equipped with a blaring 4.0-litre twin-turbo V8 engine, the E 63 S 4Matic+ serves up a blistering 612hp and 0-62mph in just 3.5 seconds. You'll be able to beat Porsche 911s away from the lights. And if you're on a German autobahn, it won't stop accelerating until you reach 180mph – yes, a 180mph estate car! Of course, it's not cheap: prices start from over £100,000. Still, perhaps a 640-litre boot could help justify that, particularly when it expands to 1,820 litres with the rear seats folded. It's an incredibly fast estate car, but a seriously practical one as well. The AMG can even tow a braked trailer weighing 1.9 tonnes.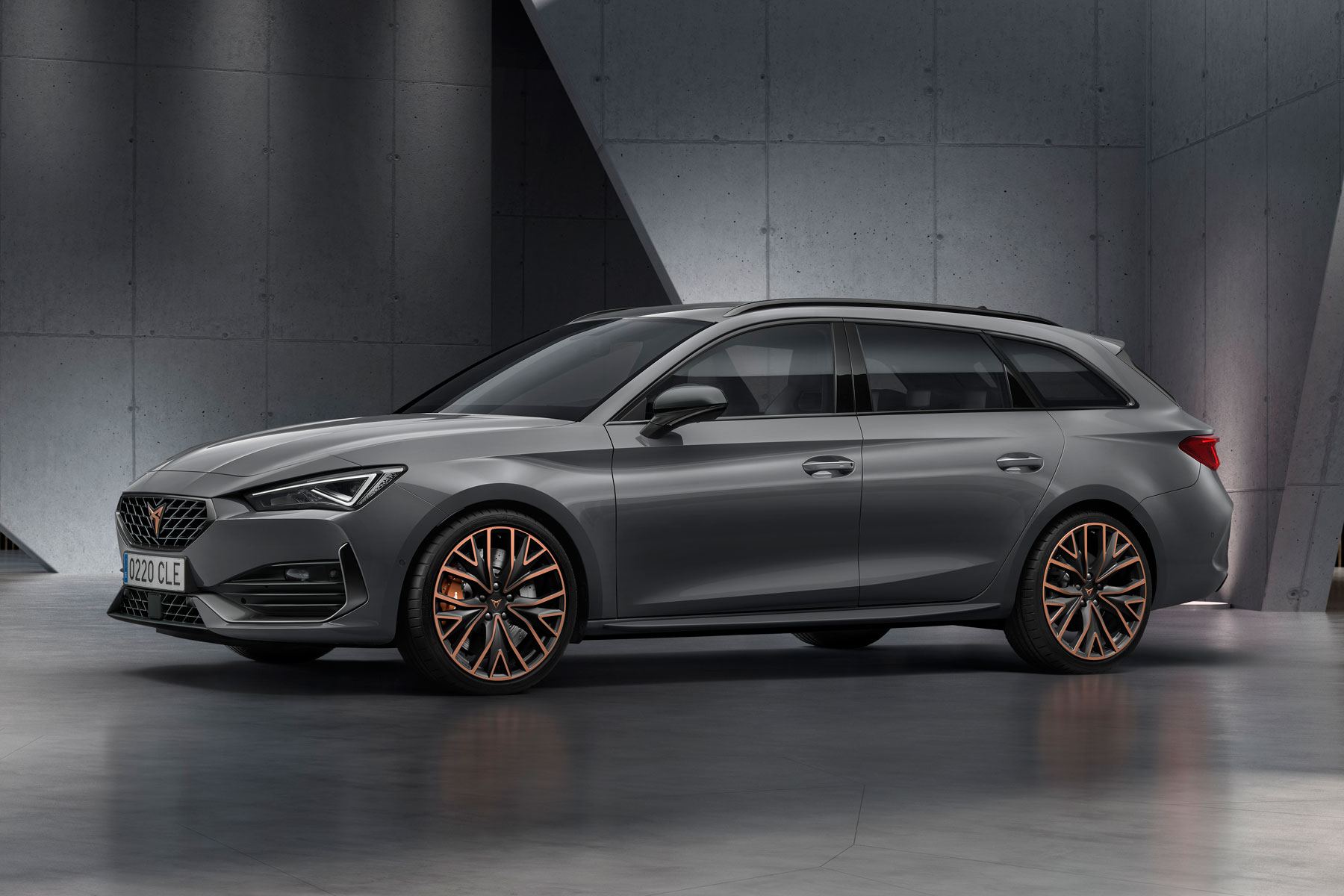 Cupra Leon
Cupra is the new performance brand from SEAT, so the previous SEAT Leon Cupra has been renamed simply 'Cupra Leon'. Its 2.0-litre turbo engine boasts 310hp, and the copper-coloured exhausts deliver a fruity noise as it accelerates from 0-62mph in 4.9 seconds. The sporty Cupra feel is evident inside, with low-slung, high-backed sports seats and a chunky steering wheel. A 10-inch central touchscreen and additional 10.25-inch driver display add modernity and allow the driver to choose between various display themes. The ample boot stretches to 1,500 litres with the seats folded, while a variable boot floor adds practicality.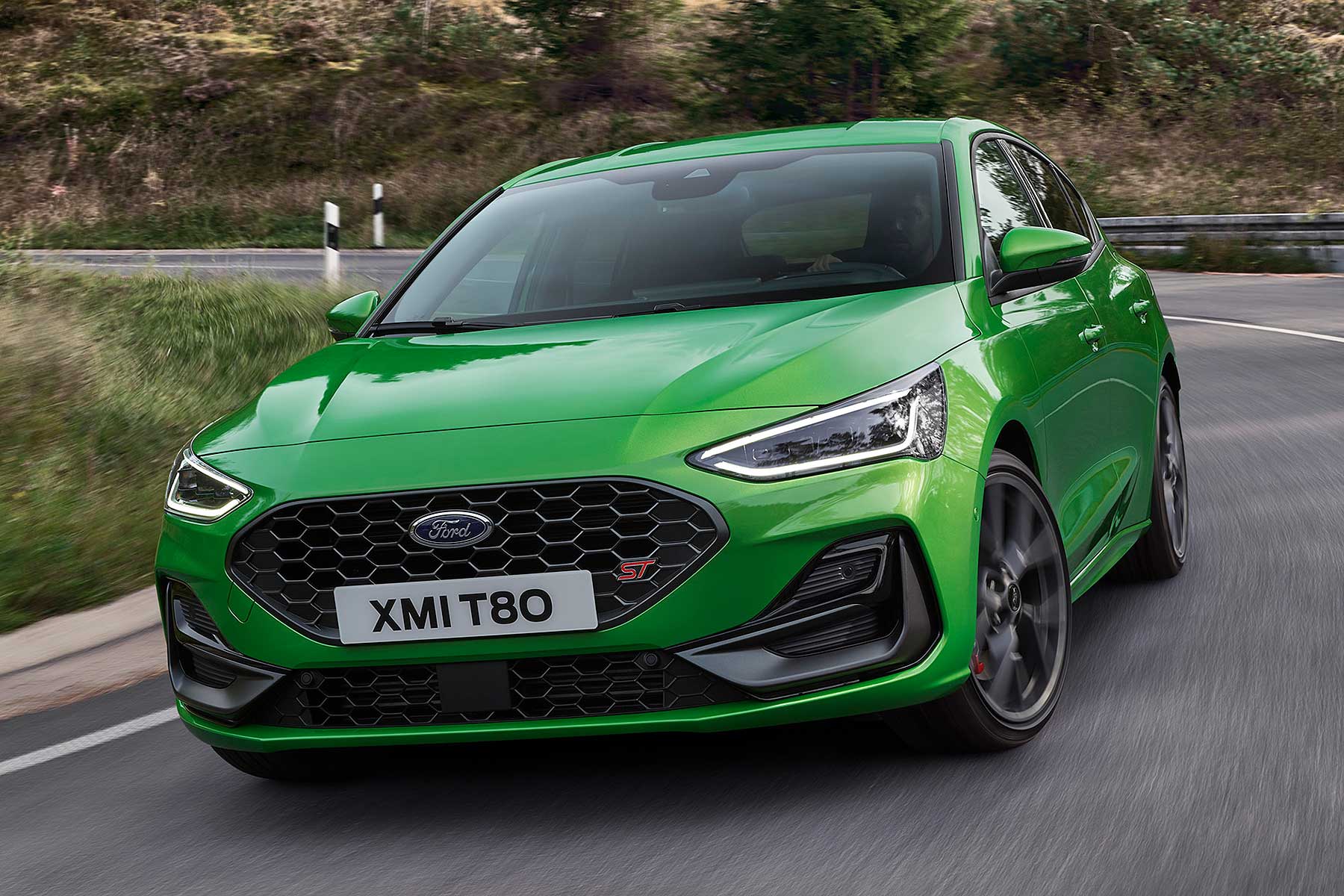 Ford Focus ST
The Focus ST is the fastest model in Ford's estate car line-up. It has a 2.3-litre Ecoboost engine, the same unit formerly found in the Mustang. This produces 280hp and drivers can mimic racing pros with a clever rev-matching function when shifting down gears with the six-speed manual 'box – or pretend to be an F1 driver with the seven-speed auto's paddleshifters. Updated for 2022, the latest ST wagon has bolder styling including a vivid new 'Mean Green' paint option. There are new Ford Performance seats inside too, while the acclaimed chassis has been further honed to enhance its agility and precision through the bends.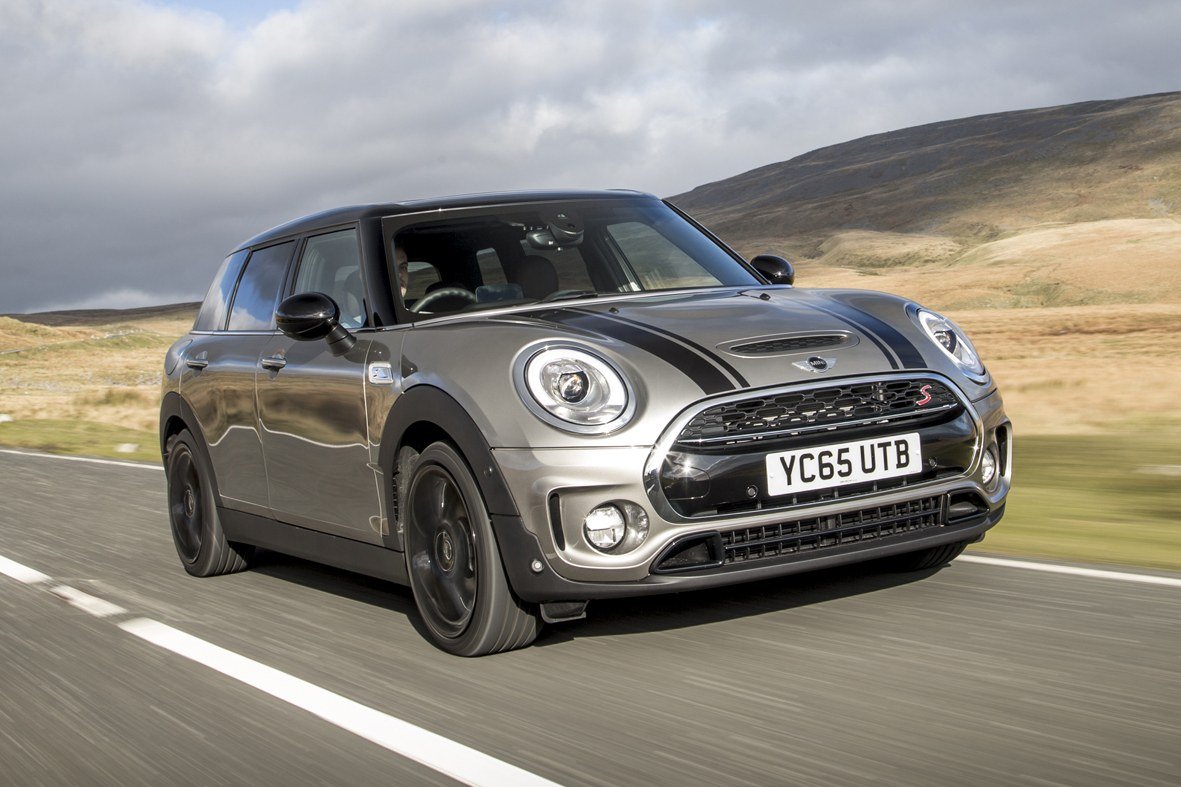 MINI Clubman
The MINI Clubman is an estate car aimed at growing families. The dual rear doors remain a characterful touch, and the number and size of the exhaust pipes poking out underneath denotes which engine is below the bonnet: 136hp Cooper, 178hp Cooper S or the ferocious 306hp of the John Cooper Works. The latter will scrabble from 0-62mph in just 4.9 seconds and only an electronic limiter stops it going faster than 155mph. Space in the rear isn't bad even for adults, while the 360-litre boot is a practical and square shape. You'll rarely tire of the novelty delivered by those doors, even if they do restrict visibility through the rear-view mirror.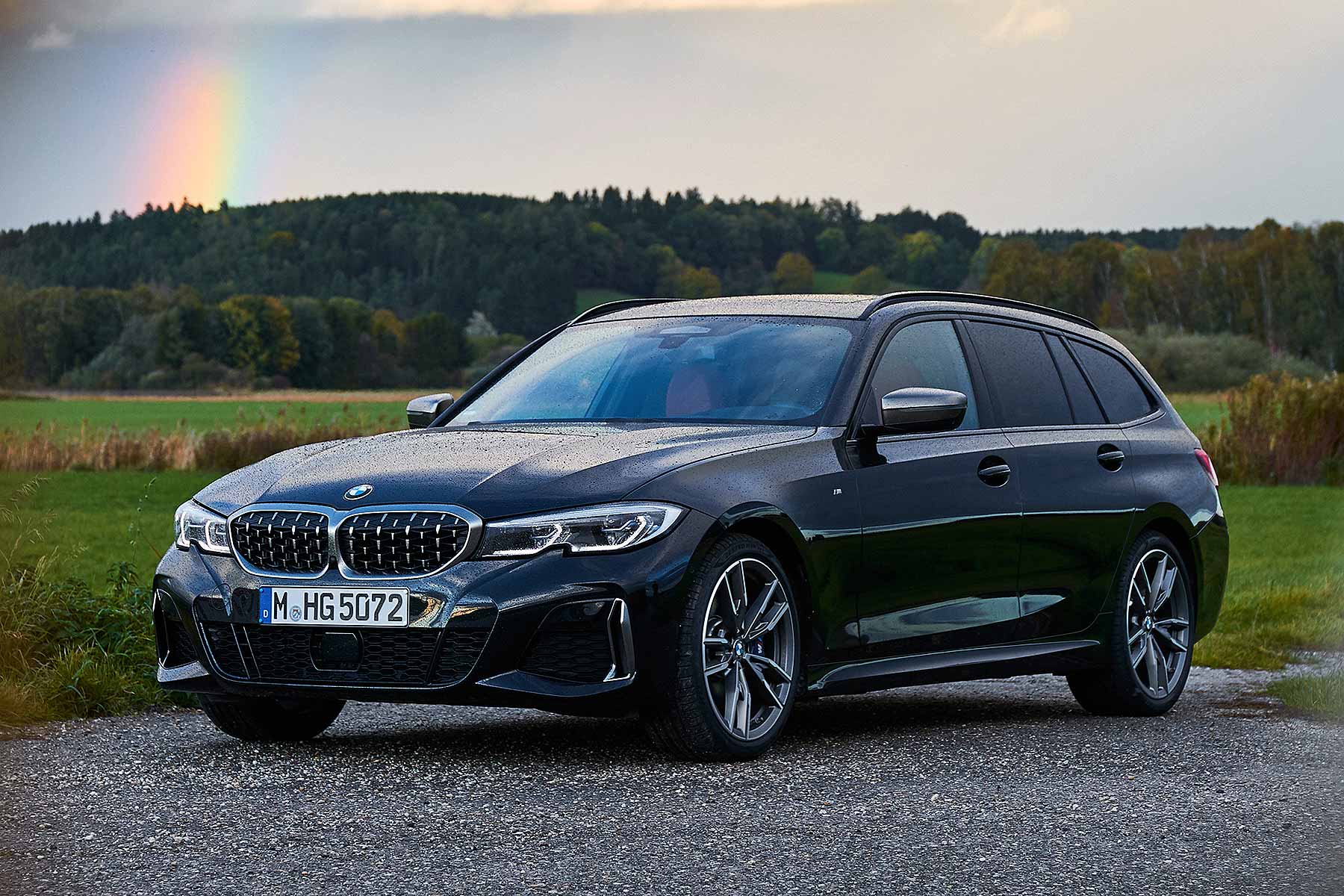 BMW M340i xDrive
BMW is planning to launch an exciting M3 Touring estate later this year, packing more than 500hp from its snarling 3.0-litre turbocharged engine. We can't wait, but for now we're hardly shortchanged by the M Performance M340i xDrive Touring. Even this model has 374hp, while xDrive all-wheel drive helps deliver 0-62mph in 4.6 seconds. It's also significantly more affordable than the M3 Touring is likely to be, with prices starting from around £53,000. A well-shaped boot measures 500 litres with the seats up, and they fold flat to further boost practicality. The separately-opening glass rear window remains as well.
Audi RS4 Avant
The Audi RS4 is the smaller alternative to the RS6, a car with a similarly glowing lineage that stretches right back to the Porsche-tuned RS 2 of the 1990s. This one has a turbo 2.9-litre TFSI engine that produces 450hp, which is enough for 0-62mph in 4.1 seconds, aided by grippy all-wheel drive. The sport differential helps make things more dynamic through corners, further bolstered by the Audi drive select adaptive suspension. It has wider wheelarches than a standard A4 Avant for Quattro-inspired visuals, but is still a very practical car inside. The boot boasts more than 500 litres of luggage space.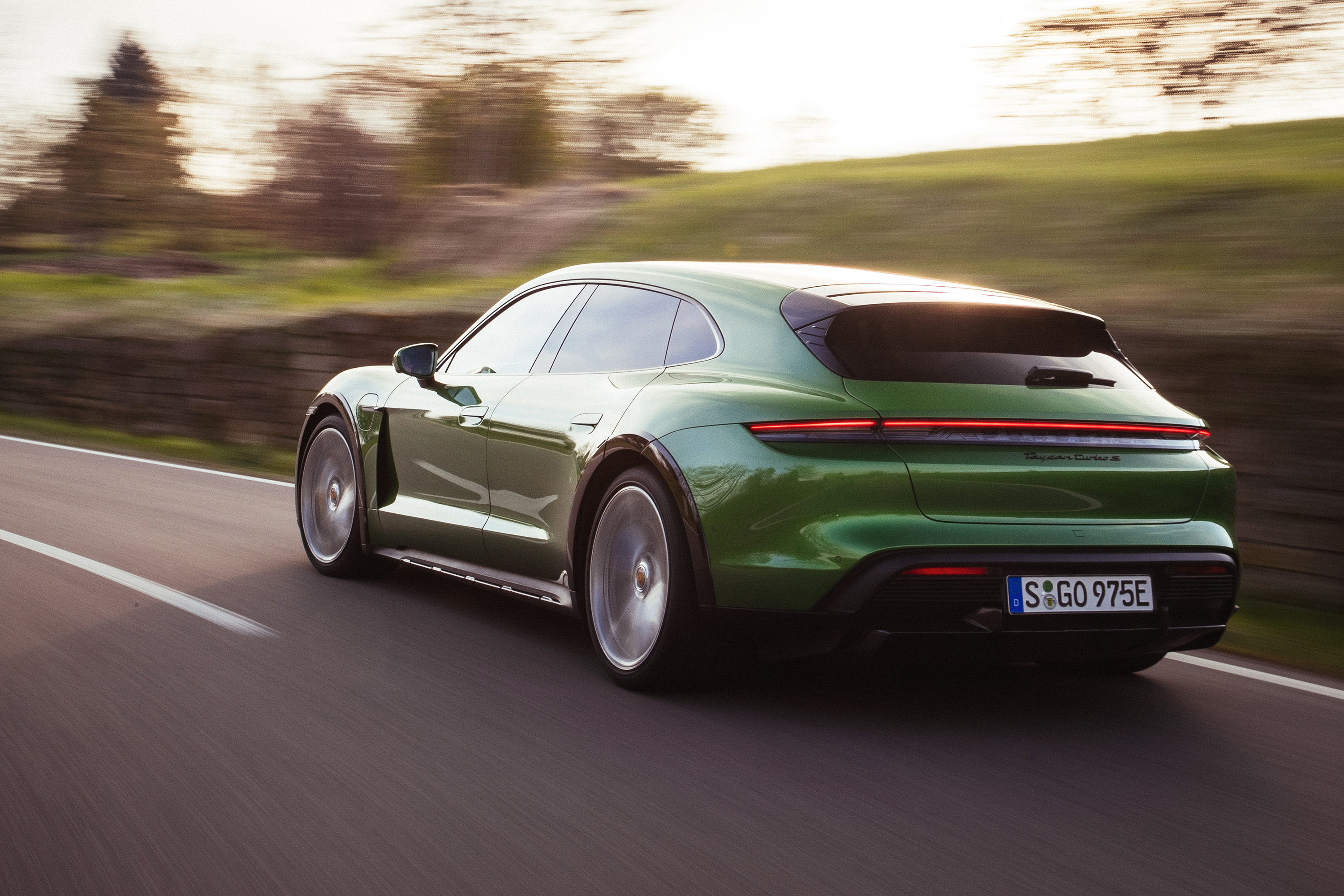 Porsche Taycan
The all-electric Porsche Taycan is, unusually, offered in two estate body styles: the regular Sport Turismo and the raised-up, more off-road-ready Cross Turismo. Both have a large 520-litre boot, which increases to almost 1,400 litres with the rear seats down. And boy, are they fast: even the entry-level model does 0-62mph in 5.6 seconds, quickly slashed to 4.0 seconds in the Taycan 4S. Choose the Taycan Turbo S Sport Turismo and you'll experience 0-62mph in just 2.8 seconds, thanks to 762hp of overboost power. Yet you can also get a Taycan Sport Turismo with an electric driving range of over 300 miles– with speedy top-ups on the move thanks to ultra-fast charging capability.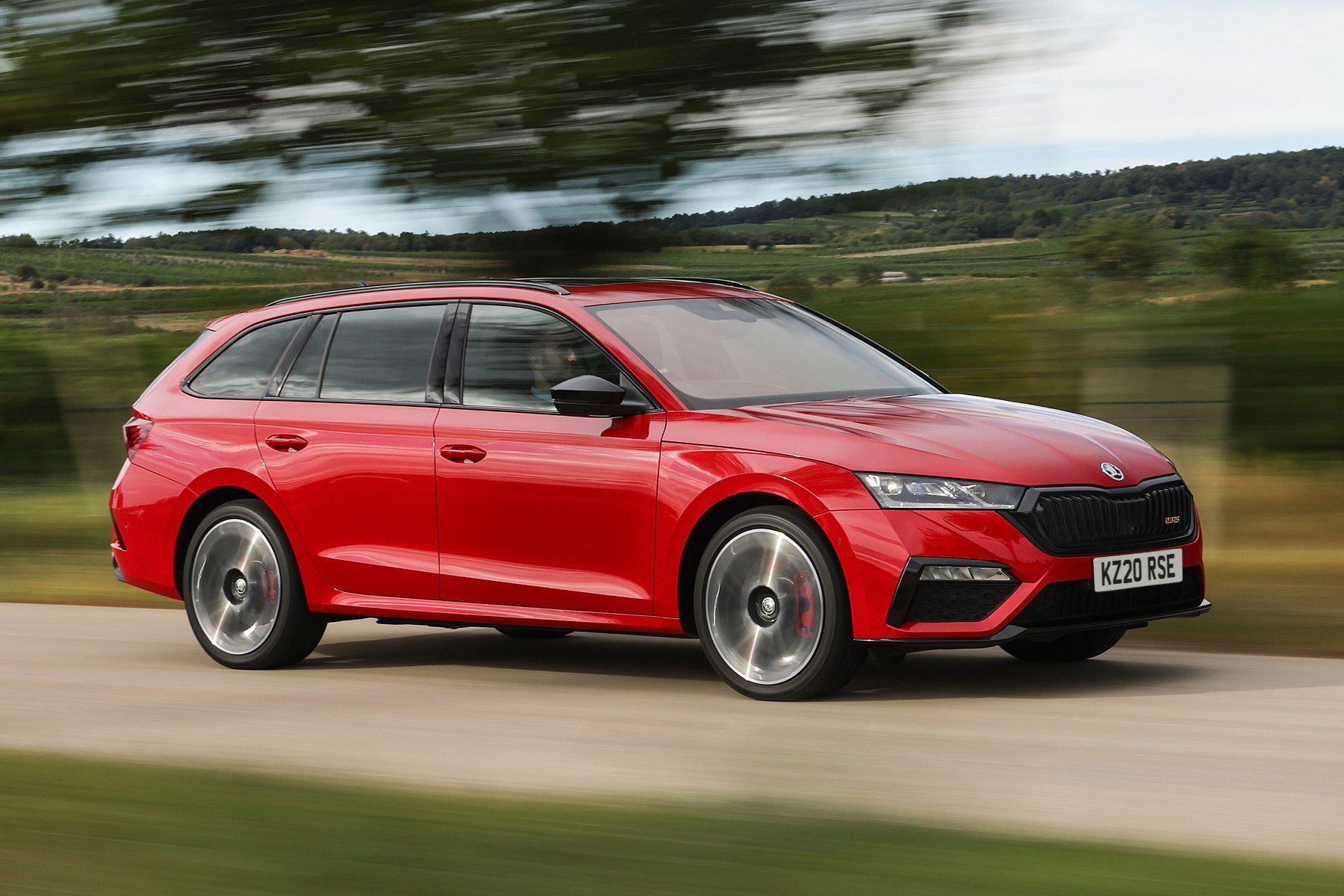 Skoda Octavia vRS
The Skoda Octavia is a fantastically practical estate made all the more appealing in sporty vRS guise. The boot is enormous, measuring 640 litres with the seats up, growing to 1,700 litres with them folded. There are few more commodious estate cars on sale. In vRS guise, it looks moodier than regular models, with 19-inch anthracite wheels and a black-pack makeover. The 2.0-litre turbo engine's 245hp gives good acceleration – or you could choose the vRS iV plug-in hybrid, which combines a 1.4-litre turbo with an electric motor for the same 245hp output. It allows almost 40 miles of pure electric driving before the engine kicks in, making for a fast estate car with great green credentials.
Can fast estate cars travel faster than 155mph?
Most fast estate cars are limited to 155mph. This is a 'gentleman's agreement' amongst car manufacturers to keep things relatively sensible. Some, however, do away with the electronic limiter and let their cars go flat-out without restriction; that's how the Mercedes-AMG E 63 estate is able to reach 180mph on a suitably derestricted road (or airfield). Even the pure electric Porsche Taycan Turbo S Sport Turismo boasts a 162mph top speed, although you'll rapidly deplete the battery if you travel close to that speed for a sustained amount of time.
Are fast estate cars practical?
The beauty of fast estate cars is their sheer practicality, which is often not impacted by the super-powerful engines fitted up-front. The Mercedes-AMG estate range offers a load space as vast as the regular versions, and the Skoda Octavia vRS estate is able to cram in loads of up to 640 litres even with the seats up – almost twice as much as a regular family hatchback. The combination of speed and practicality is key to the cult appeal of fast estate cars.
Are fast estate cars economical?
There's no denying that a tuned-up turbocharged V8 will not be the most fuel-efficient engine in the world. For many cars here, expect average fuel economy of well below 30mpg, or barely 20mpg if you're really motoring. But some manufacturers are starting to launch more efficient models, the Skoda Octavia vRS iV plug-in hybrid being a great example. The pure electric Porsche Taycan Sport Tursimo and Cross Turismo also match exhilarating acceleration with zero-emissions kudos.