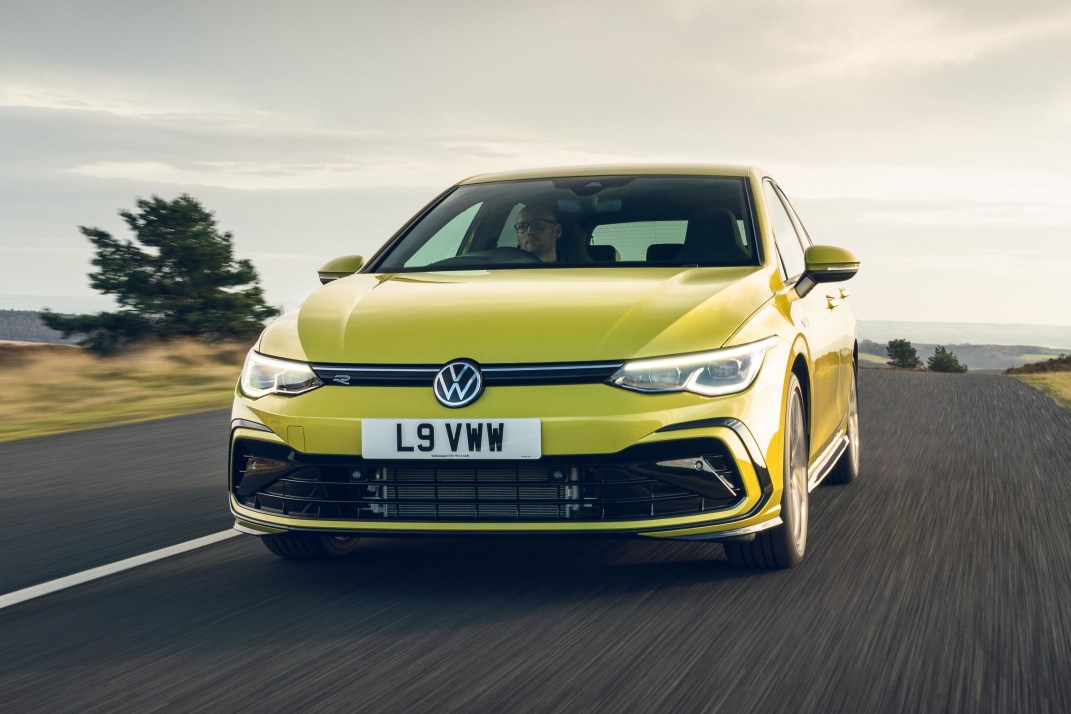 If you're not ready to go fully electric just yet, a plug-in hybrid is a great stepping stone. They allow you to test if an electric car works for you, but with a petrol engine onboard to take over if the batteries go flat.
Because the batteries are plugged in to be recharged, they have a much greater electric driving range than a regular hybrid car – often at least 30 miles, and sometimes significantly more.
This means many motorists see most of their daily driving conducted in pure electric mode when they switch to a plug-in hybrid. And even when the engine does kick in on longer journeys, fuel economy will still be excellent, thanks to the miles they've saved in EV mode.
Plug-in hybrids are proving particularly popular with company car drivers, due to the tax they are able to save. But the best plug-in hybrids are also attractive to private buyers looking to cut their motoring costs. Here is our guide to the current top 10.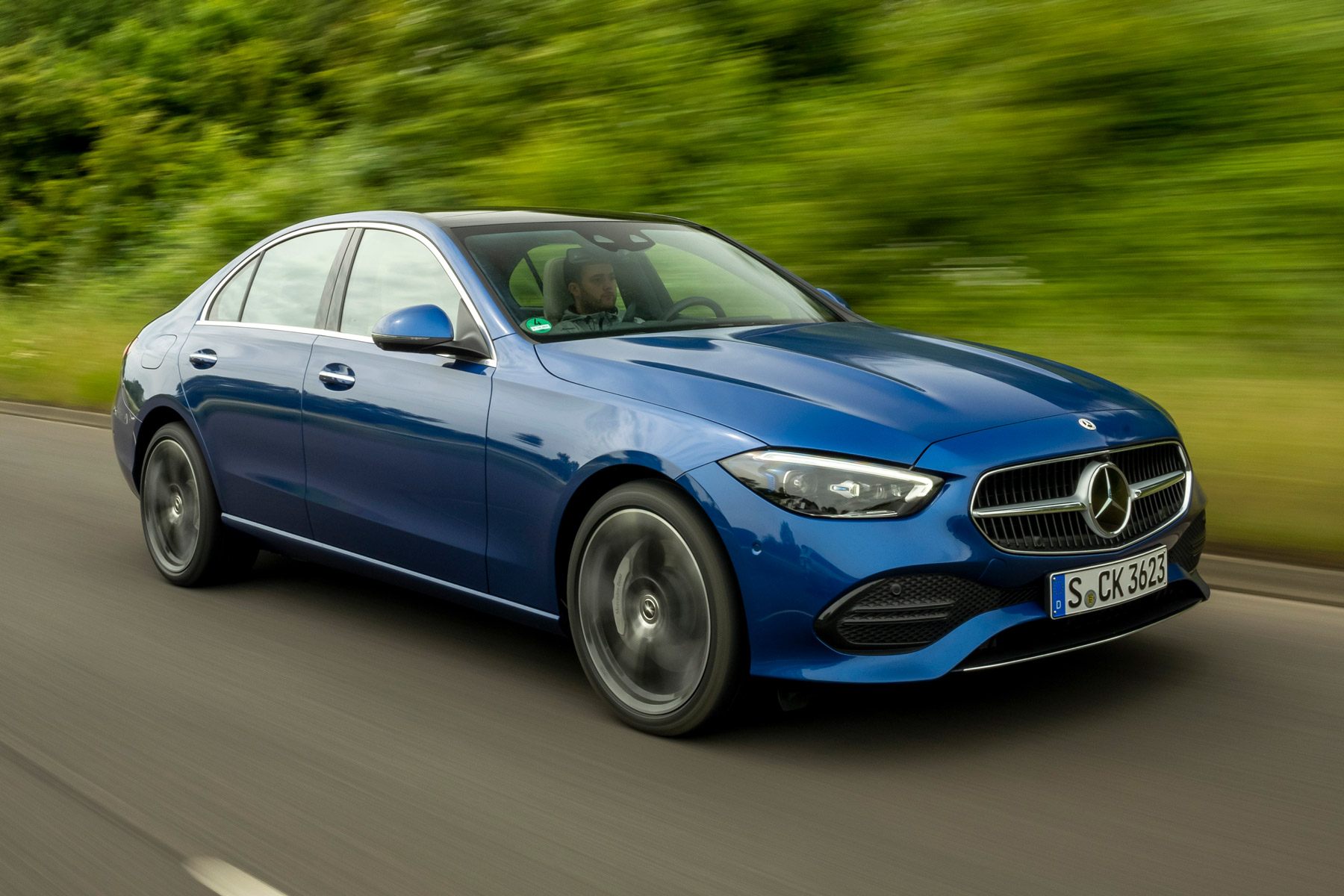 Mercedes-Benz C-Class
The new Mercedes-Benz C-Class comes in C 300 e plug-in hybrid guise, and it's a remarkable car. A large 25.4kWh battery – that's bigger than in a basic Fiat 500 Electric – gives an amazing pure electric range of 62 miles, way more than the average British driver's daily total. It can be charged up in just 30 minutes – but if you don't have time, a 2.0-litre turbocharged petrol engine is there to take over. On the official fuel economy test, this huge battery range results in economy of over 400mpg, along with tax-saving CO2 emissions of just 14g/km. Add in the upmarket image of the latest C-Class, plus its standout interior, and the appeal is clear to see. No wonder there's a waiting list to buy one.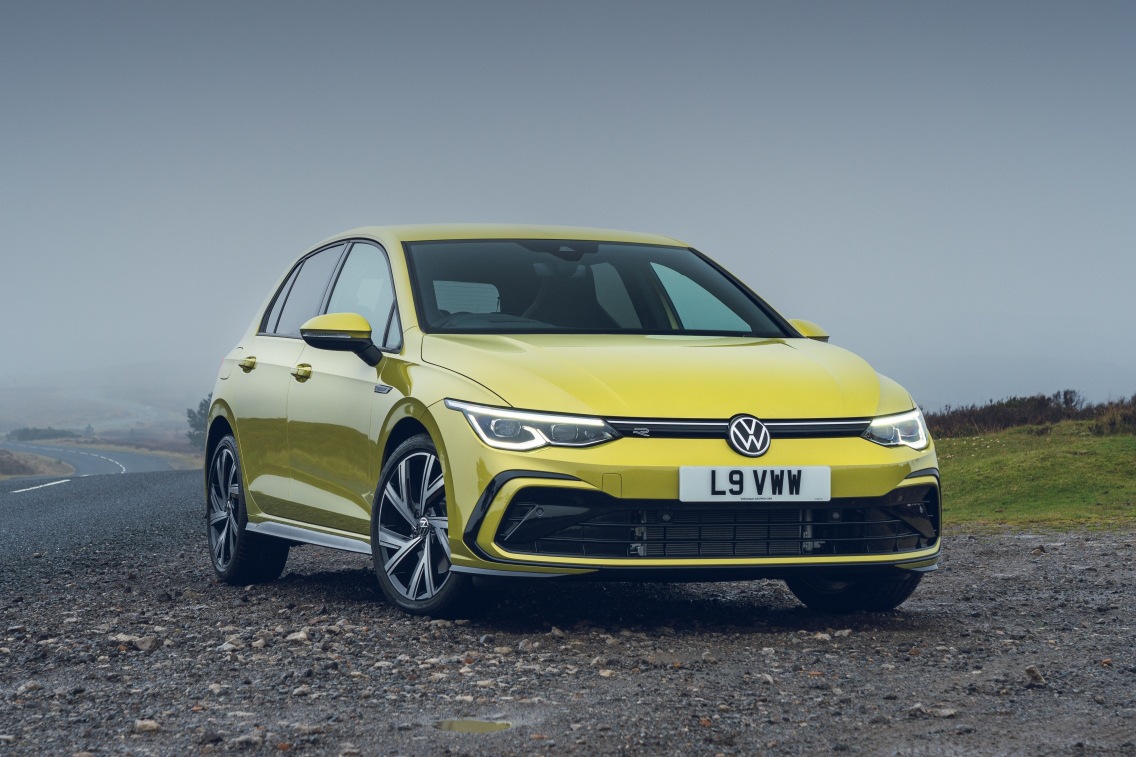 Volkswagen Golf
You can buy two types of plug-in Volkswagen Golf. The GTE is the sporty one, with a Golf GTI-like 245hp. But the Golf eHybrid is more affordable, and comes with an impressive electric driving range of 44 miles from its 13kWh battery. A 1.4-litre turbo engine takes over when the batteries are exhausted, and will give you great real-world fuel economy, along with low CO2 emissions. The boot is a bit smaller in the Golf eHybrid, due to the batteries beneath the floor, but it still has all the Golf 8's acclaimed space and practicality inside. A very easy car to live with.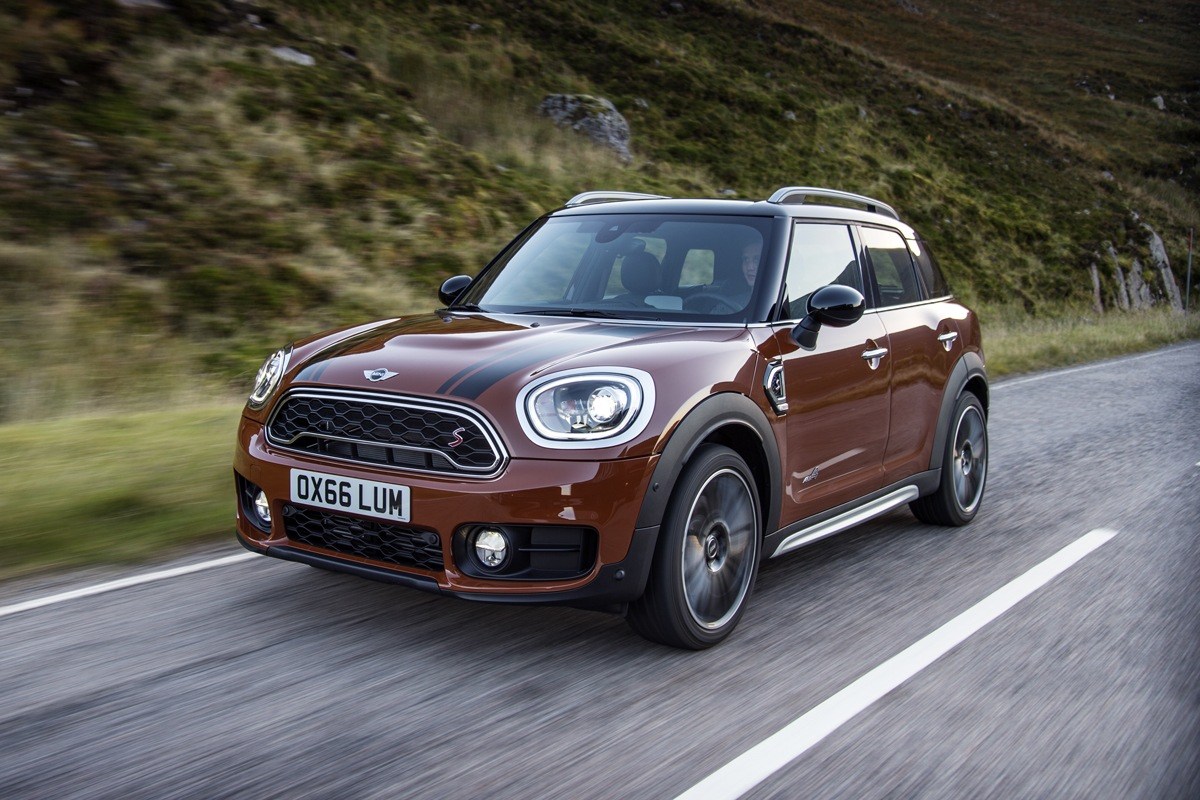 MINI Countryman
The MINI Countryman Plug-in Hybrid is one of the most popular versions of the Countryman line-up. Competitive prices from less than £35,000 help, but so too does the sporty appeal of 220hp from a turbo petrol engine and electric motor. This cool-looking small SUV is able to tackle up to 32 electric miles on a full battery charge: sufficient for a couple of days of typical school-run driving. The boot remains a healthy 405 litres with the seats up (growing much further with them folded), and the boxy Countryman's interior is as family-functional as the original Mini famously was not.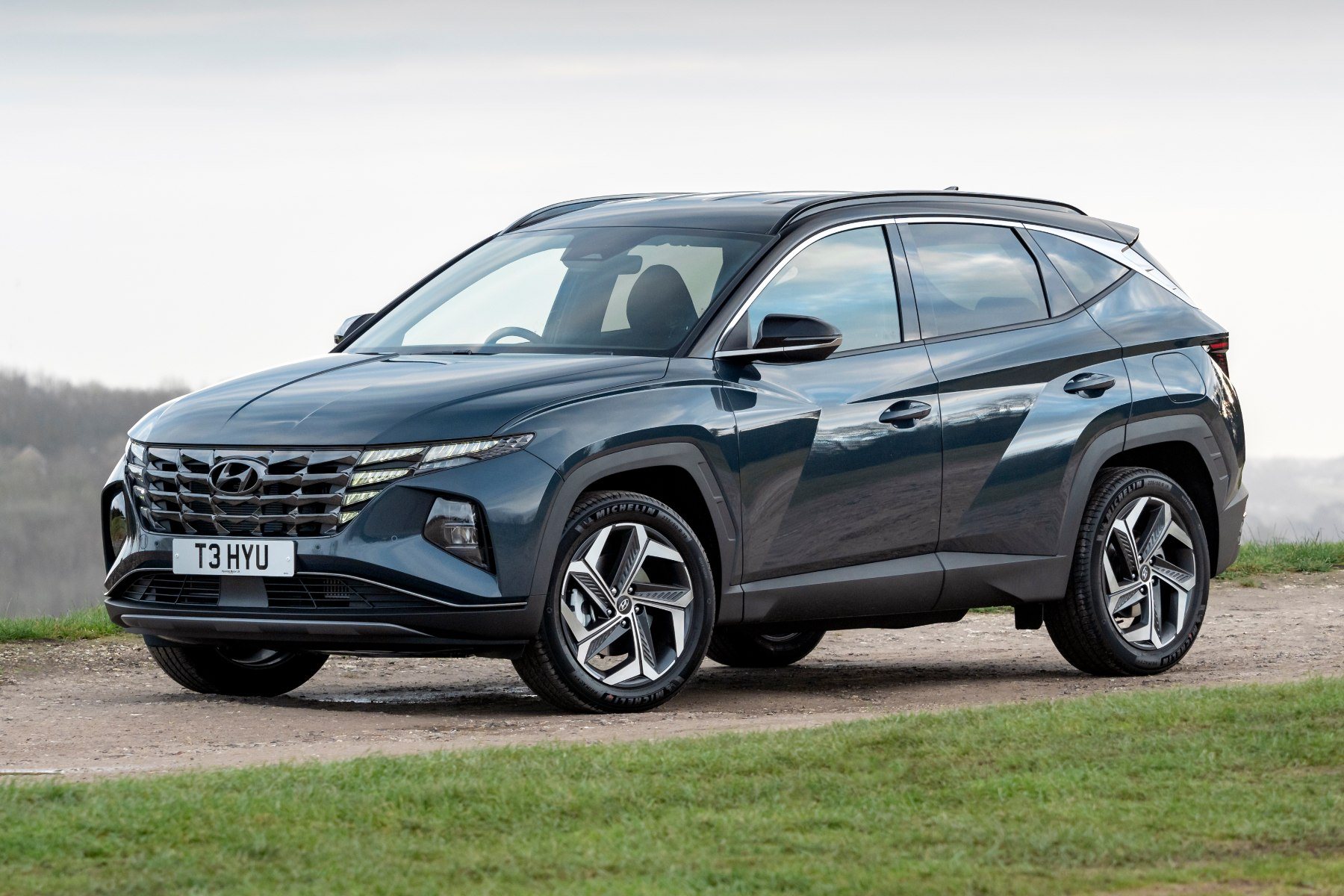 Hyundai Tucson
The latest Hyundai Tucson looks the part thanks to distinctive parametric LED lights at the front, plus a radical crease-and-curve side profile. It has a welcoming interior, with an airy feel, and crisp digital screens are nicely set within tasteful chrome trim. Under the bonnet, there's a range of increasingly electrified engines, with the plug-in hybrid version at the top. It combines a 1.6-litre turbocharged petrol engine with an electric motor, for a zippy total of 265hp. The 13.8kWh battery delivers a 38-mile pure electric range, which is good going for a roomy and affordable family SUV.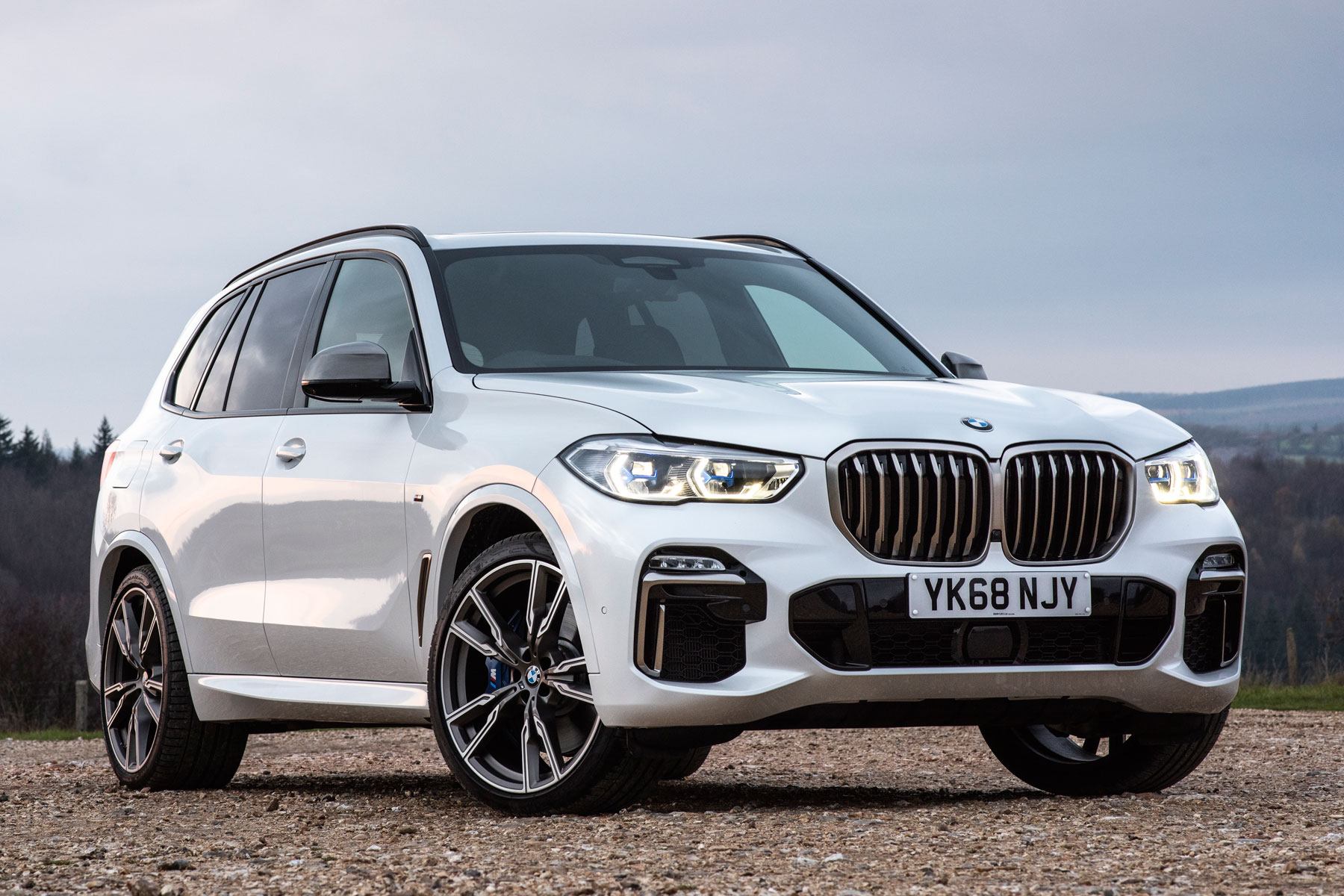 BMW X5
The BMW X5 is a large, premium-brand plug-in hybrid SUV. It has a delicious straight-six petrol engine that provides up to 394hp when combined with the electric motor. But a 24kWh battery also gives a lengthy 54-mile pure electric range, meaning the engine probably won't have to start up that often in everyday driving. That's how the X5 xDrive45e boasts an official fuel economy figure of 235mpg and CO2 emissions of just 27g/km – music to the ears of tax-sensitive company car drivers. This is an assertive-looking SUV with an enviable image and a wonderful interior. Why choose a diesel X5, when you could have this?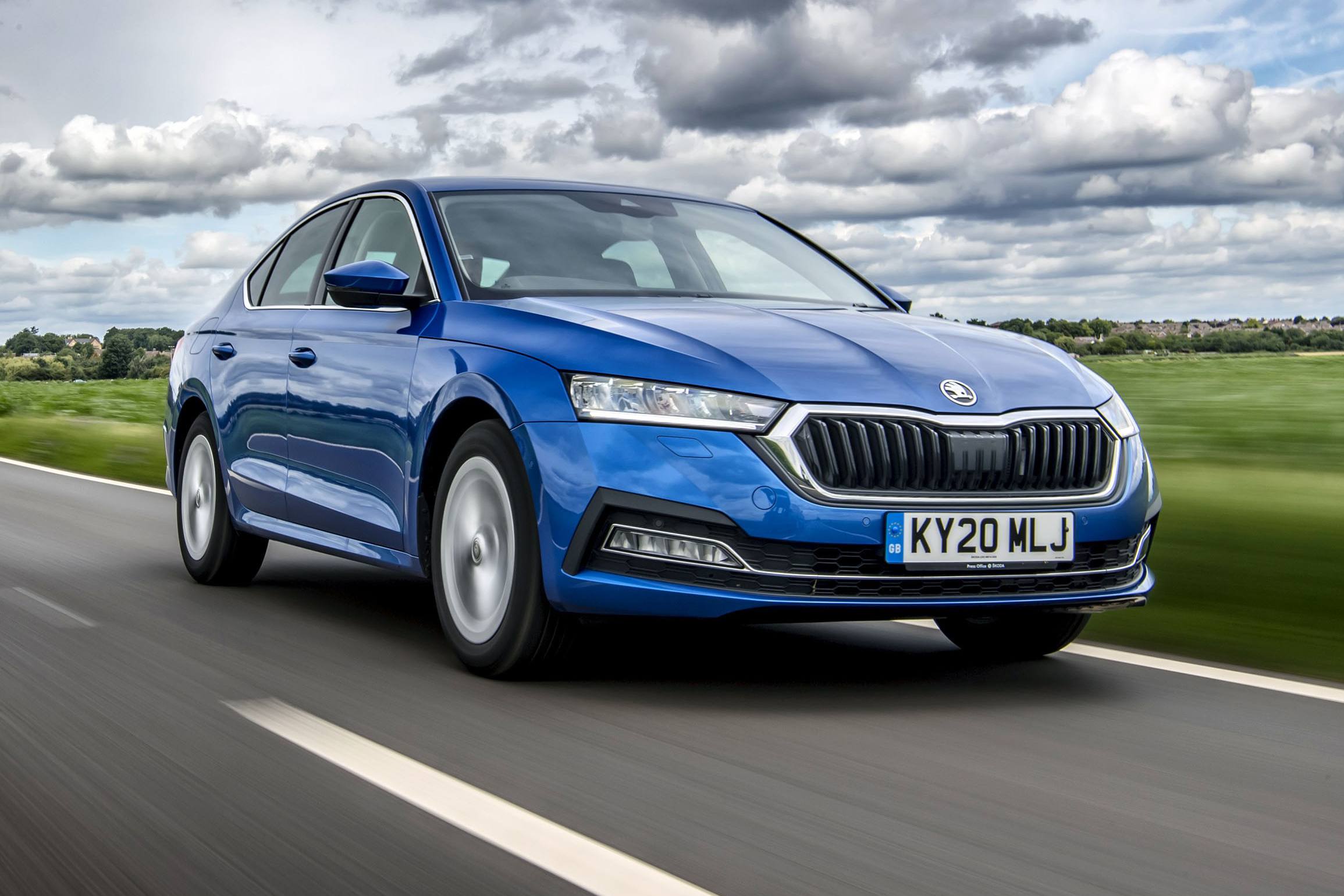 Skoda Octavia
Skoda calls the plug-in version of its large family car the Octavia iV, indicating it's part of an electrified line-up that also includes the new Enyaq iV electric car. The plug-in Octavia produces 204hp, and its 13kWh battery gives 44 miles of electric driving before the 1.4-litre TSI petrol engine starts up. CO2 emissions are a meagre 30g/km. There's also a sportier 245hp Octavia iV vRS, which has the lowered suspension, sporty styling and hip-hugging seats of the vRS hot hatchback. It has more performance, but delivers similarly low CO2 emissions. Both Octavias are tempting options for company car drivers.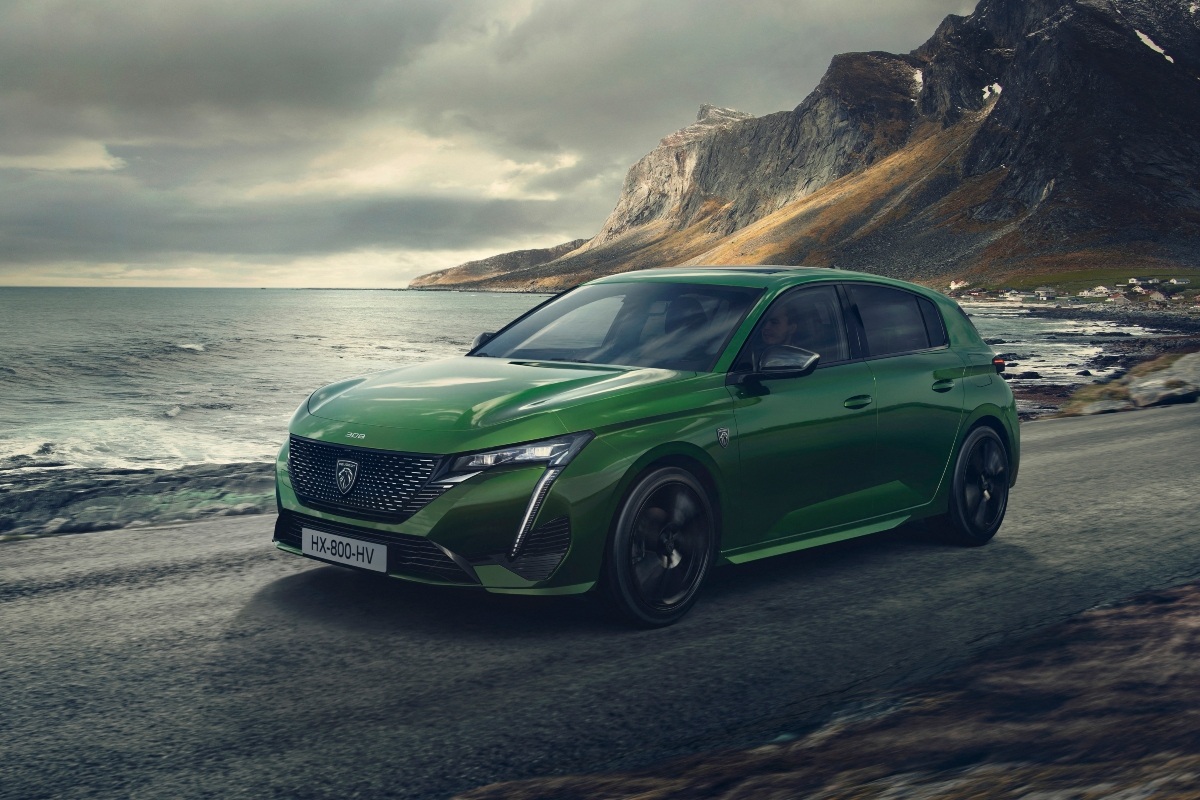 Peugeot 308
The new Peugeot 308 sports a very bold-looking design, with a head-turning nose and sleek side profile. It's a big step on from its somewhat anonymous predecessor, and looks similarly exciting inside. You can get regular petrol and diesel versions, but at the top of the range are two plug-in hybrids. The regular one produces 180hp, and its 12.4kWh battery gives a 37-mile electric driving range and CO2 emissions of 25g/km. There's also a speedier 225hp version, but even this is economical and tax-friendly. Peugeot is also developing a plug-in hybrid estate model, called the 308 SW.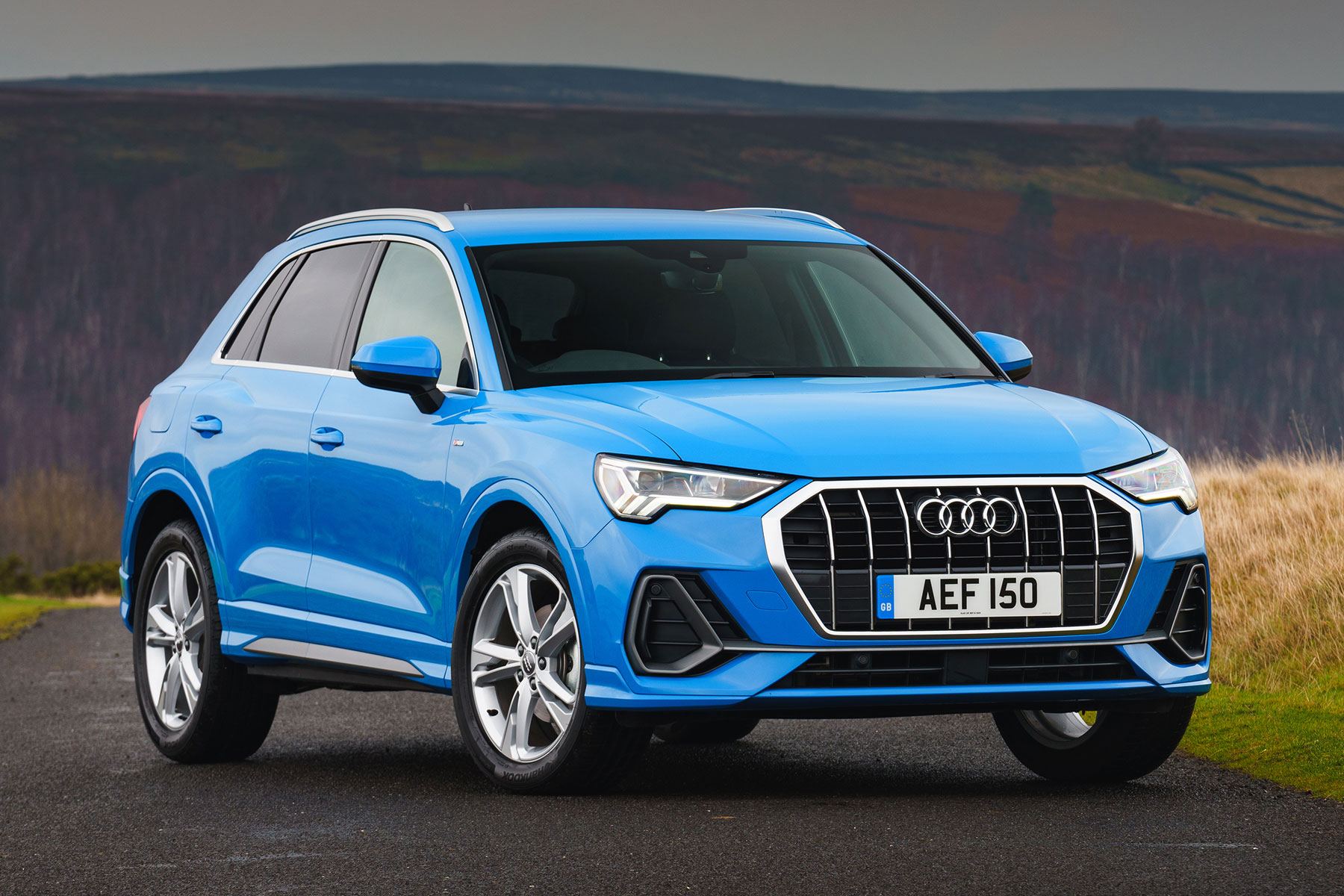 Audi Q3
The pretty Audi Q3 is a popular premium SUV for families. The plug-in hybrid version is called the 45 TFSI e, and it produces 245hp from a 1.4-litre turbo engine and electric motor. Audi says it will cover around 31 miles in pure electric mode before the fuel-efficient engine starts up. In electric mode, it also provides extremely refined motoring, complementing the Q3's excellent build quality, smart interior and cut-above feel. Buyers can also choose a Q3 Sportback plug-in hybrid; this has a swoopier rear end, but still retains five doors and enough space inside for growing families.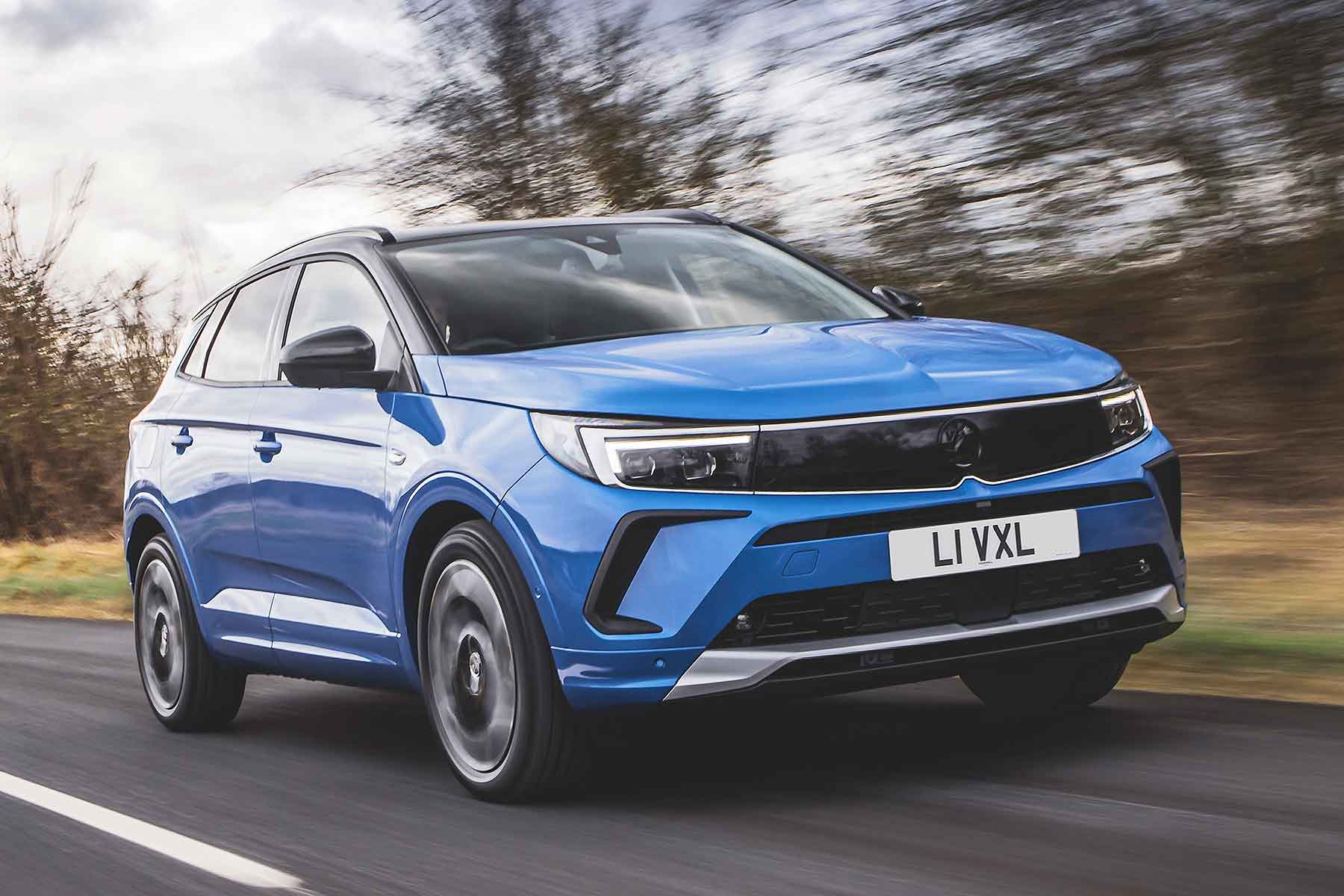 Vauxhall Grandland
Vauxhall has recently revised the Grandland range. It's an extensive update, losing the 'X' from the end of its name and gaining bold new styling that includes the distinctive 'Vizor' black-panel front end. Vauxhall has cut prices as well, with some of the most significant savings coming on the plug-in hybrid versions. Almost £4,000 has been chopped from the Hybrid-e 225, so it now starts from less than £34,000. This buys a plug-in hybrid capable of 39 miles on a full charge, and which has tax-saving 31g/km CO2 emissions. The Grandland's fuel economy is still decent even once the batteries run flat.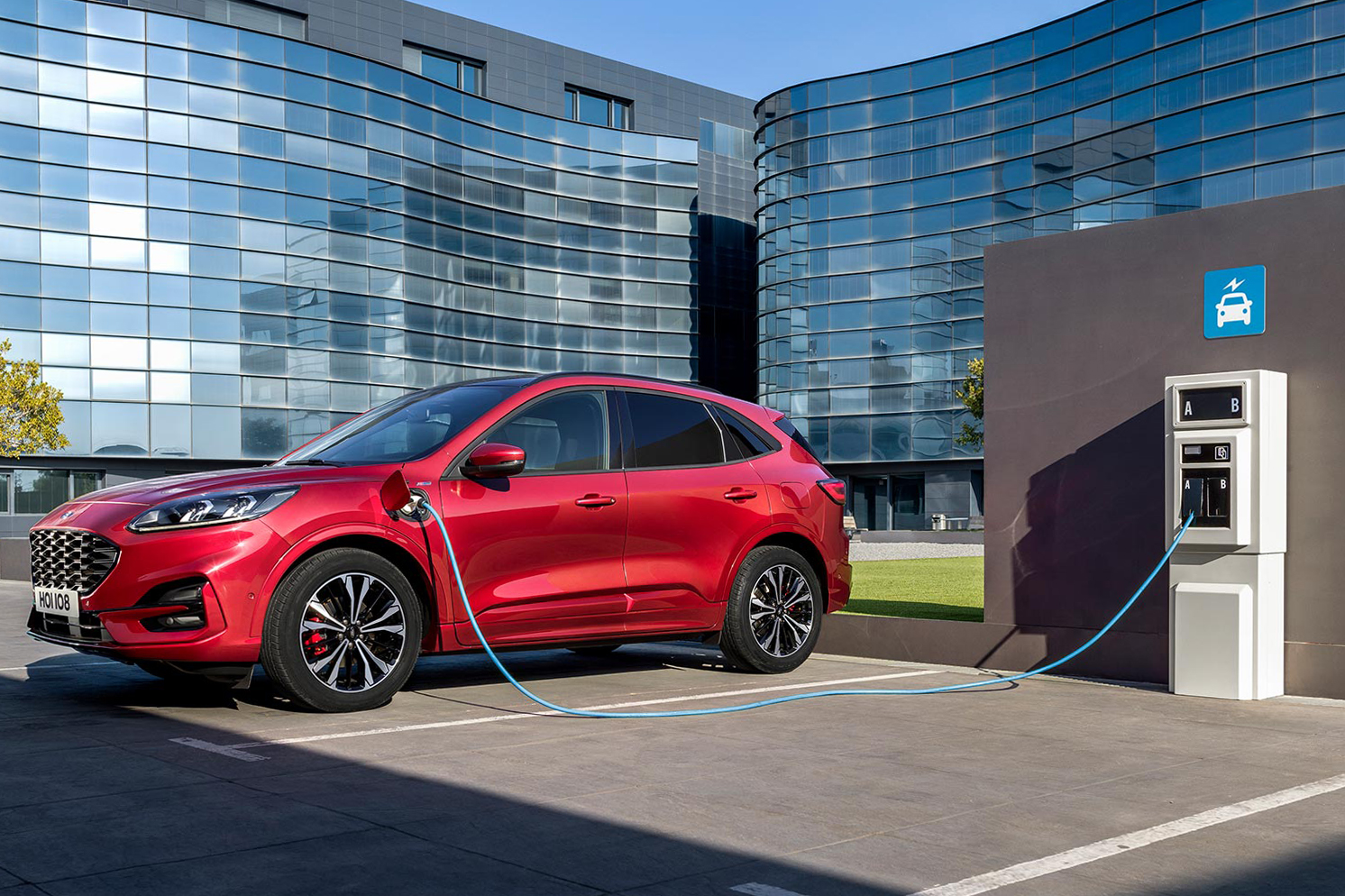 Ford Kuga
Ford sells both hybrid and plug-in hybrid versions of the Kuga, with the PHEV boasting the higher power output of 225hp. This enables drivers to make full use of the Kuga's sporty chassis – although if the family is enjoying the roomy five-seat interior, you may prefer to concentrate on maximising the pure electric range. Ford claims up to 35 miles of EV driving from the 14.4kWh battery. Using a three-pin plug, it takes around five hours to charge, but if you have a 7kW wallbox, this is reduced to just two hours. Even if the school is many miles away, you'll be able to charge up and fetch the kids home in EV mode, too.
Why are plug-in hybrids called PHEVs?
Plug-in hybrids are also known as PHEVs. This stands for 'plug-in hybrid electric vehicle' and is meant to show that if the batteries are charged, plug-in hybrids drive in exactly the same way as an electric car. They have no exhaust emissions in this mode, which means they can use the steadily-growing number of 'zero emissions zones' across the country. Some even have clever geo-fencing, which automatically shuts the engine down when entering a zero emissions zone.
Why are plug-in hybrids more expensive than hybrids?
Plug-in hybrids use similar technology to regular hybrid cars. The main difference is the size of the battery – it is significantly larger in a plug-in hybrid, as that's how they can retain sufficient charge to drive for 30 miles or more in electric mode. As electric car batteries are very expensive, and become steadily pricier the more kWh of capacity you add, this is why PHEVs often cost notably more than regular hybrids.
Can plug-in hybrids use public EV chargepoints?
Plug-in hybrids can use exactly the same public chargers as fully electric cars. Some even have rapid-charge functionality, so plugging in for just a few minutes will fully top up the batteries. The only obstacle can be from electric car drivers, who may feel that plug-in motorists shouldn't take up spaces that could be used by a 'proper' EV. If you do use a public charge point, accept that you may be challenged, although you have every right to be there.