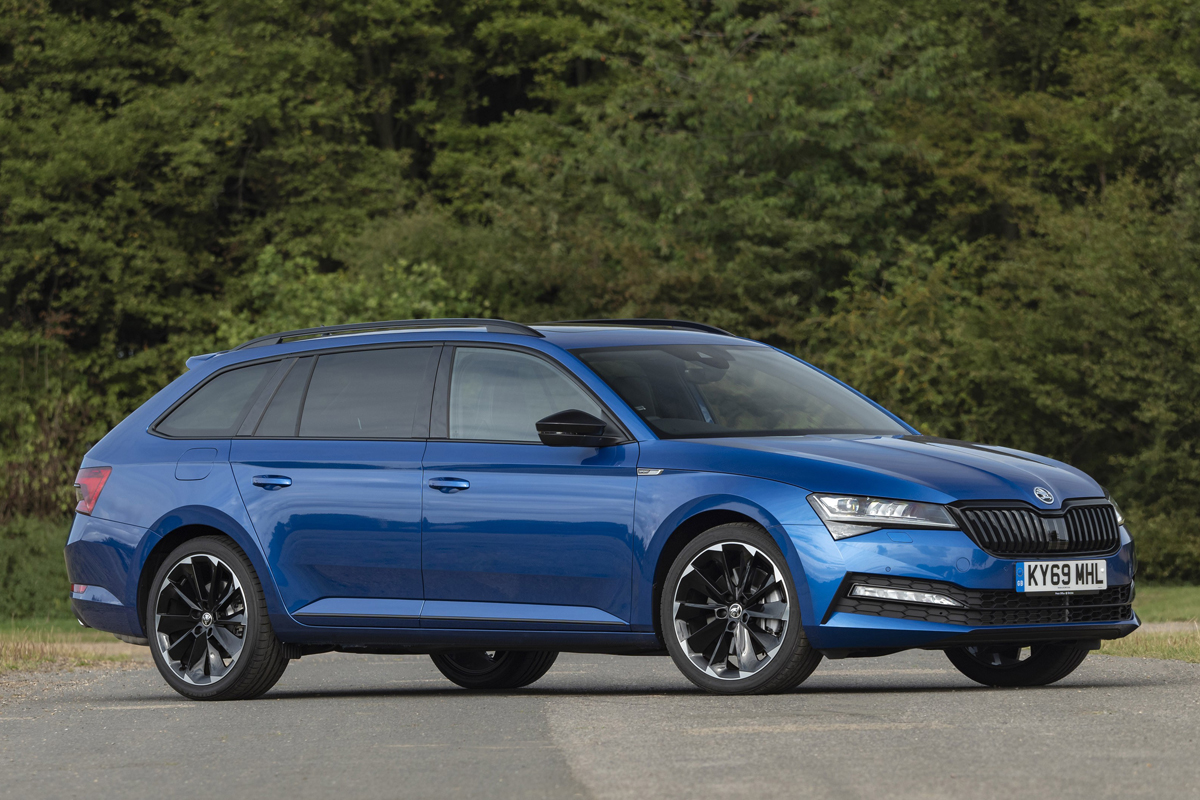 Estates are created with one purpose in mind: to be the most practical cars for mastering the flat-pack run home from IKEA. While others struggle, you'll be on the living room floor scratching your head over the instructions before you know it.
Estate cars are not designed in isolation. They are boxier, roomier versions of regular saloons and hatchbacks. The trick is to make them appreciably more practical, without losing the style, refinement and fuel economy of the base car.
The smartest manufacturers design cars with load-luggers in mind from the start. Estates are natural extensions of the core car, looking natural and elegant, and with neatly enhanced interiors.
This also helps ensure they remain good to drive, with poised handling and good performance. The best estate cars deliver a smooth ride quality and enough power to carry your heavy load home in comfort. Here are 10 estate cars we recommend right now.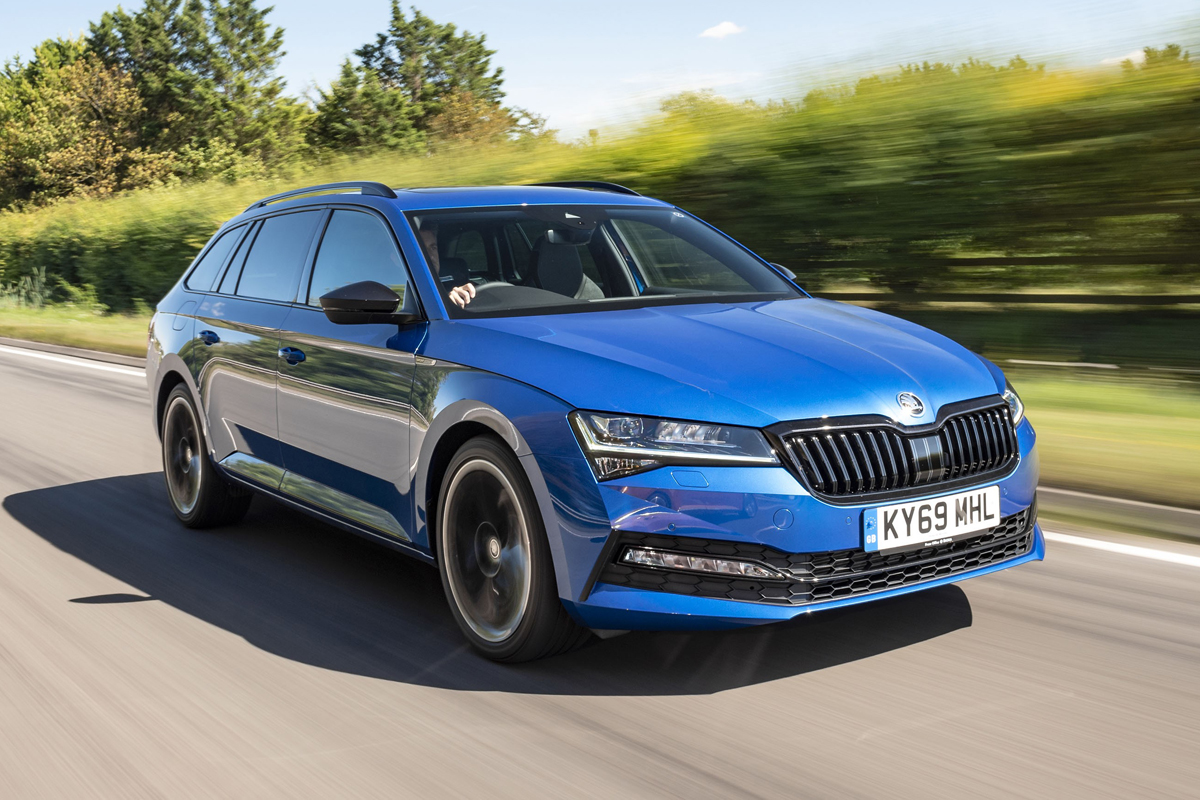 Skoda Superb
The Skoda Superb is an exceptionally able estate car. It is enormous, for starters, measuring over 4.8 metres long on the outside. Even with the rear seats in place, the boot is a vast 633 litres. The load lip is low and, if you fold the rear seats, the space extends to a whopping 1,950 litres. There is no roomier estate car on the market. Thoughtful touches abound, from a load divider in the boot to an ice scraper behind the filler flap. It's a good estate car for towing as well, capable of hauling up to 2.2 tonnes in 4x4 guise. Skoda also offers a plug-in hybrid version of the Superb estate, with a pure electric range of more than 30 miles.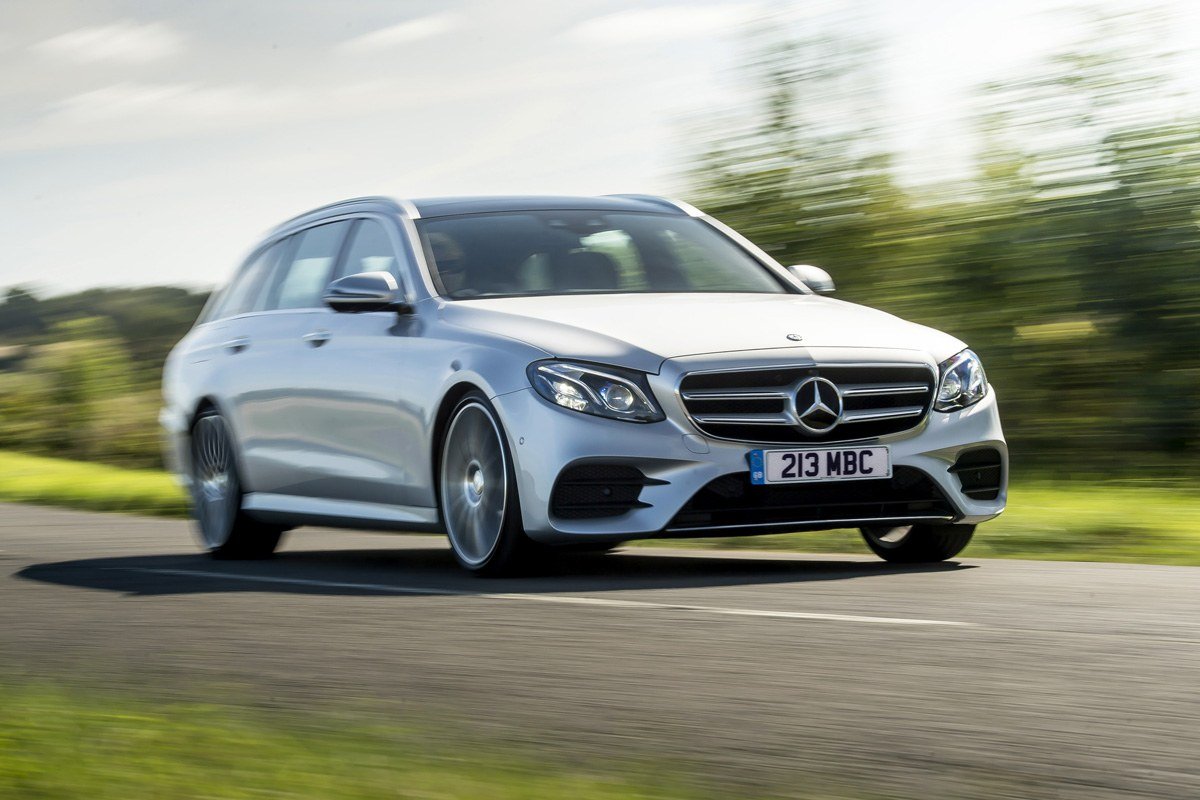 Mercedes-Benz E-Class
The Mercedes-Benz E-Class has been an estate car of considerable repute for decades. The executive saloon is smart and popular, but the estate version adds a huge amount of extra practicality. Despite its shapely rear end, the E-Class estate offers seats-up luggage space of 640 litres, which grows to 1,820 litres with them folded. There's also a novel plug-in hybrid diesel version, although the batteries beneath its boot floor do mean cargo space drops to 480 litres. The Mercedes-AMG versions, meanwhile, retain all the capacity of the core models while dialling up performance. Choose from the 435hp E 53 or the wild 612hp E 63 V8.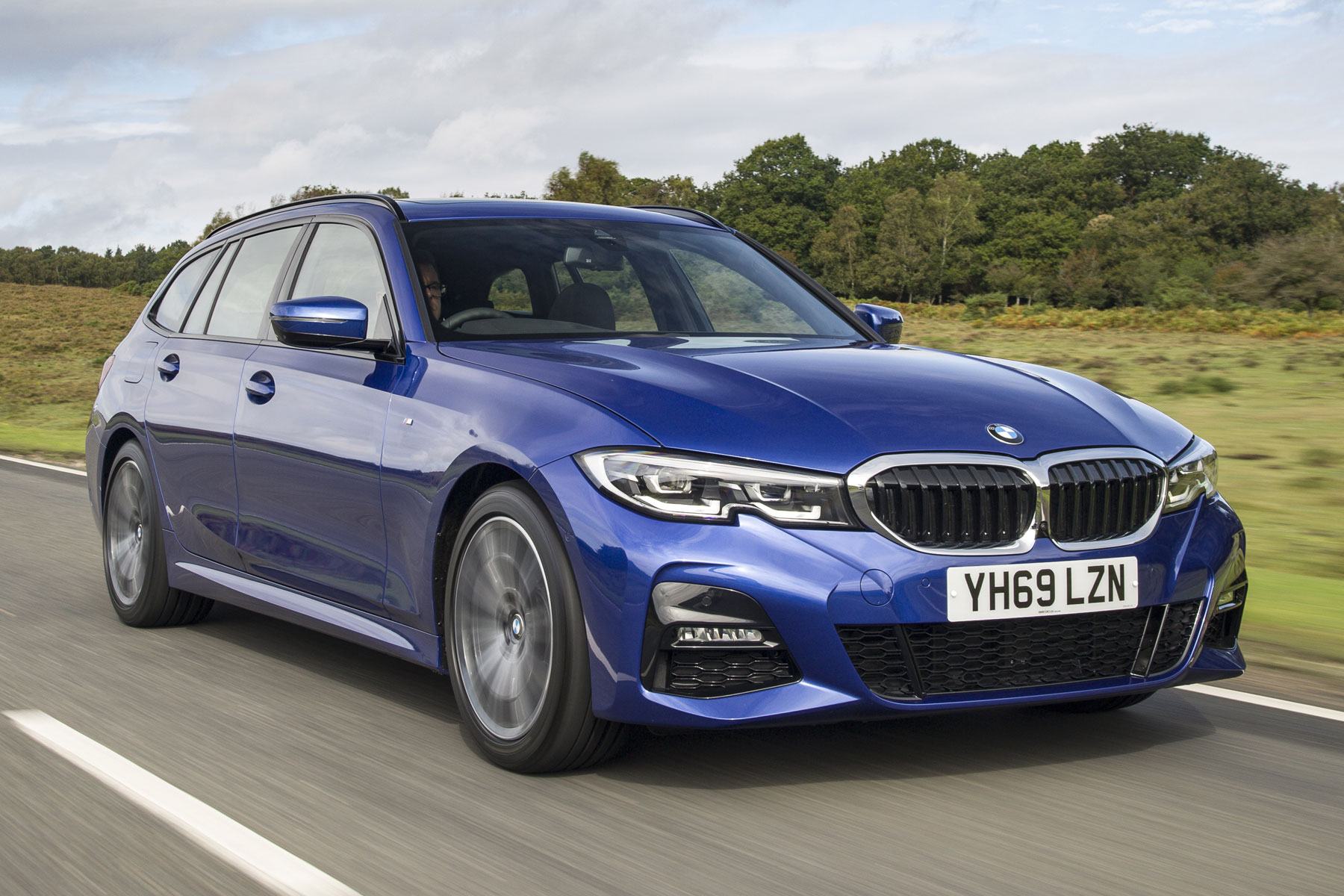 BMW 3 Series Touring
The 3 Series Touring is the very popular five-door estate version of BMW's junior executive car. It has a rakish rear, with a tailgate that incorporates a separately-opening rear glass window, so you can easily drop off light loads. The square-shaped boot floor includes clever anti-slip ribbing, so heavier items won't bang about when you're enjoining the 3 Series' terrific handling. All the engines are effervescent, and we particularly like the high-performance M340i xDrive. That will be joined later this year by an even faster M3 Touring. If saving the planet is more your thing, you can also get a 330e Touring plug-in hybrid.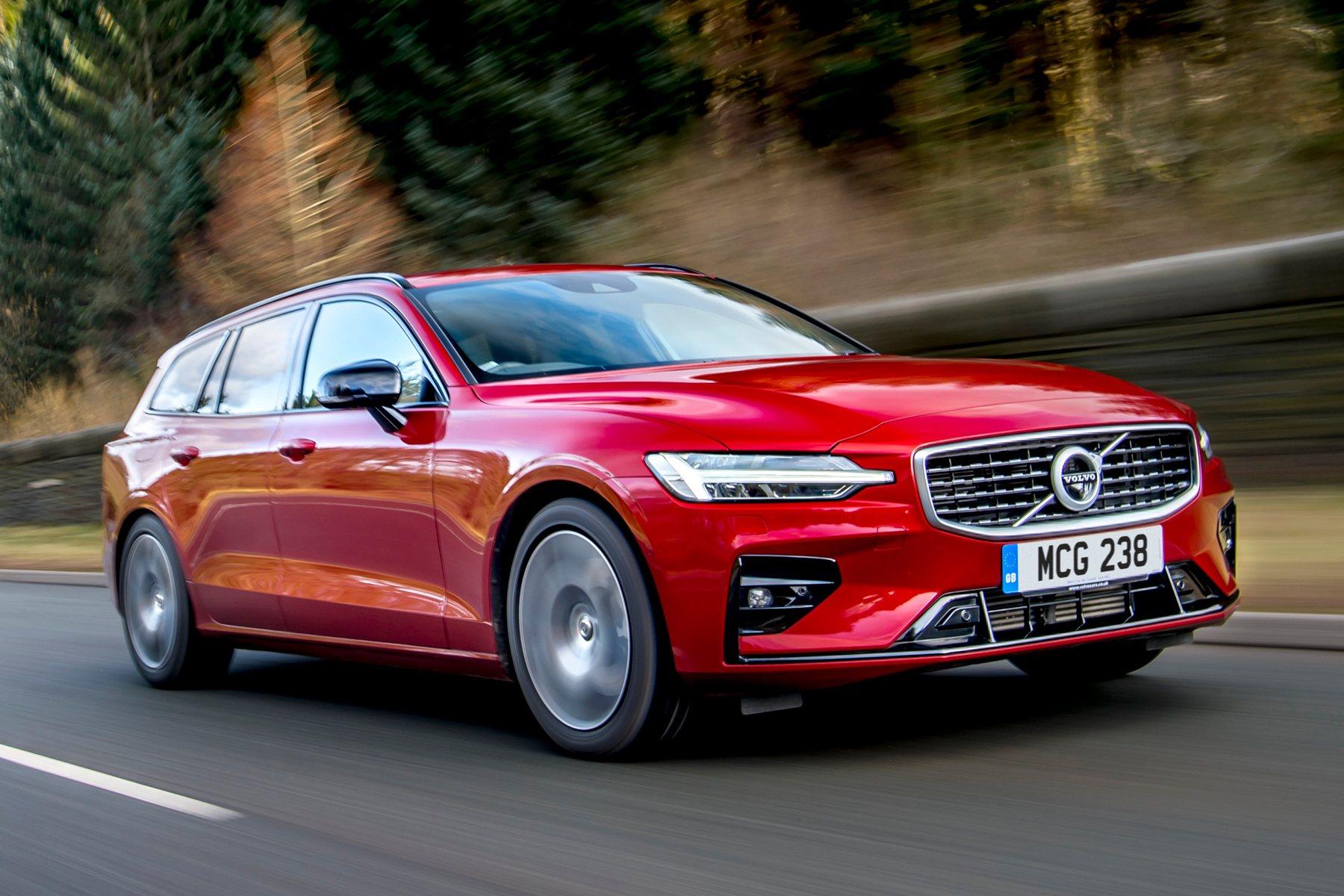 Volvo V60
The Volvo V60 is a really good-looking estate car, with sharp lines and an athletic profile. It's about as different to the traditional boxy Volvo estate as can be. Boot space is pretty decent, with 529 litres available, extending to 1,441 litres with the rear seats folded. The V60 is offered in regular petrol and diesel guises, with mild hybrid tech helping to save fuel, plus a V60 Recharge plug-in hybrid. Despite producing 350hp, this latter model also has a remarkable pure electric range of 54 miles and CO2 emissions of just 18g/km. For company car drivers looking to save money on tax, it's a great choice.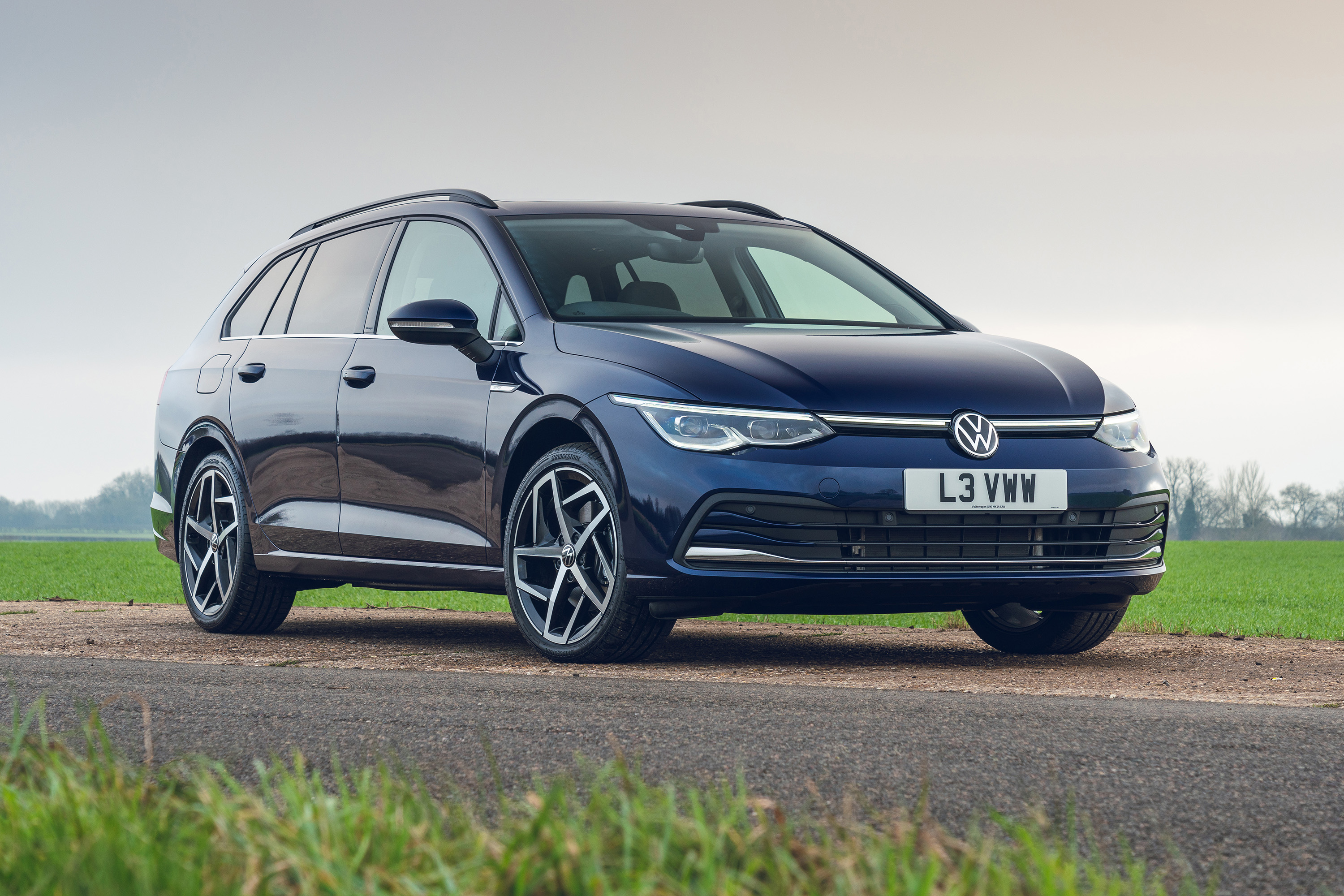 Volkswagen Golf
The Volkswagen Golf is an acclaimed family hatchback, and the wagon version is one of the best estate cars. The latest Mk8 model has a particularly commodious boot, measuring more than 600 litres with the seats up and around 1,600 litres with them folded. The seats-up figure is further bolstered by a practical layout that's accommodating even for awkwardly-shaped loads. Rear-seat space is pretty good, and the extended roofline means enough headroom even for tall adults. The shape of the latest Golf estate is more elegant than some previous models, while the high-tech interior is comprehensive and feature-packed – once you get used to the fiddly touchscreen system.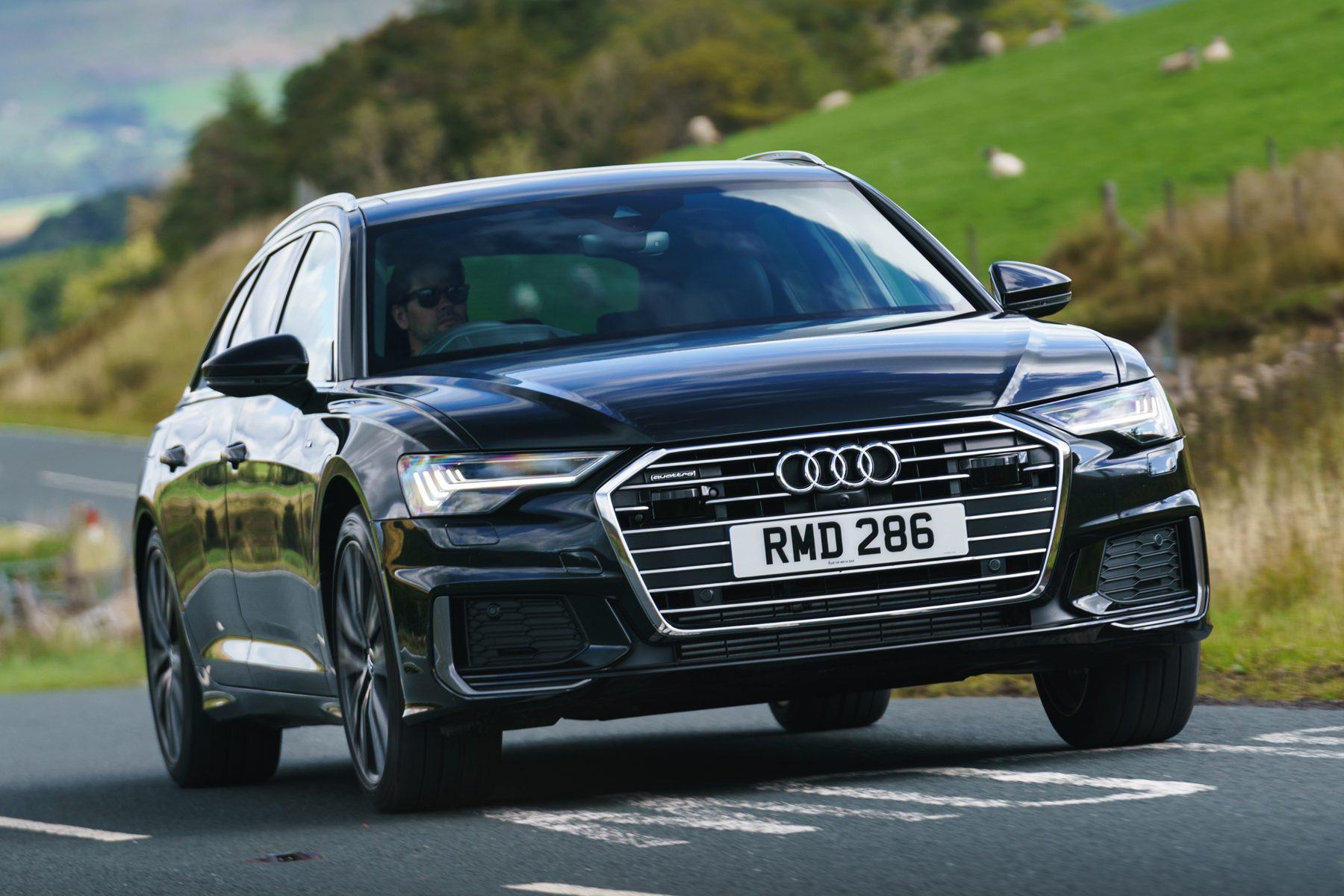 Audi A6 Avant
There has been an Avant version of Audi's large executive car since the 1970s. 'Avant' is Audi-speak for estate, and the A6 wagon is one of the best of the breed. It looks very sophisticated, arguably even more cohesive than the saloon from which it's derived, and the core range benefits from the kudos of the high-performance RS6 flagship. This 600hp monster-estate does 0-62mph in 3.7 seconds. The A6 Avant has 565 litres of easy-access and well-shaped space with the seats up, and 1,680 litres with them folded. Special mention goes to the high-quality materials Audi uses in the load bay, too. If you have a dog, you'll definitely want to use a boot liner…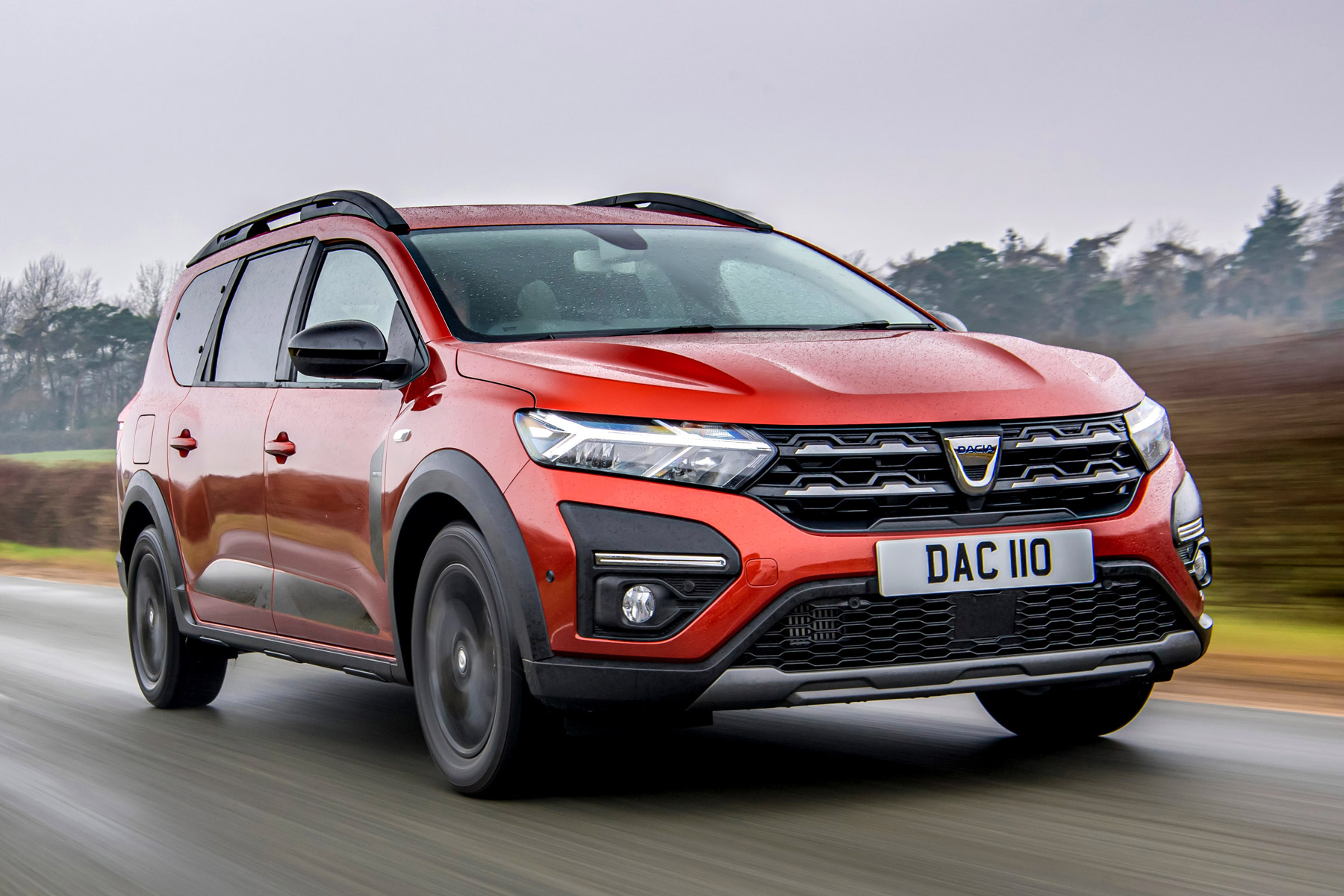 Dacia Jogger
The Dacia Jogger is several cars in one, with a raised-up SUV stance and rugged body features, plus three-row seven-seat MPV practicality. With all seats in place, there's 213 litres of boot space: not huge, but better than nothing (and standard multi-configurable roof rails mean adding a roof box is easy). Drop the rearmost seats and space grows to 699 litres – or you can actually remove the third row of seats to liberate over 2,000 litres of space in two-seat mode. This is an extremely practical estate car, and also a very affordable one, with prices starting from around £15,000. Expect it to become a very popular sight on UK roads.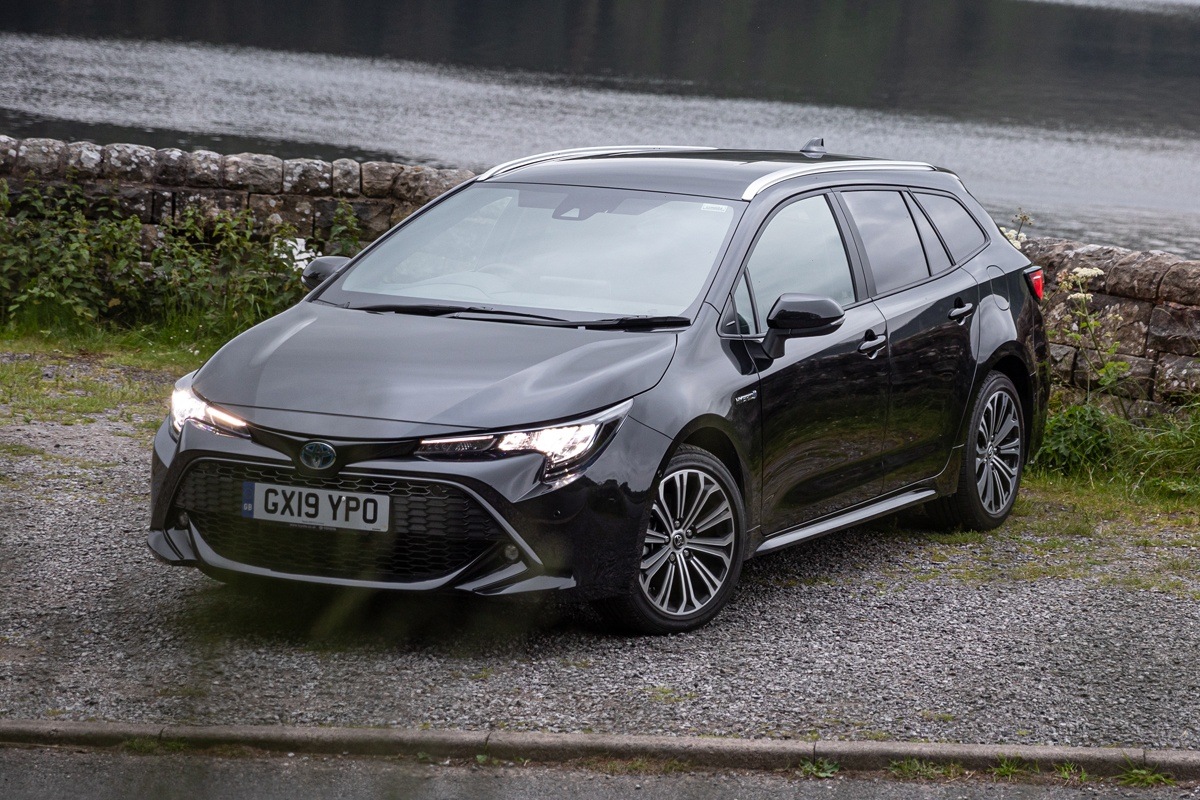 Toyota Corolla Touring Sports
The British-built Toyota Corolla has an estate version called the Touring Sports. Like the hatchback, it only comes as a hybrid, either with a 1.8-litre or more powerful 2.0 engine. The 'self-charging' system doesn't need to be plugged in and delivers excellent real-world fuel economy, even when fully laden. The 1.8 version can stow almost 600 litres with the seats up, while the 2.0 manages around 580 litres due to its extra electrical hardware. There's also a Suzuki-branded version of the Corolla Touring Sports, called the Swace. Apart from the badges, it's identical.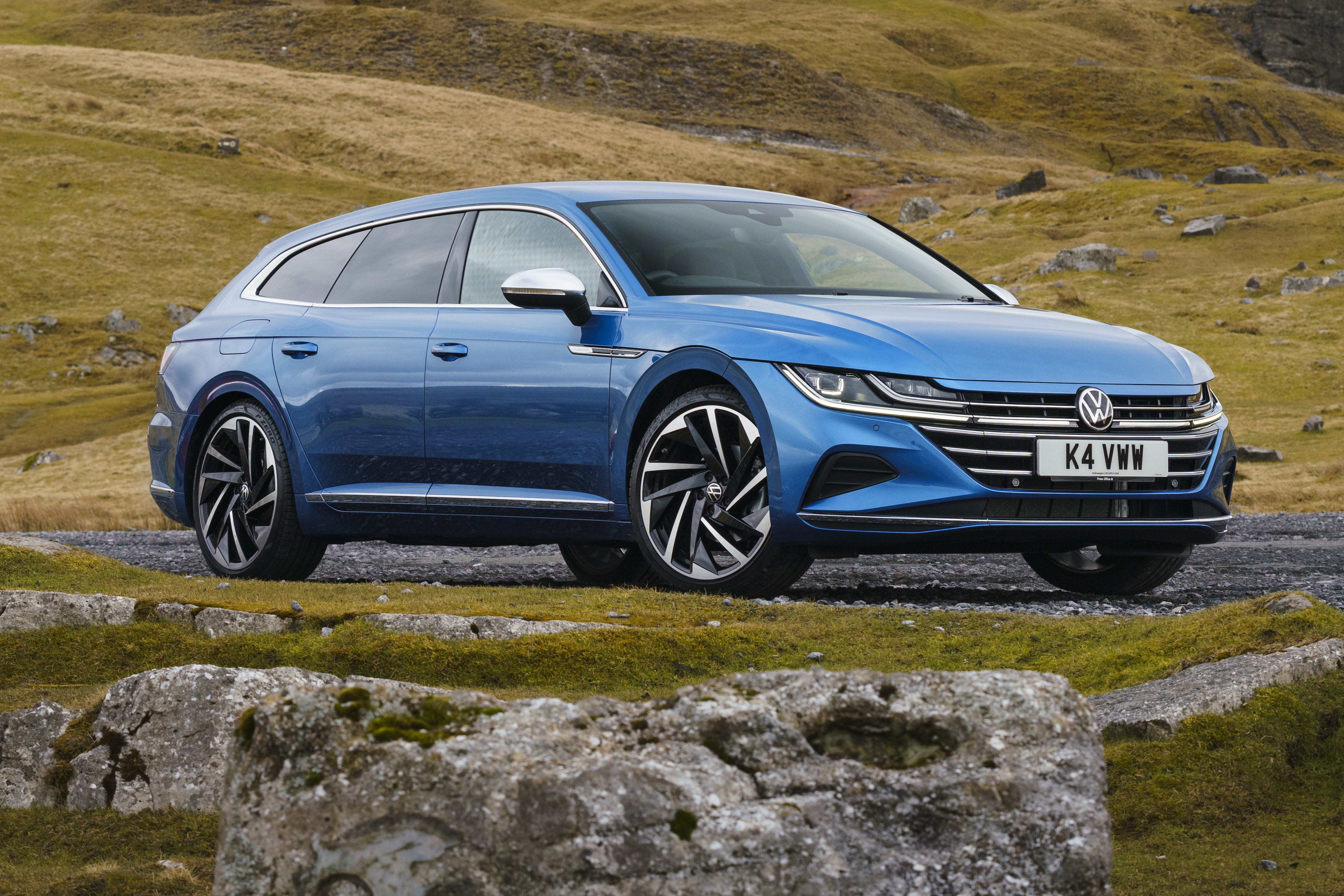 Volkswagen Arteon Shooting Brake
The Volkswagen Arteon Shooting Brake is one of the sleekest estate cars on sale. Despite this, it still manages to swallow 563 litres with the seats up, growing to more than 1,600 litres with them folded. For such a rakish and good-looking car, that's very impressive. This large executive vehicle has an upmarket interior and is very refined on the move, particularly in eHybrid plug-in guise. Alternatively, you could pick the sporty Arteon R, with the potential to do 0-62mph in 4.9 seconds. Its huge wheels and silver door mirrors will turn even more heads.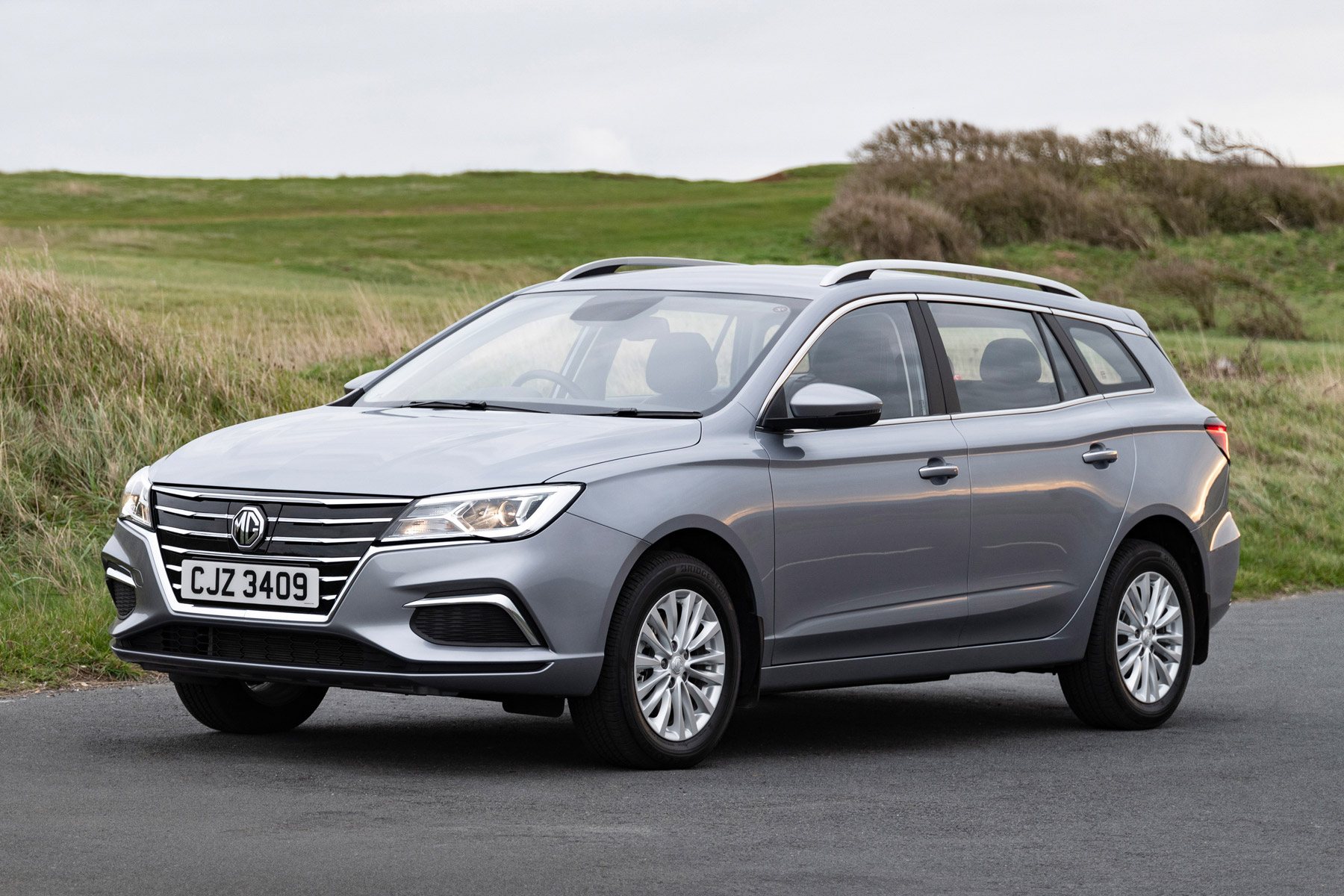 MG 5 EV
Here's a taste of the future: a fully electric estate car with a driving range of over 210 miles. The MG 5 is easily one of the best-value electric cars on sale, and also a competitively priced estate in its own right. Despite the need to accommodate batteries, it offers almost 580 litres of boot space with the seats up, extending to more than 1,450 litres with them down. The MG is reasonably spacious for passengers, too – and its competitive prices don't mean a meagre level of standard equipment. For electric motoring on a budget, look no further.
Can you get an electric estate car?
The MG 5 EV is the first electric estate car to make a breakthrough in the UK, but others are coming. Volkswagen, for example, is planning a production version of its ID Space Vizzion – a concept car that boasted a roomy 586-litre boot and seriously good looks. Let's just hope they change its name. Expect more electric estate cars to arrive over the coming years, along with a growing number of plug-in hybrid estates. 
Which is the best estate car for buyers on a budget?
The Dacia Jogger is a real bargain-priced estate car. It costs from less than £15,000, and even highly-specced models will offer you change from £20,000. Given how much space it has inside, this is an absolute steal – even the roof rails, important if you use it in seven-seat mode, come as standard. We're also impressed with the competitive prices of the all-electric MG 5 EV, which lays down a marker for the budget estate cars of the future.
Which is the most economical estate car?
In years gone by, estate car buyers who wanted to save fuel needed to choose a diesel-powered model.. Today, plug-in hybrids have eased past them in the economy stakes. If you only do around 30 miles a day, you could find your plug-in hybrid estate doesn't use a single drop of fuel. Even if you drive further, overall fuel efficiency will be impressive – as long as you regularly charge the batteries. Good plug-in hybrid estate cars include the Volkswagen Golf eHybrid and BMW 330e Touring.